With Covid-19 restrictions still putting the breaks on almost all travel abroad, the UAE has seen a huge up-tick in regional staycations over the last year or so. And one benefit of being border-bound, so to speak, is the chance to greater discover what's on our doorstep. The seven emirates are beautifully diverse, with so many nooks, crannies and cultural enclaves deserving an exploration, from city to sea to sand dune.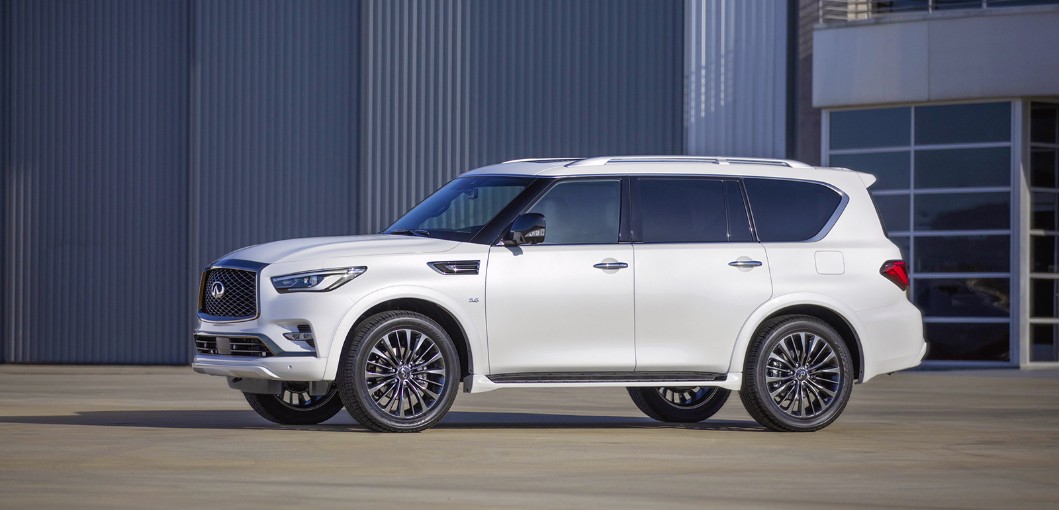 What one needs for any good staycation is the right mode of transport to shuttle you from 
A to B. With two nights booked at Qasr Al Sarab Desert Resort by Anantara, and three hours of highway and desert driving ahead of us deep into the Rub' Al Khali desert, the Infiniti QX80 seemed like a sensible – and sturdy – option.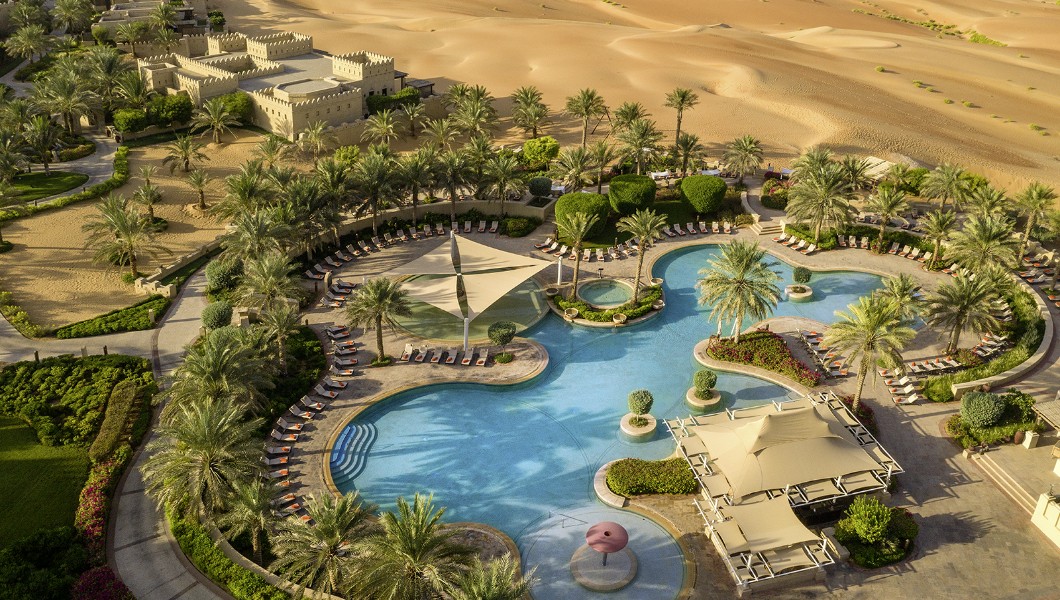 It's a vast car that feels a touch too cumbersome to be an everyday city SUV, but makes for an excellent off-road and out-of-the-city companion. 
It fits eight passengers easily and comfortably, good for families or friends travelling en masse, and for us the ability to fold the rear seats down at the touch of a button, allows for almost infinite boot space for all the packing paraphernalia parents seem to accumulate when holidaying with kids.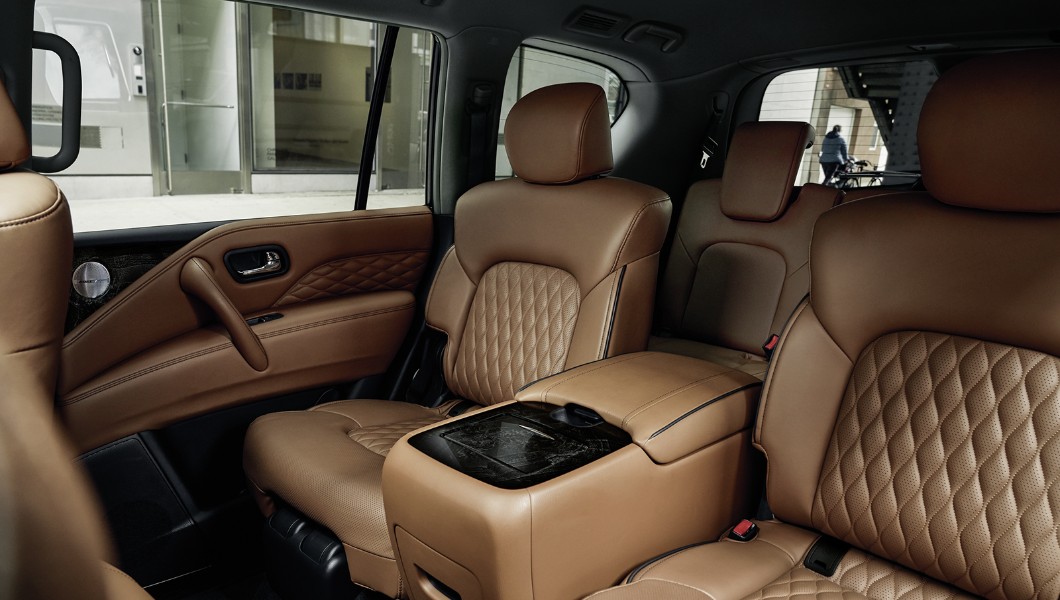 The car is deeply comfy to drive, the soft brown padded leather of the seats folding around your memorised sitting position like a reassuring hug. And for front and back passengers, the leg-room is boundless, almost negating the need to 'stop and stretch our legs' half-way to the hotel.
The back seats all come with ISO-Fix base, 
the benchmark for children's car-seat safety, and the extra high seats elevate my mini passenger enough to give her a front row view to the ever-shifting topography as we venture from city deeper into The Empty Quarter. The back seats also have two HD TV screens in the back of the front head-rests, with in-car cartoon streamed via USB, proving essential for 'are we there yet' distractions. The driver's arm-rest houses a small cool box that can be accessed from both front and back seats, cleverly ensuring cold water and snacks are on tap.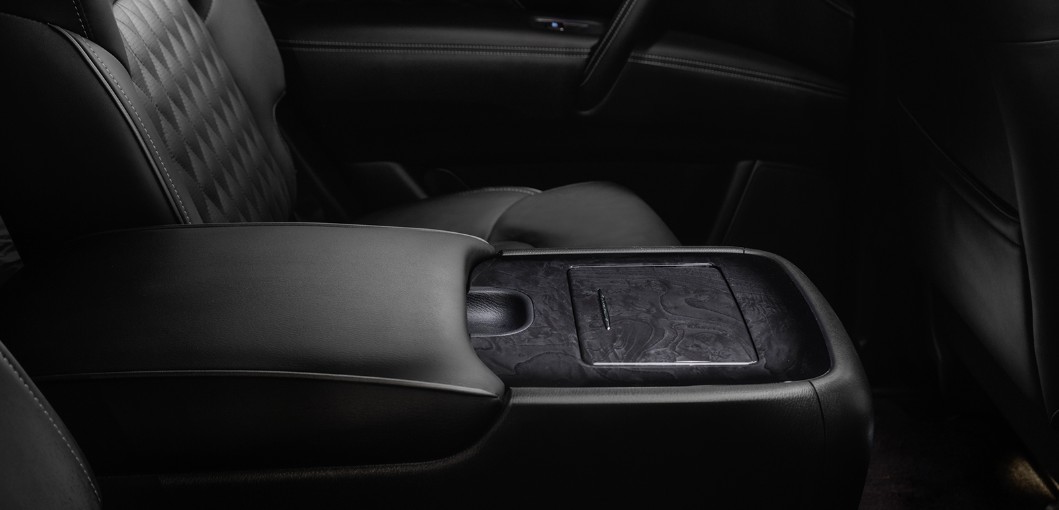 The Infiniti QX80 is definitely a commanding vehicle – a beast of a car with beauty built in – and as we move from fast-paced six-lane highway to dune-flanked one-lane roads, I appreciate the extra height, power and dependability. Something I like, that I think should be prerequisite in all cars, is the little orange light that flashes on each wing mirror when another car approaches on either your right or left, alerting you to take caution when making a manoeuvre. That, combined with the Infiniti Safety Shield technologies and Lane Departure Warning alerts, make even the Dubai-to-Abu Dhabi stretch of road virtually stress free.
One thing I haven't come across before is the Smart Rearview Mirror technology, that allows you to flip between a regular rearview mirror and a wide-angle LCD monitor showing a high-definition live image from a rear-mounted camera. It's a brilliant addition for those driving with a full house – or boot – 
as it gives you an unobstructed rear view, 
no matter how full the car is.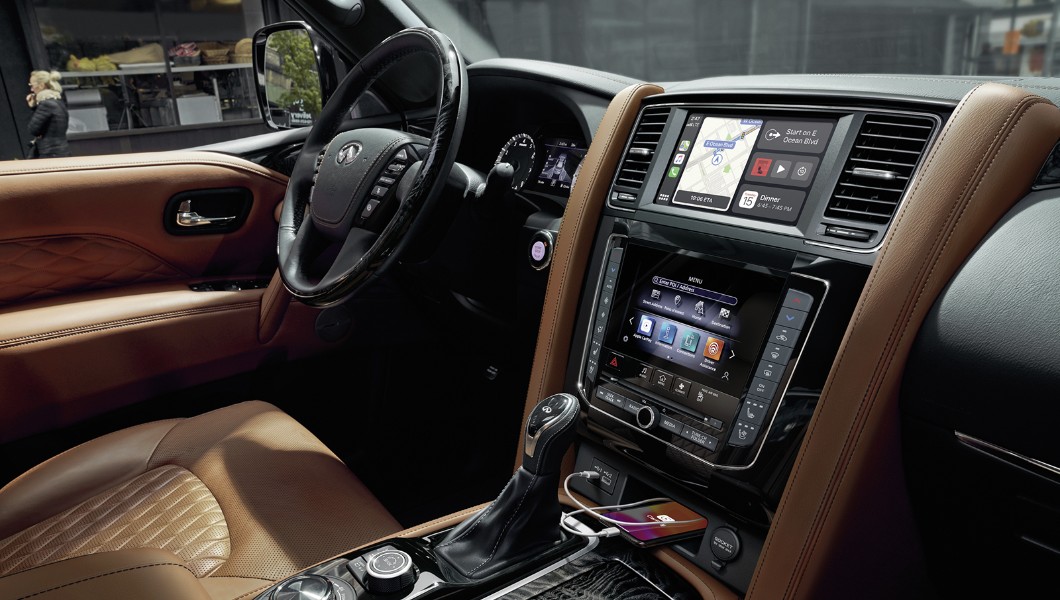 As we hit the quieter roads off the highway, we open the windows, roll back the massive panoramic sun roof and crank up the volume to put the car's 17 Bose speakers to the test. What is a road trip without karaoke?
With the surrounding dunes growing in size and shifting from blazing yellow to a burnt orange hue, we eventually arrive at the entrance to Qasr Al Sarab. Off the main road, it's another 15 minutes drive up the track. With a leisurely 40km/h speed limit, it allows you to really soak up the undulating landscapes as dunes make way for the hotel.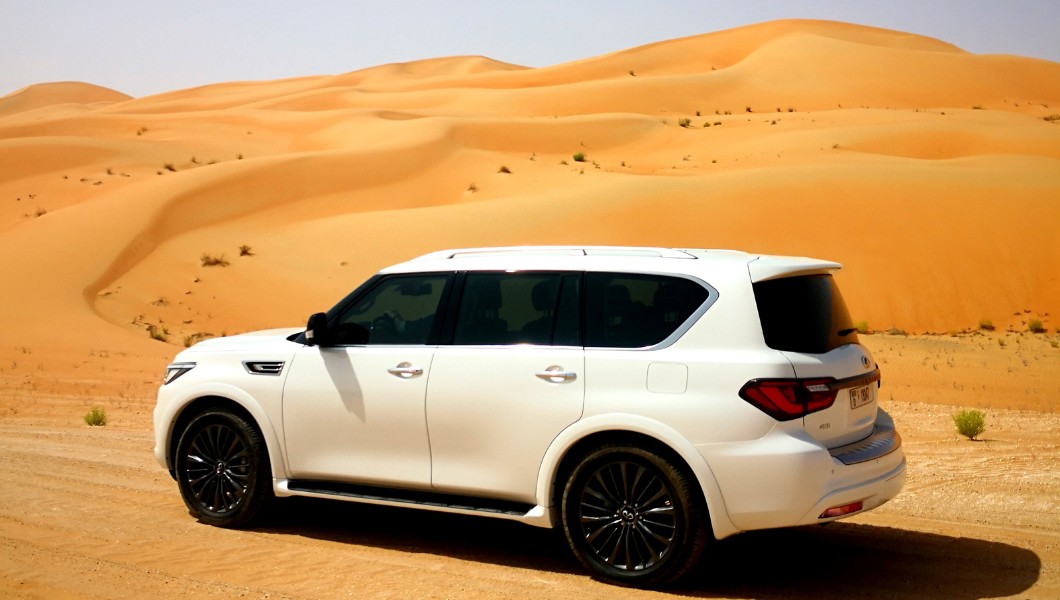 Designed like an old fortress with turrets, courtyards and fountains, and rising from the sand like a mirage, the arrival at Qasr Al Sarab is pretty spectacular. There is literally nothing to see for miles (and miles) around bar orange dunes and blue skies – the essence of escapism.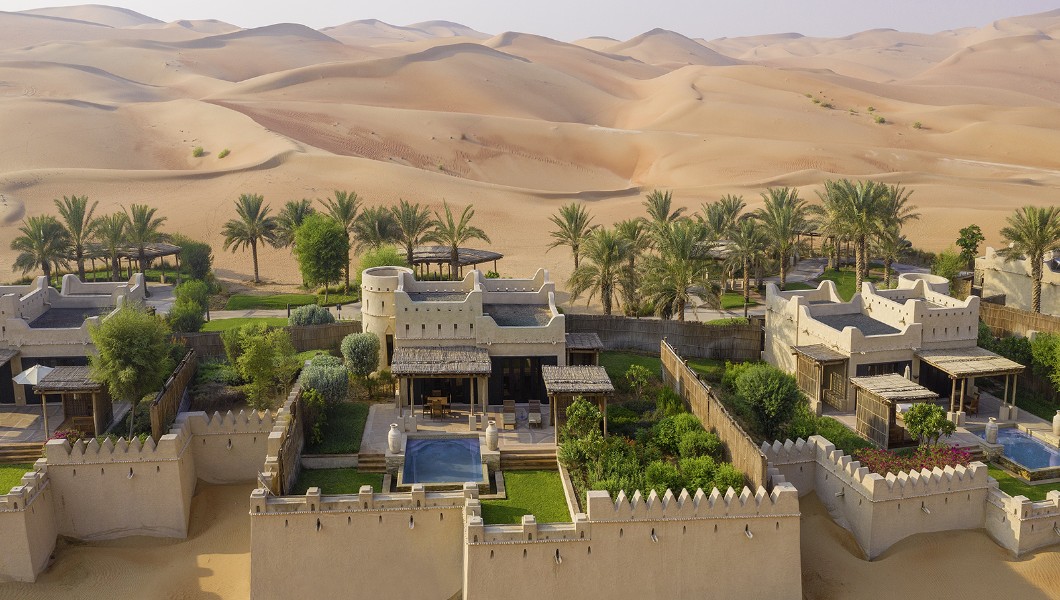 We hole up in a One Bedroom Anantara Pool Villa for two nights, the over-sized plunge pool the perfect antidote to April's escalating heat. There are few hotels in the Emirates that allow you to really absorb the culture of the old Arab world, but Qasr Al Sarab does it so well. Built in a moon shape to allow every room to face the desert, the resort is peppered all around with traditionally-made artifacts and art – 
an emporium of trinkets all disclosing the beautiful history of bedouin tribes, their life in the desert and the path to modernity.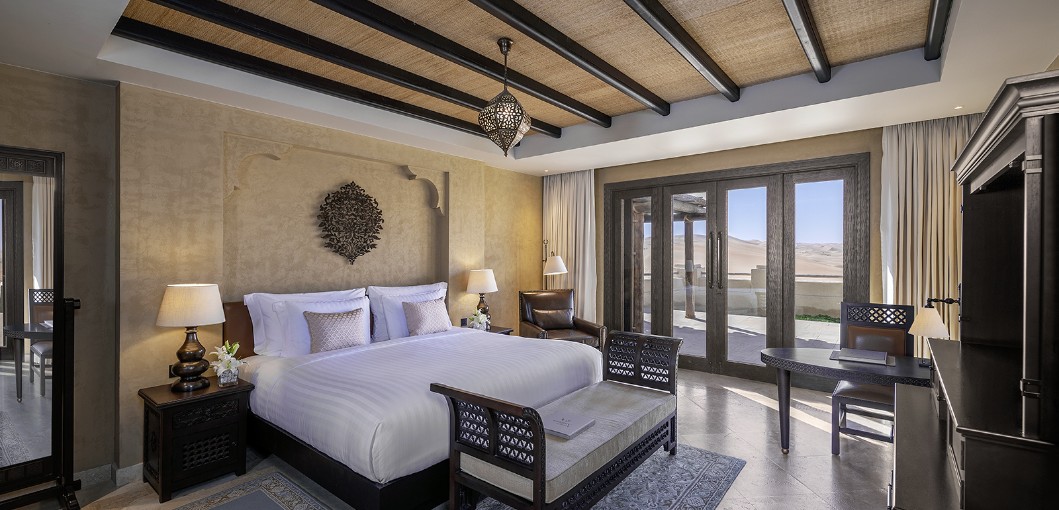 We reward ourselves after the long drive with an afternoon of swimming, sunbathing and trampolining at the Kids Club, fuelled by pizza and Mediterranean salads at Ghadeer. The main pool's mini sun-loungers, parasols and over-water swings designed for kids prove a much-loved touch.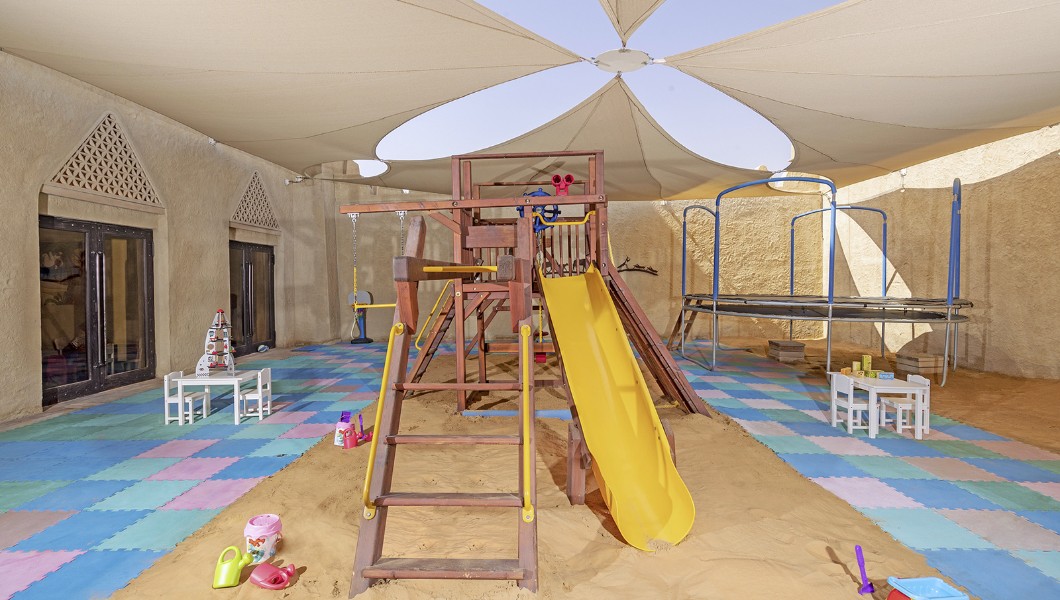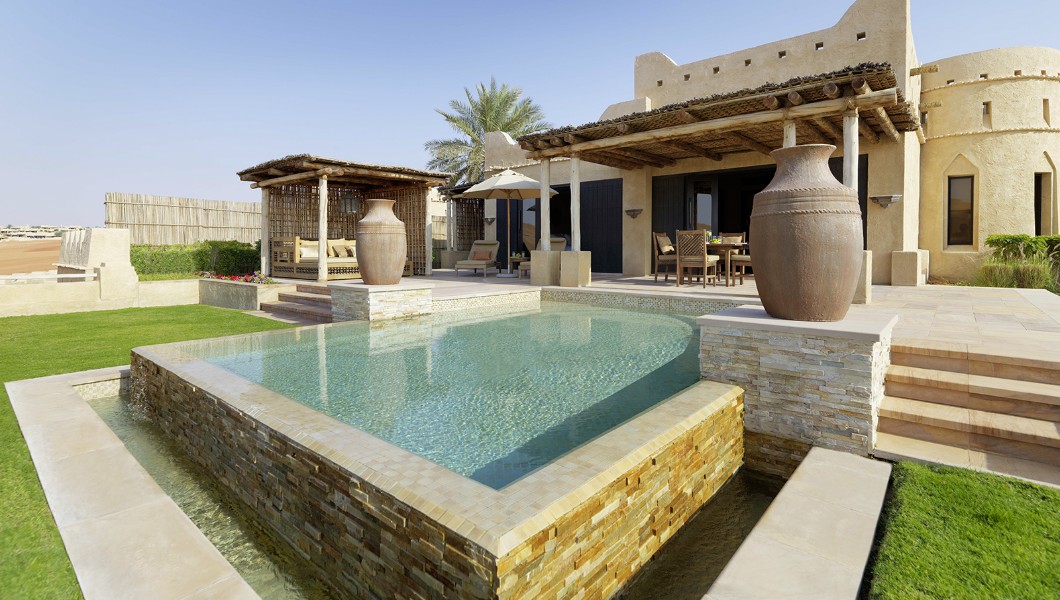 We rise early for a camel ride followed by breakfast at Al Waha – a social affair as guests swap travel stories on the terrace. Later, we kick off our shoes and clamber over the dunes to play on the resort's over-sized swings with child-like abandon. For sunset, we hire sand-boards and throw ourselves down the tallest dunes, listening to the sand 'squeak' as we slide, before dusting ourselves off in time for a sundowner and steak at rooftop restaurant Suhail. We leave our terrace doors open welcoming the Rub' Al Khali's night breeze, with the Arabian sky's stars on sentry duty as we sleep.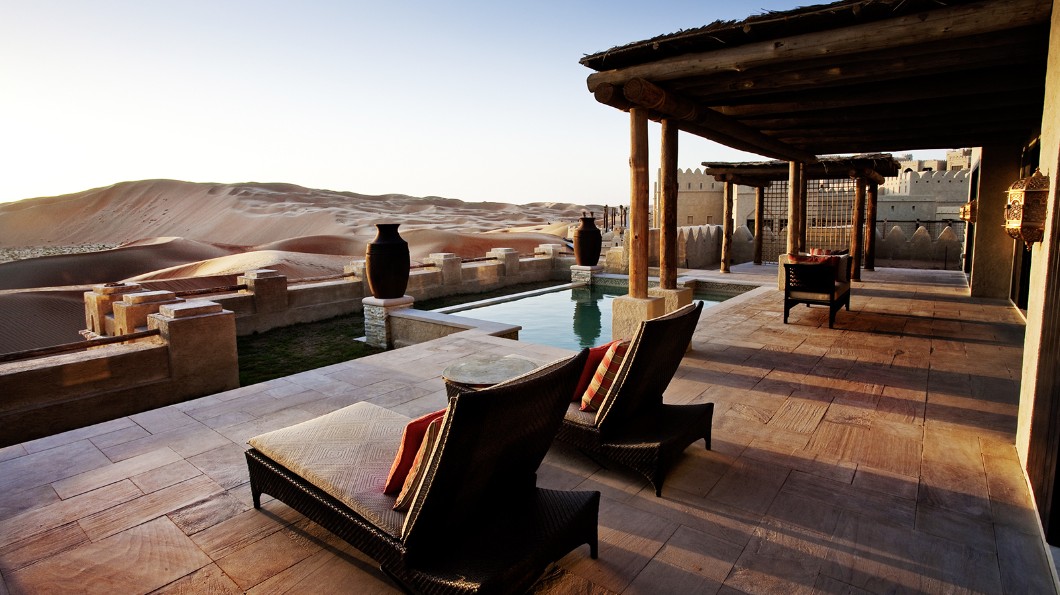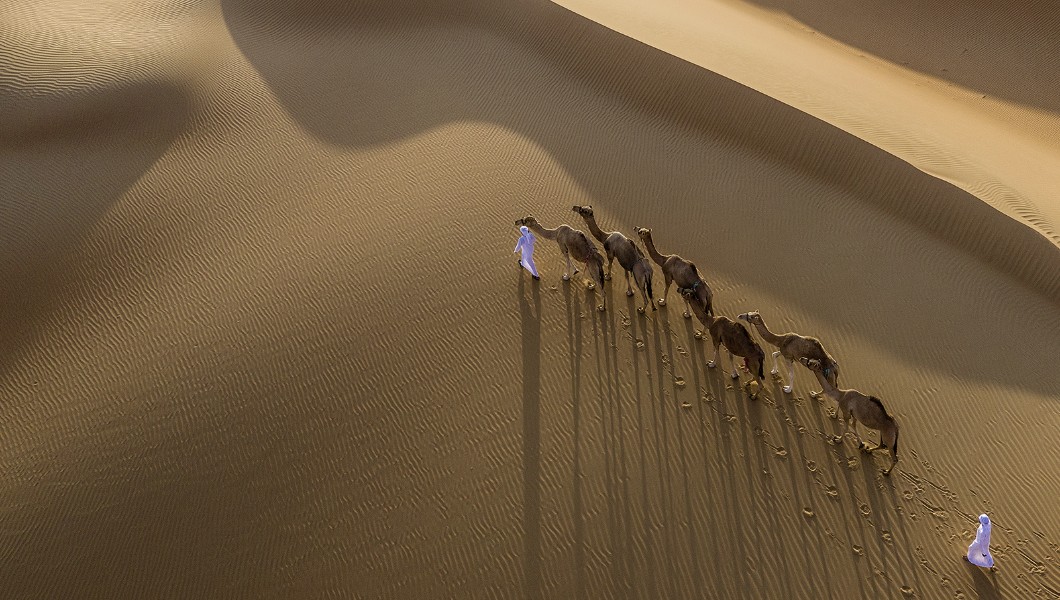 It's amazing to think all this is just three hours from Dubai – an easy and comfortable drive from the city to The Empty Quarter, two beautiful nights at the end of the winding road and a fascinating immersion into the Arab world I've called home for 14 years. If we can't travel anywhere else this summer, and staycations stay on the agenda, 
life wouldn't be so bad, would it? Just pack up the Infiniti QX80 and tap Qasr Al Sarab into the SatNav... We might well see you there.