Nobuyuki Matsuhisa is a chef who needs little introduction, having achieved a level of acclaim in the global restaurant industry that few are able to match. He gained his cooking experience in Tokyo before moving to Peru, where the unique Latin America-influenced "Nobu-style" dishes we know today were honed as he improvised with regional produce in place of unavailable, traditional Japanese ingredients. Stints followed in Argentina, back to Japan, Alaska and Los Angeles before his debut Nobu restaurant opened in New York City's TriBeCa neighbourhood with actor Robert De Niro as a business partner.

A fan of the chef since dining in Nobu's Beverly Hills-based Matsuhisa, it's a partnership that garnered plenty of attention, though any attempt to extract details on the Oscar winner's favourite dishes are deftly avoided: "De Niro is a very good friend and partner, but you can ask him what he most enjoys to eat at our restaurants!"

Nobu New York was a smash hit, and the rest, as they say, was history, resulting in a current line-up of more than 30 restaurants in nearly as many cities around the world. And while his menus offer myriad options, the chef is constantly circling the globe experimenting with trends and participating in festivals. Last month, he joined eight other acclaimed Japanese chefs at the St. Moritz Gourmet Festival, dishing up delicacies in the posh ski resort's luxe hotels under a "Yokoso Nippon" theme.

Now, the chef is preparing to launch his newest Matsuhisa restaurant, located in the opulent Le Royal Monceau-Raffles Paris. It's Nobu's third swing at the City of Light, which hosted a short-lived Nobu venue that opened in 2001 and, more recently, a pop-up restaurant for several months from 2012 to 2013, which was also based out of the Philippe Starck-designed hotel. And no doubt these two European escapades are not all he has planned for the rest of this year. But for all of his jet setting and worldliness, there seems to be no place like home. When asked about his favourite destination for a food-focused holiday, the answer is clear and simple: "Japan, because it is my home country."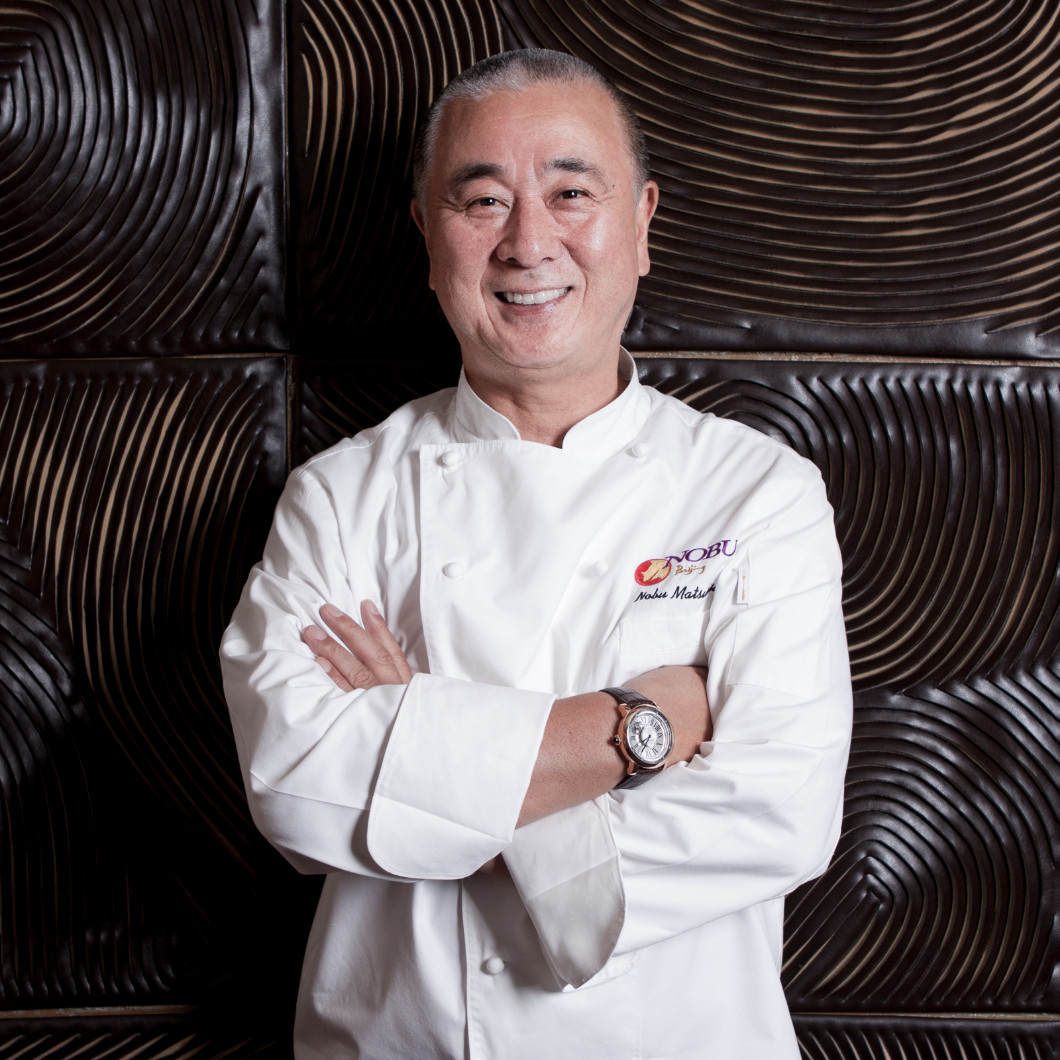 There are more than 30 Nobu-branded restaurants scattered across the world. How do you prevent the brand from becoming diluted?
I visit all the locations in order to keep the same quality across all of my restaurants. It is very important to grow a family and team in order to be able to keep this quality.

You have done a couple projects in St. Moritz – a Matsuhisa restaurant at Badrutt's Palace and the St. Moritz Gourmet Festival 2016 – do you have a special affinity for the destination?
I like St. Moritz and Badrutt's Palace Hotel – I particularly enjoy this location – and I am always looking forward to returning to our Matsuhisa restaurant there.

What food trends are you looking forward to, or hoping will become prevalent, in 2016?
Food is like fashion; there are always new trends coming out. I always like to concentrate on the Nobu-style cuisine.

You are about to open your sixth, family-owned, Matsuhisa restaurant in Paris's Le Royal Monceau-Raffles. What can diners expect there?
Paris is scheduled to open next month, in mid-April 2016, and it will share the same concept and values as other Matsuhisa restaurants. It is a beautiful space and we will introduce the omakase [the Japanese name for a chef's selection] bar there.

What was it that appealed to you about Le Royal Monceau-Raffles Paris?
Raffles is a great hotel brand. Two years ago, we collaborated with Raffles Paris for a promotion, which went really well. Then we decided to open together a Matsuhisa Paris.

You have started many Japanese-dining trends that are copied throughout restaurants in the west. Is this the highest form of flattery, or would you prefer restaurants work harder to start their own trends?
I am honoured that people – and younger chefs in particular – are inspired by my cuisine. I am also very happy that Japanese cuisine is doing well and expanding globally. I always say that my cuisine cannot be copied, as they can copy my food but not my heart.

With restaurant launches, pop-ups and even hotels on your resume, you must be extraordinarily busy – do you get to spend as much time as you would like in the kitchen and elsewhere?
I am always in the kitchen when I visit our restaurants around the world. If I had more time I would spend it with my family.

Can you tell us more about the omakase bar at the upcoming Matsuhisa Paris?
Omakase bar guests will have a bespoke culinary experience exploring the chef's choice of tailor-made menus. They will use the best ingredients of the day.

What do you love about Paris?
I love many things about Paris: the energy, ambience and the people. There are great products and great professional chefs along with a unique culinary culture that stimulates my feelings towards my cooking.