Its twin stands some 3,000-miles away in Paris' Place de la Concorde," Egyptologist Mohammed Ezzat remarks, as I crane my neck to take in all 22 metres of the red granite monolith before me. Thousands of years ago, nearly every temple in ancient Egypt would be flanked by these monumental structures. Designed to connect the earth with the gods, their tops were tapered into a pyramid to catch the sun's rays. "Now just six obelisks stand in my motherland," Mohammed continues, including this stunner at the entrance to Luxor Temple.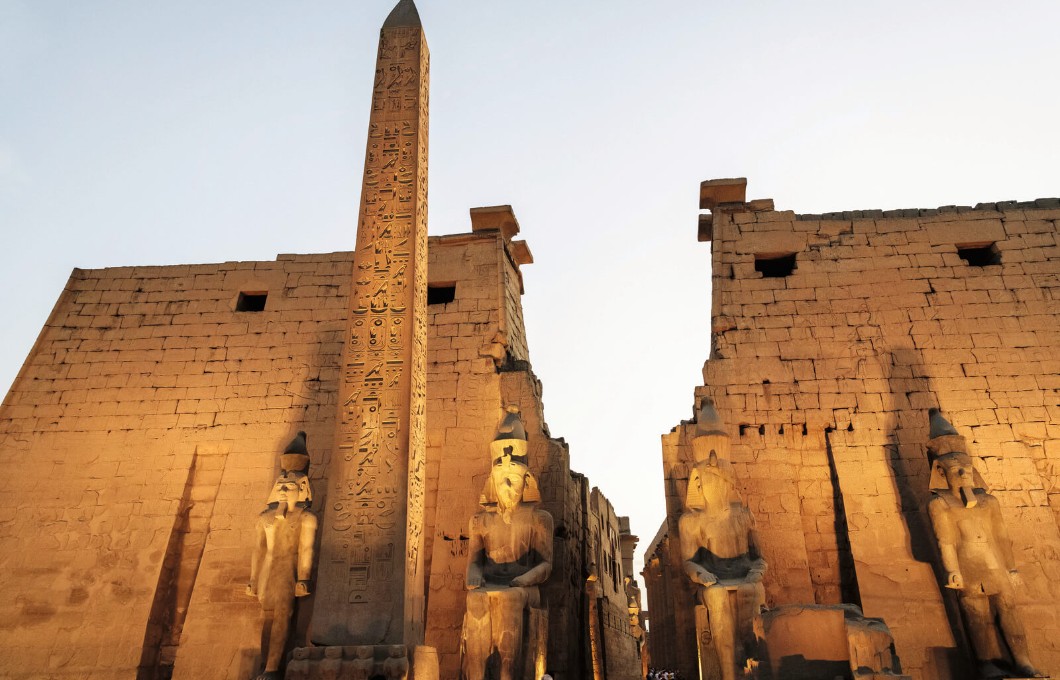 Sculpted from Nubian sandstone almost a thousand years before ancient Greece's Golden Age, Luxor Temple is located in the world's largest open-air museum – otherwise known as Luxor, on the east bank of the Nile.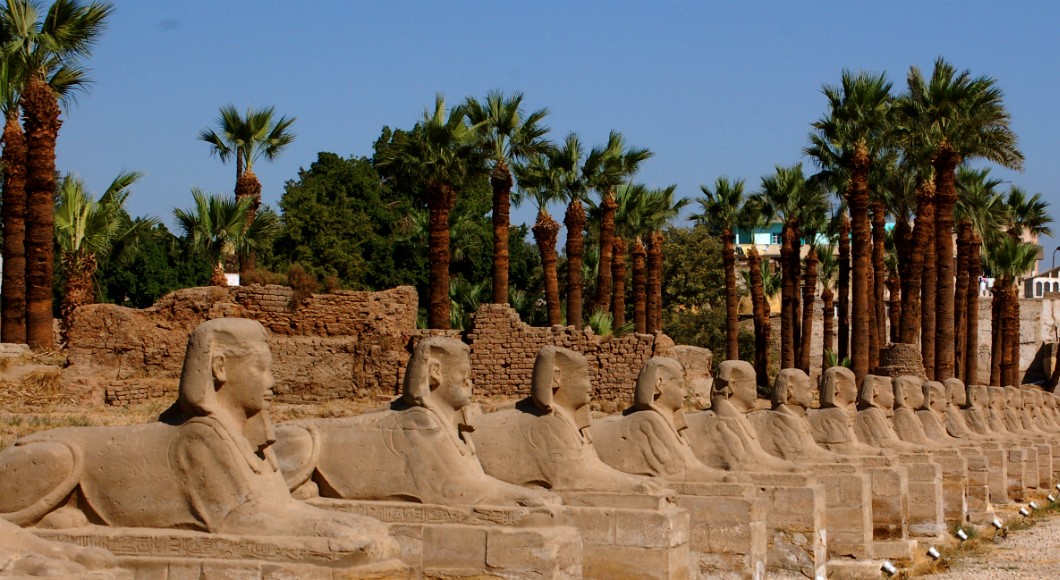 Strolling into the temple's first court, I marvel at its marble-domed medieval mosque, under which a Christian church was excavated. Successively occupied by several pharaohs, the site has been in almost continuous use as a place of worship. Between its detailed bas-reliefs, you can discover Roman frescoes and even a granite shrine of Alexander the Great.
Like most temples, it was built close to the Nile's fertile banks – Egypt's lifeline since ancient times – where papyrus reed boats carrying mummies, pilgrims and camels once sailed. These days, its velvety waters are plied by single-sail feluccas and double-masted dahabiyas, that transport modern-day pilgrims like me back in time to one of the world's greatest civilisations.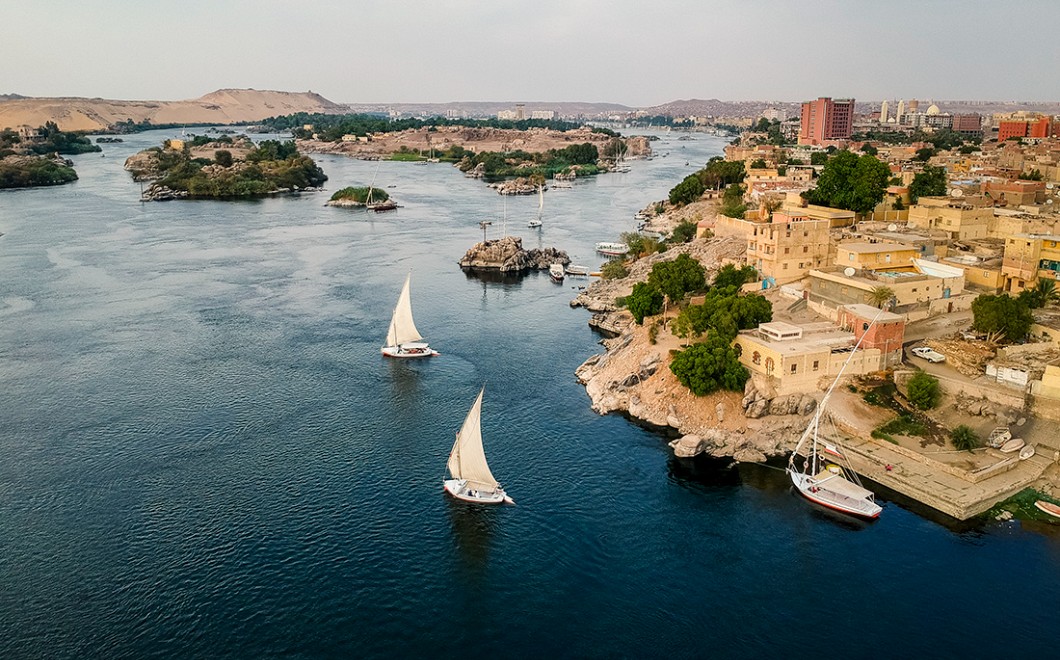 The most luxurious of these floating hotels are intimate river yachts like Sanctuary Retreats Sun Boat III – one of a three-strong fleet that hosts five- and nine-day trips along the fabled river, and which can be done as part of a wider itinerary with Abercrombie & Kent.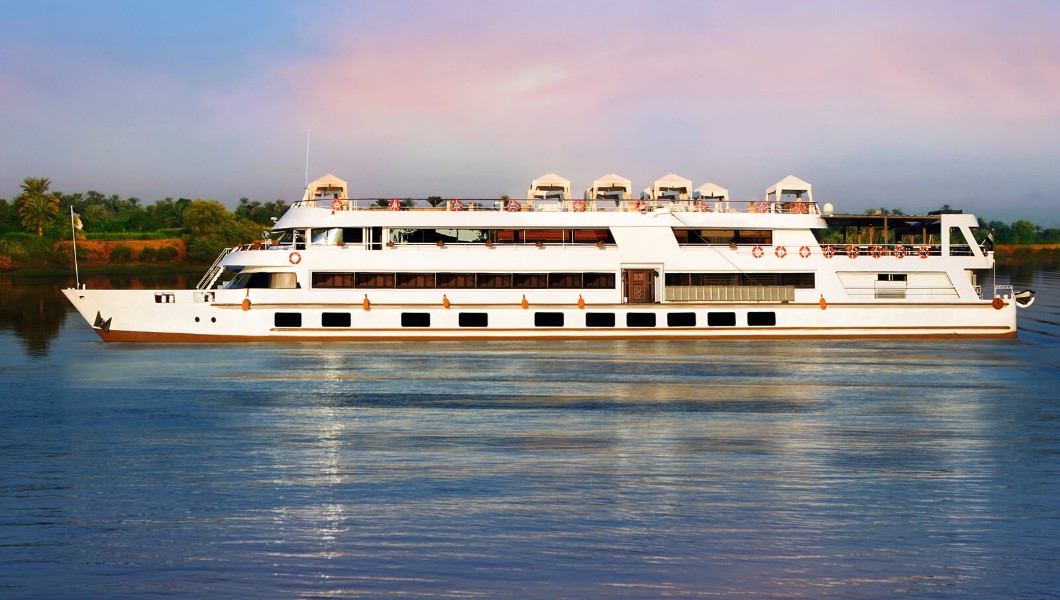 Covering 150-miles, their popular four-night sailings travel up and downstream, bookending with Luxor and Aswan, where the Sahara begins, and the ancient Nubian kings once ruled.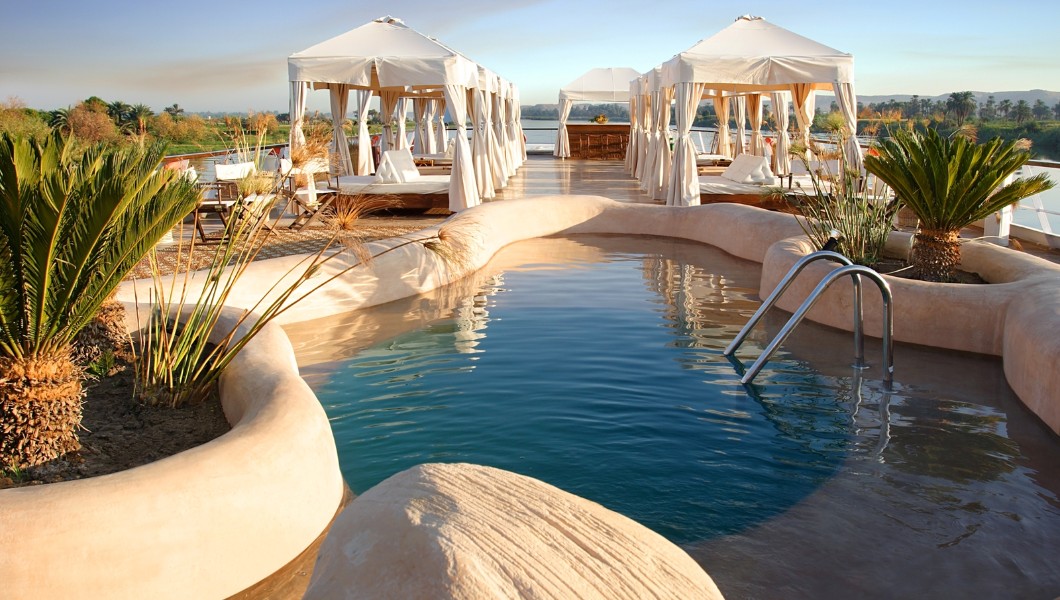 Even at standstill, four-decker Sanctuary Sun Boat III still manages to evoke the romanticism of river cruising – blending British colonial style with Bedouin influences. A sweeping staircase leads up to a breezy upper deck, equipped with shady cabanas and a bijoux pool named Cleopatra's Oasis, which I can't resist taking a pre-lunch dip in. The cruiser's 14 cabins are scattered across the promenade and Nile decks, with two royal and two presidential suites boasting wrap-around windows at the bow.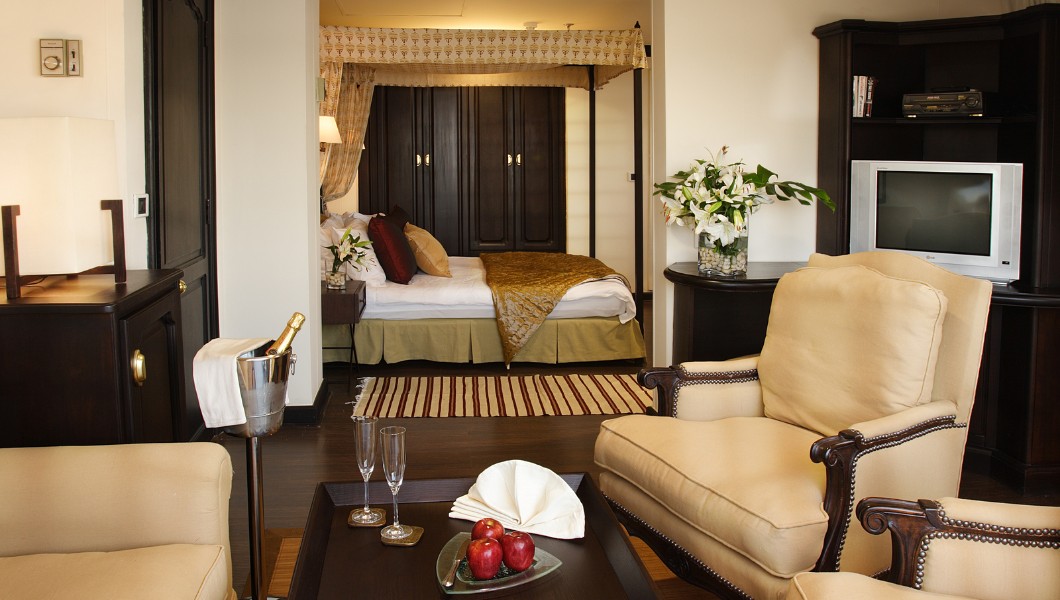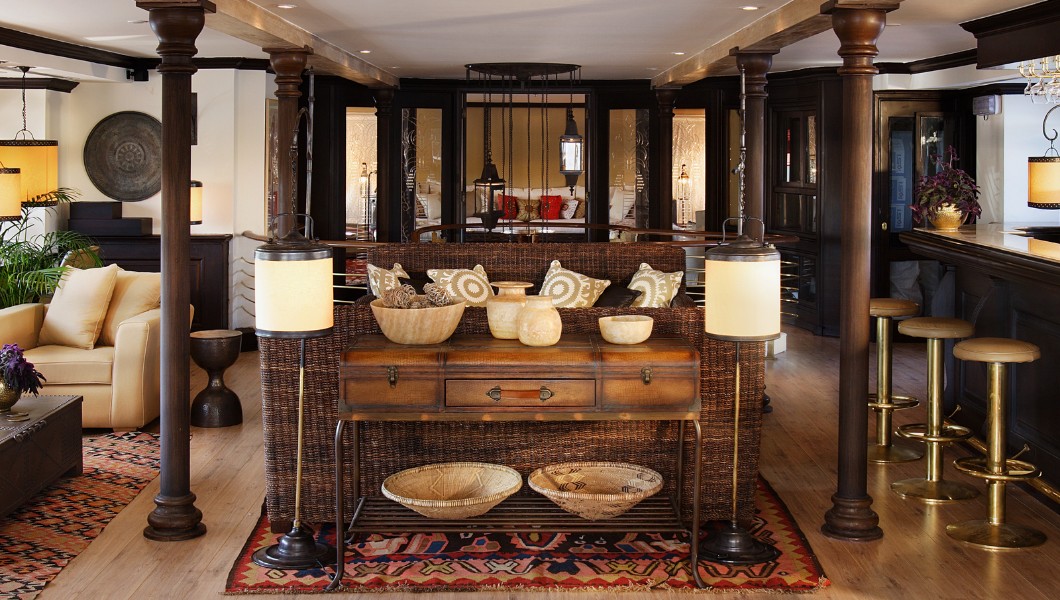 Wrapped in champagne tones, with fine upholstery and a grand four-poster, my presidential lodgings offer some welcome respite from Egypt's unrelenting midday sun.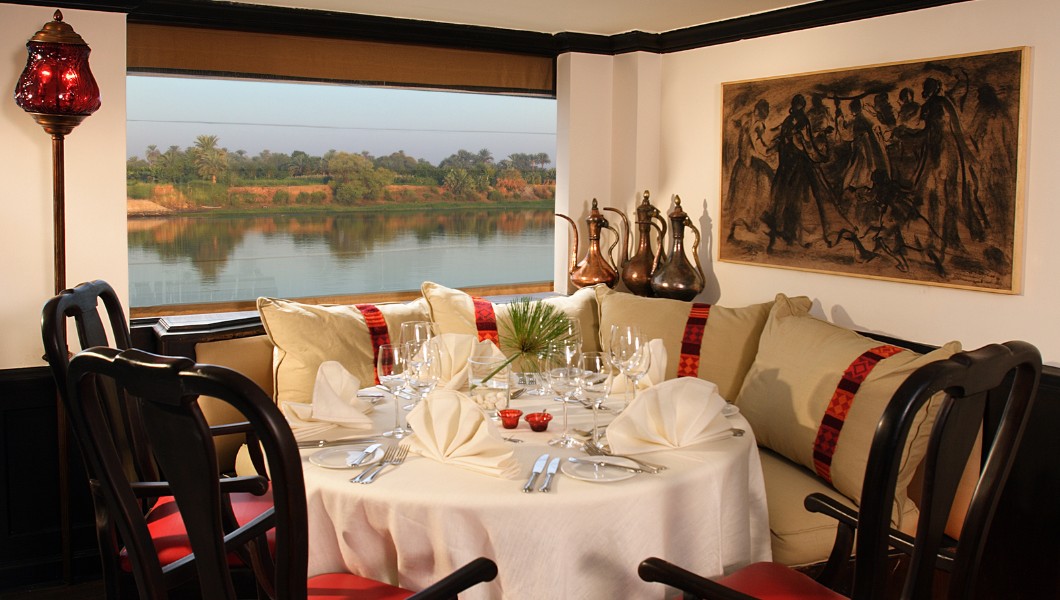 Another place to take refuge is in the vividly painted royal tombs of the Valley of the Kings, where an afternoon of sightseeing ensues.
The burial place of New Kingdom pharaohs, as well as queens and high priests, this barren tract west of Luxor "is a window into the death rituals and burial rites of Ancient Egypt," Mohammed explains. We descend 125 metres down into one of the most magnificent, belonging to the mighty warrior King Ramses III. Its centrepiece is an eight-pillared chamber known as the 'Tomb of the Harpists'.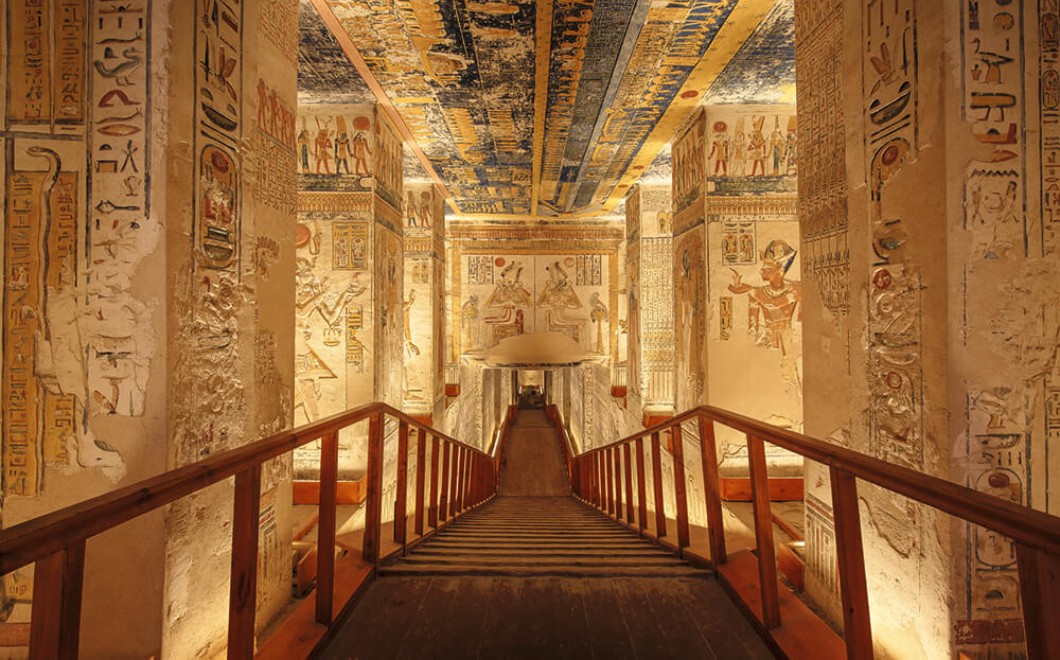 Another formidable ruler memorialised in limestone (this time above ground), is Queen Hatshepsut. Her three-tiered mortuary temple sits dramatically at the foot of Deir el-Bahari's sheer limestone cliffs.
Brandishing sun-shielding umbrellas, we scale its ankle-buckling steps to admire beautiful painted friezes depicting the Queen's intrepid trade expeditions to modern-day Eritrea. Credited with steering the country into a period of peace and prosperity in 15th century BCE, Hatshepsut became the first female king of Egypt.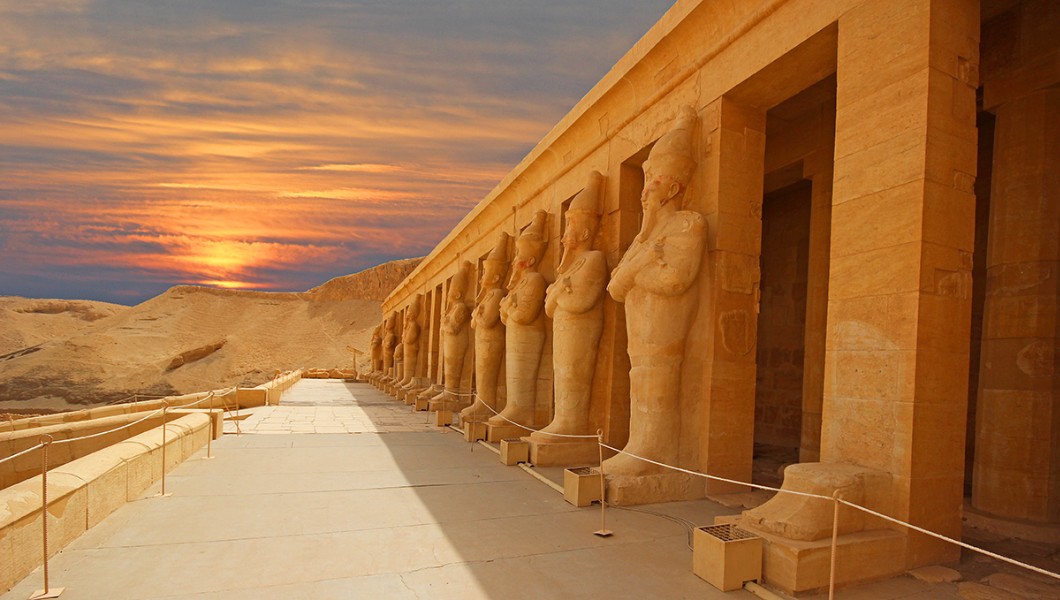 Back on our graceful cruiser, I dine on a feast fit for pharaohs that evening in the Nile Deck restaurant – a vision in copper and dark woods. The standout plate is the couscous veal carving with kushary – a veggie medley of rice, lentils, macaroni and chickpeas, which also happens to be Egypt's national dish.
The next morning, I'm up with the ibises to visit the largest surviving religious complex in the world: Karnak Temple. Excavated over 150 years (and counting), the epic national sanctuary was buried under desert sands for centuries. We enter through a grand avenue of ram-headed, lion-bodied sphinxes that "once led all the way to Luxor Temple two-miles away," Mohammed says. "Karnak was the holy shrine of ancient Egypt," he continues, as we make our way to a pillared space where 134 seven-storey, hieroglyphic columns soar skywards. Over 8,000 words in Egyptian Arabic derive from hieroglyphics.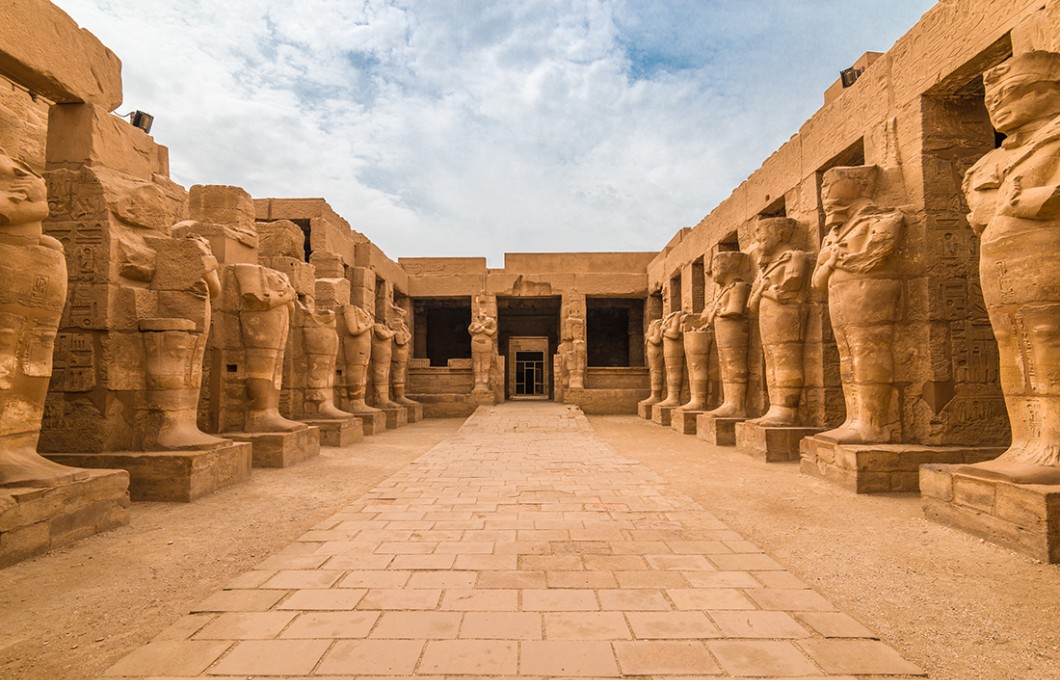 A return to the boat warrants a glass of celebratory Egyptian wine from Cleopatra's Oasis (where else!), as we finally cast off. Viticulture flourished in the days of ancient Egypt, and even the boy king Tutankhamen had jugs of white wine buried with him. Grapes ornament the capitals of some temple columns too, like the ones at Khnum Temple – our next (quite literal) pit-stop in the backwater town of Esna.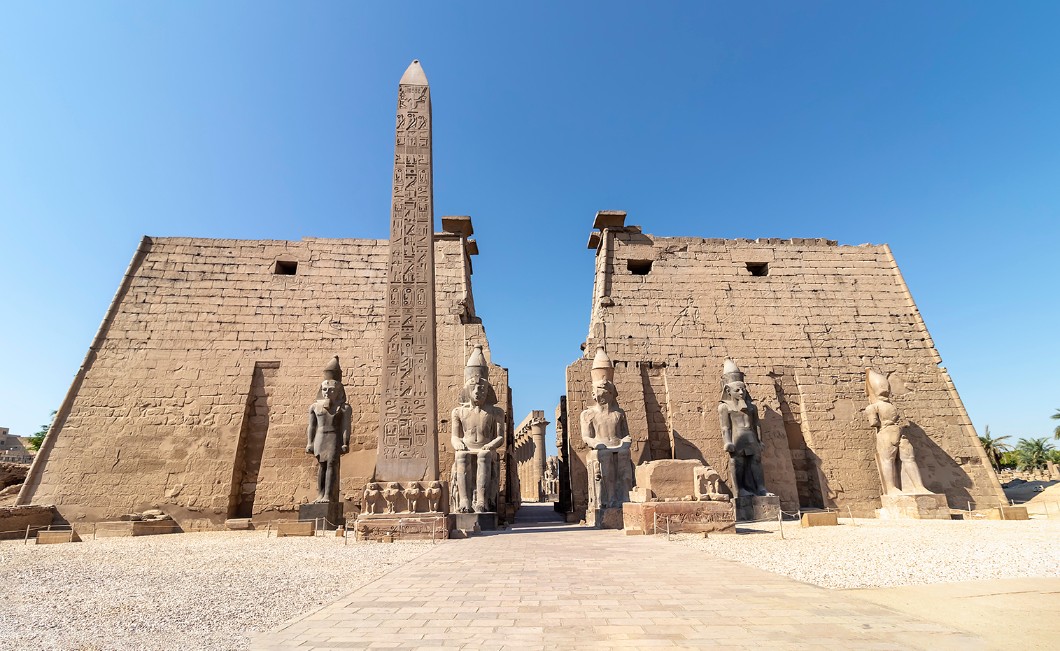 A 200-metre walk from the boat landing leads to a steep staircase descending into the temple's sunken Hypostyle hall, added by the Romans in the 3rd century CE. The rest of the temple remains swallowed up by centuries of the Nile's silt nine metres below Esna's streets, Mohammed tells me. It's ironic that the temple should be dedicated to Khnum: the god responsible for sculpting humankind from the river's clay mud. Ancient Egyptians named the country Kemet (meaning the 'black land') after the dark alluvial soils yielded by the Nile's life-giving floods.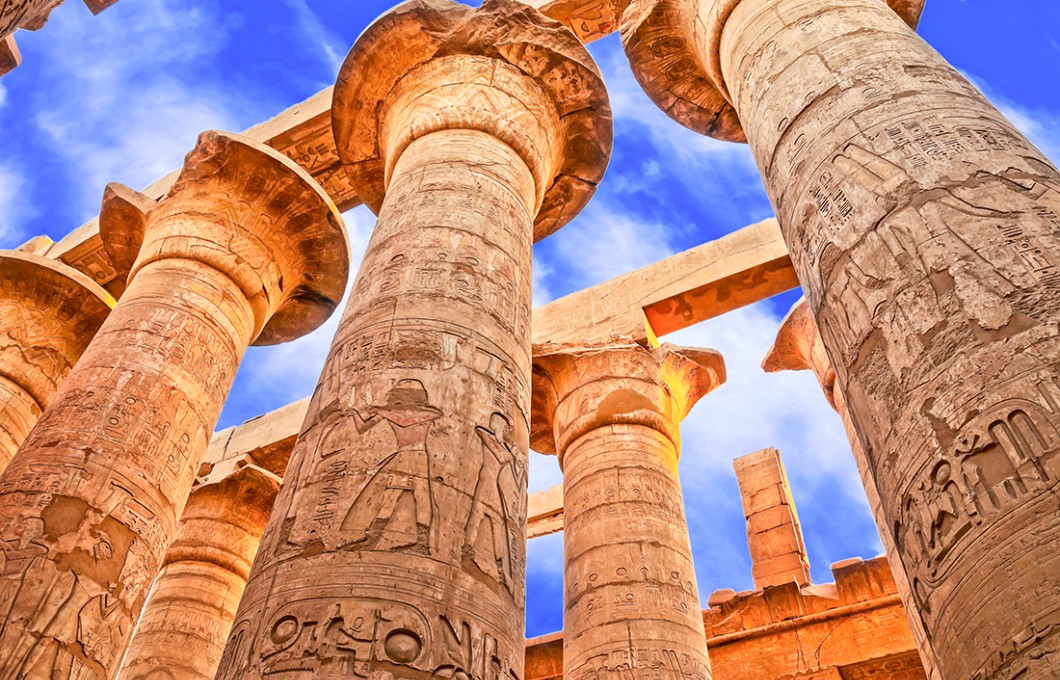 To this day, nearly all Egyptian life centres on the Nile. Our sleek vessel moves at a satisfyingly languorous pace to take it all in. Over breakfast the next day, I watch egrets tiptoe across the river's marshes and a farmer macheting sugar cane – the mainstay crop of our next port of call: Edfu. Positioned halfway between Luxor and Aswan on a hillock overlooking the Nile, Edfu's namesake temple is best reached the old-fashioned way – on a horse-drawn carriage.
Merging Greco-Roman with classical Egyptian architecture, the 2,200-year-old site is full of wonderful eccentricities, like the perfume recipes inscribed onto the wall of its temple's laboratory.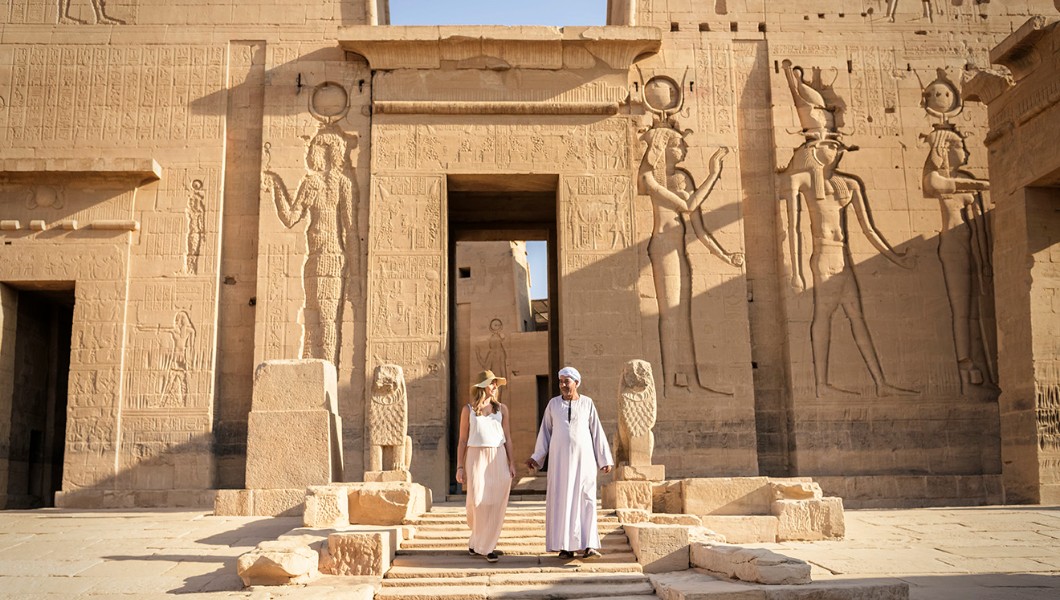 Also packed with pharaonic quirks is Kom Ombo – our last temple stop before Aswan, which marks ancient Egypt's southern frontier. As the magic hour starts to glow, so does the sandstone of this perfectly symmetrical double temple, dedicated to two deities: Sobek (the crocodile god of fertility) and the falcon-headed sky god, Horus. The highlight for many is the site's Crocodile Museum, where 22 mummified crocodiles – a totem animal in ancient Egypt – are displayed.
Thankfully, there are no signs of the fearsome reptiles the next day, as we skim the shallows in a motorised boat to Agilkia Island to see one of Eygpt's most venerated sites. Fringed by swaying palms, in a scene that wouldn't look out of place in the Med, the Greco-Roman Temple of Isis comes into view. "Rituals and ceremonies of ancient Egypt were last practiced here," Mohammed tells me, as we scan the temple walls for ancient graffiti in Arabic, French and Latin.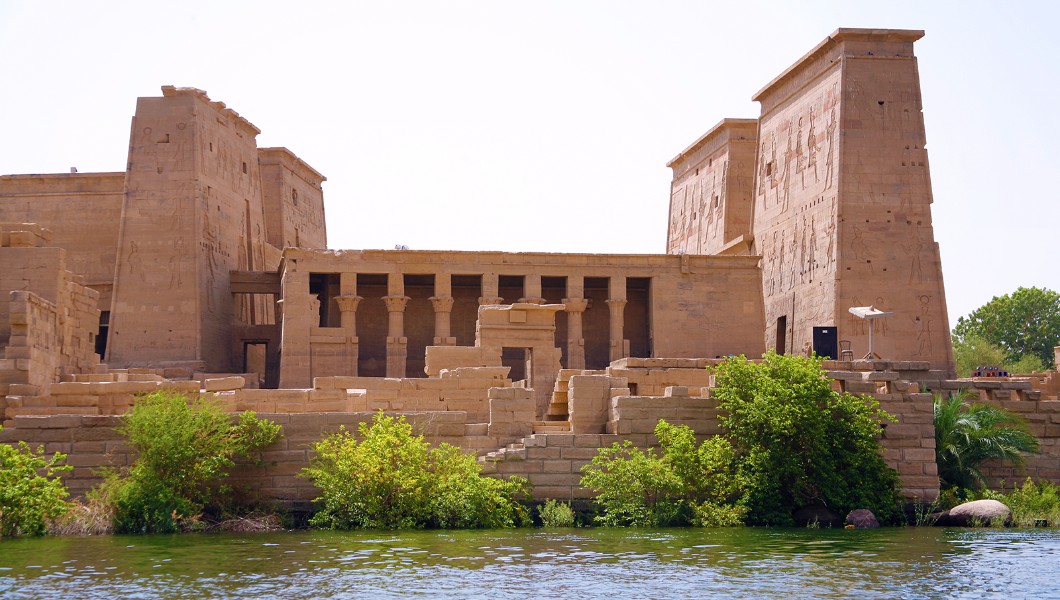 Remarkably, this wasn't the temple's original site. Each of its 40,000 stone blocks were moved 500 metres from Philae Island (now buried beneath Lake Nasser) to Agilkia in 1980, then reassembled by UNESCO over the course of a decade.
Mystery and intrigue still hang over how the ancient Egyptians were able to move colossal single slabs of rock for their sacred obelisks. Aswan Quarry (an open-air museum) offers a rare glimpse into this ancient stonemasonry.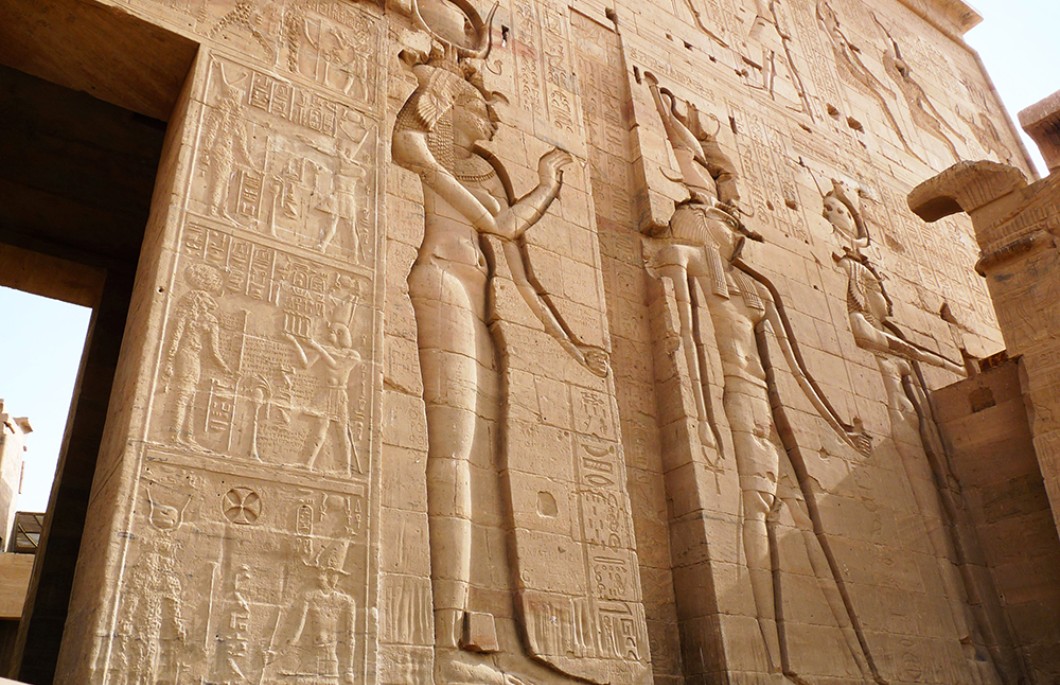 I peer, dumfounded, over a 42-metre-long-obelisk, still attached to the bedrock where it was abandoned for the next 3,000 years due to latent cracks. "The sleeping giant would have weighed 1,200 tons!" Mohammed exclaims. It's carved from the same red granite ferried up and down the Nile on wooden vessels to decorate Egypt's greatest monuments.
These ancient boats would have relied on the Nile's breeze and current, much like the feluccas that ply the waters today. Scattered with cushions, our delightful lateen-sailed craft is captained by Abdul. He deftly navigates us around Elephantine Island – once a defensive city at the border of Egypt and Nubia. Meanwhile, Mohammed points out landmarks like Lord Kitchener's Botanical Gardens and the historic Old Cataract Hotel, once patronised by Winston Churchill and Dame Agatha Christie.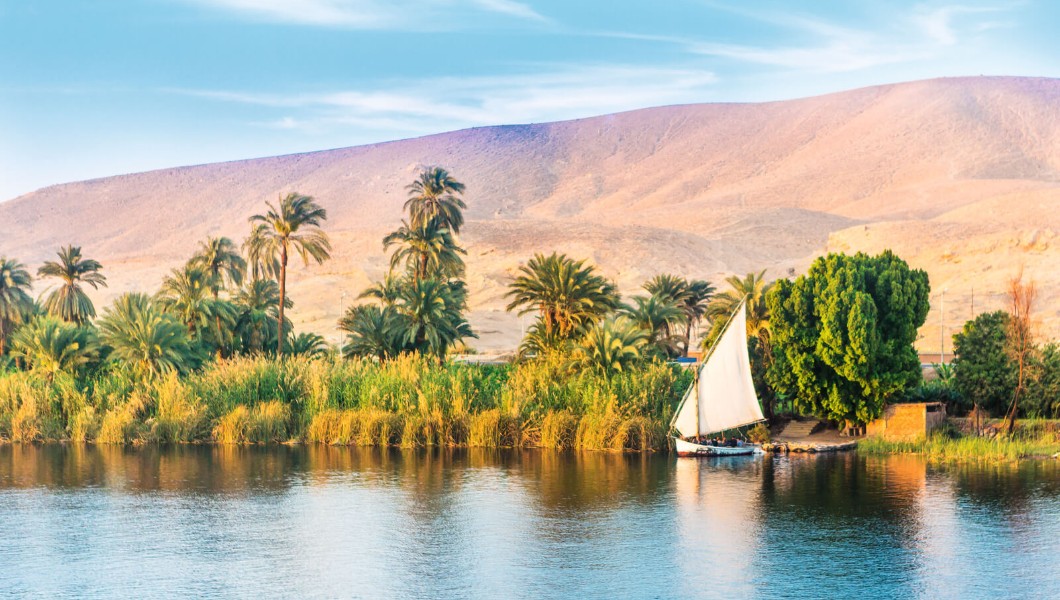 550-miles north, another grand hotel stands sentinel over the Nile, though its story has only just begun. Making its long-awaited debut in January, The St. Regis Cairo brings a welcome dose of luxury to the Egyptian capital. Marrying modern elegance with old-world charm, the 36-storey Marriott property was masterminded by the late American architect Michael Graves.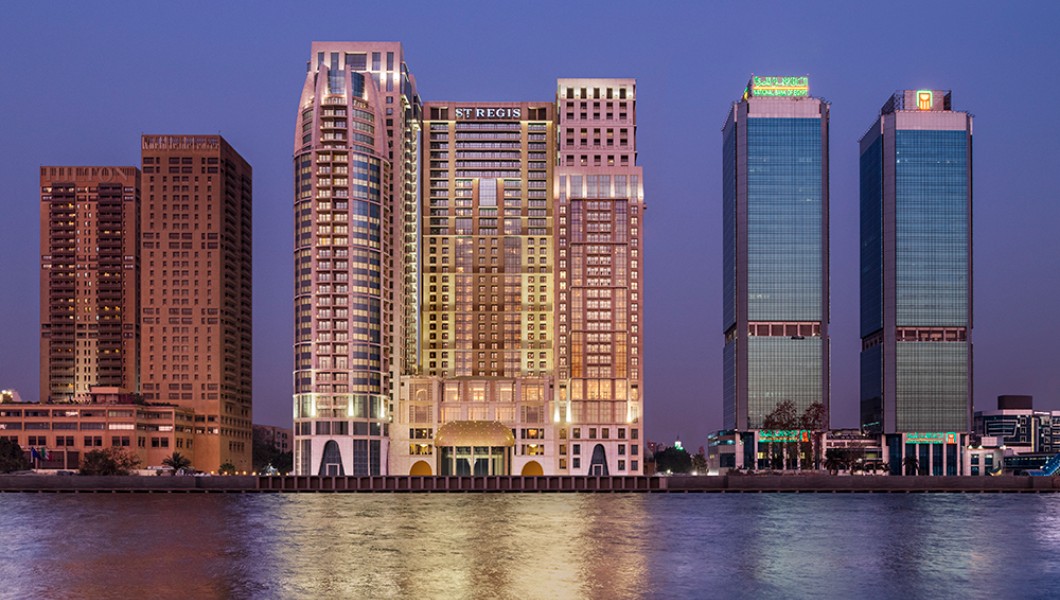 And it sure knows how to make a grand entrance. Stretching along the east side of its Lobby Lounge is The Water Garden – festooned with ornate brass lanterns, chandeliers and wooden mashrabiya screens, which pay homage to the country's rich craftsmanship. This is the place to take afternoon tea, one with a pharaonic twist that is. Served on Fürstenberg porcelain, the irresistible bites are made with ingredients used in ancient times. I order seconds of the almond biscuit stuffed with hibiscus and orange blossom, washing the sweet treat down with tea from Dilmah's boutique Silver Jubilee collection. Adding some ceremonial flair, the menu is unfurled from a papyrus scroll, modelled on the ones used in ancient Egypt that would go on to revolutionise the literary world.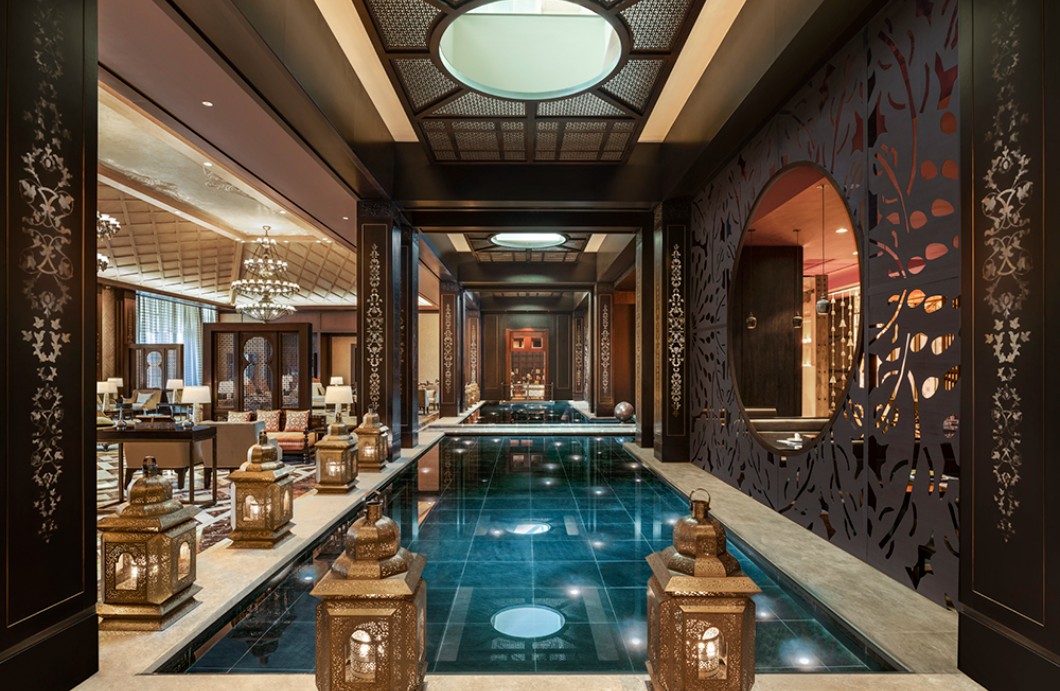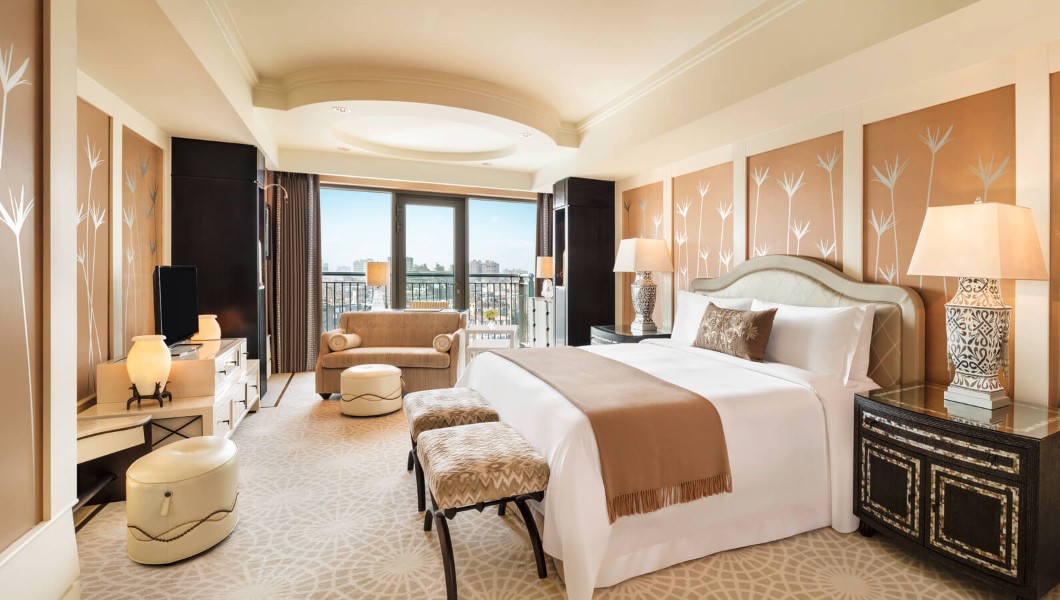 Papyrus prints also adorn the walls of my Astor room – one of the property's 362 rooms and suites. Outfitted with leather ottomans, pearl-inlay nightstands and Frette bedding, the pièce de résistance is its spa-like bathroom, stocked with Italian amenities by lux brand Angelo Caroli.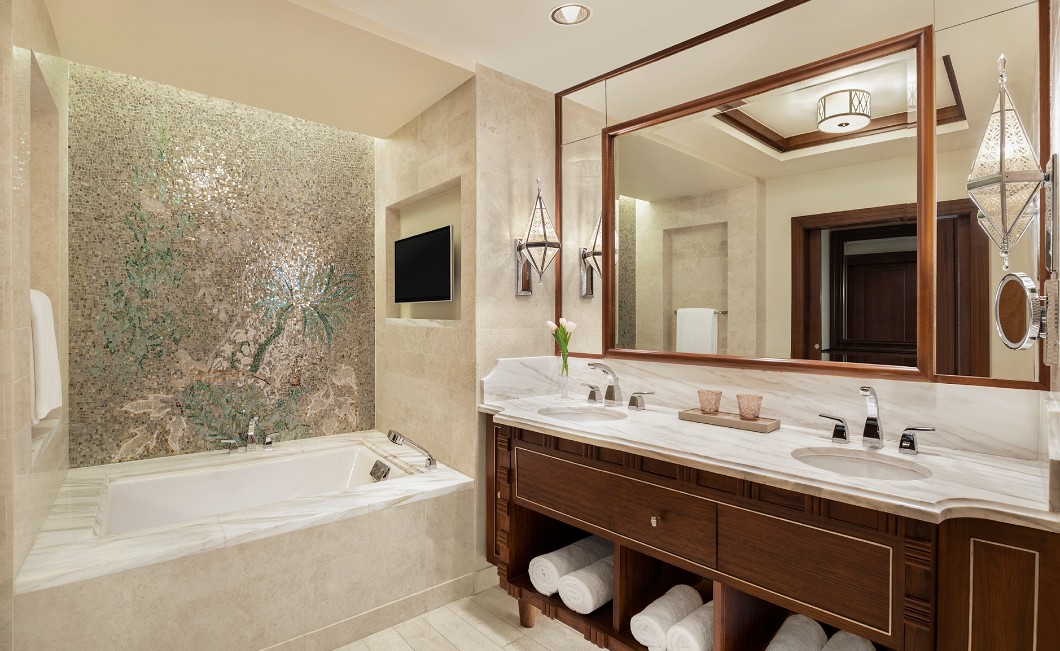 After channelling my inner Cleopatra at the hotel's bi-level Iridium Spa, I scope out the hotel bar, which references the brand's flagship King Cole Bar in New York City. Sipping on a Hibiscus Mary (the hotel's take on St. Regis' signature cocktail), I ponder over the bar's head-turning Pink Sun mural, inspired by ancient Egypt.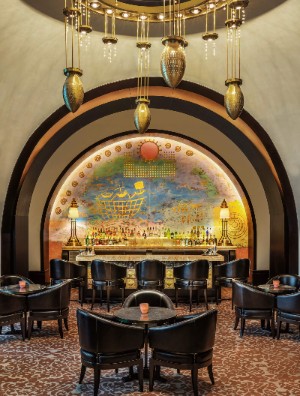 In a fitting finale, my last afternoon is spent at the city's newly inaugurated Museum of Civilisation (NMEC), which charts Egyptian civilisation from prehistoric times through to the modern age. The sprawling complex made headline news back in April, when 22 royal mummies were conveyed here in a procession of floats from Tahrir Square's Egyptian Museum.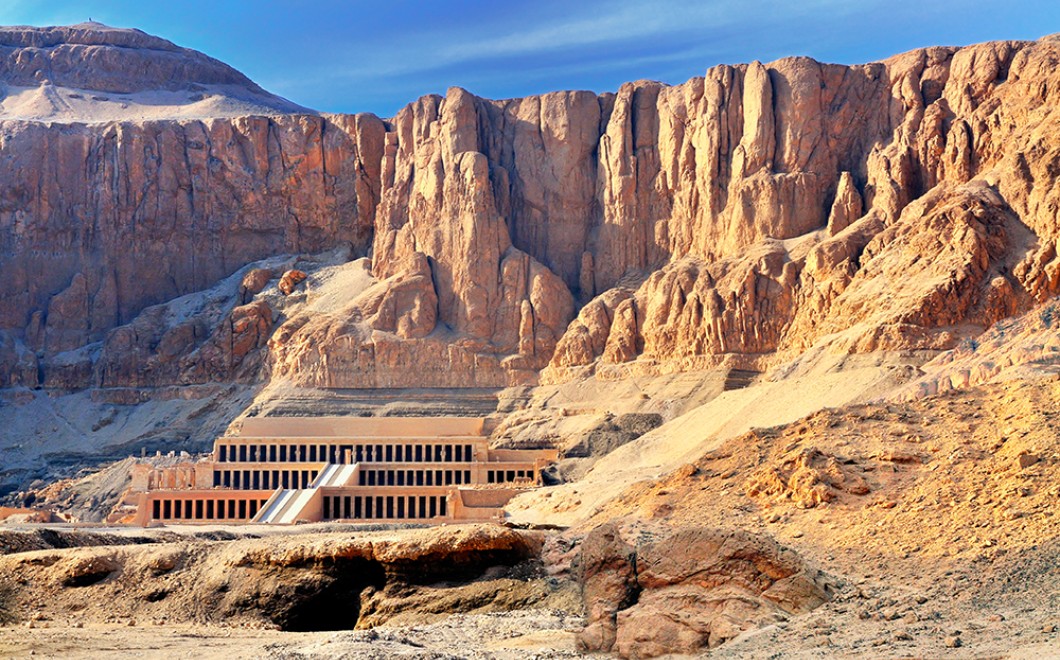 In its crypt-like Mummies Hall, I linger beside one backlit mummy a little longer – that of Queen Hatshepsut. Described as one of ancient history's greatest, yet least known rulers, successive male kings chiselled out her images from temples, in an effort to wipe out her memory. Now, the fearless female pharaoh finally has her rightful place back in the spotlight...
Stay:
The St. Regis Cairo
+20 2 25979000
Sanctuary Sun Boat III