Firstly, congratulations on the recent opening of Cora Cora Maldives and your appointment as GM. I'm sure it's been an exciting ride since you joined! Give us your best elevator pitch for the property…
Thank you very much and indeed has been very exciting to open Cora Cora Maldives in October last year, a place that guests actually describe to me – very frequently – as a place with a "good vibe", and I believe that this vibe is created by the way we interact with our guests, décor, amenities and some very exciting restaurant concepts, along with a very exciting Wellness Center.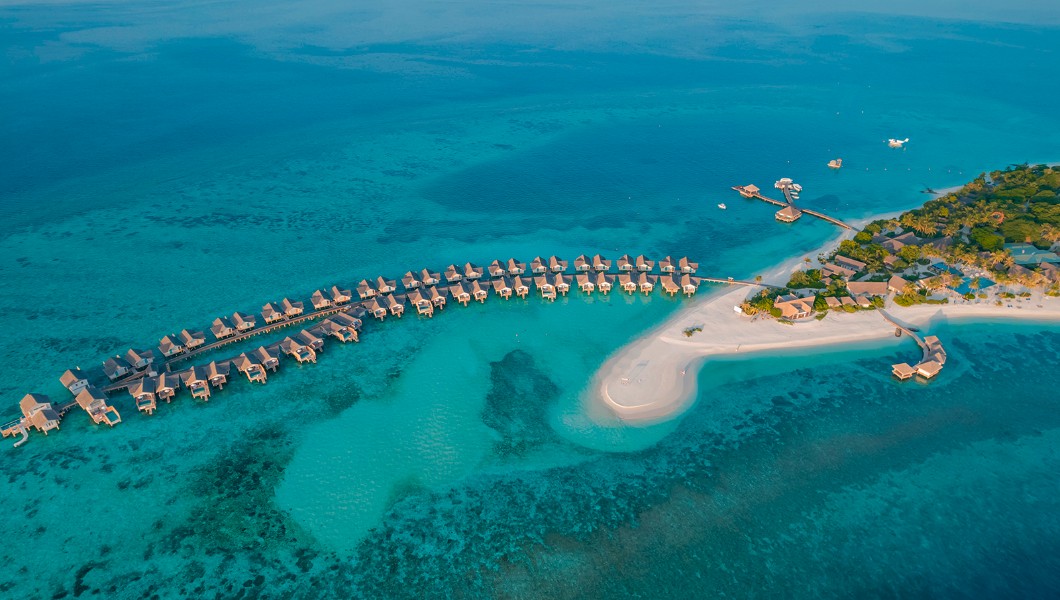 The Maldives – and wider Indian Ocean – is literally awash with beautiful, five-star resorts, with an increasing lean towards luxury all-inclusive. How does Cora Cora Maldives set itself apart?
We believe that we are the preferred choice in the premium all-inclusive market firstly, because of our dine around concept (Gourmet Meal Plan®), meaning there are no restrictions where our guests can eat, and that paired with a very extensive Beverage list, the ultimate MyCoffee (MyCoffee®) chill-out café-bar where we roast our own coffee and serve our homemade gelato. Everyone should have tried our vegan chocolate cake before they depart (!) and should visit our museum and heritage site that is unique here (Dutch Onion®) – the first island licensed art gallery and museum plus heritage site.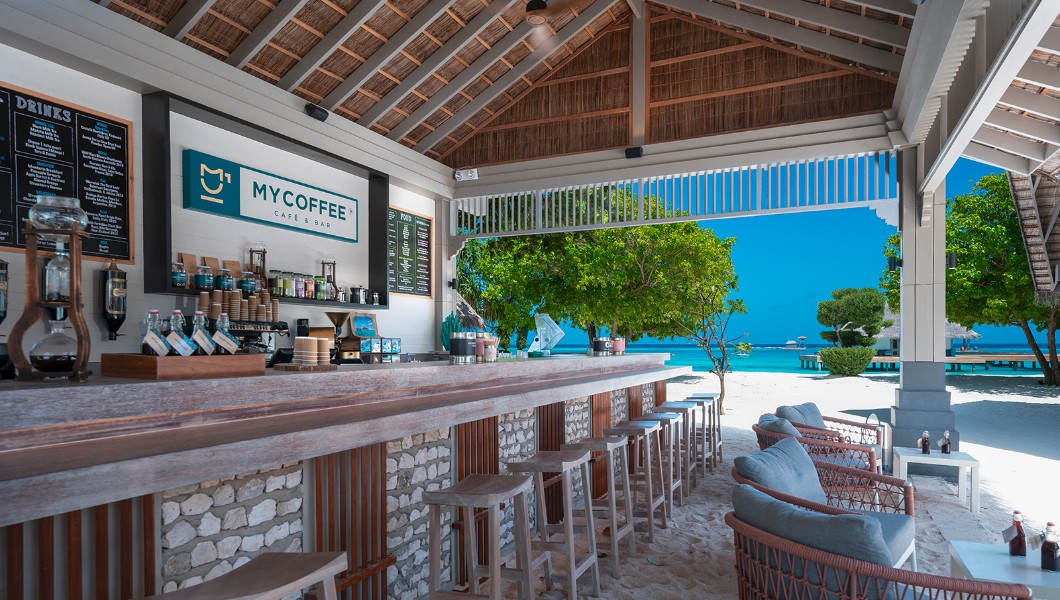 As GM, what is your vision for the property and what do you want to achieve?
From the very beginning we have established a cultural DNA whereby we put our team first, meaning we look after their wellbeing in all aspects. This is not to say that we are perfect, and 250 team members living on a remote island naturally creates its own challenges, but we have a happy and supportive atmosphere and that seems to transcend to our guests and they – as mentioned – feel this vibe on the island. So what we want to achieve is to continuously invest and focus on our people, giving them training and career opportunities, and last but not least offer them a place where we have fun and that in return will bring our guests back again and again, which is the foundation of our humble success.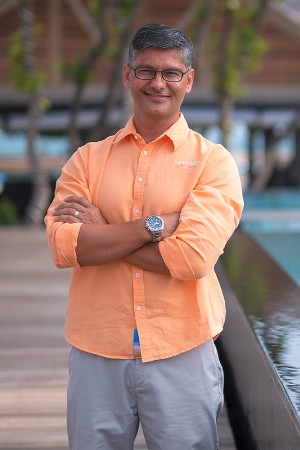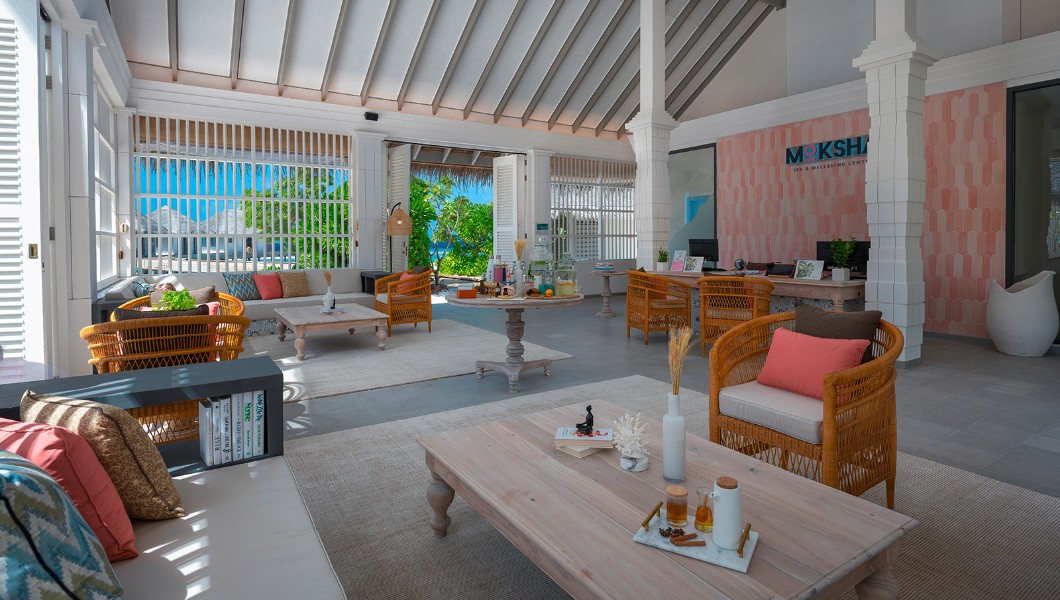 With your experience in sports, leisure and wellness management, as well as sales, what do you feel you bring to the role, the island and the business?
Our wellness center, MOKSHA® Spa & Wellbeing Center, which we have given the sanskrit name "Moksha" (meaning to free oneself) is indeed unique and offers a whole wider range than just a few generic massages. Under the banner of 12 Dimensions of Wellness, we would like our guests to immerse themselves into healing treatments that are unique here in the Maldives. And, indeed, with my previous sales experience, we are continuously looking at opportunities to get the good message of the "good vibe on Cora Cora" out into the world to work with our worldwide partners.
Tell me about Cora Cora Maldives' 'It's Freedom Time' ethos. I mean, it sounds like my cup of tea, but what is it exactly?
Our tagline "It's Freedom Time" was born in the midst of the pandemic with the aim to give our guests a place where they can feel free again, mainly in two ways. Introspectively, to find calmness and peace through meditation and reading (each villa has five books centred around wellness), but also with calm places scattered around the island where guests can be alone yet also feel free again in a stimulating way to learn new things. For this, we offer everything from guitar sessions and traditional boduberu dancing to art classes – all sorts of activities that guests can hopefully take home as a memory of their Cora Cora Maldives' journey.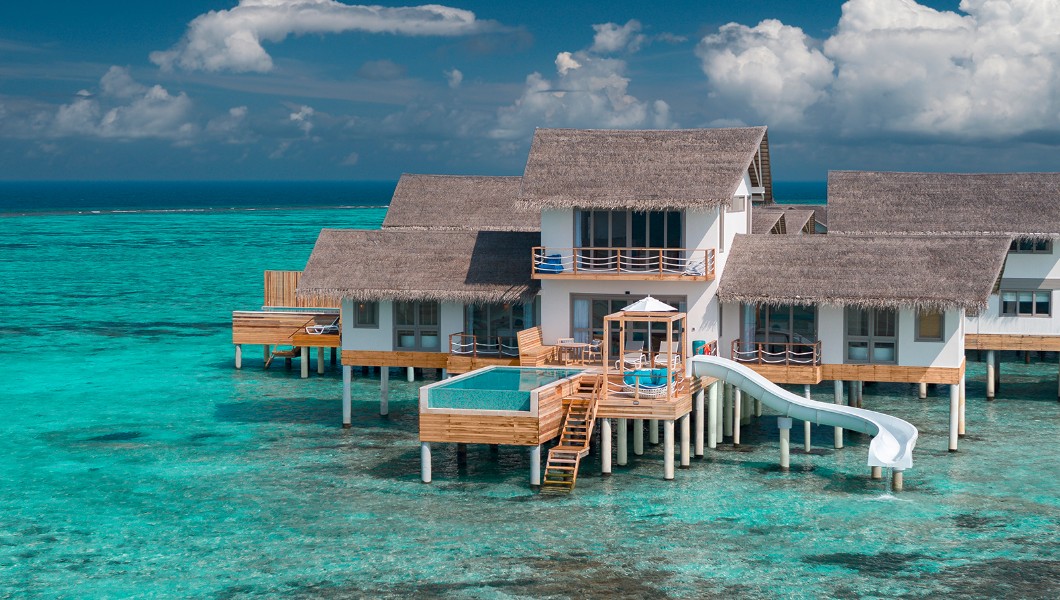 You seem to cover all bases for holiday styles – be it families, couples, young children… What are some of the key USPs of what you offer on the island?
Cora Cora Maldives has been designed with freedom in mind and provides the perfect blend of luxury, romance and fun family-friendly options. We believe our Kids Club (CoraKids®) is truly engaging for all ages of children and because it's very centrally located, the kids can also freely roam around and become part of the overall atmosphere at the resort where they can play billiards or ping pong with the adults in the lobby, for example. Couples (but also the little ones) that are into good food, will find Cora Cora Maldives a reason to come back as we strongly believe we offer an outstanding choice of delicacies from around the world. Also, I think we have the largest choice of vegetarian and vegan dishes. And we have 12-metre high tower with spectacular views and art gallery, museum and heritage site that is very interesting for our guests to get a glimpse into the history of the Maldives. Moreover, our island is natural and has 100 hectares of lagoon and a house reef which is accessible from the beach.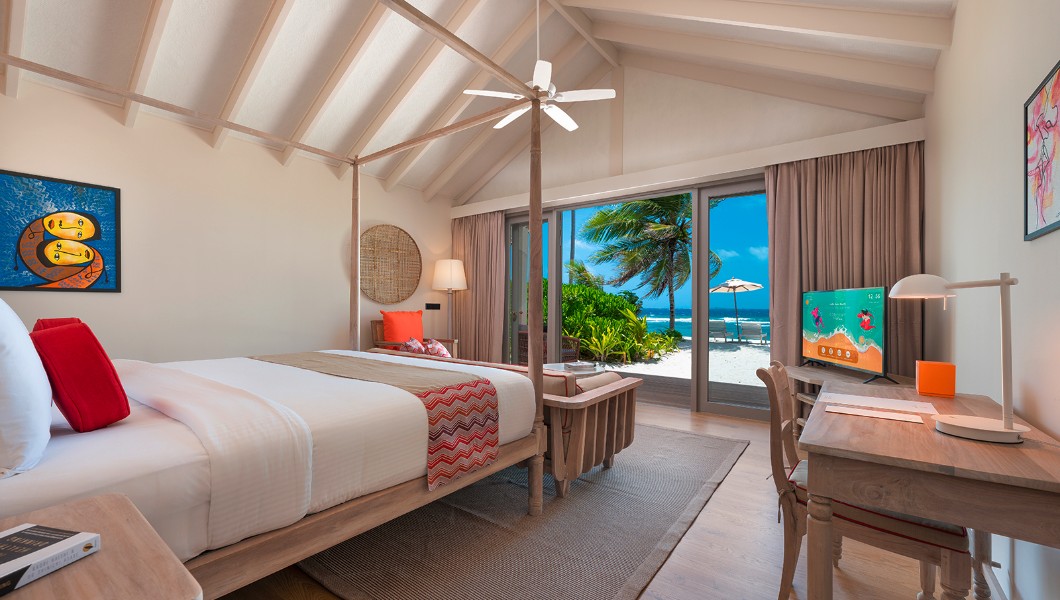 It seems like 'people' are really at the heart of the Cora Cora Maldives experience – from the staff, to the guests, to the interaction between the two, the relationships, the memories… Has this been an integral focus from the start?
Indeed, and we realised early on that our guests will only feel free if our team members have opportunities to engage in similar activities, and we are therefore offering them activities to find pockets of "feeling free time" before or after their work shifts, and so you will see them playing volleyball, badminton, billiards, singing karaoke, learning to snorkel and dive, and just recently learning new languages. They also have access to yoga and meditation classes, and this has all made a tremendous difference for them to find a balance and a level of happiness away from their families and friends, and focusing on their own development.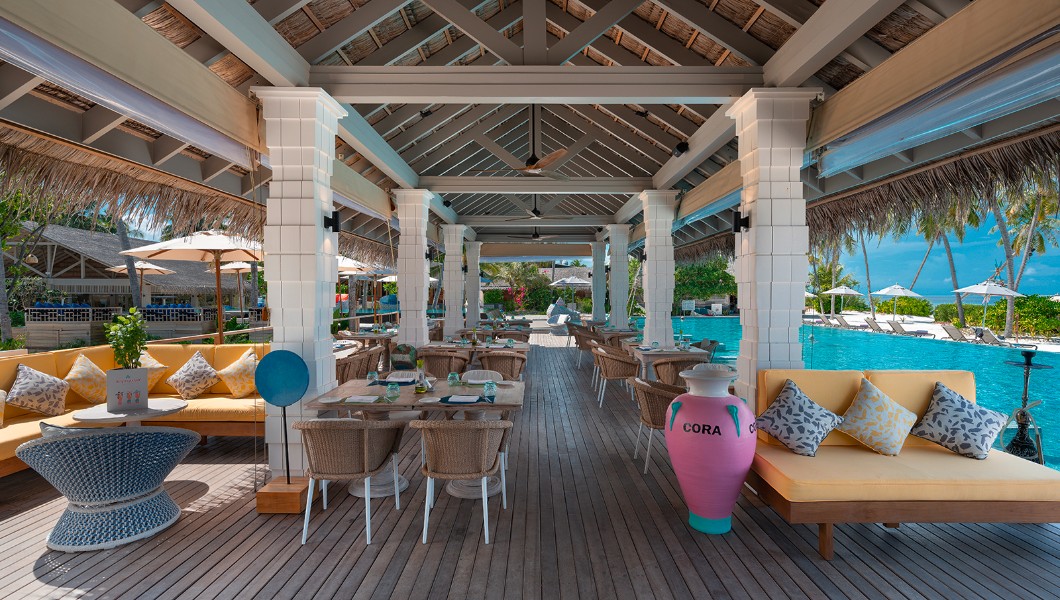 Sustainability in travel and hospitality is becoming ever more critical, with guests demanding transparency and tangible evidence from the hotels on their eco-credentials and commitment. How important is this for you and what are you doing?
As part of the Cora Cora Family, our determination should ensure that we create a safe and natural environment for our guests, each other and our partners. It is not only what we achieve, but how we live it. I think through the process of going for the Green Globe certification, that were officially credited for in July, has taught us that in a world where adherence to ethics is challenged, people select companies more and more for the values they embrace and how they truly live them. We trust that our combined efforts will make a difference.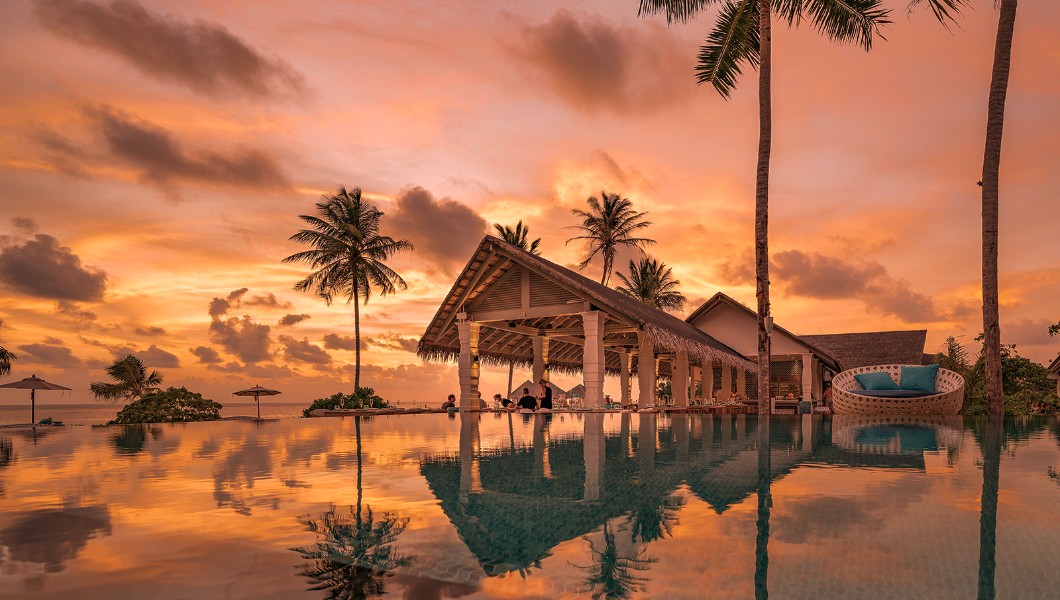 Lastly, what else can we expect from Cora Cora Maldives this year?
We are very busy preparing for the festive season and believe that this year it will be an extraordinary festive experience, 50 Shades to be exact, so stay tuned for the reveal. Before that, in October we offer a taste of Germany with some specially imported delicacies and beverages from Germany and we soon will launch our own Cora Cora Collection – clothing and merchandising line, and all of that and a lot more personal stories from our guests and partners are being featured in our own Cora Cora coffee-table book that will be released this month. I invite everyone to come and feel the vibe of "It's Freedom Time" at Cora Cora Maldives!