Are you toying with a holiday but don't know where to start? Who comes, where do you stay, what do you do? This month, it's all about kids-versus-grown-up getaways, but the best bit is, these two hotels prove you never have to choose... Just do both!
When W Dubai - Mina Seyahi opened this year, it instantly catapulted itself into the collective conscience of Dubai's cool crowd, its distinctive design, style and vibe something different for the city, and earning air-time on every reel, grid and video social media could throw at it. And understandably so – it is indeed very, very cool.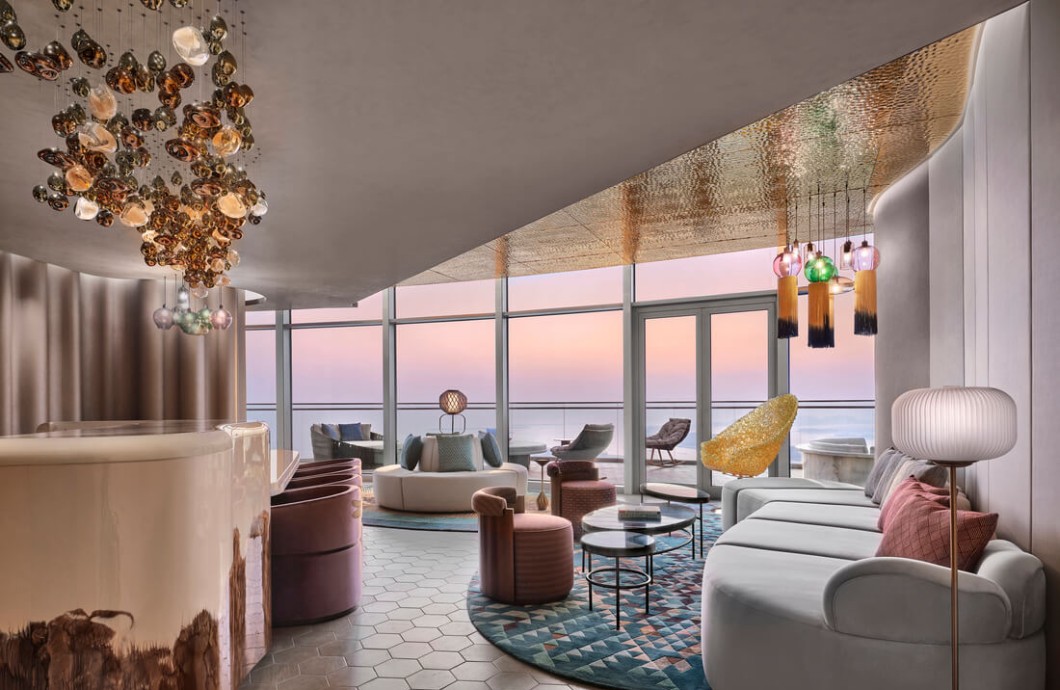 Translating as 'Port of All', W Dubai - Mina Seyahi is a gateway for discerning tastemakers to experience, discover, savour and cherish, with an ambience that won't be found anywhere else. From its iconic and imposing glass façade, to the giant olive tree that greets guests' arrival, and the stories stitched through the fabric of every room, it's a hotel that likes to do things differently.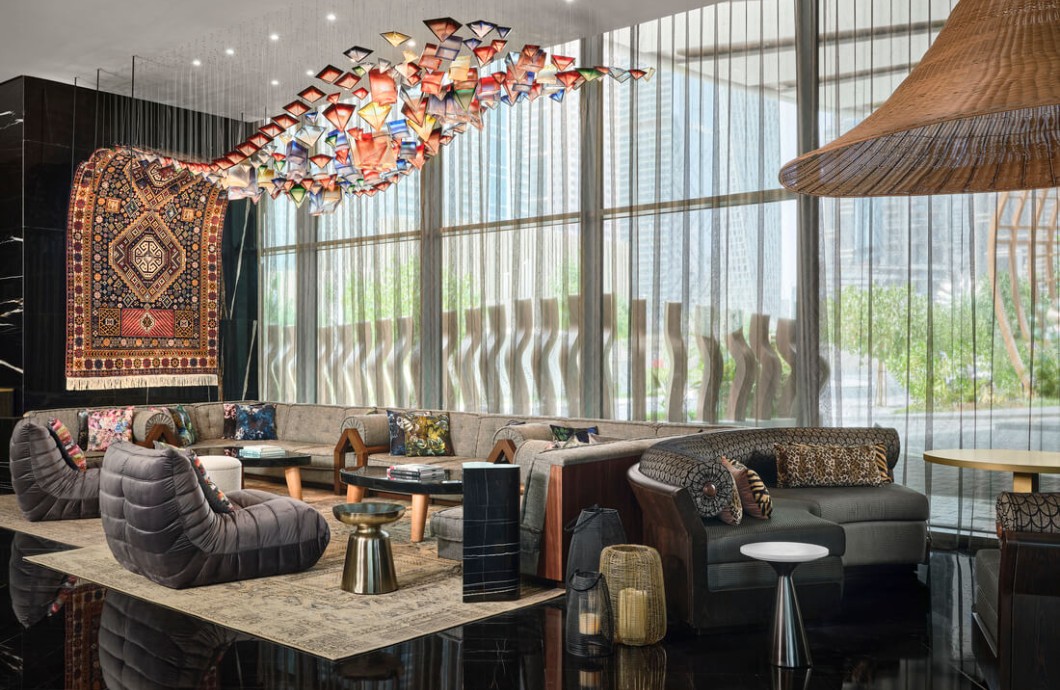 As an adult-only hotel, it's the perfect suped-up escape for those wanting to experience a never-ending energy, from sunrise to sunset, in thoughtful, stylish surrounds. Contemporary to the core, the hotel will take you on a magical mystery ride from the past to the present, with modern interpretations of old-world wonders. Take the lobby for example, where a Magic Carpet seemingly comes undone, its unravelling threads turning into multi-coloured gems, a visual ode to Aladdin and One Thousand and One Nights. Or there's an arch of cascading beads, each painted with Arabic poetry and names of prophets. And entire walls are turned into living art galleries, where old trinkets and treasures write the story of two worlds – old and new. There's also colour everywhere you look and a mishmash of mix-and match patterns and prints – a creative clash that piques one's interest all the more.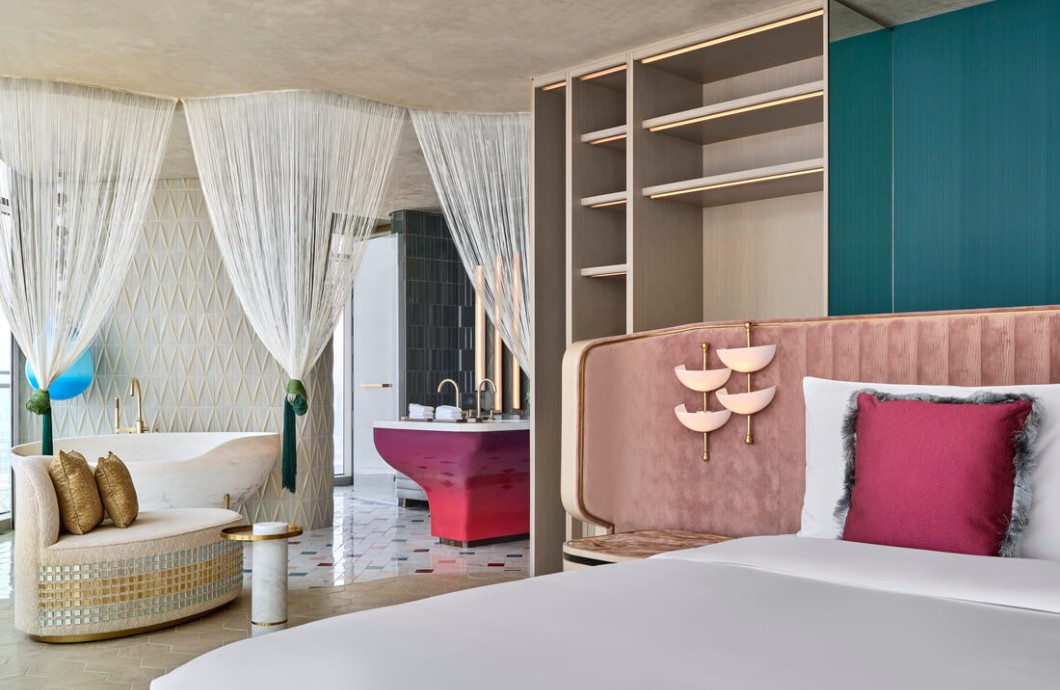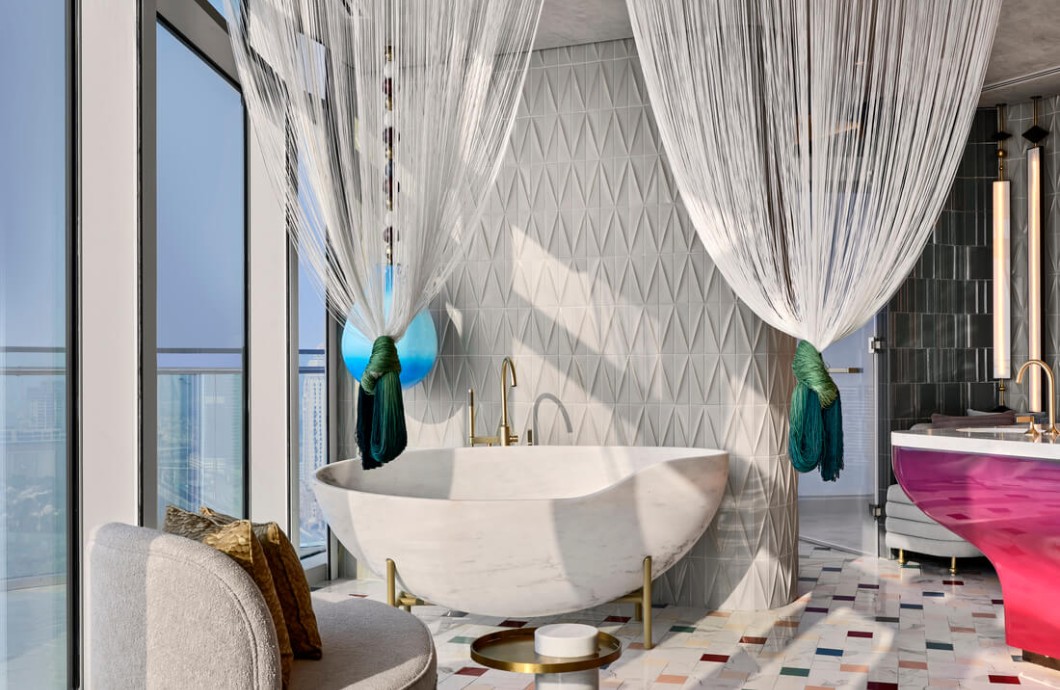 When you've made it through the lobby, take the elevator up to a Marvelous Suite and get ready to gawp at the views. From bedroom and bathroom, the scene feels almost cinematic. When you walk around you room, you'll soon see why this hotel is a child-free zone. The interiors are far too striking to let sticky fingers at for one! The patterned woods catch your eye first, with intricate star-burst inlay detailing on doors, and beautiful wooden herringbone floors. Red leather bar stools wink invitingly but only if you can find the bar! One of the coolest design elements in the suite, it's housed in a leather-clad pillar, meaning it tucks away when you don't want it, yet steals centre stage when you do. Our advice is to shake and make a little cocktail then retire to your bath and spend an hour or two sipping bubbles and soaking up the floor-to-ceiling views. But don't stay too long because the rest of the hotel is waiting.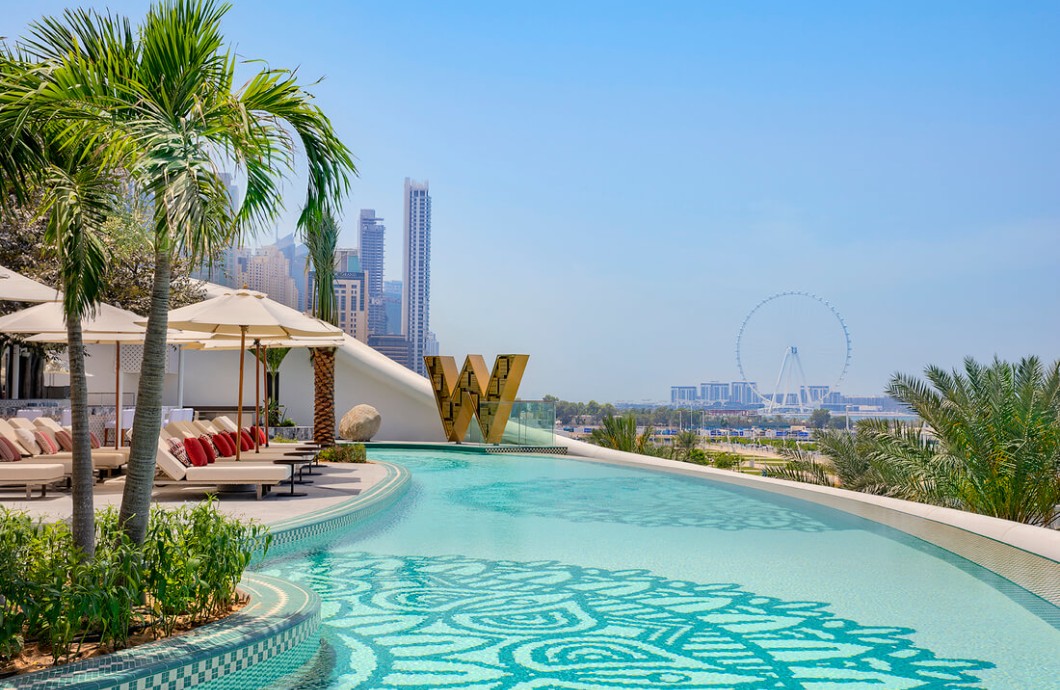 Start your day at Ginger Moon, the hotel's 'no beach, beach club' – which gives you an indication of the vibe – where you'll find WET Deck. An infinity pool, live DJ, drinks on demand and no kids allowed... Well, it's a recipe for a pretty epic afternoon.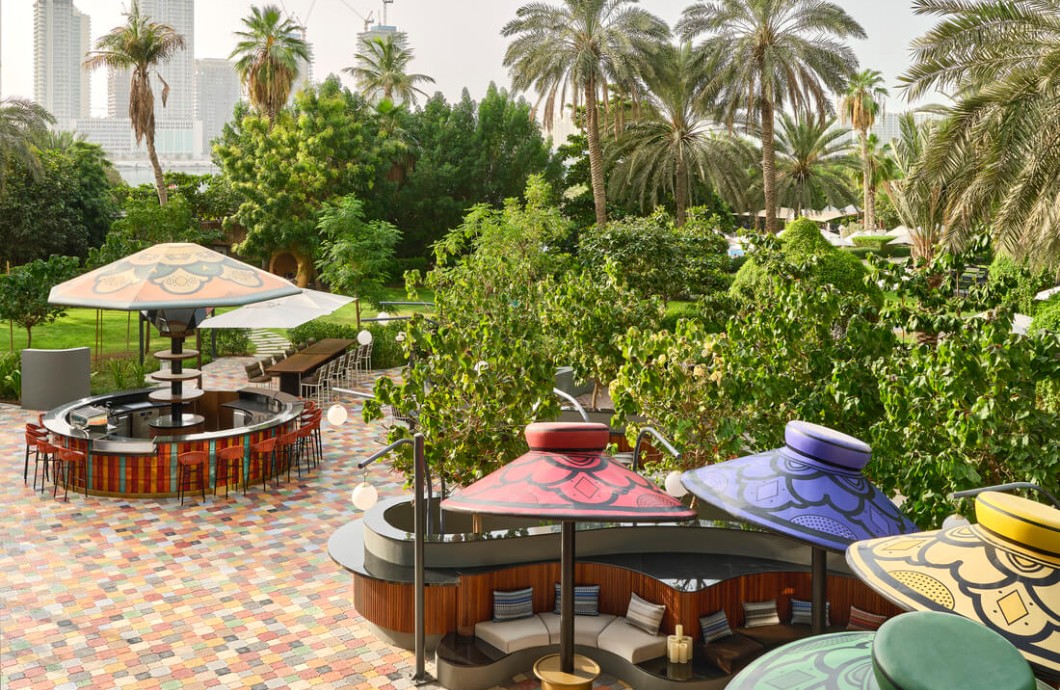 In the morning, it's a pretty chilled affair as sun-worshippers dip in the pool and crank up the oil, or sip cocktails from floating chairs, while the hotel team dishes out cold towels, fruit ice lollies and bookmarks before you even know you need them. When the sun goes down, however, the music goes up, and WET Deck turns into the city's most happening party pad where the cool crowd gathers to drink, dine and dance the night away.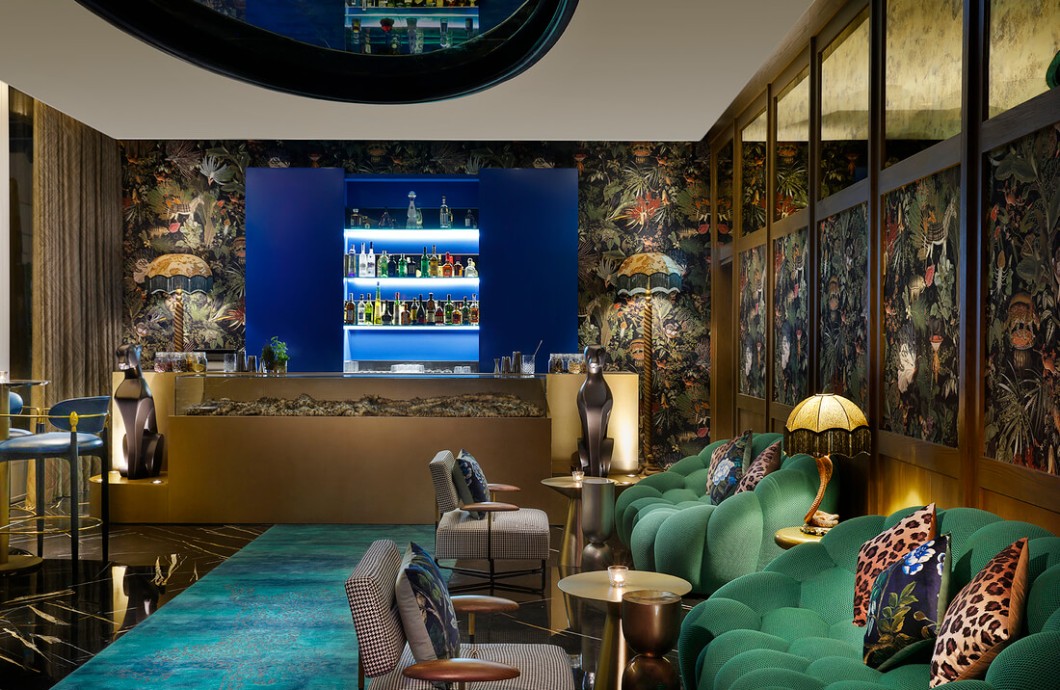 When the late night lures you inside, W Lounge on the ground floor will help eke out your evening. Minimalist in size, maximalist in style, this bijou bar is an absolute beauty. Its walls are decorated with jungle-print paper, and its pillowy sofas and chairs livened up with textured leopard-print and botanical-infused cushions – a soft-furnishing dream. Move outside if you fancy, to sip cocktails under the stars. Your night here will definitely be shaken and stirred when left in the hands of the resident mixologist – the creations inspired by both nature and the region.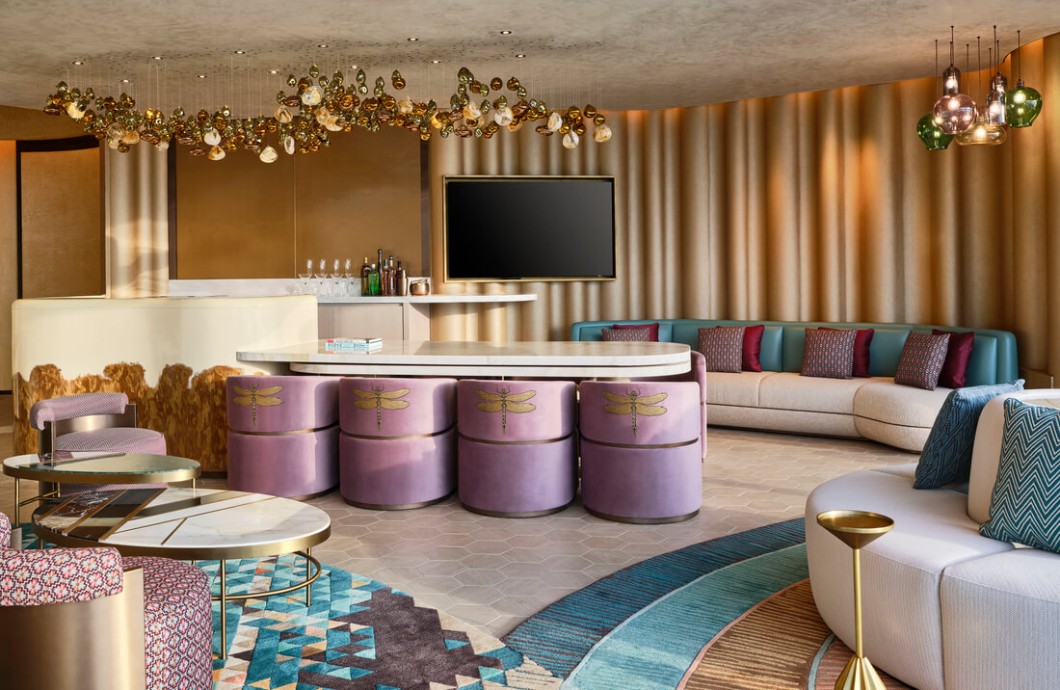 When you wake from your reverie, throw open your curtains, locate your Nespresso coffee machine (hint: it's also housed in a secret spot), then pull up a pew to enjoy the view. There's nothing to beat this floor-to-ceiling scene.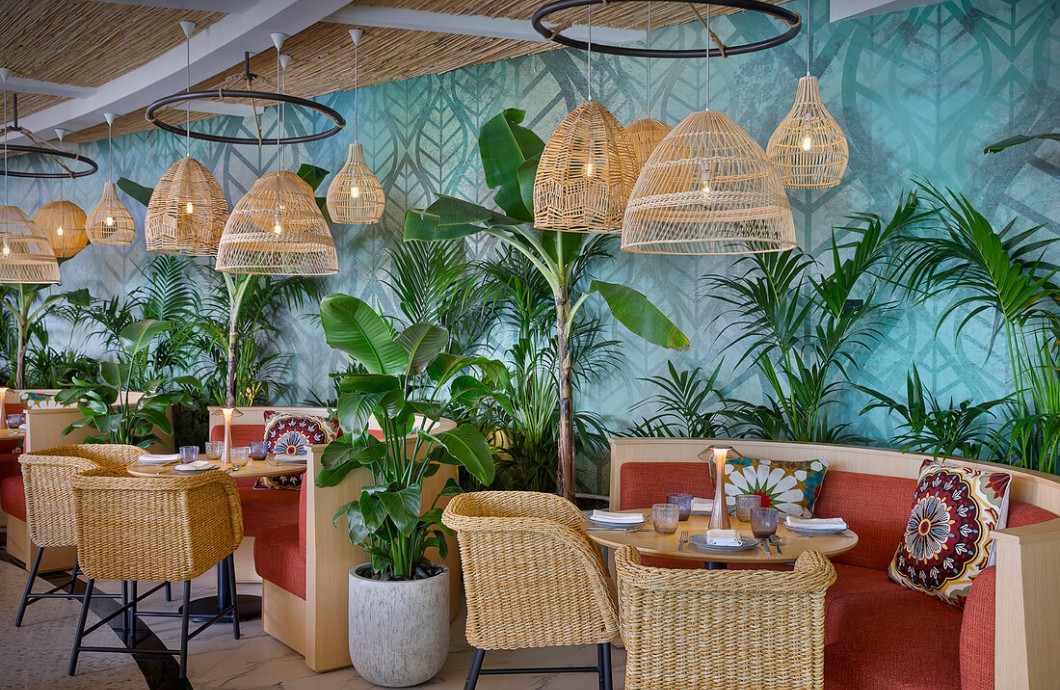 Breakfast is done well at Ginger Moon, its pared-back rattan interiors a calming influence on slow mornings. Sit on the terrace to get a blast of fresh air, perfect for clearing away any cobwebs. As is one of the Nitro coffee shots you'll be greeted with, or perhaps sip something from the Seven Fortunes French Press, with beans roasted specially for W Hotels.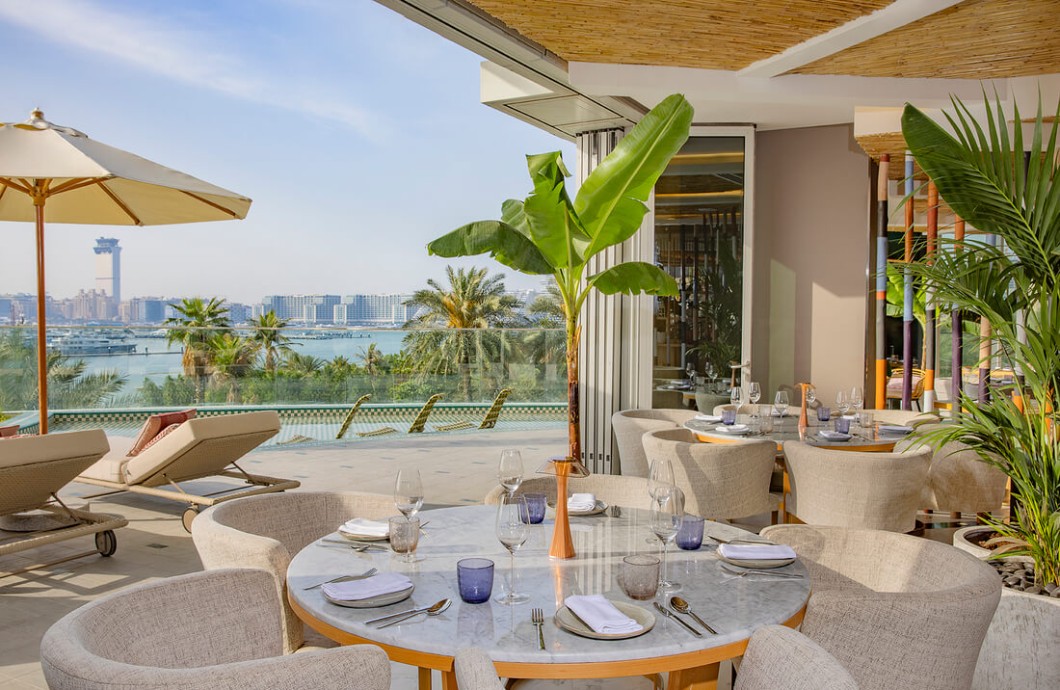 Revive yourself with a healthy breakfast, from Acai bowls and avocado on toast to a tofu scramble with asparagus and wilted kale. It will set you up for the day you're about to have.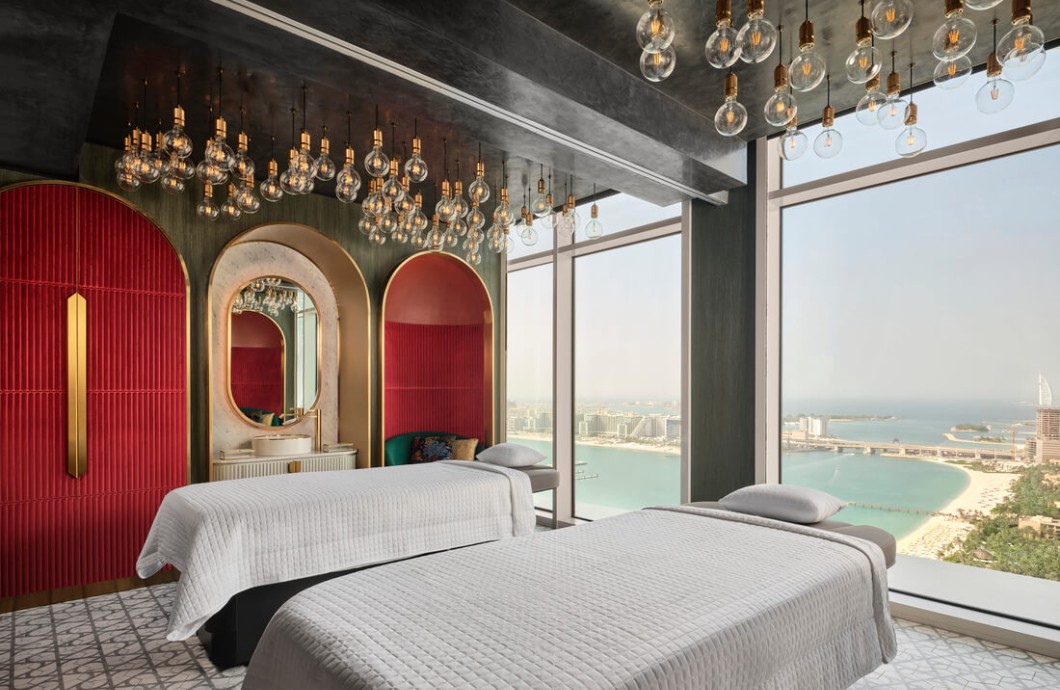 There's plenty to do beyond the pool. For the big kid in you, venture over to Jungle Bay Waterpark at The Westin Dubai Mina Seyahi Resort & Marina to relive your youth at the city's newest waterpark. Or try the all-new Bar-B Spa, a space for guests who like to show up, show off and show stop. Cocktail culture is at the heart of this unique spa, and here socialising and being pampered go hand in hand. There's also a couple's treatment room so that you never have to stray too far from your partner, or you can even book an in-suite massage should you prefer to be pampered in private. When your body needs some TLC on the fitness front, you can book a personal trainer at Club Mina Gym, where you'll find ellipticals, exercise bikes, rowing machines, treadmills and free weights. It might sound torturous to some, but you know what they say... The couple that works out together, stays together!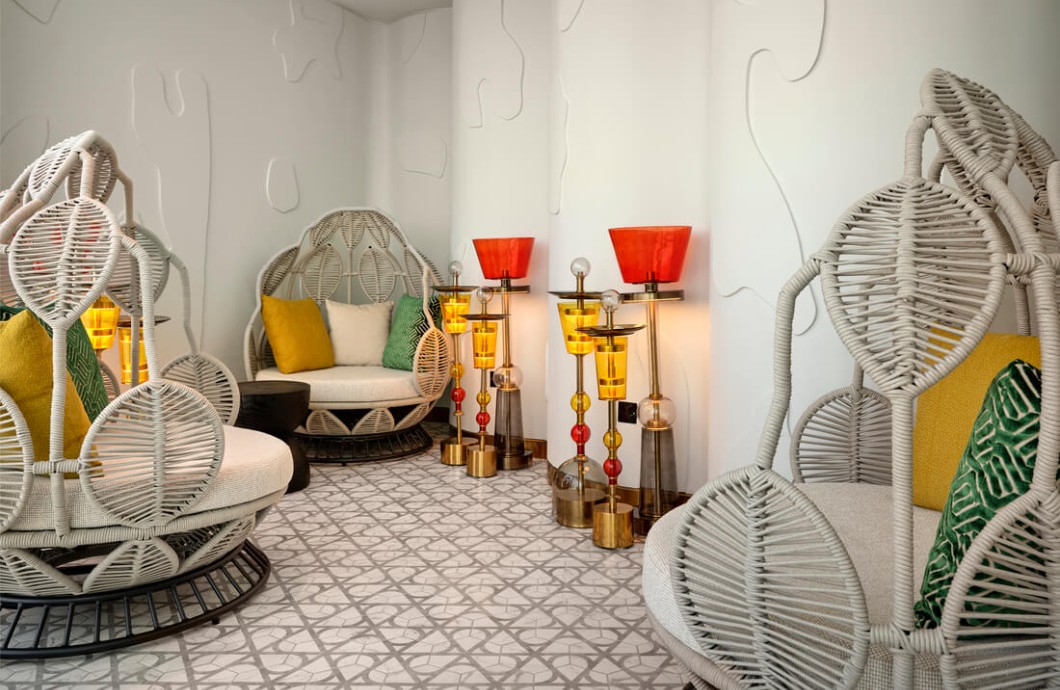 When you're back to thinking about food, try out new Japanese rooftop lounge ATTIKO when it opens early November. With panoramic views, it's the perfect spot for sundowners or late-night gatherings, promising to be a high-energy experience well past your bedtime.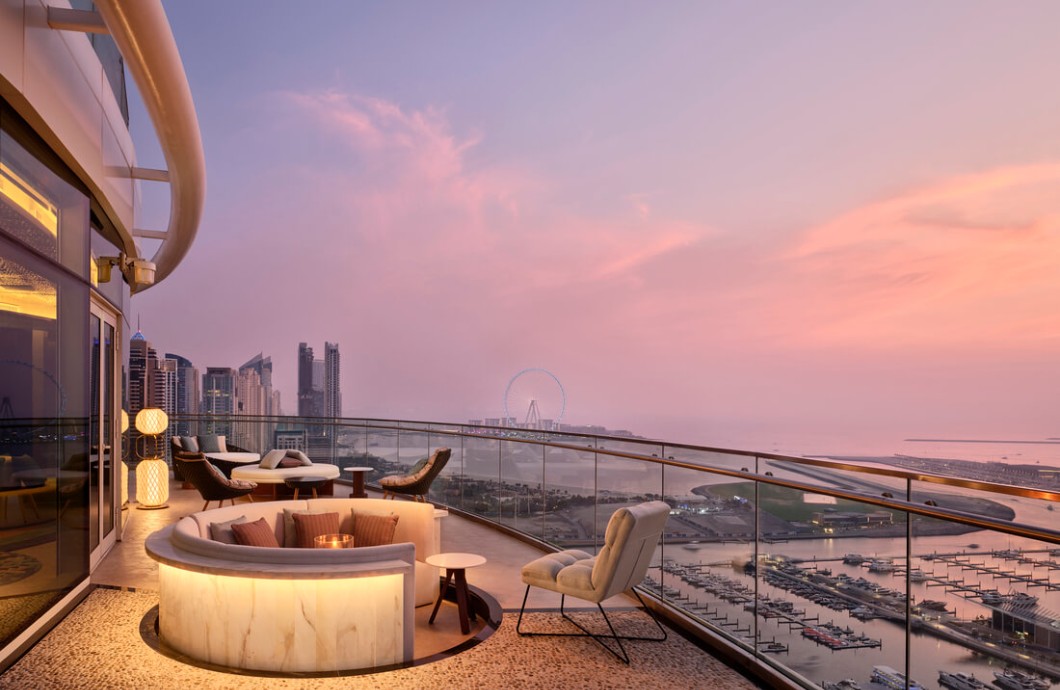 ---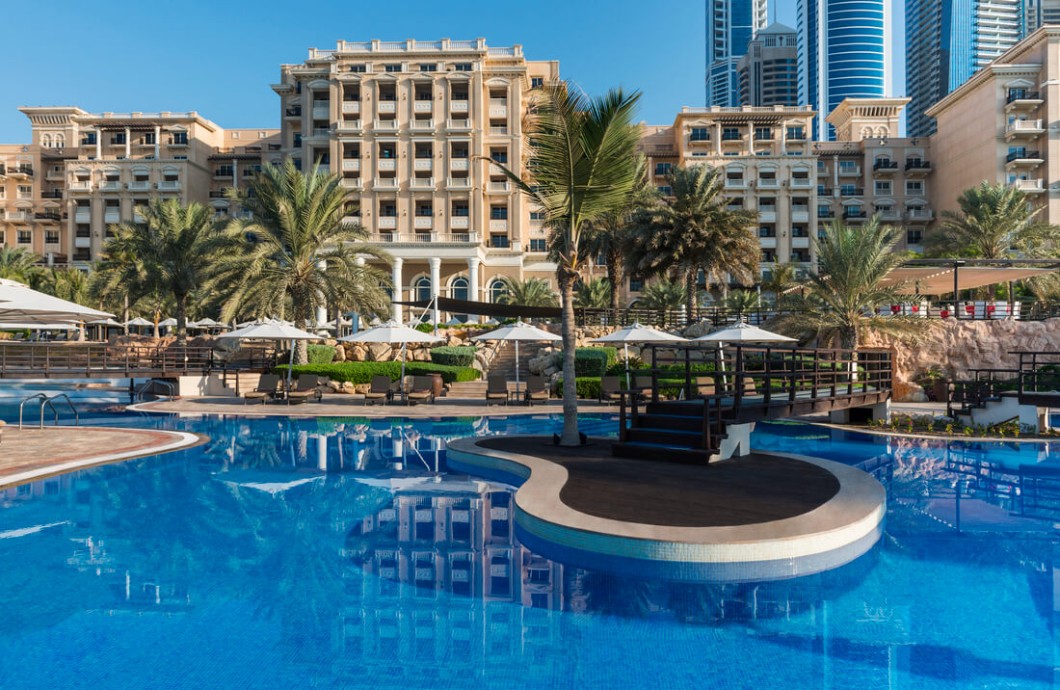 Family holidays can be one – or some – of many things. Enjoyable, undoubtedly. Memory-making, for certain. Stressful, guaranteed. No matter how much time and effort, heart and soul you pour into the research, the booking, the packing, the unpacking, trips away can be quite trying! To banish as much of the burden as possible, my advice is to find a hotel that does the hard work for you, so you don't have.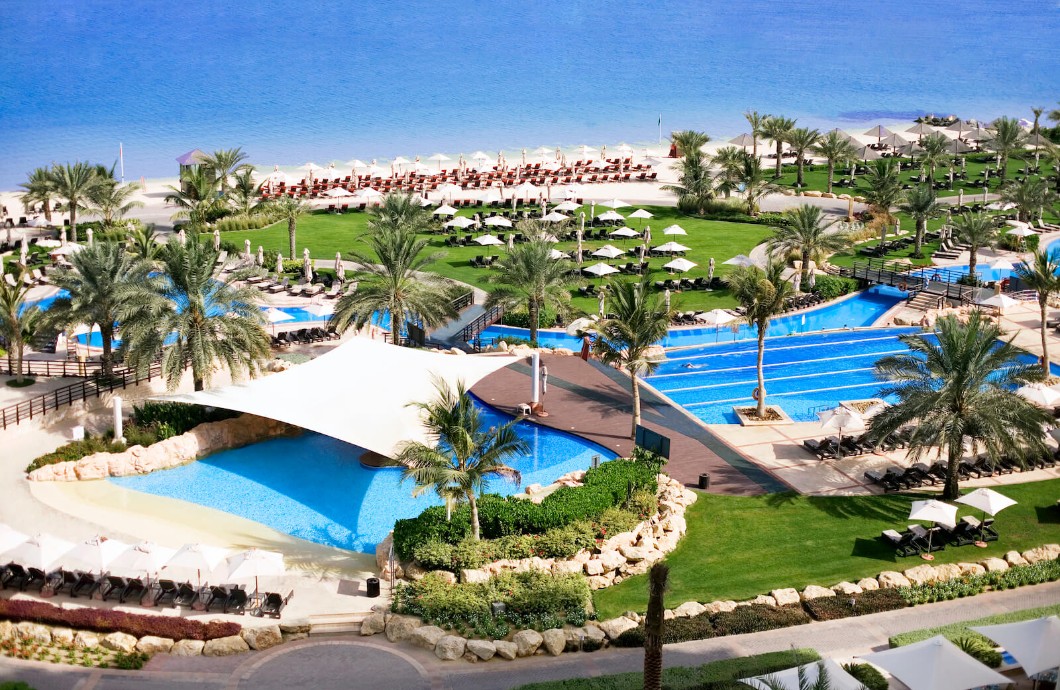 The Westin Dubai Mina Seyahi Beach Resort & Marina has genuinely mastered the art of stress-free vacationing, with resort-within-a-resort vibes that allow everything you need to fall under one roof. It's a huge property that somehow feels warm and cosy too, from the chic comforts of the suite design to the sanguine spirit of its staff. You are never too far from a smile.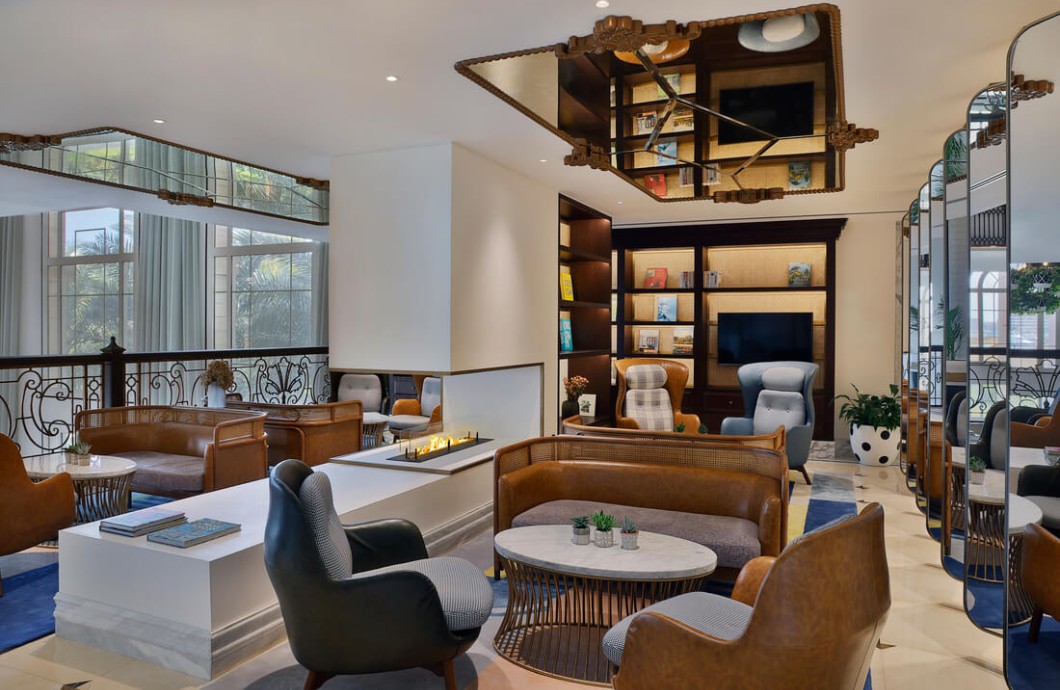 The fun and games really begin when you start to explore the hotel, so it̛̛'s time to grab the kids and come with us.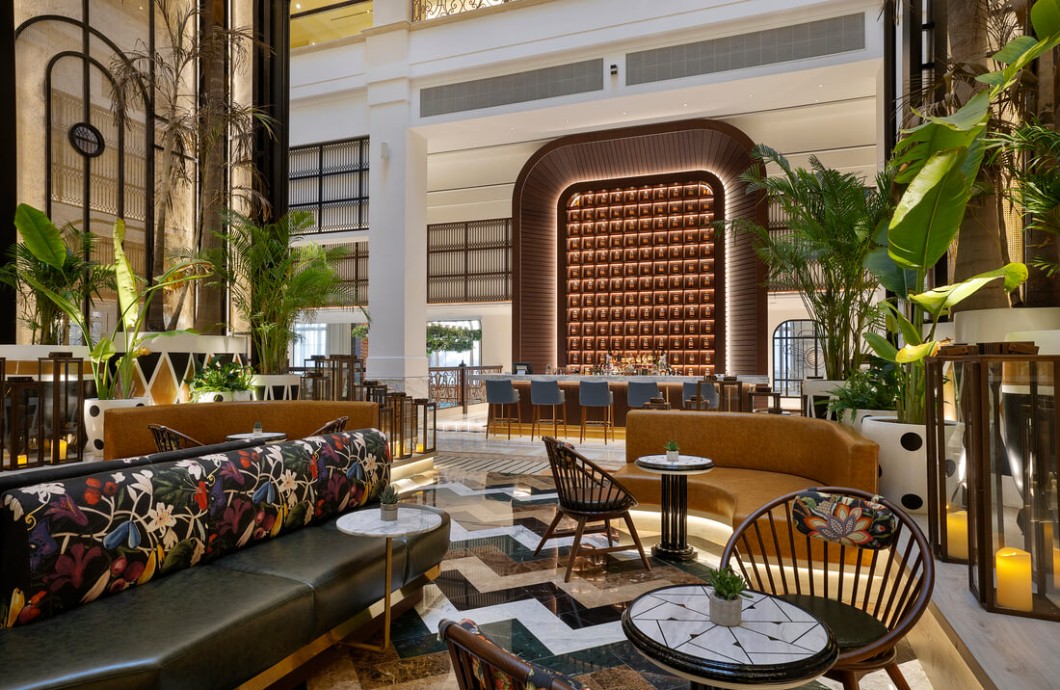 Now, with winter season playing its trump card - aka infinitely better weather – a weekend spent here is all about the al fresco feels. What's rather lovely about the property is that even when you're inside, you feel like you're outside, thanks to its botanical interiors. Starting at the lobby, where you're greeted by a huge floral display, to the Conservatory with its illuminated birdcage art installation and fronds galore, all the way to the suites, which have been recently-renovated and incorporate nature's accents in sumptuous hues of green and dark rattan panelling. In a city as built up as Dubai, the essence of bringing the outdoors is life-giving.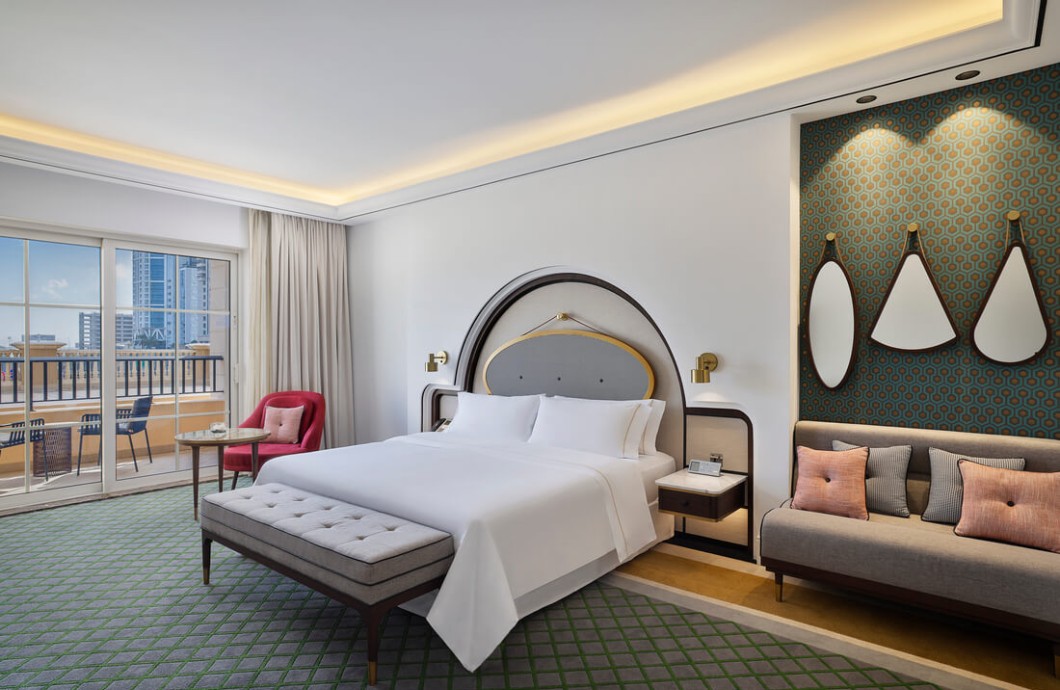 The suites blend a classical and contemporary visual narrative, at once modern but with 1930s retro undertones that conjure up visions of The Grand Budapest Hotel. If you're a family who favour rollaway beds, book a Deluxe Room, which sleeps four, giving ample room for everyone. The balcony casts magnificent views over the Arabian Gulf - or cityside if you prefer – and there's a plush reading chair to curl up in (should any offspring gift you some peace). Come bathtime, the deep-soak tub will feel like as swimming pool to little guests, and there's a separate rainforest shower, to ensure there's no squabbling about who goes first! The fun and games really begin when you start to explore the hotel, so it's time grab the kids and come with us...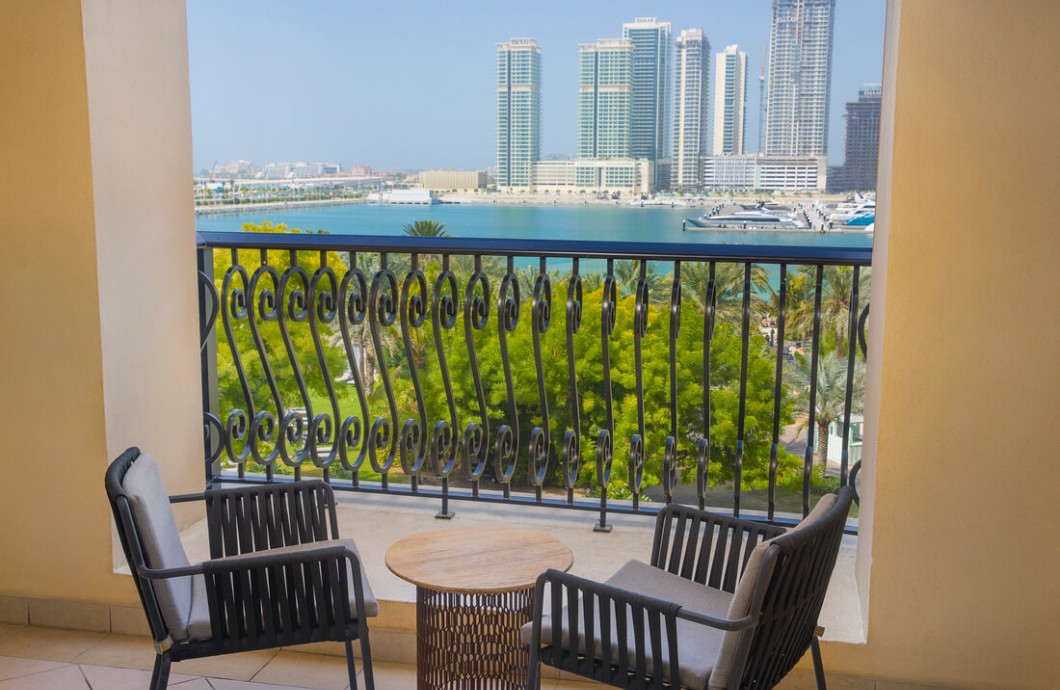 Outside, there a millions of things to keep your jetsetters entertained. First up, is the beach... As part of the three-hotel Mina Seyahi complex, the destination lays claim to one of the longest stretches of private beaches in Dubai, with 500 metres to call (almost) your own. And there are five swimming pools at The Westin alone, which include a kids pool, a lap pool, and a main pool. The kids pool is completely shaded, which is perfect for smaller swimmers, and features a waterfall and slide. If you can drag your kids away without clocking up at least 50 rides down the slide, we'll be impressed! And in a quiet cover over at the main pool, there's a swim-up bar which serves mocktails, cocktails and ice-lollies – the perfect all-family afternoon treat.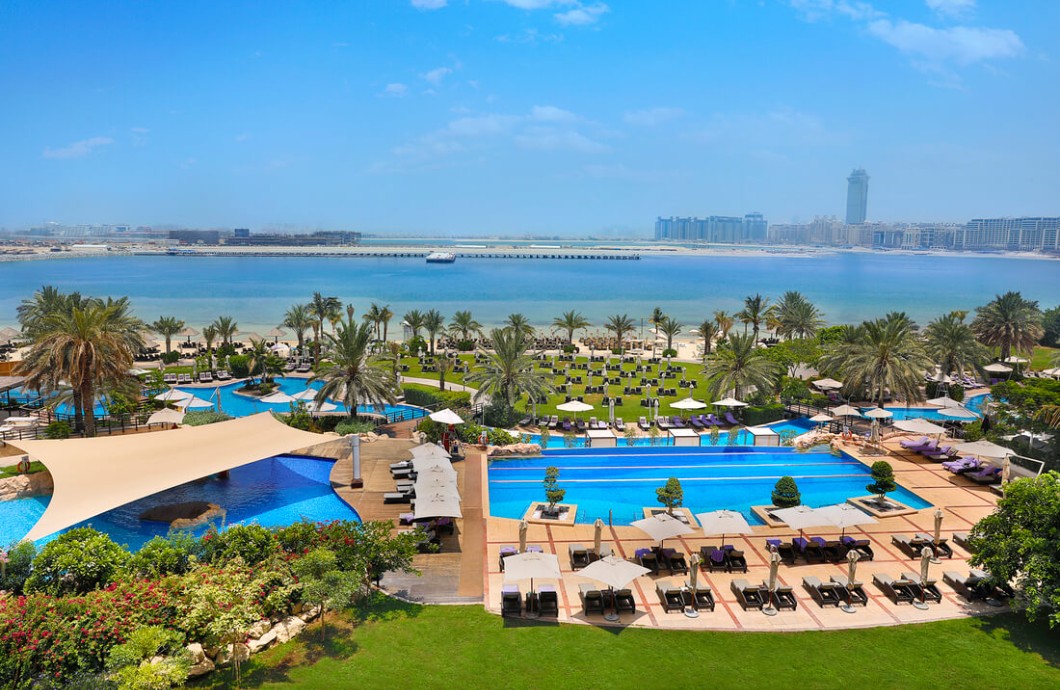 The sea is the perfect temperature in October for a swim, or if you're feeling adventurous you can take out a paddle board or kayak and explore the calm waters. Or forego fun to steal some shut-eye under an umbrella while the kids perfect their sandcastle skills.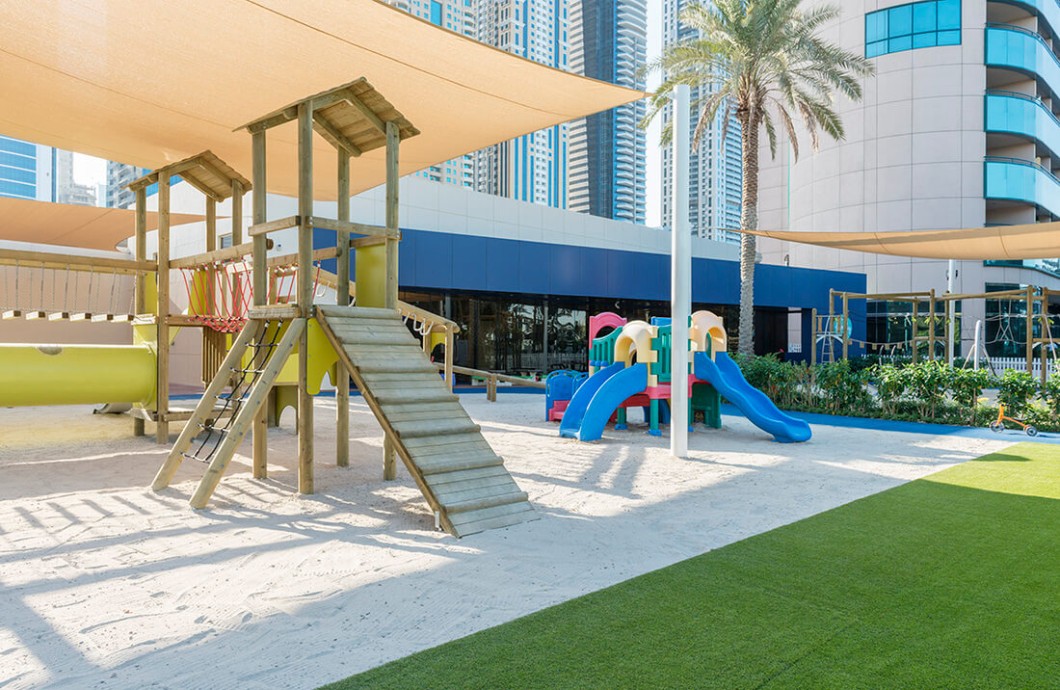 However, the jewel in The Westin's crown has to be Jungle Bay Waterpark. The blue-and-white Mediterranean-inspired park features splash pads, slides and a six-metre pneumatic wave pool, all guaranteed to make kids claim this is their favourite holiday ever. From big kids to little ones, there's a ride or slide for you. For the adrenalin seeker, there's The Lighthouse mat racer ride, Whizzard and Body Slides, as well as an impressive Aqua Play structure (listen out for the bell!), with smaller and more gentle slides for those who prefer a more relaxing ride. The best way to do Jungle Bay is to book a Cabana, which linger just on the edge of the park wrapped in greenery and close to both the rides and beach. Perfect for recharging kids' batteries, they can retreat, relax, recline and unwind ready for round two. Order them a milkshake and club sandwich from the Pool Bar to bag extra brownie points. To make more of their day, pack your waterbabies off to the Kids Club, where they can play and stay, be engaged and inspired, while you take some time for yourself. Our advice is to take full advantage and head immediately to Heavenly Spa by Westin. Stop for no-one. Remember happy mum/dad, happy child!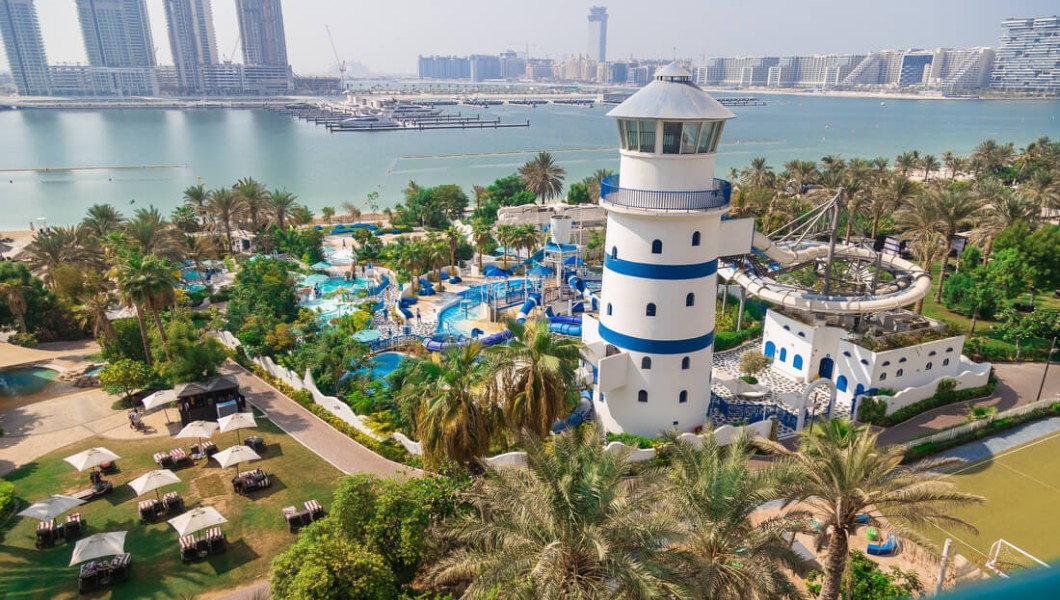 All this play promises to work up an appetite, and we all know how quickly kids burn calories so refuelling is essential. The hotel has also teamed up with the experts at SuperChefs to create a Eat Well Menu for Kids. Comprised of doctors, dentists, chefs, dieticians and other experts, SuperChefs helps kids learn the importance of eating smart, keeping kids well fed and parents happy.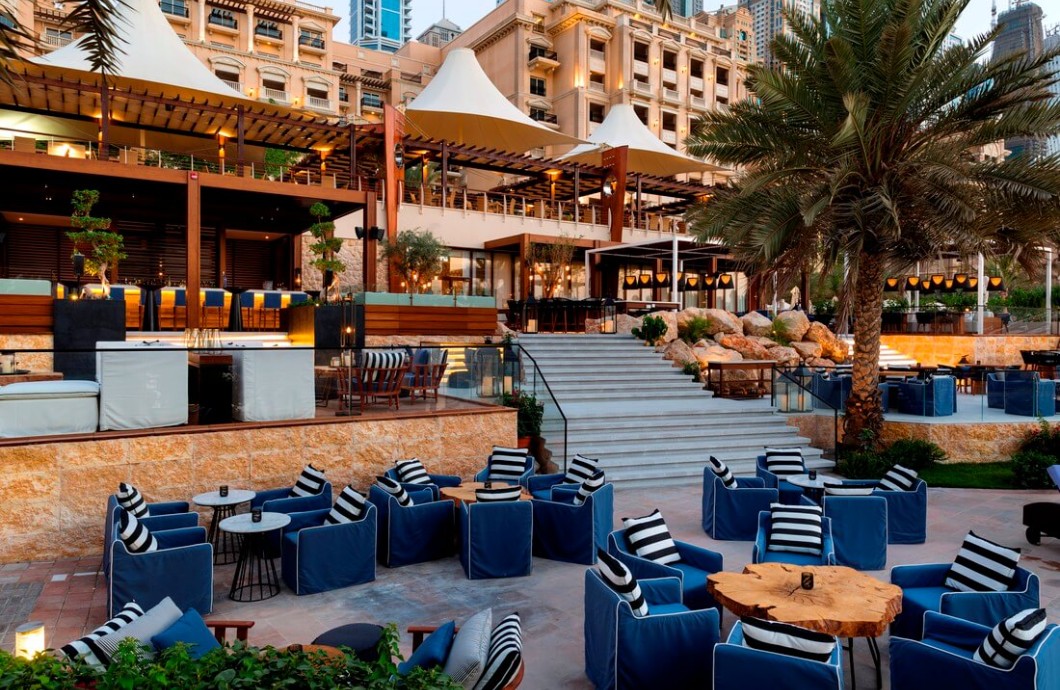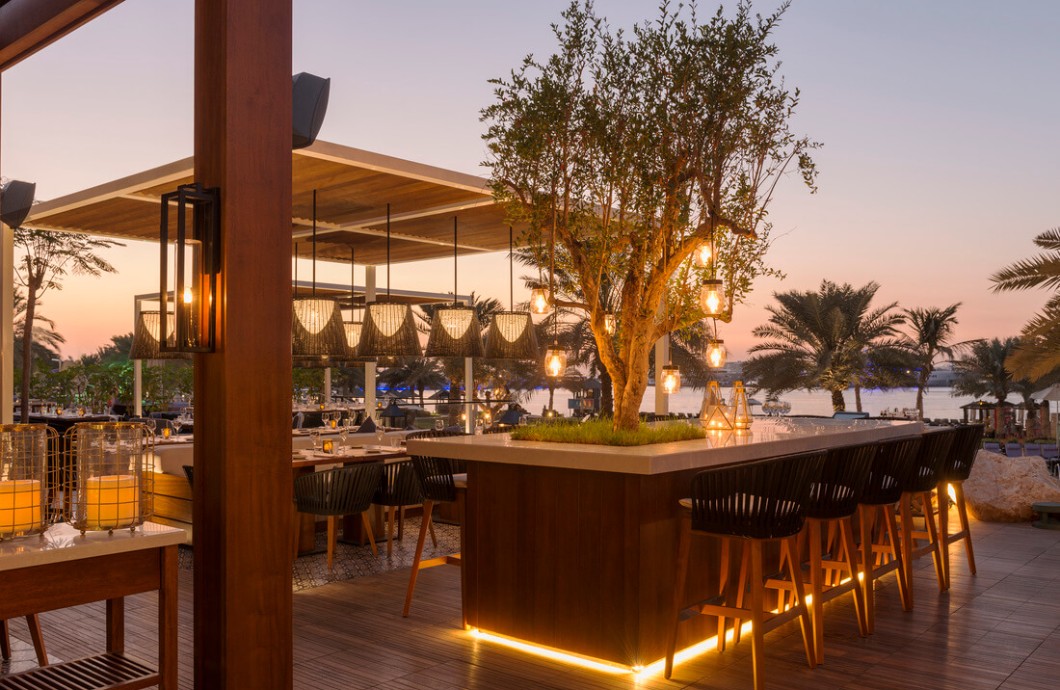 The Westin is the kind of resort you can eat your way around and never have the same cuisine twice. The award-winning Bussola Restaurant has been a Dubai institution for years, and still serves some of the best pizza in town. Downstairs, it's a little more grown-up and the perfect place to spend an evening under the stars sans enfants if that's a possibility. If not, head upstairs to the more family-friendly rooftop pizzeria and grab a table on the terrace. You can drink in the views – by day or by night – whilst waiting for your pizza to arrive. There are 30 to choose from, running the gamut of toppings from artichokes and Provolone cheese to black truffle carpaccio. If the lunchtime milkshake has left room for dessert, the Nutella pizza or hazelnut parfait with stracciatella, chocolate mousse and praline nougat will round the night on a sweet note.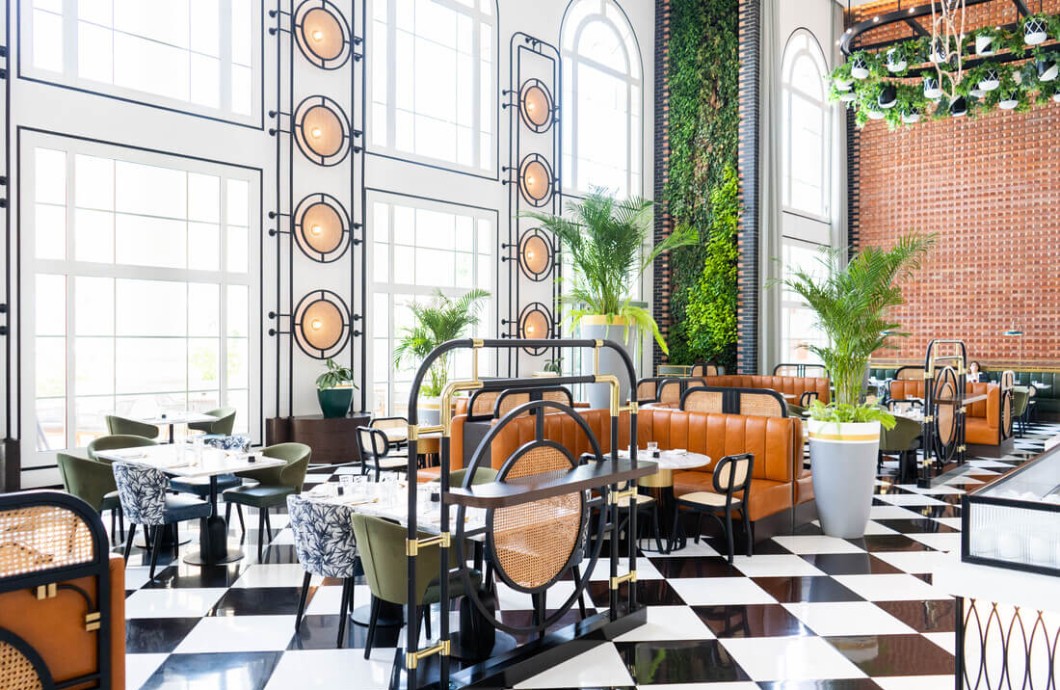 With all the outdoor exertion, you'll never stay full for long, so when your next mealtime comes knocking, you try the vibrant flavours of Asia at Sui Mui, classic Spanish favourites with a contemporary twist at El Sur, grills that are a cut above the rest at Baba Steakhouse, or venture on a round-the-world adventure at Mina's Kitchen, from breakfast and lunch through to dinner. Definitely one of the prettiest spaces in the hotel, its double-height ceilings, living plant walls, hanging-basket chandeliers and lashings of light make it an energetic watering hole.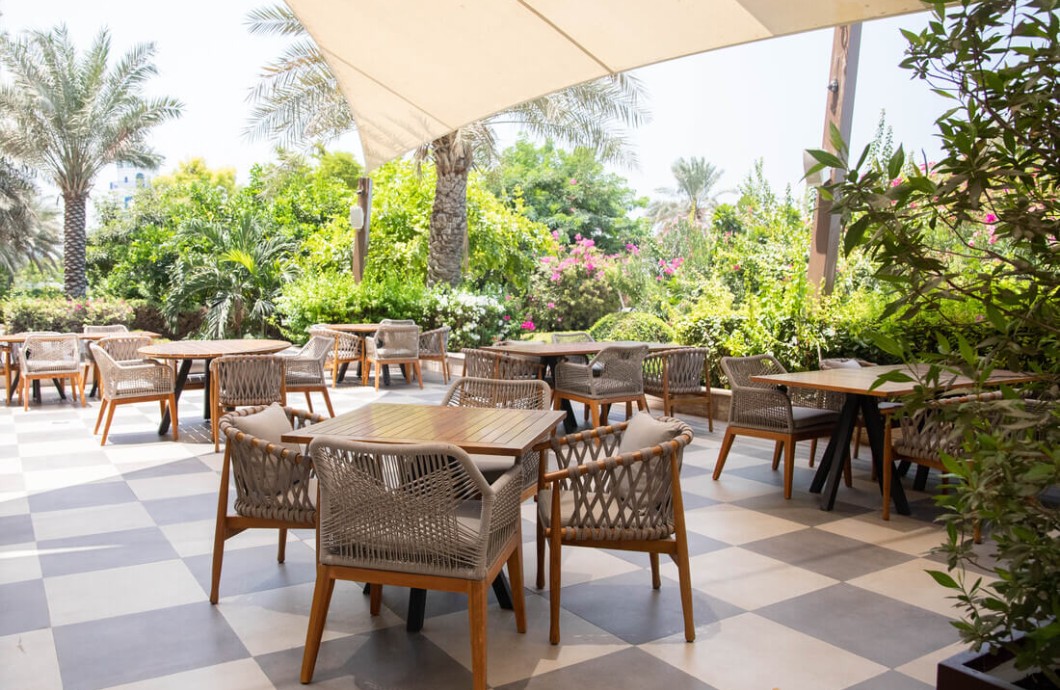 That said, for something a bit different, take the kids to the Conservatory, with its indoor swings, al fresco ambience and oversized plant pots. When lit up, the chandelier looks like a galaxy of supernovas. Certainly mesmerising enough to bank you some extra minutes for a night cap or two while the kids sit in awe. You'll find it hard to drag the kids away from all the excitement, but it's in their best interests... One day at The Westin is never enough, so you can promise them a repeat performance tomorrow as a reward for best behaviour. Once they've hit the sack, you can retreat back to your balcony and soak up the sea or skyline one last time, before rewarding yourself with a well-earned sleep, too.