When the first W Hotel opened back in 1998 on Lexington Avenue in New York, it became an instant party pad for the bold and the beautiful, a pulsating property in the city that never sleeps that brought music, design, fashion and fun - and plenty of it - to the fore.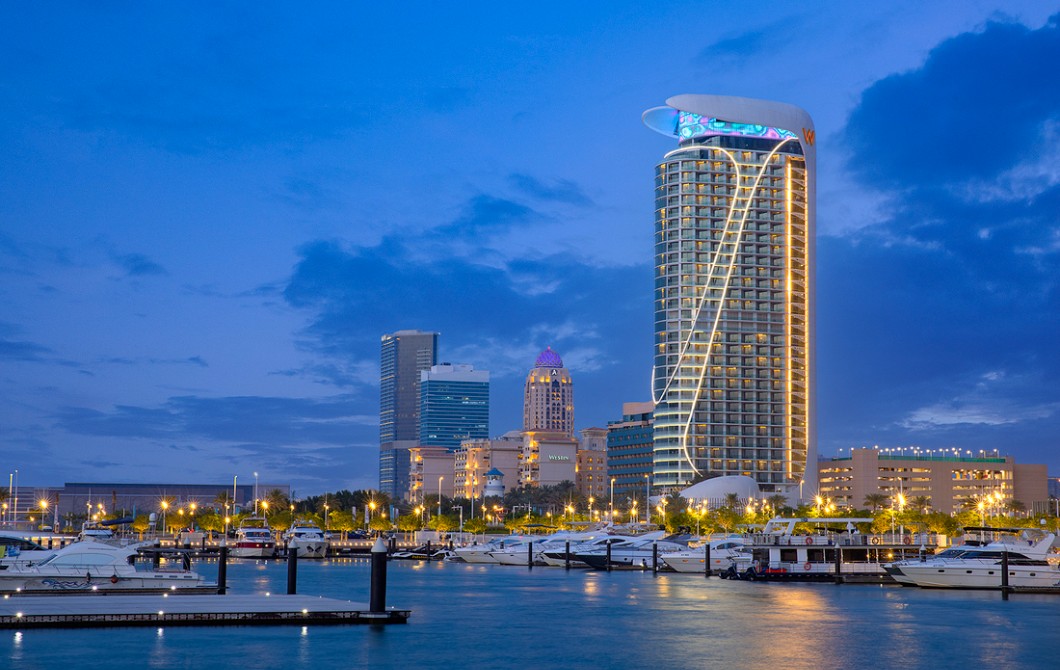 Almost 25 years on, and now under Marriott International, W Hotels has 60 hotels to its name, the brand synonymous with attention-stealing lifestyle properties that come packed with attitude, wherever you are in the world.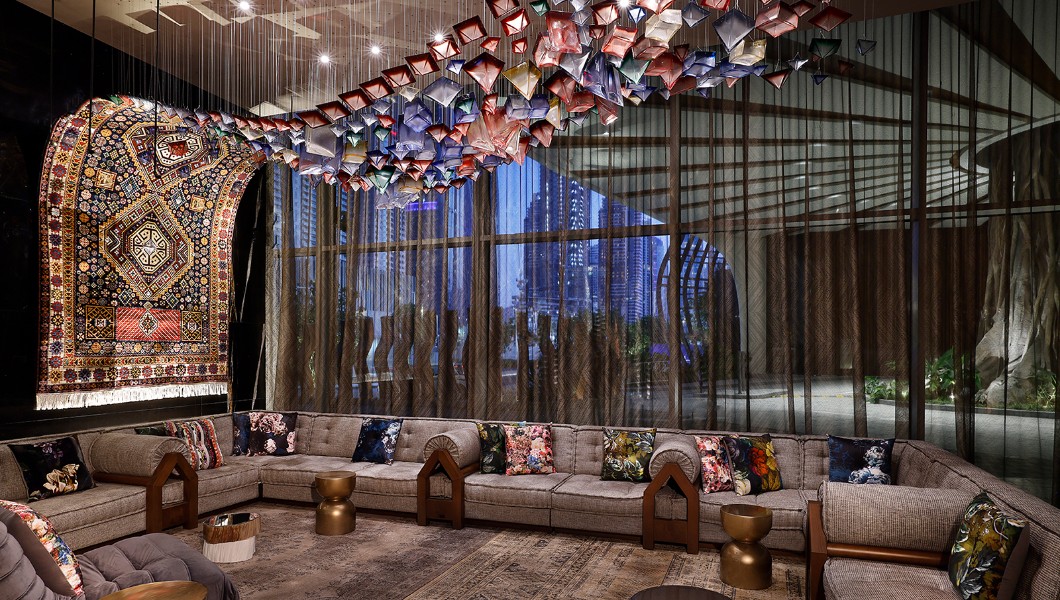 The latest opening is W Dubai - Mina Seyahi, a 31-floor hotel that sits within a trio of Marriott properties, including The Westin Dubai Mina Seyahi Beach Resort & Marina, and Le Méridien Mina Seyahi Beach Resort & Waterpark. A playground of magic, mystery and chaos, with a slogan that says 'Port of all, for all', the hotel has firmly planted its roots in Middle Eastern culture: Multi-coloured gems fly off frayed edges of two oversized magic carpets in the lobby, stirring up notions of A Thousand and One Nights; an arch of beads inscribed with the name of prophets leads you past the boutique; and whole walls are dedicated to Middle Eastern fashion and jewellery in the Gold Souq of W Lounge. Everywhere you look, you find a story... A happy mish-mash of contrasting colours, patterns, textures and tales.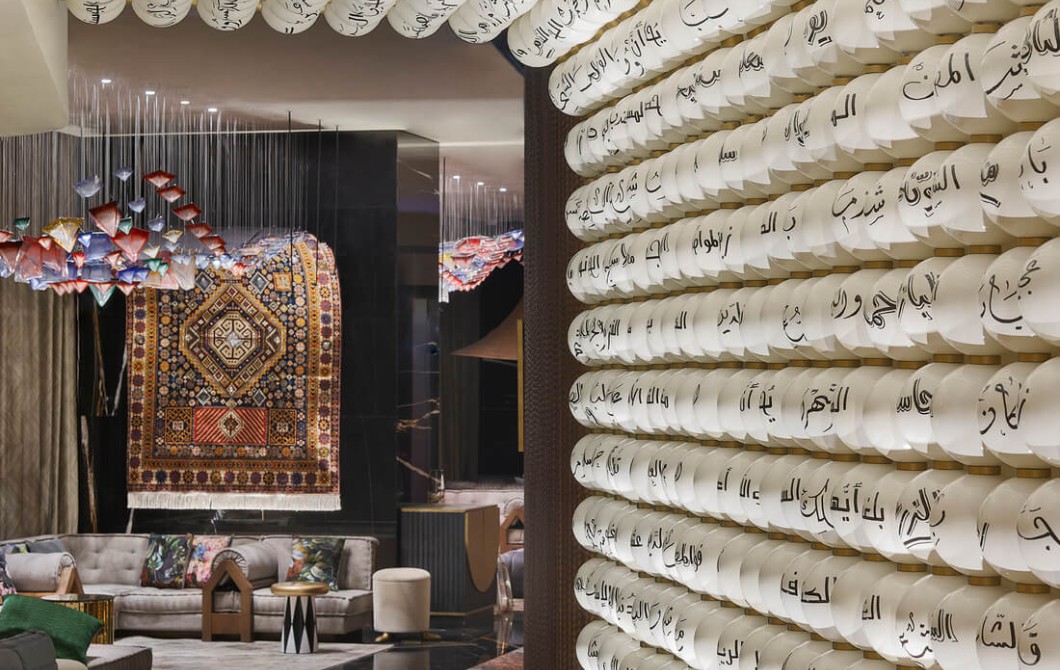 And the hotel feels different to other W properties I've bedded down in before. It's definitely more tactile, and feels more authentic and true to its location. "There's modernity in the building, but it holds the region's heritage well", I'm told at check-in, as I sip a cranberry cooler, served with a sprig of rosemary.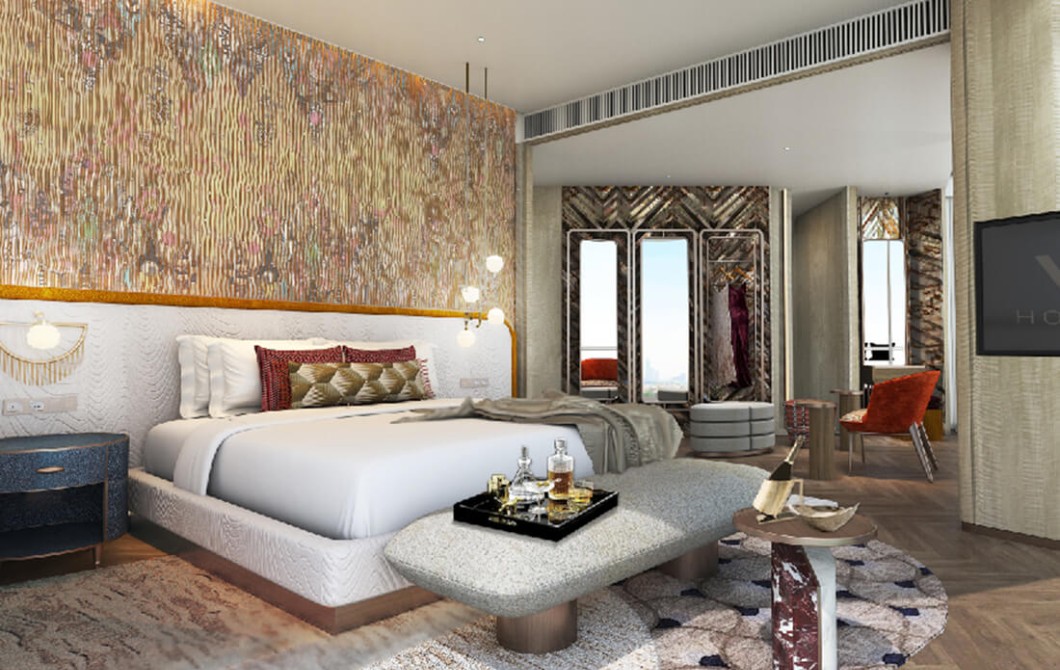 Up in my Marvelous Suite, there's Arabic poetry drawn on the walls, chain-mail behind my bedhead tinkling gently in the AC, and more than a little artistic referencing to the Mad Men era of the 1960s. Kinda retro modern if you like. Four maroon leather bar stools cluster around a tall marble table in the lounge, which sits under a neon blue Perspex artwork that plays tricks on the eyes. There's a crescent cream sofa, two red velvet arm chairs and a red pouffe with jazzy tassels.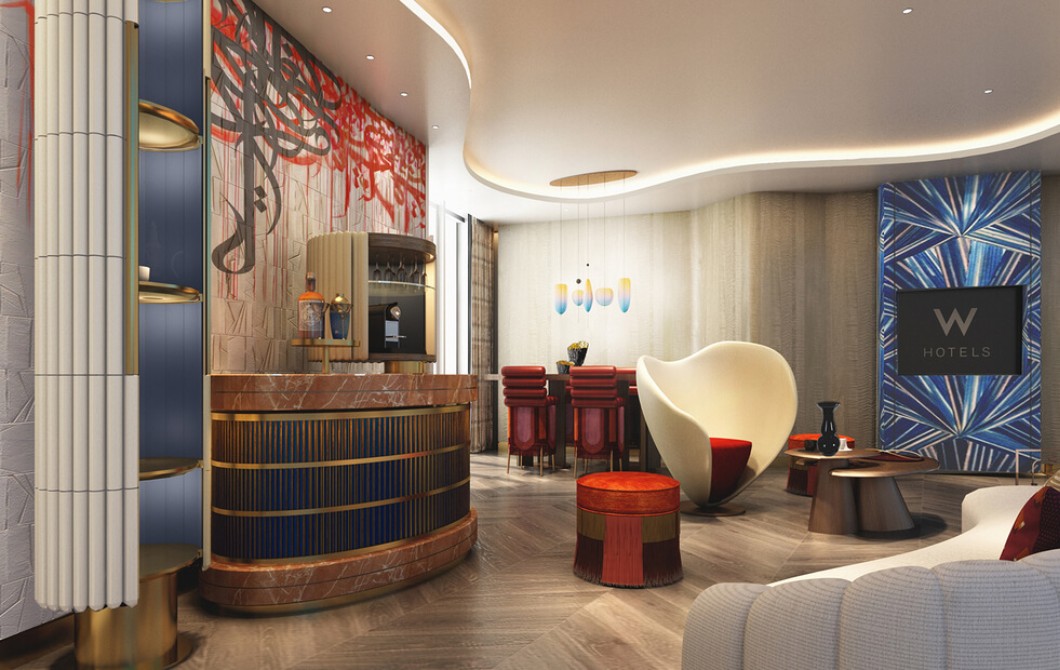 Two of my favourite elements are the wooden doors and wall panels, inlaid with a striking starburst pattern of blues, blacks and creams; and the 'secret bar' that emerges from a leather-clad pillar. Completely unobtrusive, it doubles up as a design feature, but inside, the five-tier bar is a shrine to Johnnie Walker, GreyGoose and Glenfiddich. There's a cocktail-shaker too in case you feel your inner mixologist make a break for it.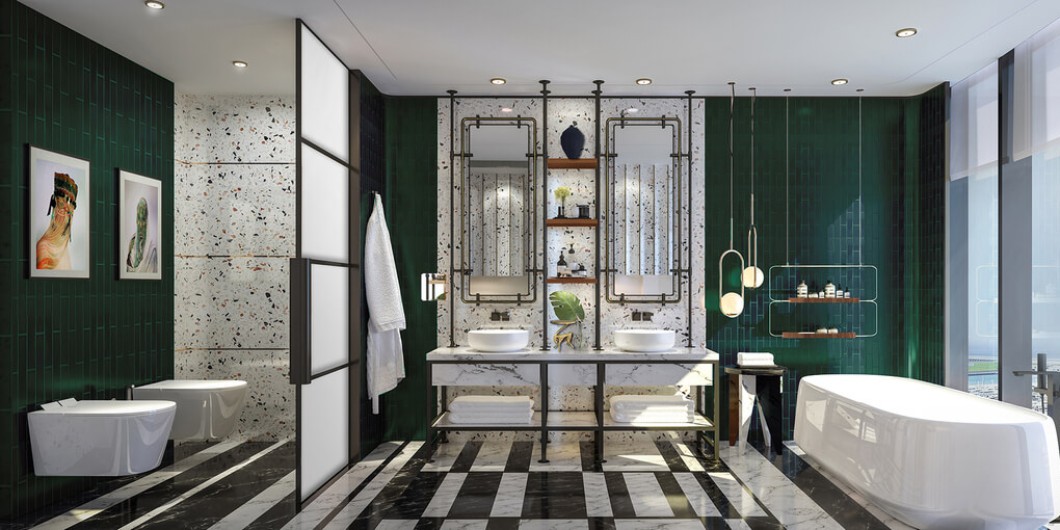 The bedroom is vast, with tall windows and views that stretch from Palm Jumeirah across to Ain Dubai. A well-positioned three-panel mirror makes the most of the natural light, prompting the perfect picture-taking spot, with a walk-through dressing room leading to the wall-speckled bathroom beyond. Again, with nods to the 1960s, there's a brown L-shaped leather banquette and coffee table (for any bathroom admin one might have), chequered black and grey marble flooring, a deep-set bath - the black rose Lush bath bomb a playful addition - and something of an industrial touch with exposed copper 'pipes' framing the mirror and shelves. Bathrooms are often my favourite space in a hotel suite, and this one has all the right moves.
In contrast to the light-flooded suite, it takes a while for eyes to adjust in the dark corridor outside each time I leave the room. A signature of W Hotels, it feels as if I'm stumbling home rather popping out for lunch.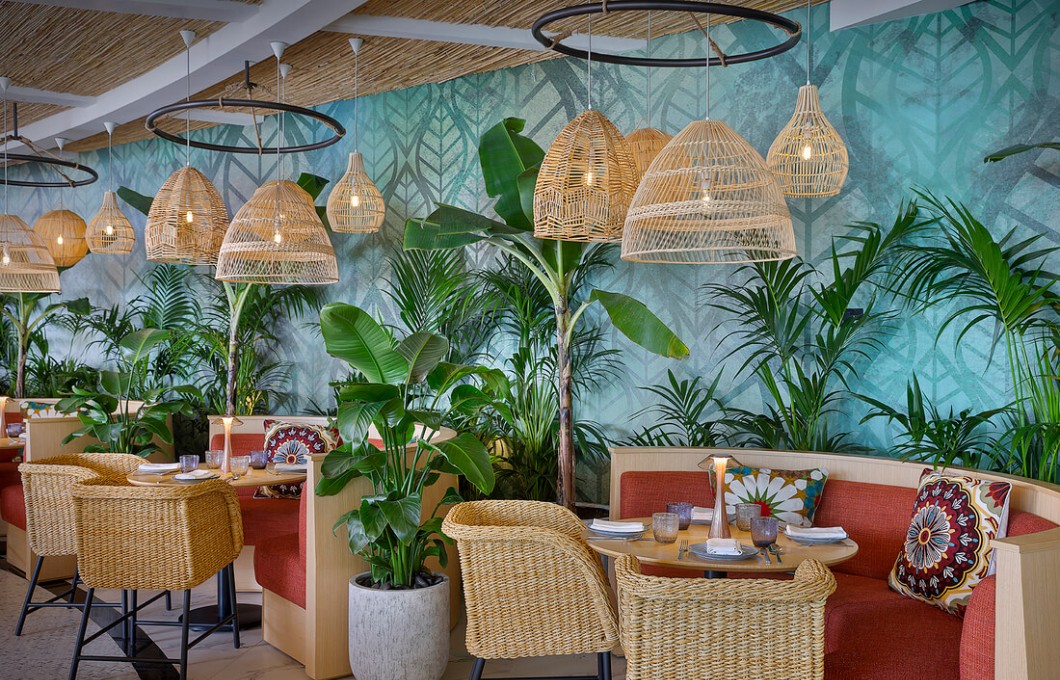 Ginger Moon is an adult's only 'no beach, beach club'. A huge W sign inscribed with Arabic writing sits at one end of the crescent-shaped WET Deck infinity pool, semi-submerged wicker chairs for sunbathing at the other, and various inflatables that drift by with the breeze. As I sip and dip my way through the afternoon, I'm periodically brought 'treats' - a cooling passion fruit shot and a wooden bookmark to ensure my page-turner doesn't lose place - or pace.
Behind me sits Ginger Moon's pretty indoor/outdoor restaurant, with a bar that snakes around a massive olive tree that bursts through the floor from the valet parking area below. The food is more light bites that are perfect for poolside nibbling, and the butternut squash and chargrilled broccoli dish I order oozes sticky, sweet Asian flavours. Stay until sunset, for dialed-up DJ sets and unhindered views of the sinking sun.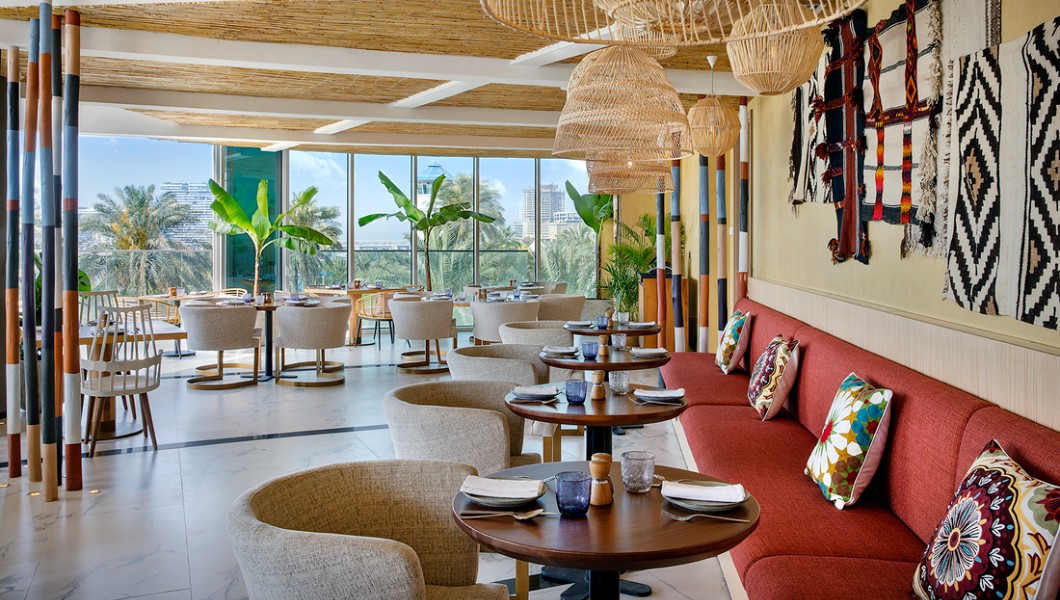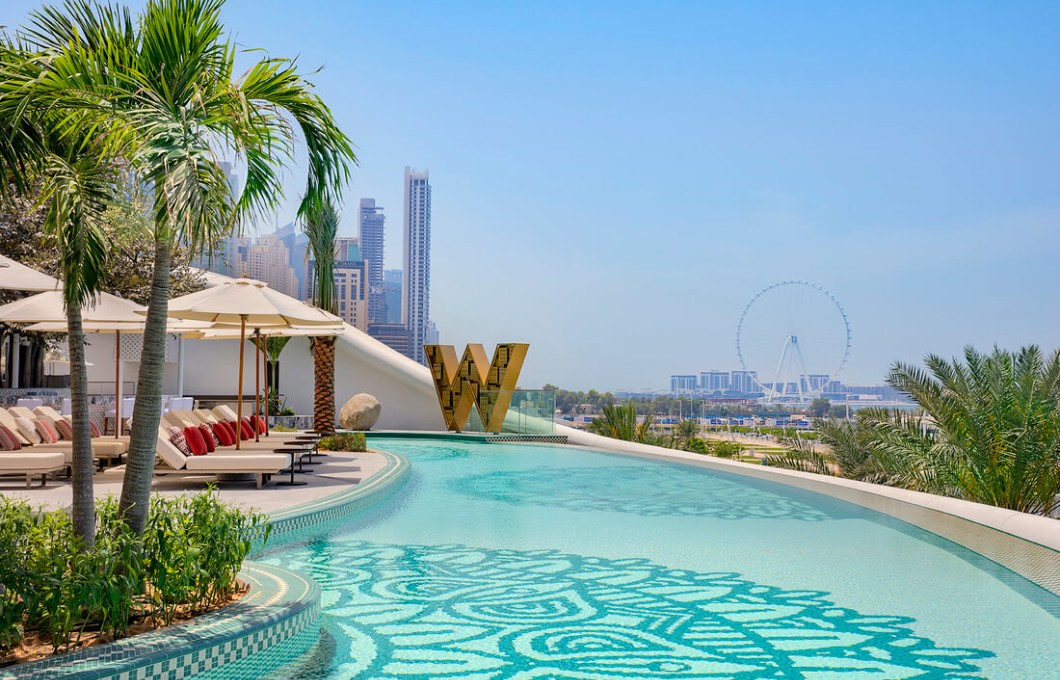 Before dinner, I meet friends in the Leopard Bar, a space next to the lobby infused with the tropics with jungle-print wallpaper and cocktails inspired by spices that were once delivered to the old Mina Seyahi Port, where the hotel now stands. For dinner, it's back to the al fresco terrace of Ginger Moon, as the weather has kindly put humidity on hold, where we eat Pan-Asian dishes under star light. Inside, bohemian vibes get turned up a notch, with mismatched vases, pots and cushions, skinny painted bamboo pillars, thatched roofing, rattan furniture and lampshades, and walls stencilled with botanicals. It's incredibly pretty and laid-back where the chefs, by way of an open kitchen, are allowed to let their mastery do the talking; my kind of dining.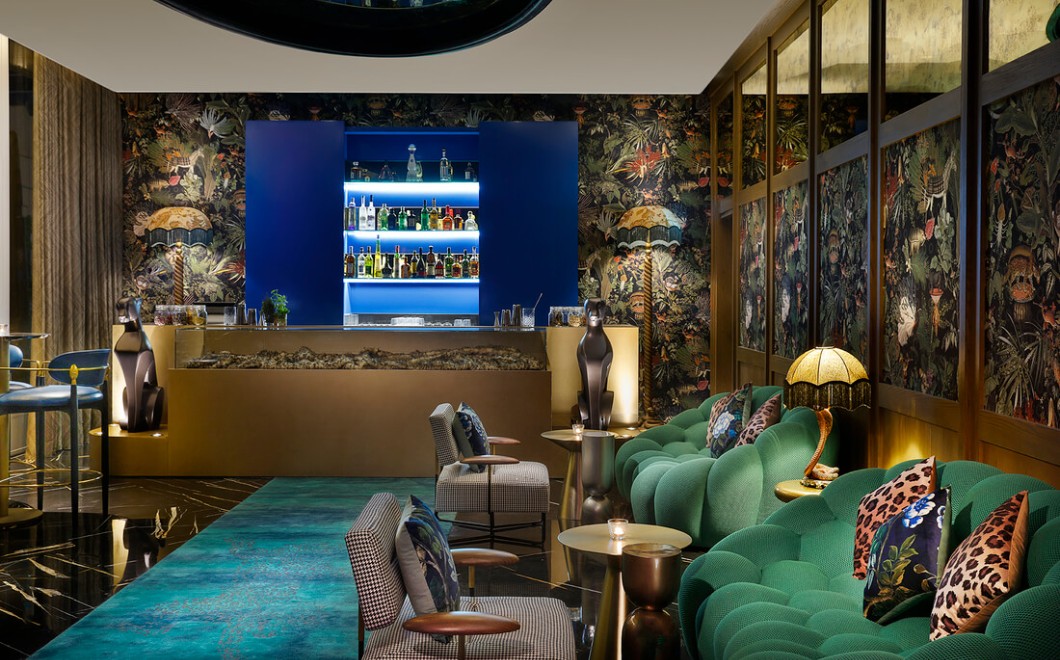 At breakfast, you're greeted with a Nitro coffee shot, or you can sip something from the Seven Fortunes French Press, with beans specially roasted for W Hotels. A dish of tofu scramble, asparagus, grilled mushrooms and wilted kale is enough to seal the deal for a return visit - oh my...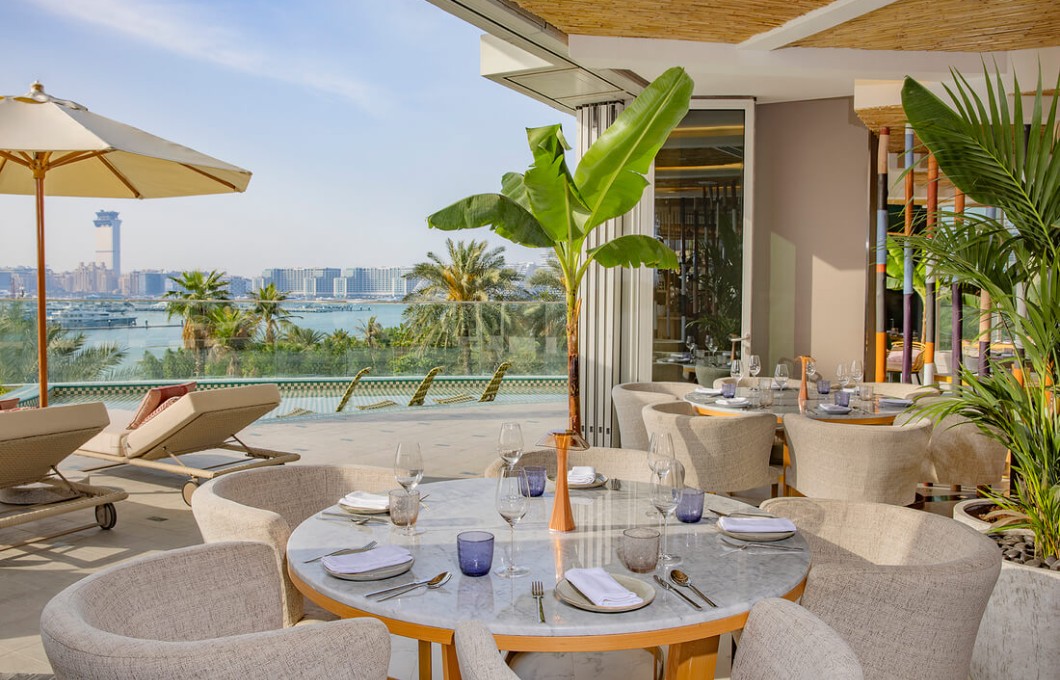 There are new additions coming to the hotel later this year, including a rooftop Japanese lounge, Attiko & To, and BAR-B Spa, with Malakite private beach club and pool, and 1Rebel, a high-intensity, dual studio fitness concept from London, arriving in 2023. But for now, the W Dubai - Mina Seyahi story plays out perfectly - the new kid on the block that's doing things a bit differently, with a whole lot of art, culture and soul.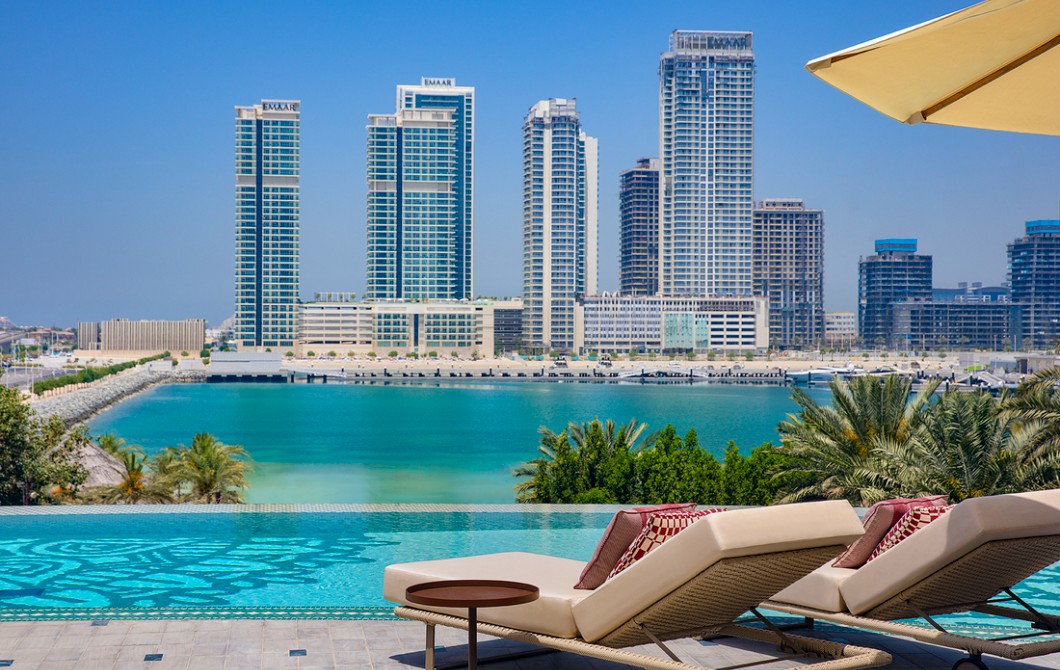 HOTEL:
WHAT: Marvelous Suite
WHERE: W Dubai - Mina Seyahi, Dubai
TEL: +971 4 350 9999