In this day and age when so many things in life evolve and change, there's something comforting about Porsche just being Porsche. Today's 911 Carrera 4S looks nice, new and modern, but you can easily see the similarities to the original 911 that was launched back in 1963 (originally called 901). The first Porsche 911 Carrera (the RS 2.7) appeared in 1973 and also shares that iconic Porsche styling. If you've always wondered where the name came from, 'Carrera' is derived from the Carrera Panamericana Race in Mexico during the early 1950s.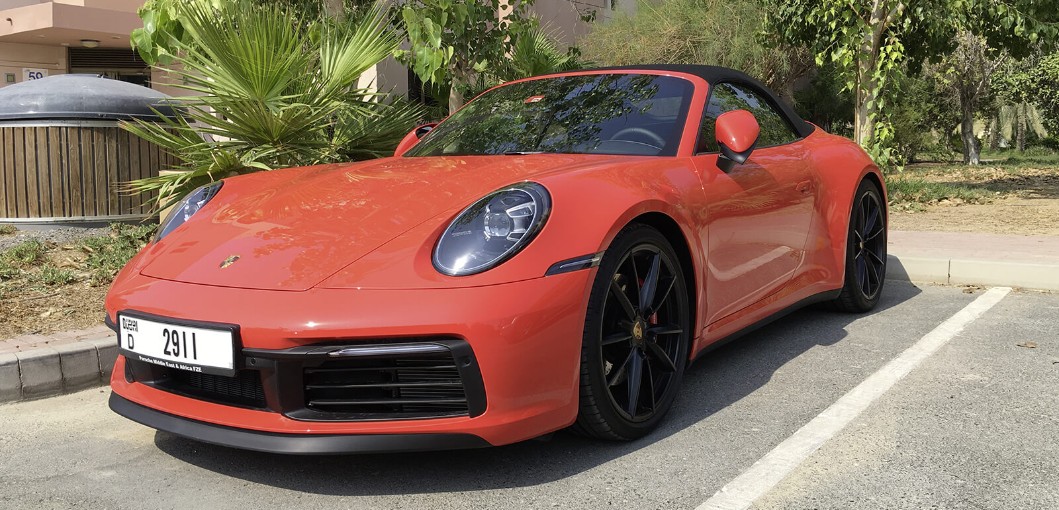 All cars have evolved since Ferdinand Porsche opened the head office in Stuttgart, 1931. However, the office was originally known for 'engineering and consultation on engine and vehicle design'. Created for such renowned manufacturers as Wanderer, Zündapp and NSU (which later became part of Audi and Volkswagen), not only entire vehicles, but such trend-setting detail solutions, such as the Porsche torsion bar suspension.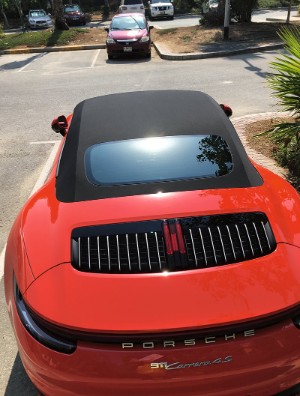 In 1939 Ferdinand Porsche built his first car, the Porsche Type 64. After having recently had a hand in the now iconic Volkswagen Beetle, he based the design of his own car on the VW. I'm sure everyone can see the similarities, it even shared the same engine. However, Ferdinand Porsche built his car on a different chassis and made it lighter and more aero dynamic. This Type 64 had 32 horsepower and hit the crazy speeds of 141km/h. Pretty great for a car in 1939. By the time the Porsche 901 rolled off the production line in 1963 they'd raised the power to 130bhp. The first Carrera raised it again to 210bhp. The Porsche Carrera I have the privilege to drive has a very respectable 450bhp with speeds only attainable on a track or a runway; Even then I'm not sure you would have enough tarmac to hit the top speed of the latest incarnation of the 911 Carrera.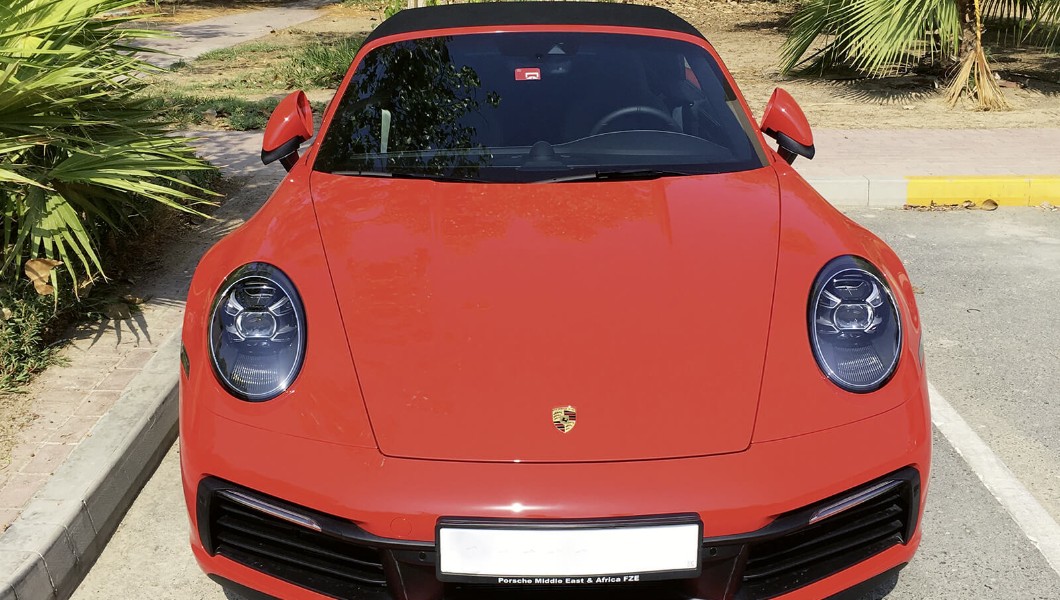 Before I dive into how this new Porsche drives, I'd like to take a minute to discuss the revamped interior. I have to say, I'm impressed. Previous Porsche cars I've driven were OK, but nothing really jumped out as either particularly impressive or horribly annoying. This 911 Carrera 4S, however, features a stunning new touchscreen that's very responsive and has 
a wealth of options to satisfy most tech geeks (like me). The integration of Apple CarPlay via bluetooth is fantastic. You no longer have to curse yourself for leaving the wire at the office or home. Be warned though, obviously using this feature via bluetooth will drain your phone battery quicker. The shiny new infotainment system is connected to some fantastic Bose speakers. Anyone who knows me understands that speaker quality in a car is important to me, because as much as I love listening to an engine roar and exhausts burble, sometimes I want to turn up the music and drown out the world. I'd even be willing to say it influences 25 per cent of my decision when buying a car.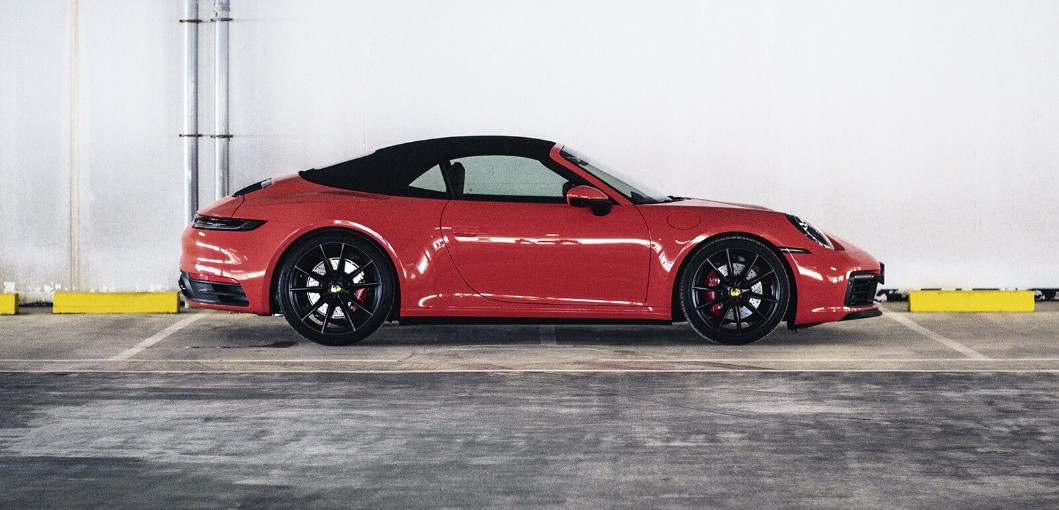 To be honest there's very little I can fault inside this car. The seats are very comfortable and offer multiple avenues of adjustment to get them feeling perfect for your body. 
The steering wheel feels great in my hands and 
it's not overly complicated with numerous buttons and functions. The buttons that are present are discreet and blend nicely with the rest of the cockpit. My one bugbear is that Porsche gives you the option to skip forward a music track using a button on the wheel but not one to repeat a song, and I can't image it would have been that hard to squeeze another tiny button in somewhere for that feature.
While I'm on the subject of small oddities within the cabin, I do find that two of the digital displays are obscured by the wheel. 
I ask a couple of friends to sit in and adjust the seat and wheel to suit their driving position and they too have the same problem. You find you have to move your head to one side to have 
a look at how much fuel is left or what time it is (unless you use the clock in the nice new touchscreen to your right). I'm also not a big fan of the updated gear lever. For me, it just doesn't look or feel as good as the rest of the car.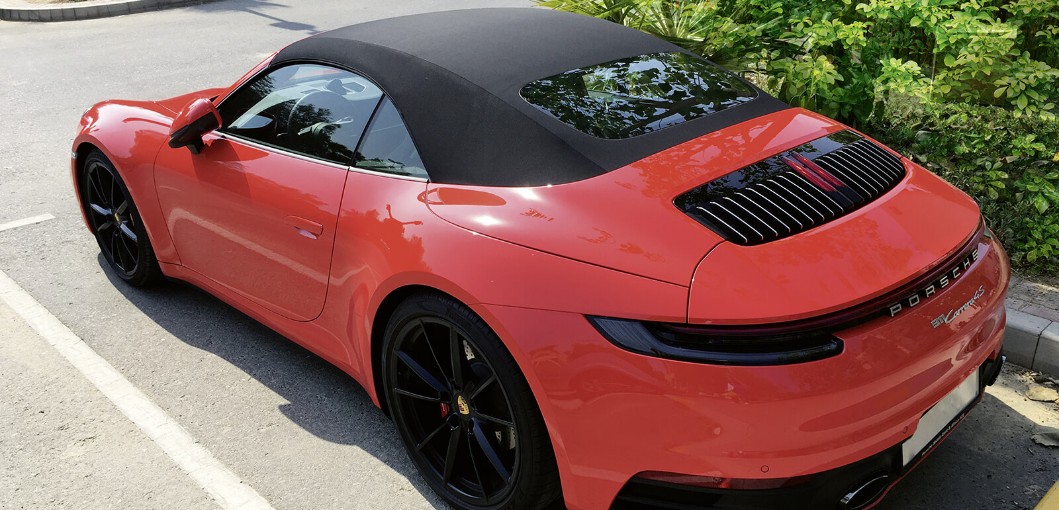 Two 'gear positions' have become buttons (park and manual) and I wonder why Porsche didn't just make it all button orientated. I am also lucky enough to have the cabriolet version, and while the visibility isn't great when looking over your shoulder pulling out of some junctions, on the highway the blind spot indicators are a must have. Obviously you can get around this issue by lowering the roof, which happens in a very respectable 12 seconds and can be done at up to 70km/h.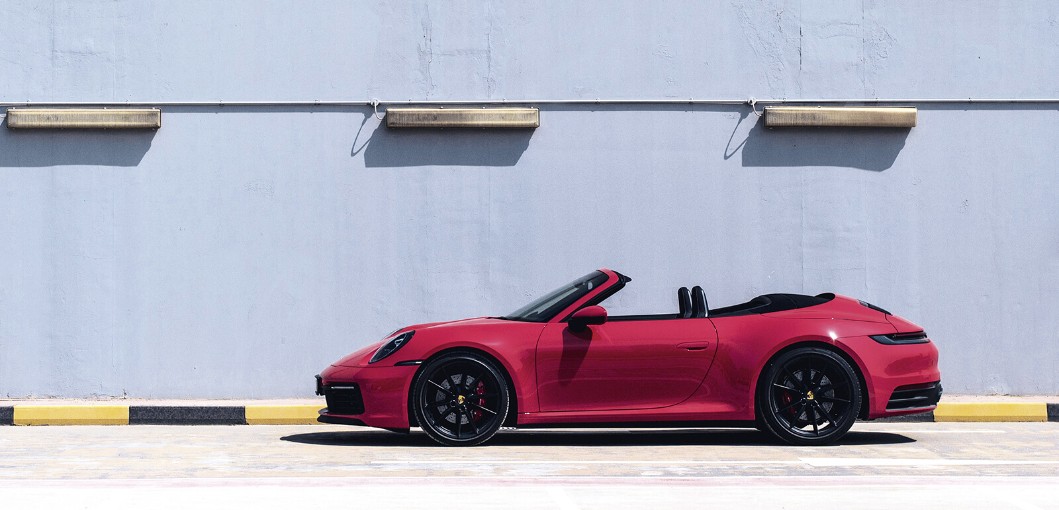 I digress, these are very, very small issues in what really is an exquisite cabin. The new dash area behind the wheel features a simply beautiful analog rev counter partnered with some clean and clear digital displays that can be customised. The updated centre column is much cleaner and easier to navigate than previous Porsches I've driven. You no longer have to awkwardly negotiate an ill position gear stick to adjust settings. I am also impressed by the storage space. The driver and passenger get individual cup holders, thanks to clever design, the door bins can hold a good amount of items (even a large water bottle), and the glove box is big enough to fit many, many pairs of gloves. There's even a hand storage space under your arm for your phone and keys, with multiple USB connections, and an SD card slot. The real surprise is that you can actually fit an adult in the back. Granted they will likely need to sit behind the front passenger who will need to move their chair forward a good amount, but it's not as tight back there as you may think. I'm don't recommend you take a couple friends out for a four-hour cruise, but you can comfortably offer a lift for close-by commutes. Continuing the storage exploration, opening up the front presents you with a small but deep space to fit a good size suitcase. The Porsche 911 4S also has a nice storage trick inside the cabin where you can fold down the top of the rear seat, which enables you to tuck away a set of golf clubs.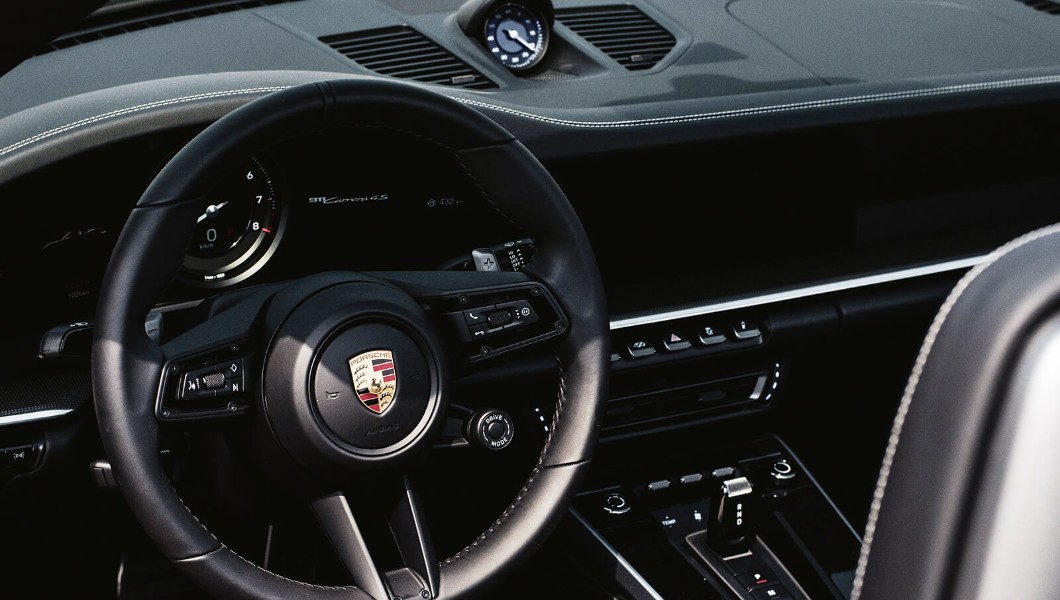 This new 911 is packed with surprises and tricks that aren't just limited to interior storage solutions. Outside there is a new spoiler that only reveals itself once that speedo starts climbing. If you're lucky enough to start seeing large numbers on the speedo the spoiler will deploy even higher, keeping you firmly stuck to the road. After my few days with this Porsche I can confirm it is always stuck to the road. I'd be willing to say this could be the best handling car I've driven. The Porsche showcases more of it's tricks when you're cornering. The rear axel steering coupled with clever computers giving you grip and power to the wheels that require it, is nothing short of incredible. On the road there is no bend I encounter at any speed that makes me even feel like I was taking a bend. I've often said it's hard to describe the brutal speed of a Tesla Model S P100D, and I'm finding the same problem regarding how well this Porsche can corner and how comfortable it is on the road.
This new 911 is packed with surprises and tricks that aren't just limited to interior storage solutions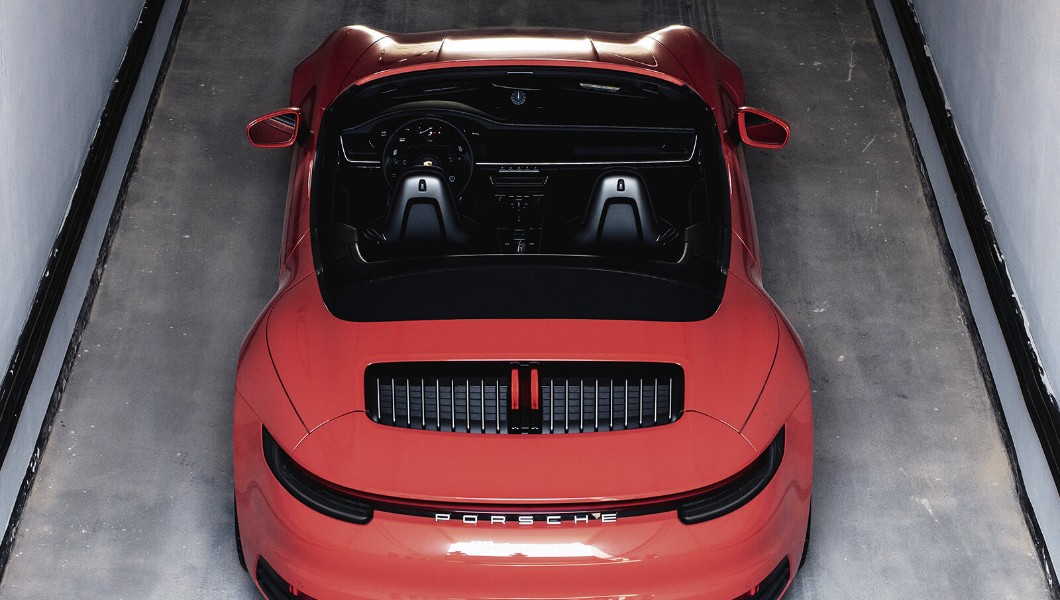 Performance I can describe and actually only need one word: outstanding. It's a 3.0 litre engine, with a turbo, pushing out 450bhp. It doesn't sound much when you compare it to the likes of Ferrari and Lamborghini throwing numbers at you like V12 and 600-800bhp et cetera, but the Porsche again has a few tricks up its sleeve. Thanks to the clever engineers in Germany this car will get you from 0-100kmh in 3.4 seconds (with the sport chrono package). Honestly, I actually think it's a bit quicker than that. While cruising the highway, if you've just robbed a bank and spot the police on your tail, there's a very convenient button on the steering wheel that gives you everything the engine has to offer for 20 seconds. Believe me, if you keep your foot down and press that button, there are very few cars that will be able to keep up or catch up. I don't recommend getting the police to chase you to try it out, but maybe give it a go when you have the need to overtake.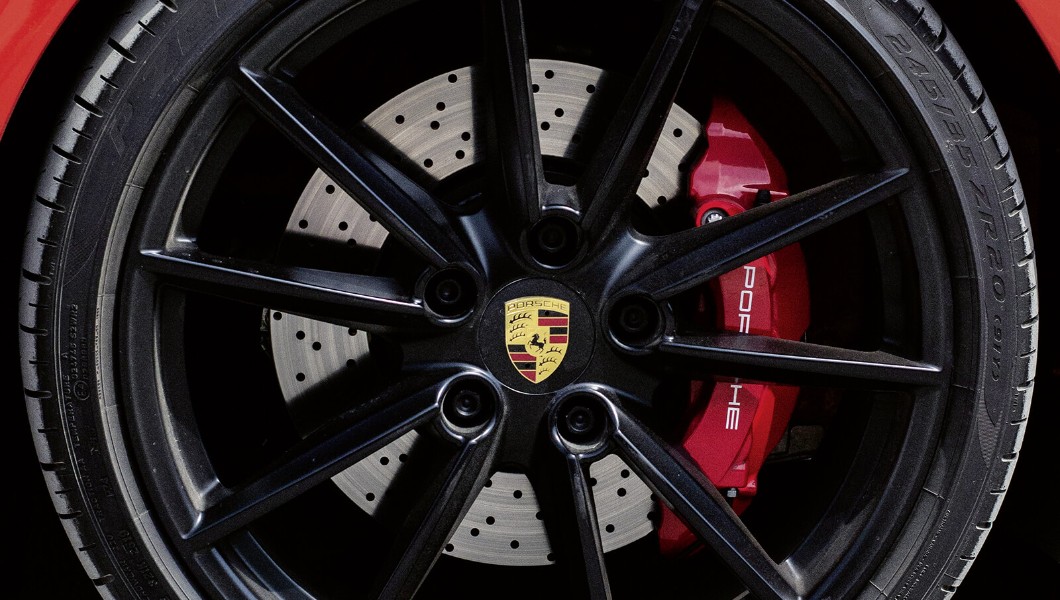 To conclude, I often say no car is perfect, but this Porsche is definitely a bit special. If you're in the market for a sports car, I can't recommend this enough. It looks fantastic, drives incredibly well and has enough storage space, ground clearance and comfort for everyday use. Well done Porsche, well done.
Nuts & Bolts:
Engine: 3.0-litre flat-six biturbo
Transmission: 8 speed auto
Max Power: 450 bhp
Price : AED 656,140 (US $178,658)