WHAT ARE YOUR EARLIEST TASTES AND MEMORIES OF FOOD?

My grandmother used to cook in her small hut and the meals were taken to the courtyard where the scents of her cooking lingered in the air... Spices with which she knew how to create highly sought-after blends for meat or fish. My tastebuds have been nurtured by Caribbean flavours, a culinary melting pot stewed in the cultures of the world. From the time of slavery, plus cheap labour provided by immigrant Indians, and immigrants from China, Lebanon and Europe seeking a new life. I became an apprentice of all these differences to create my own cuisine.
DESCRIBE YOUR STYLE OF COOKING…

Creolity (Creole cuisine whose geographical area of influence extends from the Caribbean to Louisiana), jazzy, delicate and an indulgence of all the five senses.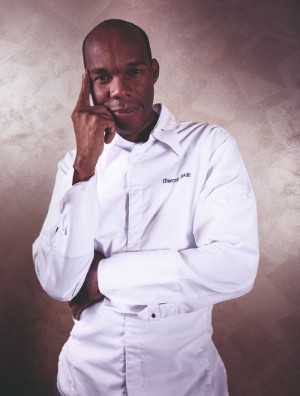 WHO OR WHAT HAS INSPIRED YOU MOST THROUGHOUT YOUR CAREER?

My grandmother.
HOW DO YOU INCORPORATE ELEMENTS OF MARTINIQUE FOOD INTO YOUR DISHES?

To be honest, I don't really prepare Martinique cuisine, 
but thanks to my DNA and background, I understood from the very start that one of my strengths was to incorporate 
a multitude of influences and surprising flavours into each dish that I create.
WHAT MAKES YOU PROUDEST TO BE MARTINIQUE?

The cultural mix of all our islands.
DO YOU HAVE A PHILOSOPHY THAT YOU COOK BY?

"You can be a good chef if you bring what is in your heart 
to the plate."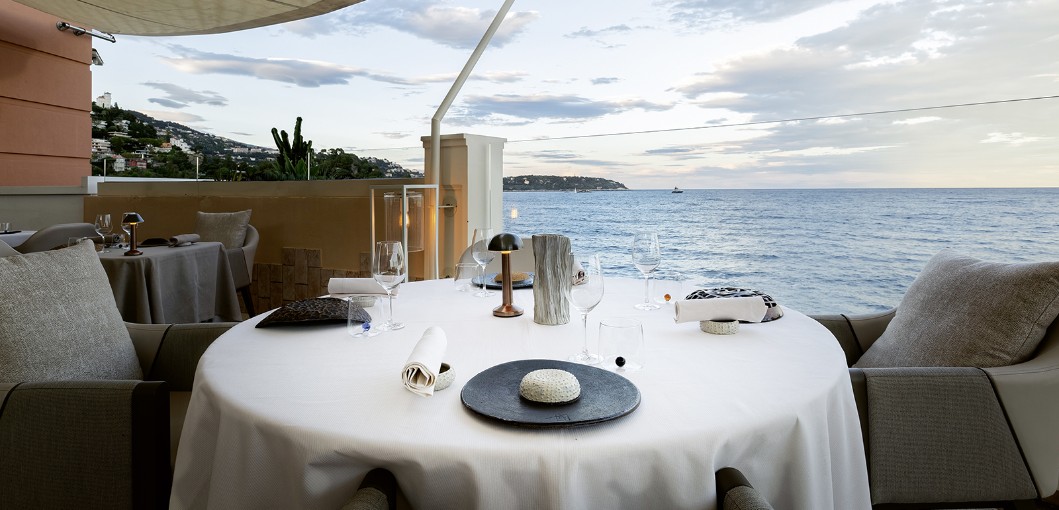 TALKING RESTAURANTS, WHAT EXPERIENCE DO 
YOU WANT TO IMPART THROUGH YOUR COOKING AT BLUE BAY?

My aim is to always take my guests on a sensory journey to new and unfamiliar places. I re-invent all the time, without succumbing to trends, and I think my guests are pleased with those 'wow' moments.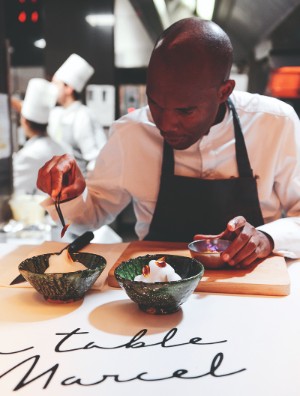 THE LAST FEW MONTHS HAVE BEEN CHALLENGING FOR THE RESTAURANT INDUSTRY. HOW DID YOU Continue to CONNECT WITH YOUR GUESTS AND FOLLOWERS?

I continued to share my passion for cooking with others on social networks and I actually have learned so much from it, as the comments from my darling followers made me rethink how to integrate new flavours and techniques in the dishes that I create.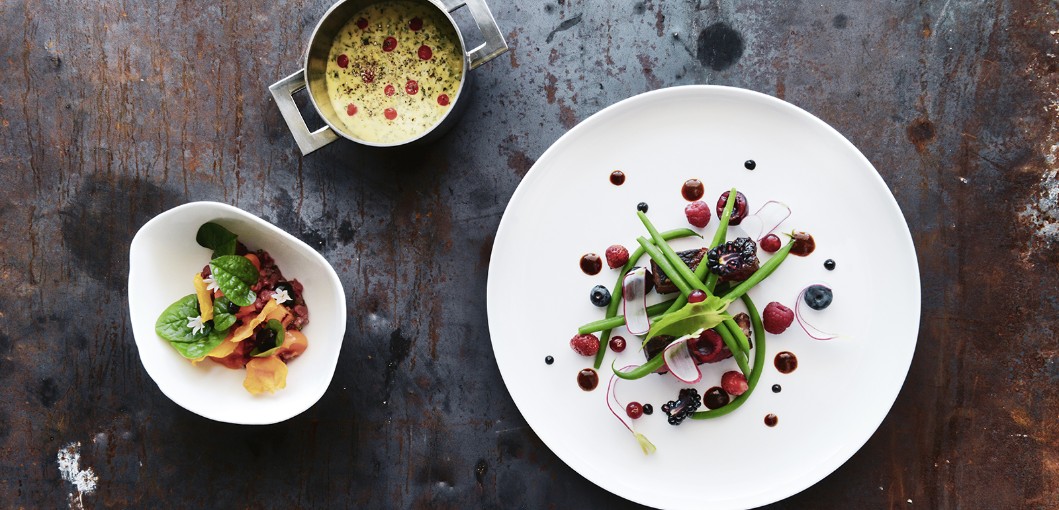 WHAT POSITIVE LEARNINGS HAVE YOU TAKEN AWAY FROM YOUR COVID-19 EXPERIENCE?

In any misfortune, one must be able to find something positive, remain brave and be resilient.
HOW IMPORTANT IS SUSTAINABILITY IN THE RESTAURANT INDUSTRY?

Since 2007, when I created one of the first organic vegetable gardens in the Côte d'Azur, I have been trying to apply what represents the foundations of how I was raised: the authenticity and true taste of nature's product. This can only be found if we treasure and respect the soil.
WHAT ABOUT ACCOLADES AND MICHELIN STARS. 
IS RECOGNITION IMPORTANT TO YOU?

I guess that everyone appreciates having some kind of recognition for their work. A Michelin star, like the Legion d'Honneur, 
is a reward that makes my family proud and it definitely adds an extra layer of responsibility to what I do at Blue Bay.
WHAT HAS BEEN YOUR EXPERIENCE OF THE MIDDLE EAST SO FAR?

I visited Lebanon and loved its spirit of sharing and togetherness. It was a very rich experience. A few years ago I also had the chance to travel to Dubai, and I believe the melting pot of cultures put this city one step ahead of the rest of the planet. Dubai is so diverse – it has the power of making people fall in love with the city!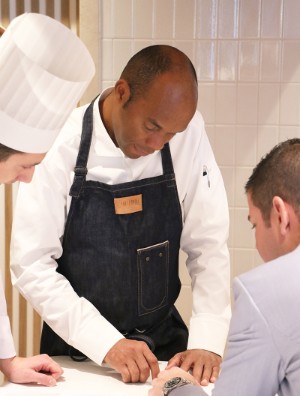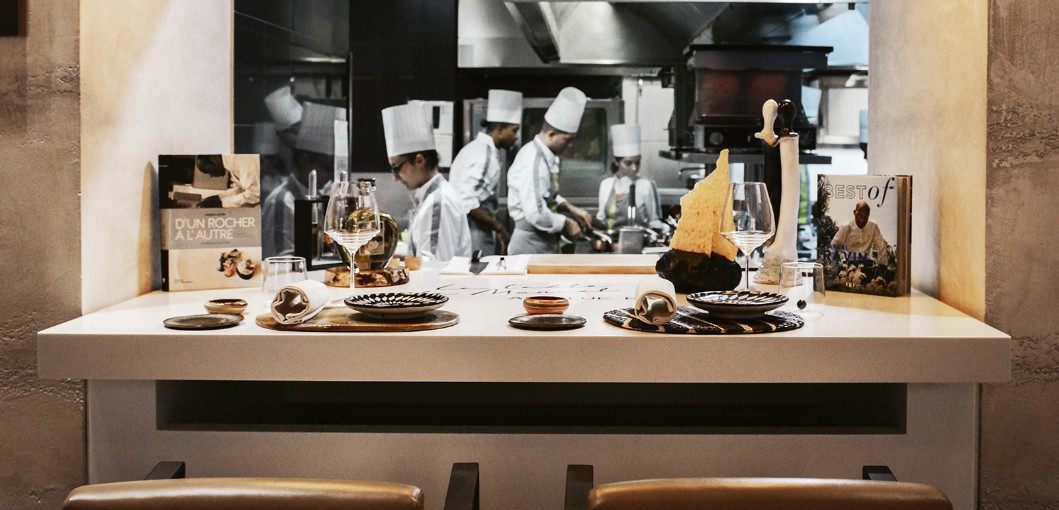 THERE ARE SOME INCREDIBLE CHEFS AND RESTAURANTS HERE IN DUBAI, BUT DO YOU THINK THE CITY IS READY FOR MICHELIN?

I am sure it is. I went to several restaurants and the level is so high there.
WHAT FOOD TRENDS DO YOU THINK WILL EVOLVE THROUGHOUT THE REST OF 2020?

People were confined and had to cook at home and buy local products. This increased their 'locavore' conscience, and shed light on the importance of wellness and of having access to natural and healthy products.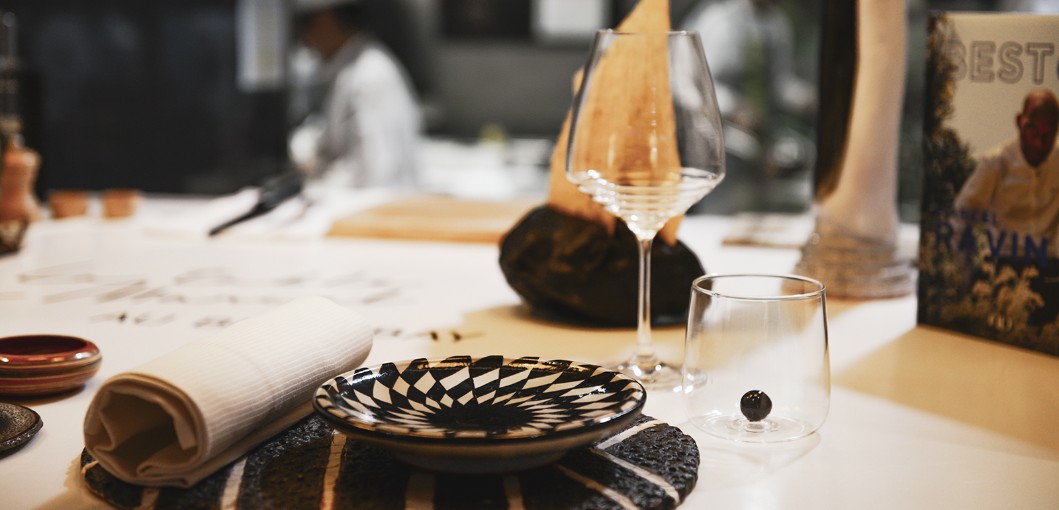 WHAT ARE YOUR PLANS FOR THE REST OF 2020?

This period leads us not only to please our customers, but also grant them the confidence in rediscovering the pleasures of 'le table'. It is important to make them feel safe by adopting 
a positive and responsible attitude.
YOU MUST TRAVEL A LOT for work – HOW DO YOUR EXPERIENCES THEN INFLUENCE YOUR COOKING, OR EVEN YOUR TECHNIQUES?

Travel enriches us and a successful trip is one that takes me to the heart of local traditions and culinary heritage.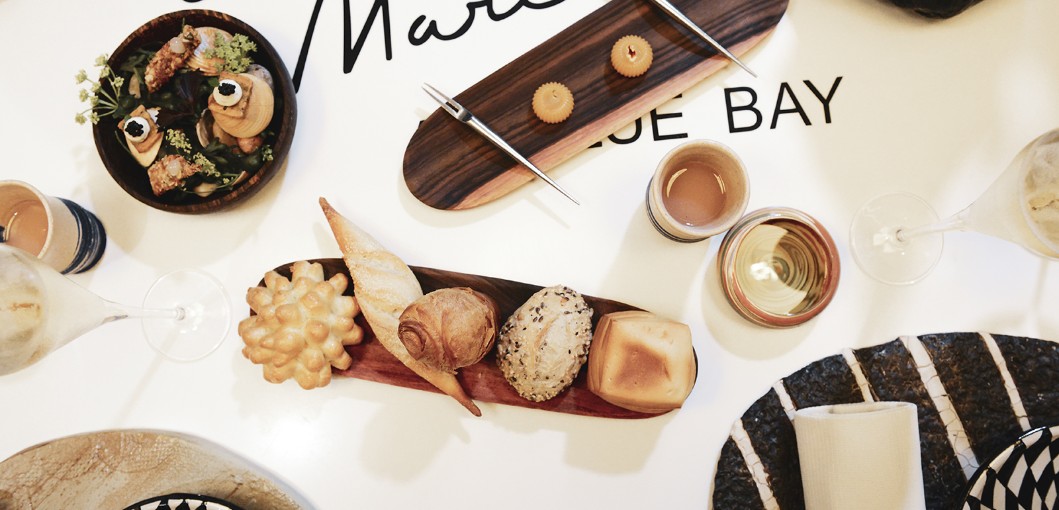 WHAT IS THE BEST PIECE OF COOKING ADVICE YOU'VE BEEN GIVEN AND BY WHOM?

It was from Mr. Paul Bocuse, who a few years ago told me: 
"I'm against the kind of cooking that by too much fusion, creates confusion."
IS THERE A PIECE OF CHEF ADVICE YOU'D IMPART TO SOMEONE STARTING OUT?

My father once told me that I had to really believe in my dream to be able to make it come true.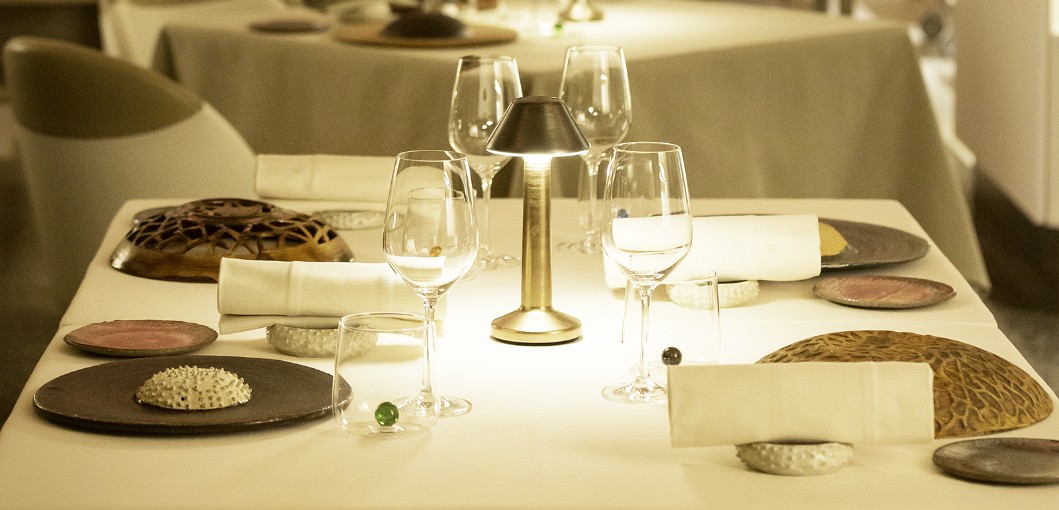 IN YOUR OWN WORDS, WHY DO YOU THINK PEOPLE SHOULD COME TO BLUE BAY IN MONACO?

People come here because of our audacious creativity and respect for the ingredients. I believe that my guests enjoy being surprised. They know I push all the boundaries, making each dish surprising, different and special. My customers enjoy giving me the liberty to choose their dishes… And I love to get to know them and to know exactly what matches each occasion. I have the honour to look at many of them as members of my extended family.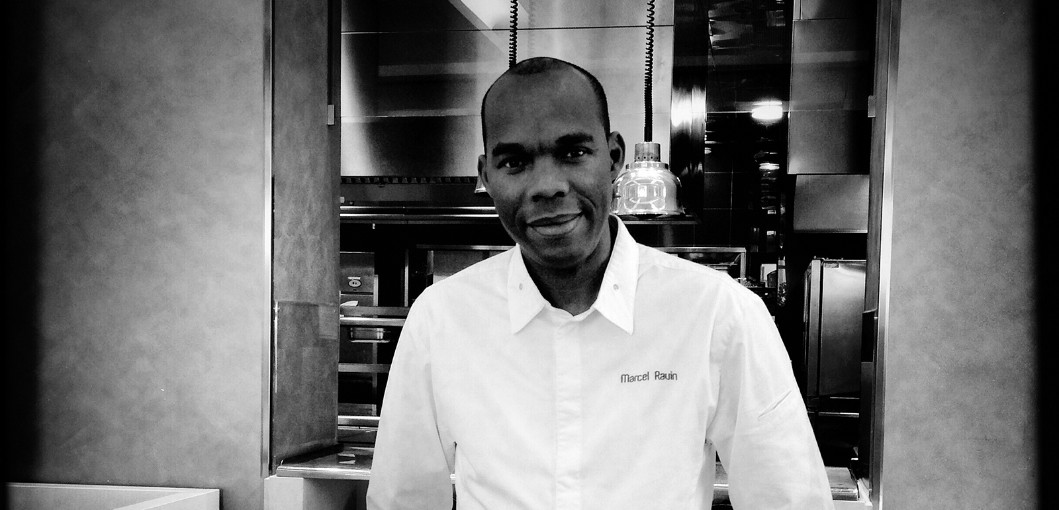 FINALLY, FOR ANYONE HOPING TO VISIT BLUE BAY ONE DAY SOON, WHAT DISH WOULD YOU RECOMMEND they try?

Our loyal customers and their favourite choices have made 
a few dishes become 'signature dishes'. So, it is a great honour to hear them say, "Chef, make us happy and make yourself happy". 
It's a relationship of trust that makes me very proud.
Favourite ingredient: Passion fruit, because it is complete in the world of sweet and sour, plus it matches with everything.

Favourite Martinique dish to cook: There are so many, but an excellent grilled fish in 
a wood fire is definitely my all-time favourite.

Your last meal would be… Spaghetti with clams from Martinique. And if I could cook one last time, I would pick one vegetable and create seven interpretations of it, from aperitif to dessert, with all the staging it deserves!

Greatest food indulgence: I can't resist my mother's curries.

Strangest thing you've eaten: Japanese jellyfish!

Dish you could eat over and over: An omelette.

Three dinner party guests to cook for: Barack Obama, Sheikh Mohammed bin Rashid Al Maktoum, and one of the many great writers that I admire.

Best foodie destination: Lebanon and Japan, the two destinations that have surprised me the most.

Most loved restaurant: AM par Alexandre Mazzia in Marseille.

Most memorable meal: At Alain Ducasse's restaurant in Plaza Athénée. I love how the mise-en-scene at his restaurants is so theatrical and elegant.

Chef TV show you watch: Top Chef France, as I enjoy seeing talented people being challenged.

Idea of your favourite holiday: Anywhere sunny, with good energy, and a deckchair by the sea with an excellent rosé wine.