Immaculately dressed and impeccably poised, Caroline-Jane Houston is perched on a settee in the lobby of Address Downtown as if she's at home. In effect, she is. The experienced General Manager has enjoyed a storied career, leaving her native Northern Ireland to Gleneagles, then on to helm a range of departments across the pond (The Savoy may ring a bell?) before eventually finding a long-term post in Dubai. During a recent review of the newly reopened hotel, we were lucky enough to sit down with the GM for a lengthy chat about the property and discover some of her rich experiences in her hospitality career.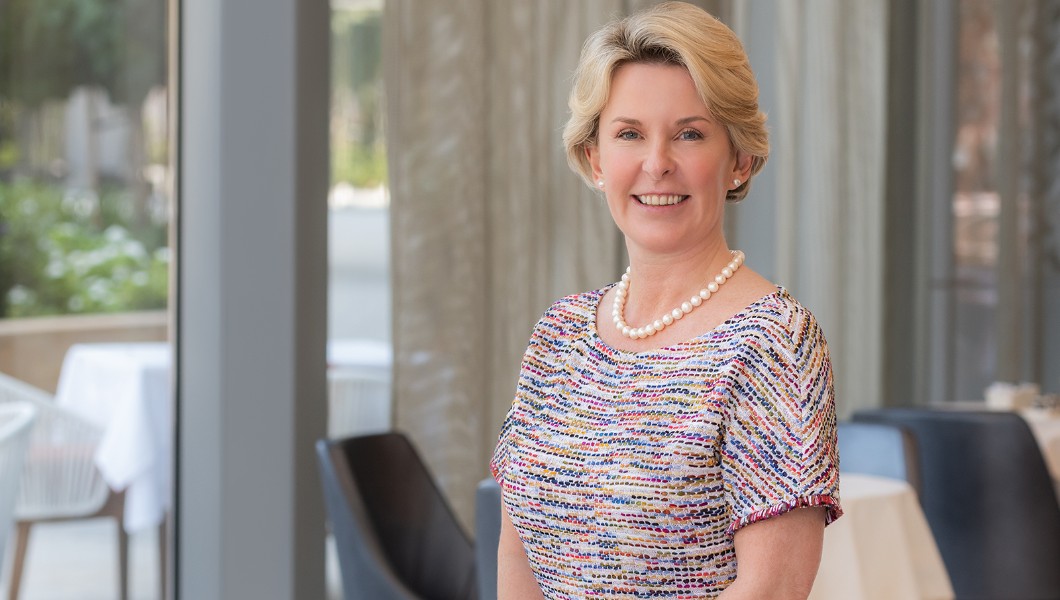 Returning to Address Downtown there appears to be more of a homely atmosphere. Is that the right word? How would you describe it?
Emaar likes a "residential" feel for its hotels. I've been here since 2009, the hotel was first designed back in 2006, so it was already 10 years old by the time we closed. Emaar is very much about creating a comforting feeling, as if you are coming into someone's home. That's where I feel the whole "lifestyle" buzz. We want the hotel to be very accessible. I'm a great believer in that, but we've also maintained a level of decorum, otherwise we'd just be another lifestyle hotel. The level of service here is no different from going into Chanel or Louis Vuitton or any high-end retail operation. It's the intangible touch points. It's the little invisible aspects we can make a point of difference with. And that's what our focus has been. Anybody can do nice flowers, but you need skill to put everything together.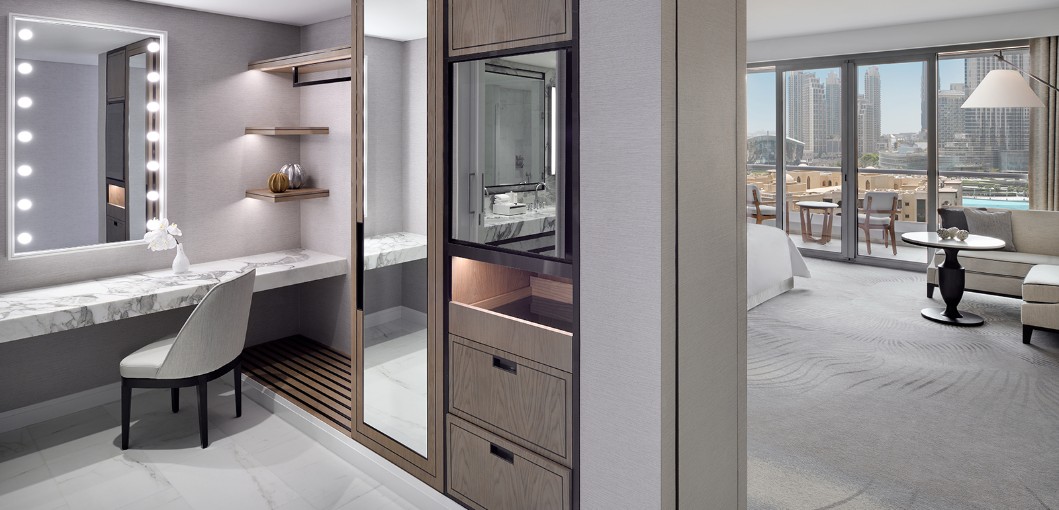 Beyond the striking butterfly arrangement, there's a huge emphasis on art. So who's curating that? What's the story there?
We flew a curator across from New York who personally placed every item – she'd fly in and fly out. She would take time to talk to you about normal things, and was not at all aloof in her approach. We felt that she wanted everything to be placed precisely and a lot of art pieces were tested around the building. It wasn't as though "I'm putting this up here and I'm going to leave it" She looked, she felt the areas day and night, with the different light moods going on so I think for everybody involved in the project, it really was a personal investment. More than just a job. It was a true love – like everything about this hotel. We originally worked with Meyer Davis, the interior designers in New York. They were shortlisted from three designers immediately after we closed the hotel.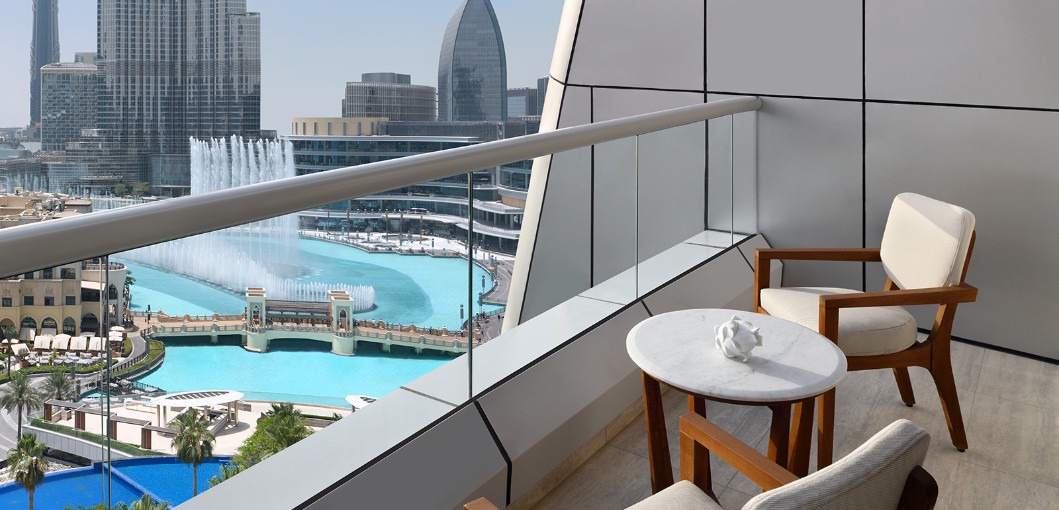 So there's obviously a lot that's change in terms of that transition to a more kind of lifestyle aesthetic – but what's remained the same in terms of your brand or approach to hospitality?
We are still the original Address property, and we use the word "lifestyle", but what does it actually mean? It means different things to different people. The intent has always been that of accessibility. It goes back to the service. I believe that we are the trendsetters, we have always been the trendsetters since we opened this hotel in 2008.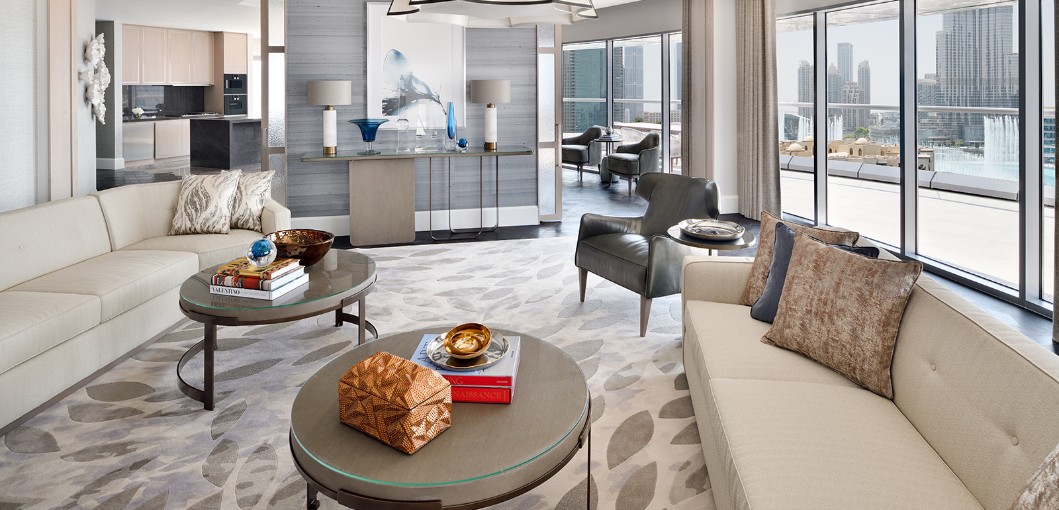 We moved the gym and the spa onto the 6th floor to make it more accessible. It allowed us to create the exclusive entrance for the wellness facilities and so for the guests who might prefer direct access, they now have the option to come straight up into the wellness facilities. We also moved our Qix kids club so that it is more conveniently located aside our Club Lounge, on the13th floor. I don't believe there are many club lounges in the world that have a dedicated kids club. Family is a key element – the most important part in anyone's lives, especially in the GCC market. Our guests like to have their children around them, if they need to have meetings, the kids are being well looked after, literally next door. That opens things up, gives us those little USPs that perhaps we wouldn't have had before.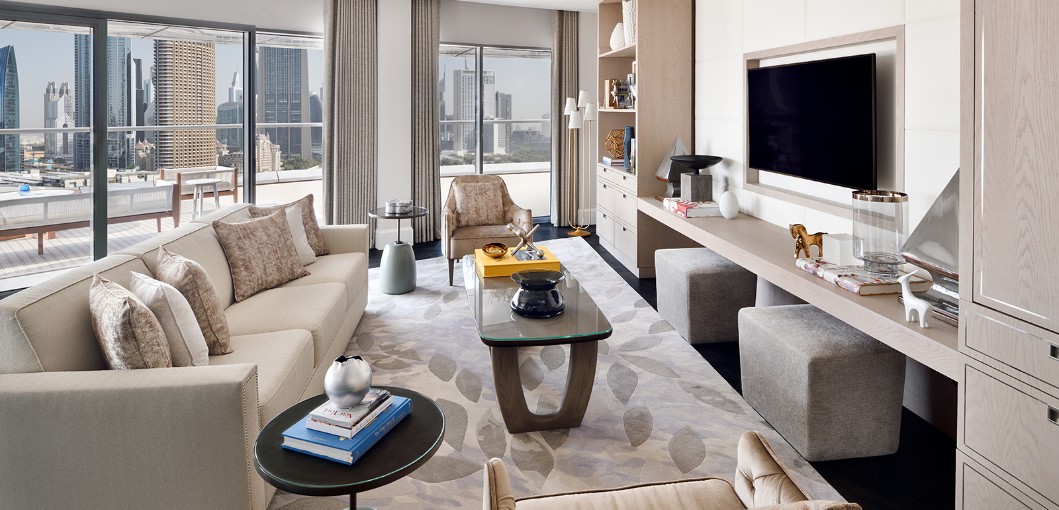 What can we do better? That is very much, I believe, our philosophy each and every day. We must keep pushing ourselves from within, as individuals and as team members. For many of our guests, the team members who push themselves are often the ones who create those special moments. It's about consistently delivering and remembering what our guests like and what they don't like.
So the question of how to improve is almost like a mantra?
If I don't talk about it, how will we all learn? How will my team become the GMs of the future? How did I actually learn? My background is from food and beverage, so how does it follow that I learnt about rooms, marketing, engineering? By going and paying attention to what the key people were saying – right or wrong. Sometimes you make mistakes and you can learn from those mistakes. You learn more from those mistakes than from what you actually do well. And of course, we want to leave a legacy, we want to be remembered for being a truly iconic hotel.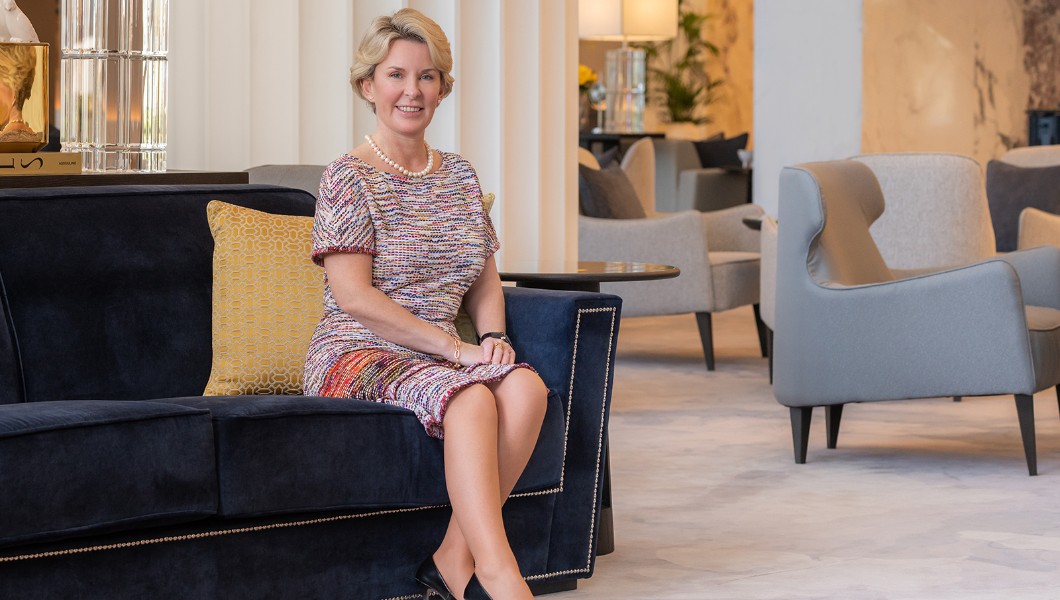 What inspired you to pursue a career in hospitality?
We didn't have many hotels in Northern Ireland but I decided, nonetheless, to study Hospitality Management. [My twin sister and I] had worked in a local Northern Irish Hotel and I was also working in a local hospital kitchen, scrubbing saucepans, with another job wrapping lettuces for Marks and Spencer. These experiences taught me about the ethos of work but at University, my first big initiation, was a placement year at the Gleneagles. I believe the Gleneagles is among one of the top resorts in the world. We worked incredibly hard, and had this phenomenal opportunity. Coming from 'little' Northern Ireland and going to the Gleneagles was truly an extraordinary experience and it provided me the internal drive and ambition to further pursue a career in hospitality.
I was then lucky enough to be interviewed with Gleneagles, becoming one of 20 Europeans that year to go over to Boca Raton in Miami, which at the time would have been one of the top five resorts in America, one of the very few with five-star, five-diamond credits. They took you on a management and development programme. Myself and my twin were the ideal match because you didn't want people getting home sick. A beautiful resort with 1,000 bedrooms, very private - you don't get past the gates unless you're a guest or a club member. Twenty-six room categories, all phenomenal.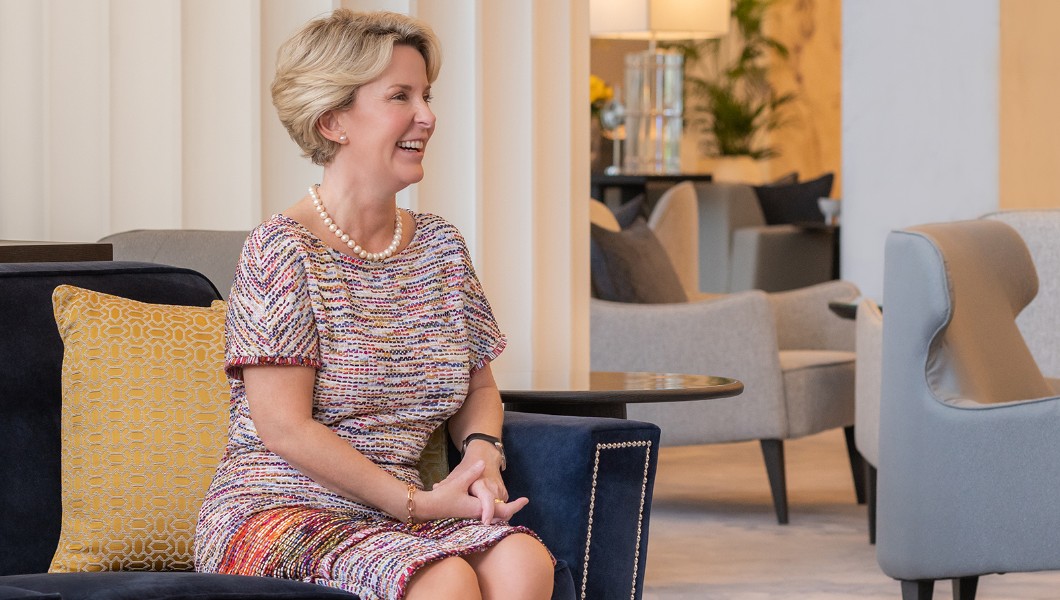 Did you know you were going to strive towards hotel management?
I'd say it was a natural progression. It has never been about having five-year plans. I don't necessarily know what I'm having for dinner. I've enjoyed my career working in the world's most luxurious surroundings, working with true professionals so why would you ever settle for second best? It would never cross my mind to settle for something else. My twin and I were lucky enough to land interviews at The Savoy after our time in Boca Raton. The F&B head at the time was a Southern Irish gentleman, Tom O'Connell – I thought maybe there was a bit of loyalty there. His sister is a very famous chef, Darina Allen, who owns the Ballymaloe Cookery School back at home. Tom O'Connell was again a hardcore person. He gave us both the opportunity to work at the Savoy. Unheard of for females, really, in front office and F&B in 1994.
So even then there was a real distinction in gender roles?
I would say it still exists for some people today. I think it's about people not countries. We wore our pinstripe morning suits, the boys still wore the studded collars, the hotel manager changed into his dinner suit by six o'clock in the evening. The Savoy was just a whole other world. You were working with Anton Edelmann, the youngest Chef Des Cuisine at The Savoy. Anton was legendary. Any great UK chef has actually turned at The Savoy – James Martin, Jason, Gordon, they've all been through the Savoy doors. As one of the very few females in F&B at the Savoy, you knew each and every day that were about a 100 other people who wanted your job and you would sit in meetings with legendary restaurant managers [such as] Luigi Zambon. The world nearly came to a standstill when he passed away several years ago.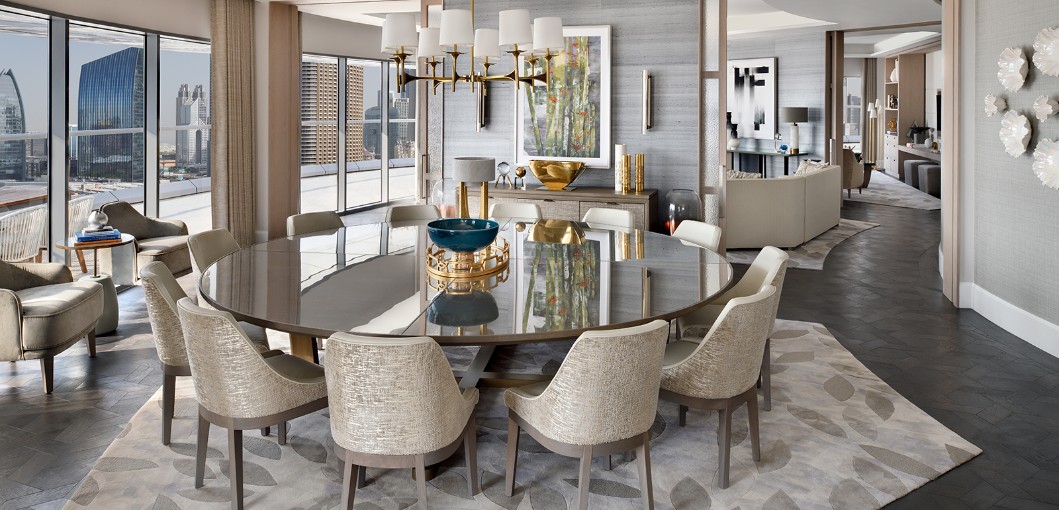 I then moved over to The Ritz. Tom O'Connell moved over to The Ritz as GM, tried to get both twins to move with him. There was a huge competition between the Savoy and The Ritz which dates back to 1901. There was an agreement that you can have one twin, you can't have both! So, for whatever reason, it was decided that I would go and Anne-Marie stayed at the Savoy. I was the first female assistant restaurant manager working in again, the most beautiful dining room in Europe. Truly beautiful.
I can remember some guests saying "Wow! I've never been served by a lady before". I stayed at the Ritz and was asked back to the Savoy three times and on the third time I said yes. They told me, "Caroline-Jane, we'll give you whatever you want, stay at The Ritz. Name your price". I was 22 to 23, but I knew I had better career opportunities at the Savoy. I moved back to the Savoy and my twin was still there. We were both assistant F&B directors at that stage. Essentially nothing would have happened in F&B without one of the twins knowing.
I was there for the turn of the millennium when Mohammed Ali came in for a Sports Personality award – I did name my little Persian cat after him, because who can say they've been kissed by Mohammed Ali? That's what dreams are made of. That is what inspires you every day to get up at 4.00am going from wherever you are living in London and working 16 to 18 hours days. We had a wee bedroom upstairs where you could occasionally take a cat nap, the servant's quarters. It never crossed my mind to do anything else.
You've used the word inspiration and you're obviously still inspired now. How do you pass that on to your team?
My training was always to take action, not to ask 20 people how to do something. If there was an issue, you dealt with it. I'm decisive – I suppose that's a little bit of the Irish-ness as well. We have to say what we have to say. And maybe a little bit of the female and a little bit of being a twin. I think it's the whole thing. I just have to say it. I am a very direct person. I would say overall, I am firm and I am consistent across the whole team. I feel that we can all learn from each other. If you're managing Chelsea and Man. United, do they ever stop to think that it's all falling apart and we've lost the season? They stand and say whatever they have to say throughout the game, to get better results. We must get over the finishing line each and every day. Guests are not going to come back next week and give us a second chance unless they truly believe it's worth it. I do coach if that's the word you want to use. I'm very hands on. My specialty has been F&B but again, I've been very lucky enough under various situations to learn about all areas. I have taken an active interest to move out of my comfort zone and I believe that is what helps to make a good leader.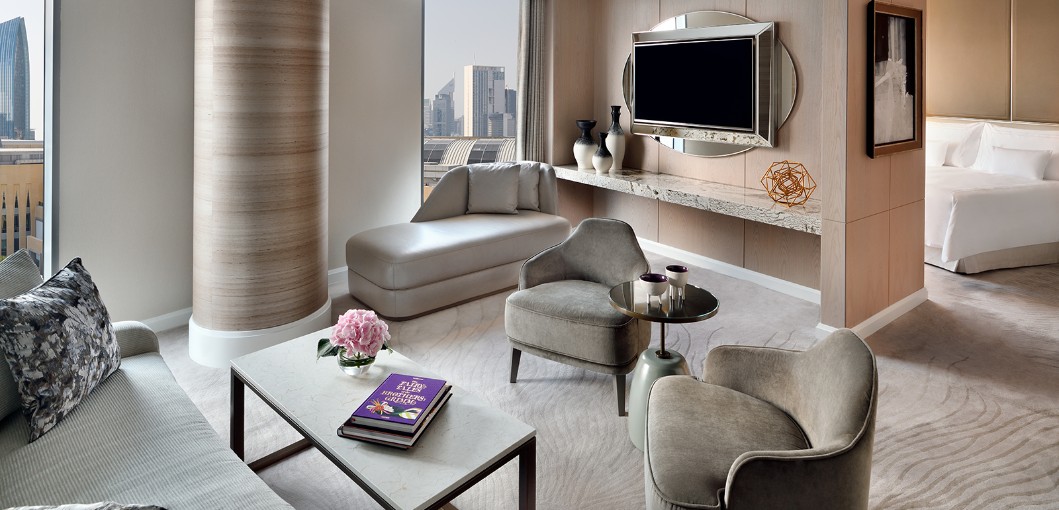 I take an interest in our amenities, I will take an interest in where the chef is getting the food from, I will take an interest in how we make the drinks. I don't want to be serving any cocktails without having an idea of what it tastes like. We're not cooking and creating these experiences for our staff, we're doing everything we do for our guests. So, it's about then hopefully inspiring others and I will say if somebody from Northern Ireland can do it with a little population of what, 1.5 million, I find no reason why anybody else cannot become the GM of the future if they truly apply themselves. Of course, there is a bit of hard work along the way and even more so as a female. It is still a fairly male dominated industry. I wouldn't want to lead with that point however, I believe anyone can achieve anything if they put their mind to it.
Here in our present day, why Dubai and why the Address? And what came first, the city or the brand?
Before I came here I was at The Langham, London – Europe's oldest, grandest palace. I had just finished that refurbishment when I received a call about this exciting opportunity. I think it was probably the fact that it was the iconic building opposite Burj Khalifa. That probably, subconsciously all played a part in it. I came here and obviously haven't looked back. Being Northern Irish, we are extremely loyal and I don't know what I'd say if they ever said "Caroline-Jane, we're moving you to another hotel". I think I'd have a breakdown. It never once crossed my mind to leave. I truly love Address Downtown. It's hard to explain but we truly, truly love the building. We love everything it stands for and I truly admire the vision that the chairman gives us.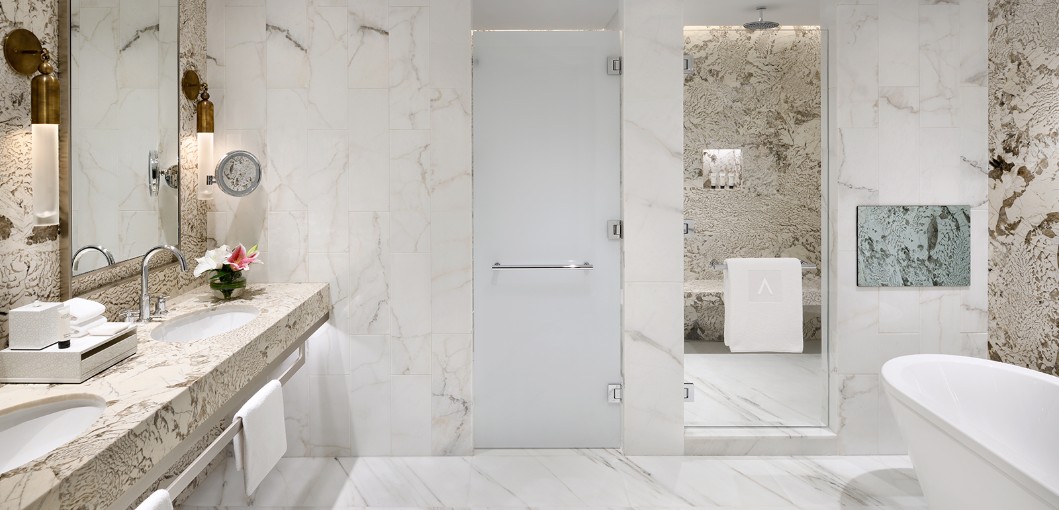 And finally, if you're speaking to someone who wants to be in your shoes in 10-20 years' time, is there a particular pearl of wisdom that you have to offer?
I think it's about being open, open in your own mind and taking every piece of feedback, both good and bad. I tend to take it and I will be my own biggest critic and I'll get distressed whenever something goes wrong but then I'll go away and in the quiet day of light say "okay what could I have done better?" So it's about being open, it's about being willing to learn. There's a time and a place for that but you really have to learn what battles to fight, what is truly important. For me the biggest thing is, if you're going to do it, do it right and be simply the best that you can be whether you are the bell boy or the general manager, or our "Little Number One".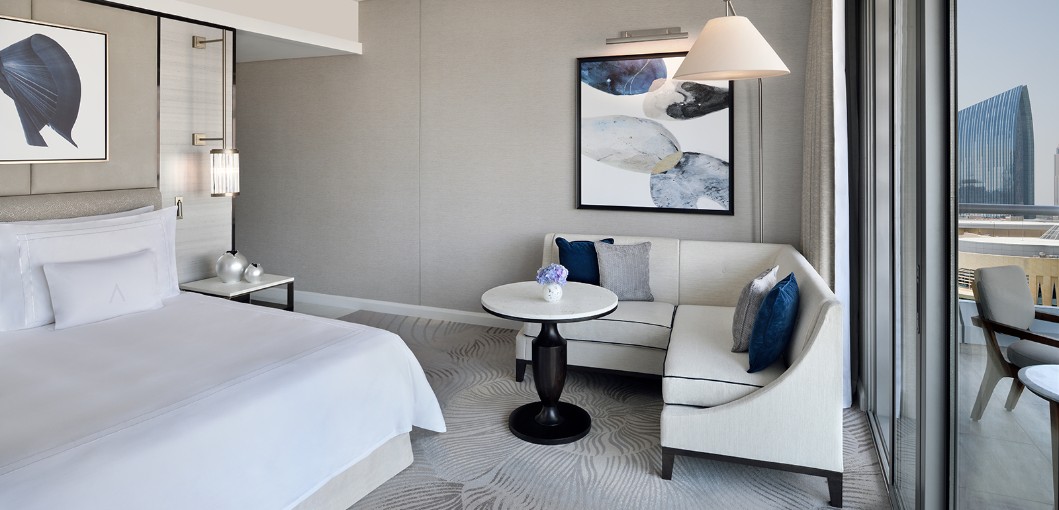 Little Number One is a chap who scrubs our driveway, every single morning and at night time he makes sure our driveway is impeccable – he is my number one because he is simply the best and he is the happiest man in the world because he is doing such an exceptional job. We need these people at these different levels to actually pull it all together. We are very fortunate. We truly are in this iconic building with so much history, and so much passion and dedication. So why would we want to be anywhere else in the world?
Stay:
ADDRESS DOWNTOWN
Sheikh Mohammed bin Rashid Blvd, Dubai
+971 4-436-8888