I'm sipping on an artisanal coffee overlooking a graffiti-walled urban herb garden, and there isn't a chocolate shop, stuffy banker or Disney spire in sight. Welcome to Zürich-West, a reclaimed industrial wasteland with a Brooklyn-meets-Berlin vibe, that's turning Zurich's buttoned-down-and-boring image on its head.
With its galleries breathing new life into urban industrial edifices like turbine halls and soap factories, this Westside district is taking the city's contemporary art scene to the next level. Basel may be synonymous with art buyers (and its namesake fair) but Zurich's claim to some of Europe's best private art collections and the continent's first digital art museum, MuDA, are cementing its artistic credentials. And with a creative economy that represents a whopping 7.7 per cent of the city's GDP, the capital of capitalism could be on course to be Switzerland's new "art capital".
Zurich is no stranger to creativity. During both World Wars the city became a refuge for painters (and paintings), and the adopted home of artists and intellectuals like Einstein and James Joyce. And on a cobbled street in Old Town, a club named Cabaret Voltaire changed the course of modern art. This is where the Dada movement was founded back in 1916, influencing the artistic landscape of Berlin, Paris and across the Atlantic to New York.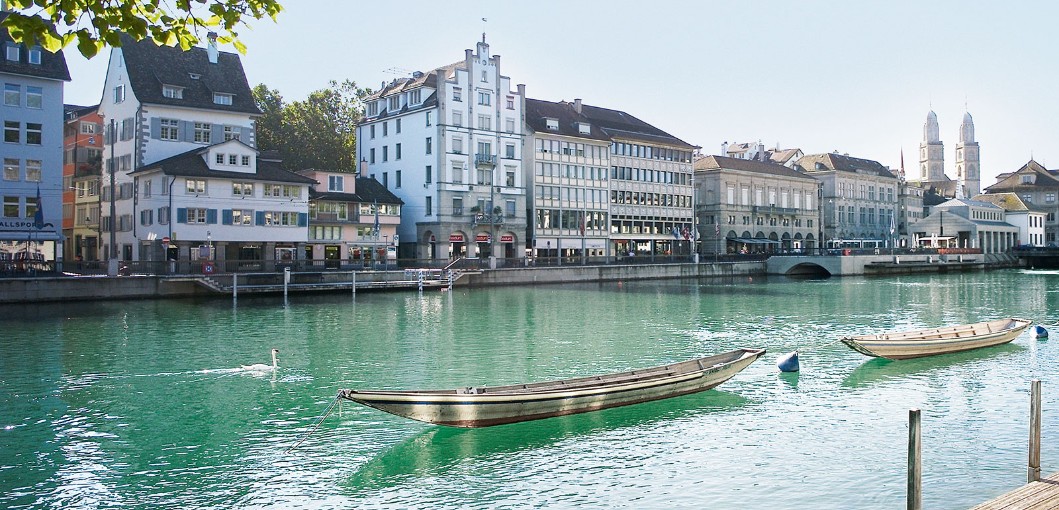 WEST SIDE STORIES
The spirit of Dadaism lives on in the reclaimed warehouses of Zürich-West, also known as Kreis 5. One place that's challenging the status quo with its social-issue-focused art is the Migros Museum, housed in the 1897-built, red-bricked Löwenbräu. The former brewery-turned-artistic-incubator is also home to a number of galleries like Galerie Francesca Pia and contemporary art bookshop, Kunstgriff – the perfect venue to get your artistic footing before graduating to the Museum of Design (more of that later).
TRAINSPOTTING
On this unseasonably hot spring day, I seek shade under Zürich-West's 19th century-viaduct, now home to designer ateliers, studio galleries and concept stores. Walking the length of the 550-yard arches, with the occasional S-Bahn train trundling overhead, I eventually succumb to the window charms of Cabinet. Nina and Jeroen van Rooijen's pop-up-turned-bricks-and-mortar store is a treasure trove par-excellence, peddling everything from hand blown Parisian glass and Arno Wolf Merino wool blankets, to Gurkee rope sandals.
Another homegrown retail success story is Freitag – located just around the corner across four levels of disused freight containers. The industrial-chic bag brand was founded in 1993 before sustainability was even a buzzword. Swiss-brothers Markus and Daniel Freitag DIY'd their own bicycle courier bags as students, and so the cult, recycled truck tauplin bags were born. The original "messenger bag" is exhibited in New York's Museum of Modern Art; such is its iconic design status.
The store's rooftop observation deck is a great spot to make sense of Kreis 5's post-industrial landscape, that's peppered with green pockets like Frau Gerolds Garten. Sandwiched between the rails, Prime Tower and the Viaduct, this former-urban waste ground is more than just another hipster beer garden. Its 60 on-site raised garden beds have given the city's thriving urban gardening scene a cool cachet. Most of the bounty ends up on the plates of its Locavore restaurant, which boasts a popular terrace overlooking the railways tracks.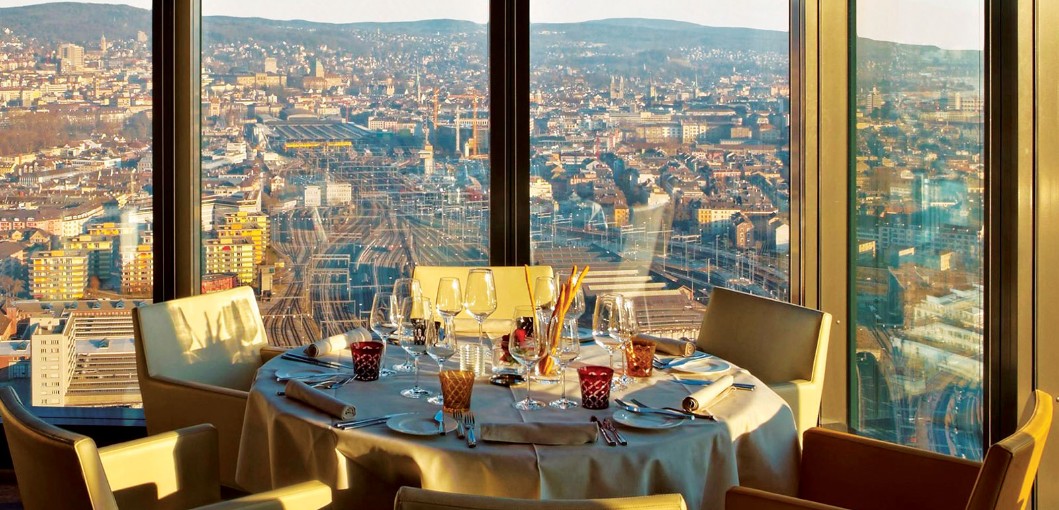 DINING ON CLOUD NINE
I trade trainspotting for more elevated city views at fine dining stalwart, CLOUDS, located on the 35th floor of Zurich's tallest building, the Prime Tower. The only distraction from their classic business lunch is the city's iconic lake, which shimmers through the floor-to-ceiling windows. I indulge in a starter of burrata and pink grapefruit, followed by corn-fed organic chicken, washed down with a Merlot Bianco from the Italian-speaking canton of Ticino. This is one of 200 vintages from its exhaustive wine list. It's their home-infused, award-winning CLOUDS Gin, that really makes the elevator wait worthwhile, though.
MOVEMENT AND JAZZ
Hunger sated, it's time to re-fuel my cultural appetite with a visit to two of Zürich-West's most lionized museums: Musuem of Design and MuDA. I make a detour via the cavernous former shipbuilding halls of the Schiffbau, which has been transformed into a mecca for jazz, soul, and blues music. Since opening its doors in 2016, Mood's Club has garnered a global reputation, hosting acclaimed acts like Dave Holland and Charles Lloyd, as well as discovering talents like Gregory Porter and Esperanza Spalding. Its also made history as the first club to broadcast concerts in high definition, thanks to its innovative streaming platform.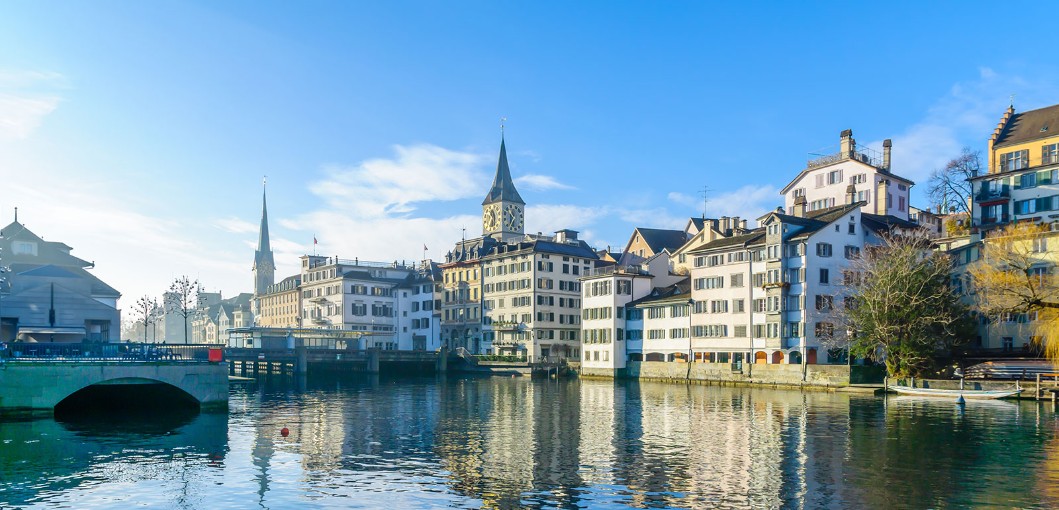 Another institution that's causing a stir for all the right reasons, is non-profit-funded MuDa, located on the ground floor of Herden Hochhaus (a listed monument), where digital art finally has a place to call home. Bridging art and science, Europe's first digital art museum is making data, codes and algorithms sexy in the guise of stunning projections and kinetic installations.
From one sensorial exhibit to another, I hot step it across the road to the Design Museum's two-storied main hall, that's ornamented with jelly-fish-like light sculptures and a giant origami paper garden mobile that maneuvers to bird song. The surreally beautiful weightlessness "Oïphorie" exhibition (which runs till early October) crowns the reopening of museum after a much anticipated three-year renovation. Another crowd-puller to this Bauhaus-style building is its 330,000-strong poster archive, which spans from the 19th century to present day.
MEDIEVAL MEETS MODERNITY
Some five kilometres south along the River Limmat from Zurich West is Altstadt, the city's historic heart and my new address. Sitting handsomely on chocolate-box Rennweg Street, the Widder Hotel's historic façade is charmingly deceiving. All is revealed as I'm whisked with unflappable Swiss hospitality from Rennweg's cobbles to my 6th-floor duplex loft suite – framed by Crayola blue- painted steel pillars. I waste no time in reccying the vast light-flooded space, that's dominated by a striking orange and green felt mobile by Zurich artist, Beat Zoderer. The pièce de résistance, however, is the freestanding bathtub, which makes a sculptural statement in the open-plan bedroom.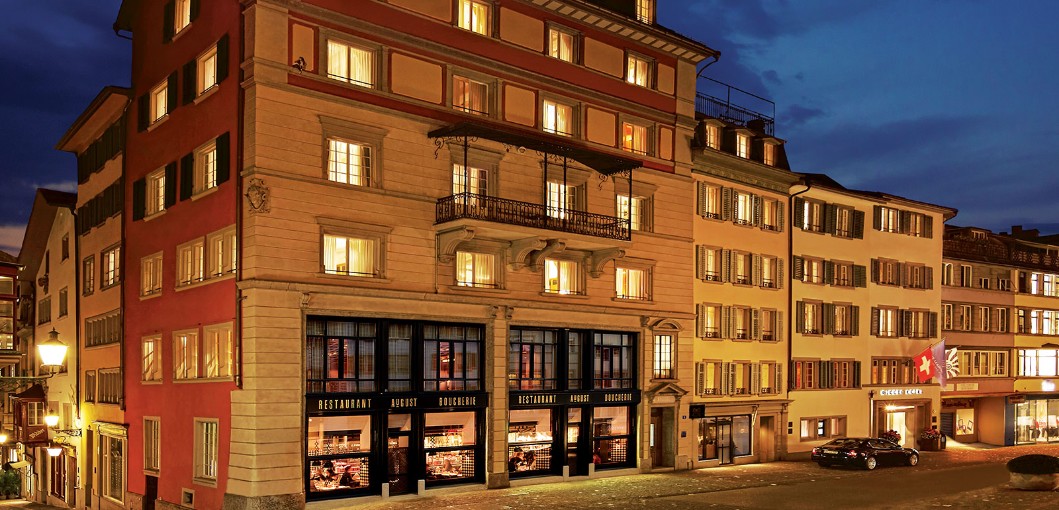 My room is one of seven special suites divided across the boutique property's nine historic townhouses (the oldest of which dates back to 13th century) that have been masterfully merged by Swiss architect, Tilla Theus. The decade-long renovation, involving some 1,000 conservation builders and designers, has been worth the wait. A luxurious labyrinth of staircases, porticos and inner courtyards connect 42 one-of-a-kind rooms and suites that ooze old-heritage charm and five-star finesse. Rough-hewn oak beams and 16th-century frescoed walls juxstapose with leather bedcovers and Andy Warhol artwork, in an elegant synthesis of old and new. Despite the plethora of antiques, paintings and furniture by the likes of Robert Rauschenberg and Frank Lloyd Wright, the hotel doesn't feel overly curated. Its modernist design interior really comes into its own in the library, where I sink into a Le Corbusier lounger (espresso in hand) and admire the enviable collection of mid-century furniture.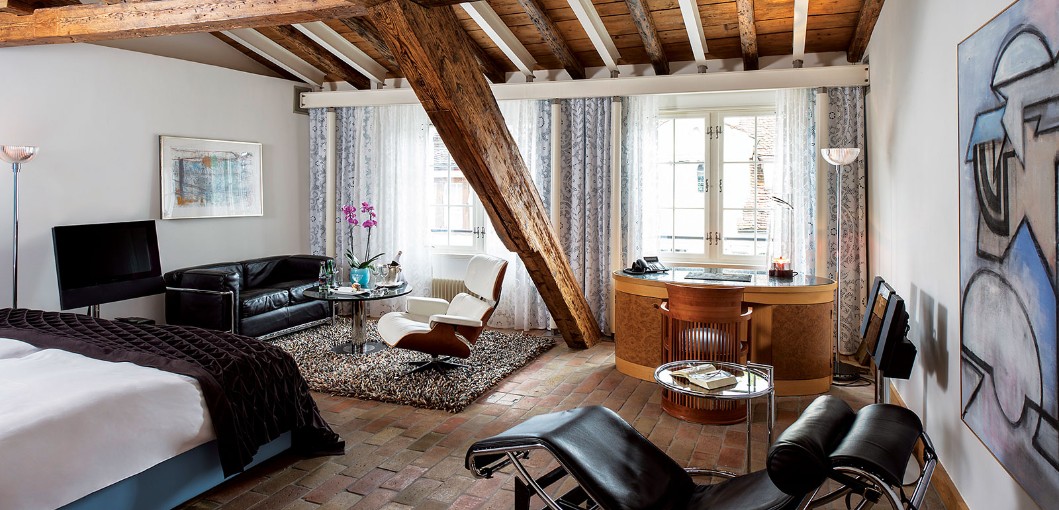 MIRÓ MIRÓ ON THE WALL
With Fraumünster Church practically on the Widder's doorstep, my day starts with a visit to Marc Chagall's famous stained glass windows. The early modernist painter's work also graces the bar at bastion of old-world dining, Kronenhalle, my lunchtime port of call. Chagall, along with Matisse, became lifelong friends of its former owners, the Zumsteg's, who transformed an ailing 1920s beer hall into one of Switzerland's most feted restaurants. Masterpieces by Picasso and Miró still line the hallowed walls, which give the impression of dining in a private art gallery. Even at midday, the three teak-paneled dining rooms are buzzing with animated conversation from patrons in their Sunday best. I get comfortable in one of the tufted green leather benches, tucking into Zürcher Geschnetzeltes, a regional specialty of sliced veal in gravy and smoked pork that's wheeled out on a trolley - a 50-year-old Kronenhalle custom, I'm told.
SIZE MATTERS
More of Picasso and Chagall's repertoires can be admired at my next cultural destination, the Kunsthaus. The scaffold-clad fine art museum is in the throes of a $208 million expansion, which is set to transform the space into Switzerland's largest art museum, come 2020. It's already well endowed with some 4,000 paintings and sculptures, including masterpieces from the Dutch Golden Age, several Bacon triptychs, and concrete art (a Swiss movement) by Fritz Glarner and Verena Loewensberg. Worthy of a visit alone is the room dedicated to Swiss-born sculptor Alberto Giacometti's entire oeuvre.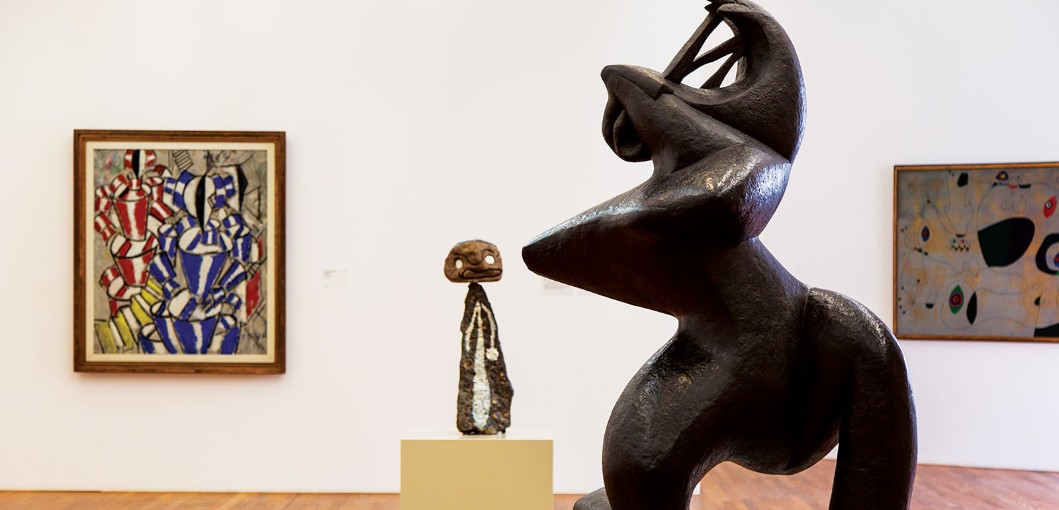 HIGH ON ART
Leaving the medieval spires of old town behind, I make a pilgrimage to the romantic copper turrets of Dolder Grand Hotel on Adlisberg hill, which started life as a Victorian-era Kurhaus (health resort). Half the adventure is getting there aboard the Dolderbahn – a 1.3 km-long cogwheel railway that has been chugging up the same, forested hill since 1895. A sleek tunnel links the final stop to fairy-tale Dolder, which affords jaw-slackening vistas over Lake Zurich and the Alps.
The Rolling Stones' and Churchill's favourite Swiss lodgings are also home to one of the country's largest private collections, curated by owner Urs Ernst Schwarzenbach. With no nameplates or velvet ropes, guests (and the hotel's steady celebrity clientele), casually saunter past the pool deck Botero, stand in the shadow of a Joan Miró, or dine on two-Michelin-star fare alongside Salvador Dalí's Femmes Metamorphosesas. If you are determined to view all 100 works, there is an interactive iPad guide at reception (available to non-guests too) that guides you through art by Damien Hirst, Salvador Dalí and Takashi Murakami, and other luminaires.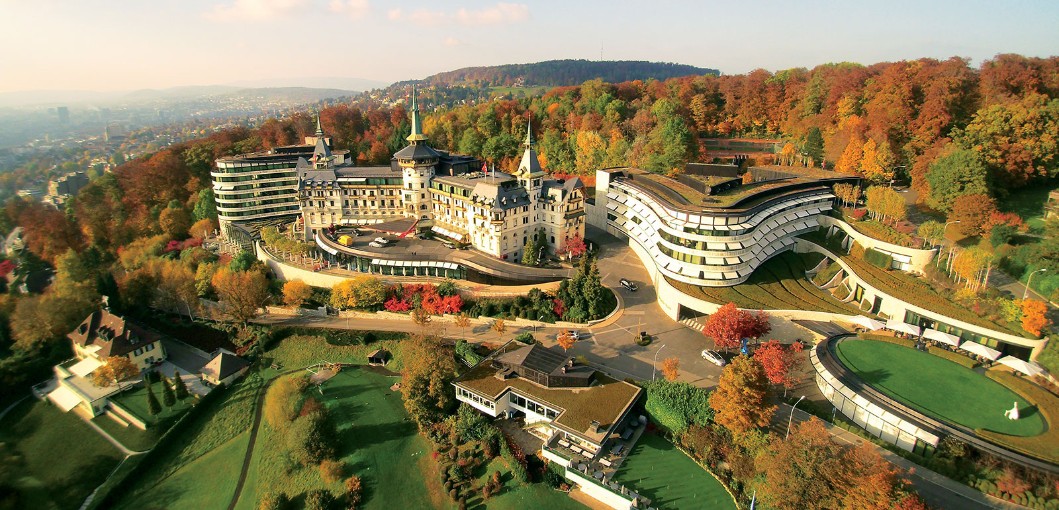 My afternoon concludes, as every self-respecting art binge should, over some cold libation at the bar. Not just any bar though. The Dolder Grand's Belle Époque lobby bar is a masterpiece of turn-of-the-century elegance, ornamented with Corinthian columns, crystal chandeliers and ornate ceilings. It's also the perfect spot to ogle Andy Warhol's Big Retrospective painting, which hangs the length of a school bus above reception.
In stark contrast, my Junior Suite is housed in one of two Norman Foster-designed steel and glass 'spa' and 'golf' wings that enwrap the original turreted building. There are no fin de siècle cues here (or four walls for that matter), thanks to the wing's modern curvatures. The décor is dressed in natural fabrics and neutral tones, coupled with intuitive technology like square Bang & Olufsen televisions and remote-controlled blackout blinds. The bathroom, meanwhile, is a vision of Jura limestone and floor-to-ceiling marble, kitted out with Kerstin Florian toiletries. But it's the sight of snow-capped peaks rippling on the horizon from the wraparound balcony that is indelibly imprinted in my mind.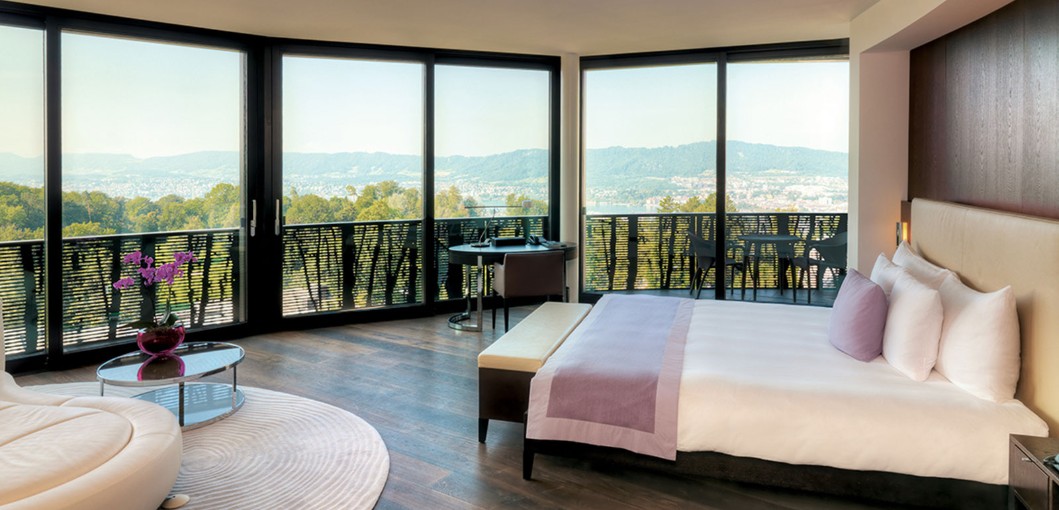 Light-headed from the views, I seek out some mental quietude at the hotel's multi-award winning spa, which at 4,000 square metres occupies 10% of the property's footprint. A spiraling meditation walk links saunas, Sunaburo pebble loungers, Japanese kotatsu footbaths, a snow room (this is Switzerland!), a golden-mirrored meditation room and elliptical 25-metre indoor pool. Aside from the aromatic ginger tea, it's worth lingering in the spa reception to cogitate Sol LeWitt's (aka master of conceptualism) striking Horizontal brushstrokes (more or less) and Anish Kapoor's acrylic Space as Object – just several of the artworks on display.
Checking out under Warhol's behemoth Big Retrospective is a fitting place to end my artistic reconnaissance of Zurich. Bold, playful (but without the repetition), much like the pop artist's 36-foot postmodernist painting and the man himself, Zurich is molding itself into a visual art and cultural pioneer. Watch this 'art' space, or better still, go see it for yourself.
Stay:
DOLDER GRAND HOTEL
+44 456 60 00
WIDDER HOTEL
+41 44 224 25 26