Known as the wine that winemakers love to drink, Germany's emblematic grape, Riesling, has undergone something of a renaissance in the last decade. Underrated for the best part of the 20th century, and unfairly associated with sweet, white cask wine, the classic non-French grape is finally getting the due attention it deserves.
The Rhine Valley in Germany's central-west region is the birthplace of Riesling. This is a fairy-tale land of craggy cliffs, medieval robber-baron castles and quaint wine-growing villages with vertiginous vineyards that rise up from both sides of the river at dizzying angles. These brutally steep terraces of ungrafted vines make for back-breaking work – with many winemakers choosing to hand harvest, like their medieval forefathers. It's believed that monks in the Rheingau region were cultivating wine varieties in these vineyards as far back as 1392. The first written documentation can be found in cellar log of Count Katzenelnbogen in 1435, who purchased six Riesling vines at a castle near to Hochheim on the Rhine river.
Riesling's evolution continued to be closely aligned with the church. In 1672, St. Clara Monastery in Mainz replaced all of its red wines with gutes Rissling-Holz (good Riesling vines), and in 1790, some 294,000 vines were planted in the viticultural Johannisberg Benedictine Monastery. By the late 1800s, German Rieslings were more sought after (and pricier) than Bordeaux's great reds. The noble grape received the royal seal of approval when Queen Victoria paid a visit to the Rheingau in 1845, and coined the word "hock" – a British term still used today to describe the Rhine's white wines. By the end of the 19th century, Riesling was the dominant grape in Rheingau. While this bucolic wine region (which dates back to pre-Roman times) may be small, there's no denying the huge role it played in Germany's wine history. The area's sunny, south-facing slopes on the north bank of the Rhine yield mainly dry wines that are distinctively lemony and mineral-scented. The famous Mosel region, meanwhile, located along the banks of one of Europe's other great wine rivers, produces more petrol-like flavours and slatey notes, owing to the soils in this region.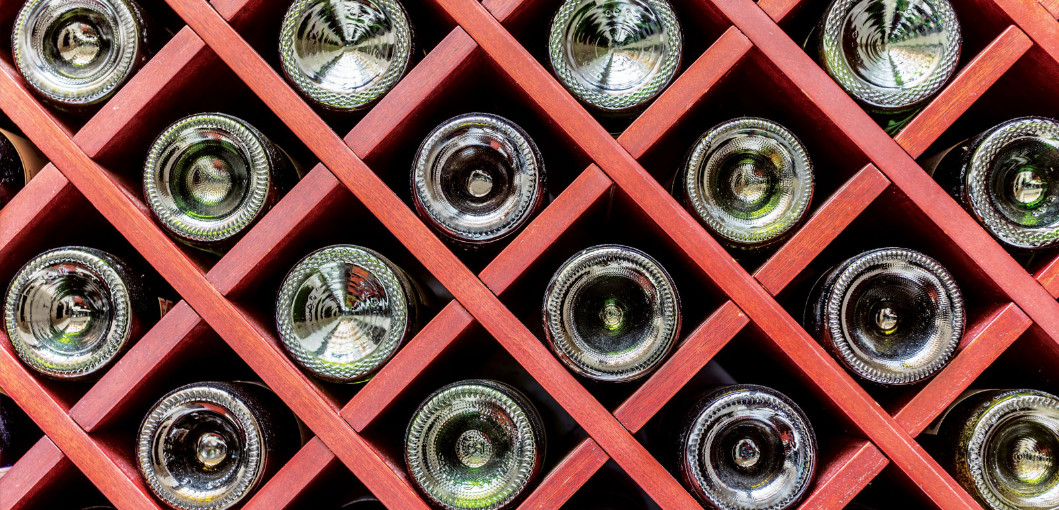 The character of Riesling has a clear tether to the wine's place of origin, spanning the gamut from bone dry to lusciously sweet, and floral undertones to citrus and tropical nuances. This light-skinned aromatic grape does possess a few common traits, such as a pronounced fruity acidity, slow-ripening, outstanding ageing-potential and naturally light alcohol content (often as low as eight per cent). Another trademark is its mineral accents of quartz, limestone and slate – attributed to the heat-storing, primary-rock soils where the grapes ripen.
And then there are very sweet Rieslings or botrytised wines, which owe their intense perfume of exotic fruit to an accidental late harvest in 1775. Legend has it that a messenger carrying the official order to start picking grapes was robbed en route, and arrived weeks later to a rotten harvest. Local peasants resourcefully used the overripe grapes to brew their own wines, with resounding success. Today, select winemakers in the Rhine allow their late-harvest grapes to become deliberately infected by fungus botrytis (so-called "noble rot") – yielding special wines such as Auslesen and Beerenauslesen.
To be sure you are quaffing a "true" Riesling, look out for a "Weisser", and steer clear of wines like Welschriesling and Italian Riesling, which are, despite the moniker, unrelated varieties of white wine grape.
---
5 Places to hone your Riesling education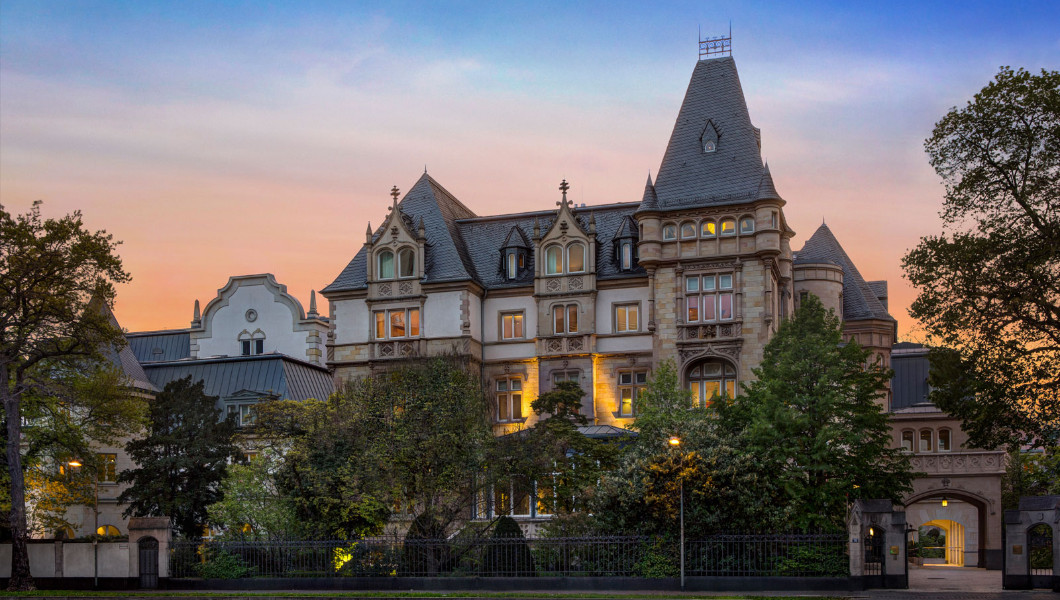 1. The City Hotel with an illustrious past
Originally built in 1901, this historic family villa turned five-star hotel, located a stone's throw from Frankfurt's Museum Embankment, is a triumph of tradition and innovation. Don't let Villa Kennedy's castle-like façade fool you. The 127 rooms and 36 suites are a contemporary blend of timber floors and glass panelling, with a luxury urban spa and a high-tech gym completing the city retreat's modern transition. The courtyard garden is the ideal setting to imbibe a glass of the 2016 Villa Kennedy Cuvée Edition – a Riesling and Sauvignon Blanc blend, best paired with dishes such as lobster and tarragon tagliolini or a rack of veal from Restaurant Gusto's Italian-inspired menu.

Kennedyallee 70, 60596; + 49 69 717120; www.roccofortehotels.com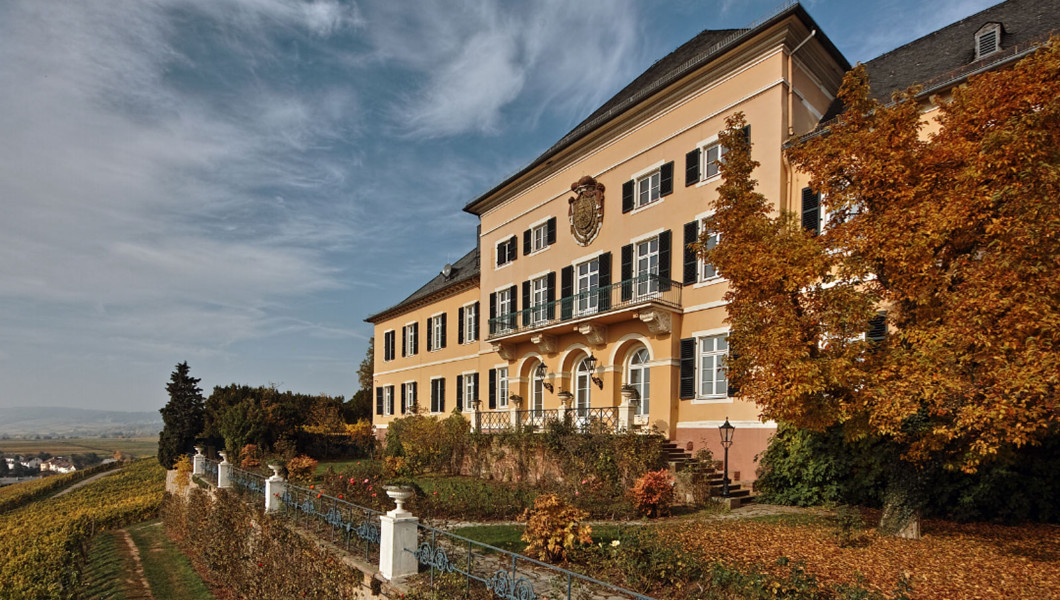 2. The Original Riesling Wine Estate
Immerse yourself in 1,200 years of history at the world's oldest Riesling wine estate, nestled in the hills between Winkel and Geisenheim. Visitors to the elite winery shouldn't miss the daily tour of its Bibliotheca subterranean – Schloss Johannisberg's 900-year-old treasure chamber where over 11,000 bottles of Riesling are stored. While away a few hours tasting sparkling, still, dry and sweet wines in their "Wein-Cabinet" – the estate's former pressing house, where you can also try samples of G.H. Mumm, harvested from the champagne producer's adjacent vineyard.
65366 Geisenheim; +49 67 22 70090; www.schloss-johannisberg.de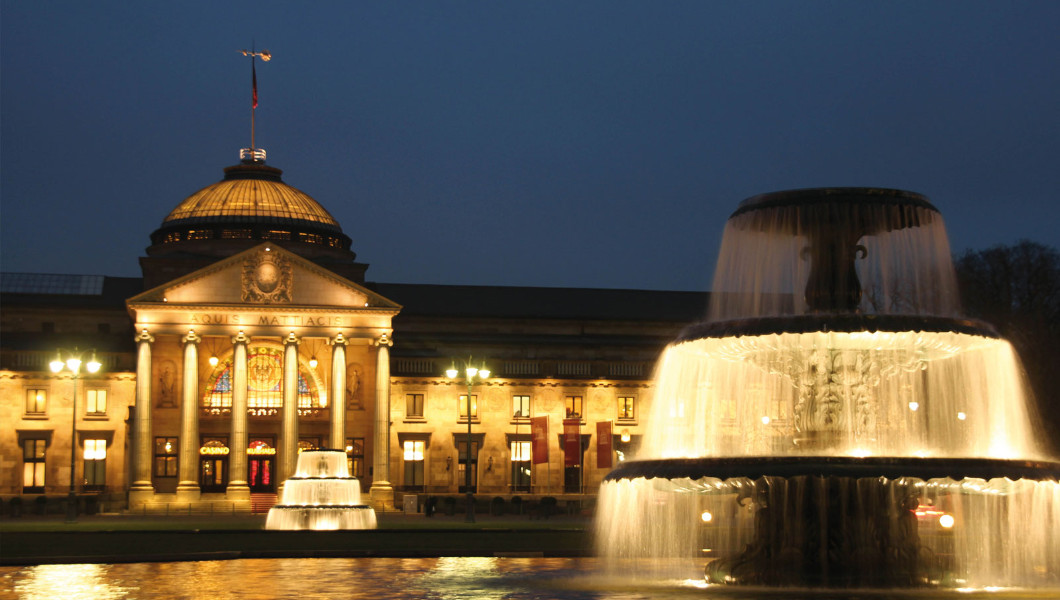 3. The Historic Casino
Casino Wiesbaden is no ordinary casino. Housed in the former wine salon of the city's Kurhaus (a landmark building in the heart of the city), the lavish game room's neoclassical interior, decorated with crystal chandeliers and filigrane cherry woodwork prompted Marlene Dietrich to declare it "the most beautiful casino in the world". With a glass of Riesling in hand, try your luck but don't get carried away like writer Fyodor Dostoyevsky, who famously gambled away all his belongings here in 1865, before penning his novel, The Gambler.
Kurhausplatz 1, 65189; +49 611 536100; www.spielbank-wiesbaden.de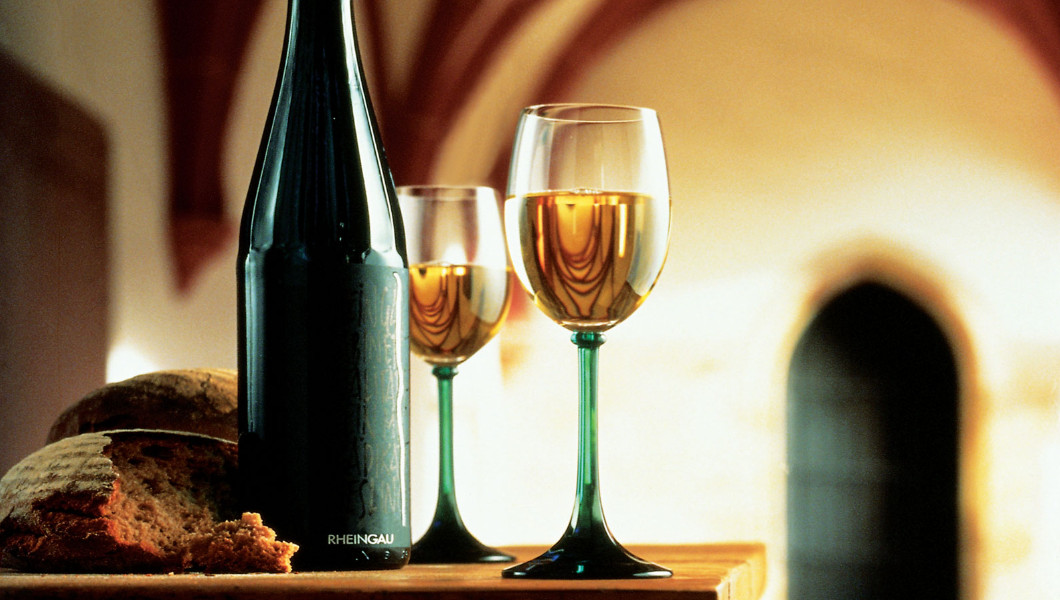 4. The Viticultural Church
During the Middle Ages, this former Rheingau Cistercian Monastery boasted the largest expanse of vineyards in Europe, covering some 300 hectares. Now Eberbach Abbey produces around 2.5 million bottles of wine a year – 75 per cent of which is Riesling, which you can quaff under the vaulted ceilings of its vast dormitory, or in the atmospheric candle-lit wine cellar. The abbey's Romanesque and early gothic architecture was made famous by the 1985 film, The Name of the Rose (starring Sean Connery), which could explain the 300,000 annual visitors who make a pilgrimage here. Don't miss the magnificent room full of ancient wine presses, some of which date back to 1494.

65346 Eltville; +49 6723 9178100; www.kloster-eberbach.de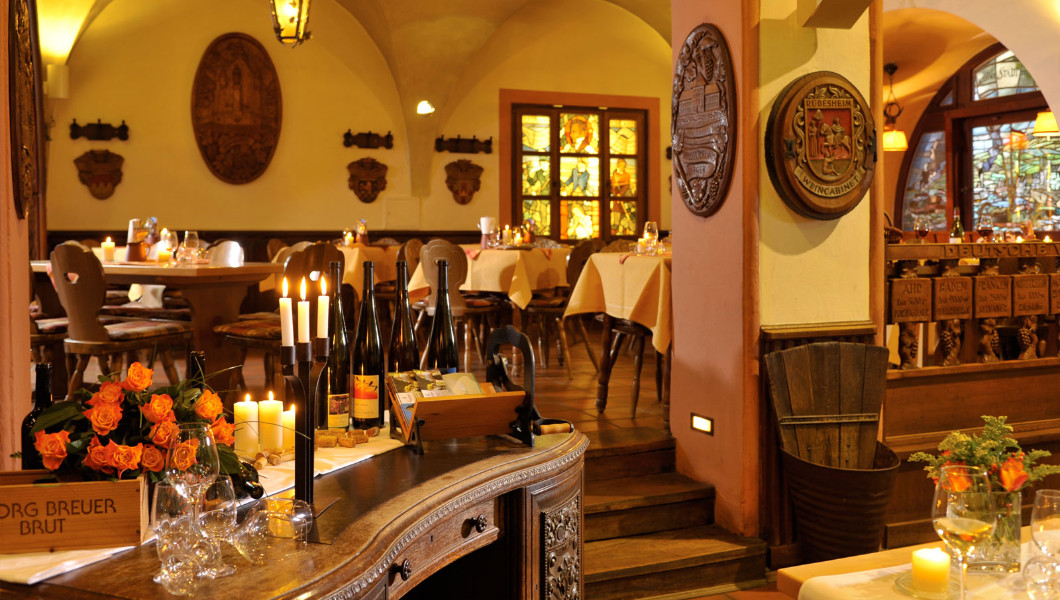 5. The Local's local Restaurant
Situated in the picturesque wine-producing town of Rüdesheim am Rhein, the Breuer's Rüdesheimer Schloss restaurant serves up plates of native Hesse cuisine and over 350 regional wines to the soundtrack of live music. Chef Michael Hemberger's menu of Hessische tapas, Riesling cheese soup and Scholoss-Duck is best enjoyed in their sun-dappled winter garden, with a glass of Riesling or Pinot Noir from the family winery. Make time for a pre-cable car ride (the station is just five minutes by foot), which sweeps over a carpet of green vineyards, reaching Niederwald monument at the summit.
Steingasse 10, D-65385 Rüdesheim am Rhein; +49 67 22 90 500;
www.ruedesheimer-schloss.com