"This is a city built on dreams," says Jim Martin without a hint of irony as we cruise down Collins Avenue, the main drag that runs down Miami Beach, on a sunny June afternoon, passing single-storey homes with pastel-coloured exteriors and terracotta rooftops that stand out against the blue Florida sky. "The whole concept comes out of the imagination of very singular people; often one guy with one idea."
Jim, a tour guide with Dragonfly Expeditions, is talking about entrepreneurs like Henry Flagler, the railway man who agreed to extend his Florida East Coast Railway from Palm Beach down to what is now Miami in exchange for a portion of land, or Julia Tuttle, the widower landowner who convinced him to do so. He's talking about people like Carl Fisher, a real estate prospector who single-handedly turned Miami Beach — an island separated from mainland Miami by Biscayne Bay — into an exclusive escape for wealthy Americans in the 1920s, or the likes of George Merrick, who transformed a nearby suburb into one of the most desirable and expensive neighbourhoods in the US.
Where others saw a blank landscape, Merrick saw opportunity, and envisioned a community centred around fluidity and harmony, with large, wide avenues decorated with elaborate sculptures and fountains designed to blend in with low-impact buildings, creating an uninterrupted, scar-less landscape. He called it Coral Gables. Merrick was a proponent of the City Beautiful Movement, which sought to beautify the United States in the early 20th century, and Coral Gables remains a textbook example of a town built on its principles, earning Coral Gables the nickname, 'The City Beautiful'.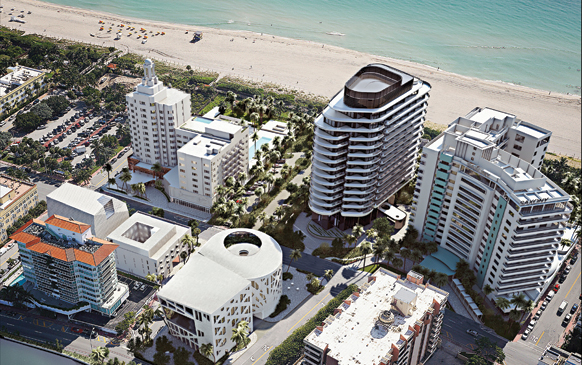 In 1926, Merrick's Biltmore Hotel opened its doors to the tune of US $10 million dollars and quickly became the centre of social life for residents and visitors, who came to enjoy the hotel's vast pool and the famous Bathing Beauty contests. Today, the bathing beauties are gone, but the impeccably dressed clientele sat puffing expensive cigars poolside on a weekday afternoon suggest that the good times are still alive and well in this exclusive neighbourhood.
Today, another wave of visionary individuals is transforming Miami once again, reimagining both the spirit and the skyline of the city. Like Miami's early development, much of the current evolution is being driven by dreamers and entrepreneurs whose big-picture ideology puts the notions of community and neighbourhood above individual buildings.
DAWN OF A NEW ERA
In 2000, fashion executive-turned-real estate-mogul Alan Faena bought several abandoned warehouses in the run-down Puerto Madero neighbourhood in Buenos Aires. Over the next five years, he worked with luminaries of architecture and interior design to turn the 19th-century red-brick warehouses into residential lofts, an arts centre and Faena Hotel + Universe, a luxury hotel envisioned by Philippe Stark. Today, Puerto Madero is one of the most sought-after neighbourhoods in Buenos Aires, home to international luxury brands, the city's best restaurants and some of the most expensive real estate in town.
---
Faena has now turned his attention to Miami Beach, with even grander plans. Like the previous project, Faena Miami Beach is a collaborative effort involving some of the biggest names in the creative realm: Baz Lurhmann and his multi-Academy Award-winning wife Catherine Martin, Lord Norman Foster and Rem Koolhaas, to name a few, as well as his business partner, billionaire investor Len Blavatnik.
Spanning six city blocks bisected by Collins Avenue, with the Atlantic Ocean on one side and Indian Creek on the other, Faena District is a mixture of old and new buildings, including the old Saxony Hotel, built in 1947, which is being turned into a five-star resort by Lurhmann and Martin. Next door is Faena House, a new 18-storey tower designed by Foster + Partners that promises luxury living for the rich and famous in 47 fully-furnished one- to five-bed condos with wrap-around terraces and a full-floor penthouse complete with outdoor pool and private elevator. Weeks before my visit — on the inaugural Qatar Airways flight from Doha to Miami — the penthouse was sold to an unnamed buyer for around US $50 million, the highest-grossing piece of real estate sold in Miami.
The neighbourhood will also include a performing arts centre, shopping bazaar and high-tech automated parking garage, all designed by Rem Koolhaas and his firm OMA, as well as a marina on Indian Creek for residents, and gardens designed by landscape architect Raymond Jungles.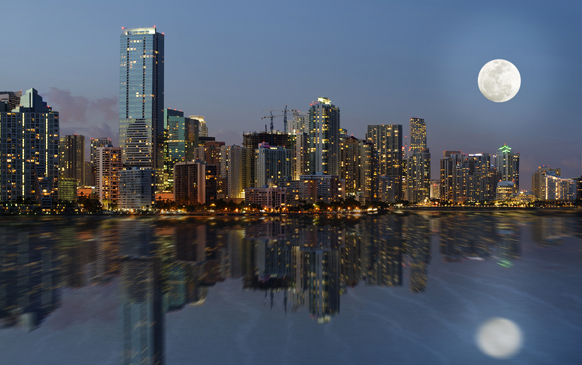 I enjoy a taste of what's in store at a pop-up Argentine garden party at the foot of the Saxony Hotel, complete with fresh steak from the Pampas and red wine from Mendoza, courtesy of the Buenos Aires hotel. The language used throughout the Faena House Sales Collaboratory — a temporary sales office steps away from a wide stretch of Miami Beach — is long-sighted and community minded, emphasising that Faena Miami Beach is not a collection of buildings, but a neighbourhood that aims to reinvigorate a section of town largely eclipsed by the buzz of South Beach, further south along Collins Avenue.
Faena is not the only one to have noticed the potential of this stretch of beachfront. Neighbours will include hotelier Ian Schrager's The Miami Beach Edition, a hotel and 26 exclusive one- to four-bedroom residences that will re-create the high design and achingly hip style of the brand's other properties in Istanbul and London, and 1 Hotel & Homes South Beach, a sustainability focused ultra-luxury hotel and residential development.
At the northern end of Miami Beach stands the Bal Harbour Shops, the first all-high-fashion mall in the US when it opened in 1965. Back then, people questioned the sanity of opening a mall dedicated to one niche area of retail, but Stanley Whitman, the man behind the project, persevered, creating an intimate mall with boutiques surrounding a central courtyard with koi ponds and palm trees. Today, Bal Harbour is the most productive retail space by square foot in the world, home to brands such as Chanel, Gucci, Prada, Ralph Lauren, Steve McQueen, Lanvin and Oscar de la Renta.
---
The neighbouring St. Regis Bal Harbour Resort is a coveted address among the city's high-spending visitors, not least for its private fashion room, which can be used for designer fittings or personal shopping sessions. As Bal Harbor approaches its 50-year anniversary, competition from new luxury retail developments offering more space has inspired a 250,000-square-foot expansion project, which will see the addition of 20 new designer boutiques and a high-end theatre.
MIAMI DESIGN DISTRICT
On the other side of town, another urban regeneration project is turning a once-neglected part of the city into a neighbourhood built around art, design and luxury shopping.
Miami Design District is the vision of entrepreneur Craig Robins, who started buying property in the run-down neighbourhood in the '90s. Like his visionary predecessor George Merrick, Robins saw potential in the void. He now owns most of the 50 buildings in the area in a partnership between his firm, Dacra, and LVMH-backed development company L Real Estate. Together, they plan to turn Miami Design District into the new home of luxury retail in the city.
LVMH is one of several luxury groups that have pledged to relocate or are in the process of relocating their flagship stores from the upscale Bal Harbour Shops to the Design District.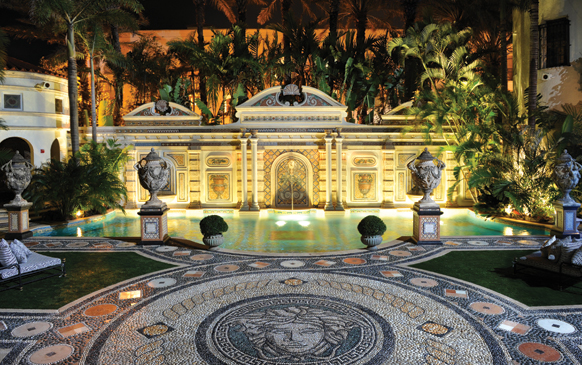 Christian Louboutin has opened its first men's store outside Paris in the neighbourhood, and Hermès and Louis Vuitton have based themselves in temporary outlets there since the start of this year while they wait for the completion of huge multi-storey flagship boutiques in 2015. Other existing residents include Cartier, Celine, Dior Homme and Prada, and they are going to be joined by at least 50 more brands in 2015. Tom Ford, Givenchy, Marc Jacobs, Valentino, Fendi and Dolce & Gabbana are all set to take up residence when their spaces are ready. But retail is just part of the mix.
"The first thing you need to know is that we're going to plant 40-foot trees on the rooftops," says Maria Ruiz, director of community relations at Dacra. "This is a neighbourhood — it is not a mall whatsoever. Everything we do is design-oriented." The mantra extends to the corporate offices of Dacra, which are adorned with works of art and designer furniture collected by Robins, which will eventually end up in a neighbourhood museum, complementing the existing collection of art collector Rosa de la Cruz and a multitude of other art galleries and exhibition spaces.
In the LEED-certified Design District, 12 public artworks from the likes of Zaha Hadid and Buckminster Fuller (inventor of the Airstream trailer) will adorn the neighbourhood, which will comprise a central promenade called Paseo Ponti framed by a plaza at either end. This central core and a spider's web of side streets will be lined with high-end shops and restaurants, as well as condos, plentiful parking and a valet service that will return your car to any store in the neighbourhood. Robins has brought in world-renowned architects including Alison Spear, Sou Fujimoto, Iwamoto Scott and Leong Leong to work on the buildings, and there is talk of a 100-room boutique hotel capping things off when the project is complete in 2016.
---
There are plenty more dreamers hoping to make their mark on the city before then. British footballer David Beckham is desperately trying to find a site on which to build a stadium for his football club — a prerequisite in order to fulfil his dream of establishing a football team in Miami — but his applications have been twice rejected by the city.
A few months ago, events entrepreneur Barton G reopened the eponymous Villa by Barton G on South Beach in the former home of Gianni Versace. The boutique hotel comprises just 10 suites designed by Versace, who bought the property in 1992 and lived there until he was killed on the front porch in 1997. The elite abode now attracts A-listers and fashionistas who come to pay tribute and experience a day in the life of the legendary designer.
Miami's entrepreneurial spirit isn't limited to the millionaires. Nowhere is it more apparent than in Little Havana, home to tens of thousands of Cubans who fled the Castro regime after he came to power in 195 and forever changed the demographics of the city, which has one of the largest Spanish-speaking populations in the US. What could be more entrepreneurial than giving up your life in one country and starting a new one in another?
Jim's blacked-out mini-van comes to a stop in Wynwood, a neighbourhood of former warehouses now converted into art galleries. As we walk through the colourful streetscape of Wynwood Walls, which has been brought to life by the talents of local artists, it becomes apparent that it's not just the city's millionaires who will determine its future. From the real estate prospectors who first put the city on the map, to the investors who are now reshaping its skyline and the artists who are injecting it with colour and creativity, Miami is a city built by dreamers.
---
THE GOLDEN BOOK
Faena Miami Beach
Tel: +1 305 534 8800
www.faena.com
Miami Design District
Tel: +1 305 722 7100
www.miamidesigndistrict.net

Bal Harbour Shops
Tel: +1 305 866 0311
www.balharbourshops.com

The Miami Beach Edition
Tel: +1 305 571 3101
www.editionhotels.com
1 Hotel & Homes South Beach
Tel: +1 305 361 5100
www.1hotels.com/southbeach