An evening spent at Mekong at Anantara The Palm Dubai, is like setting sail on a culinary journey down the Mekong river, as it slowly meanders through Southeast Asia, bite by bountiful bite masterfully fusing the very best flavours of Thailand, China and Vietnam. To eat here is to reward your senses with an inspired concoction of spices, seasonings and ingredients borrowed from the three countries, resulting in a menu that feels authentic and tastes all the more so.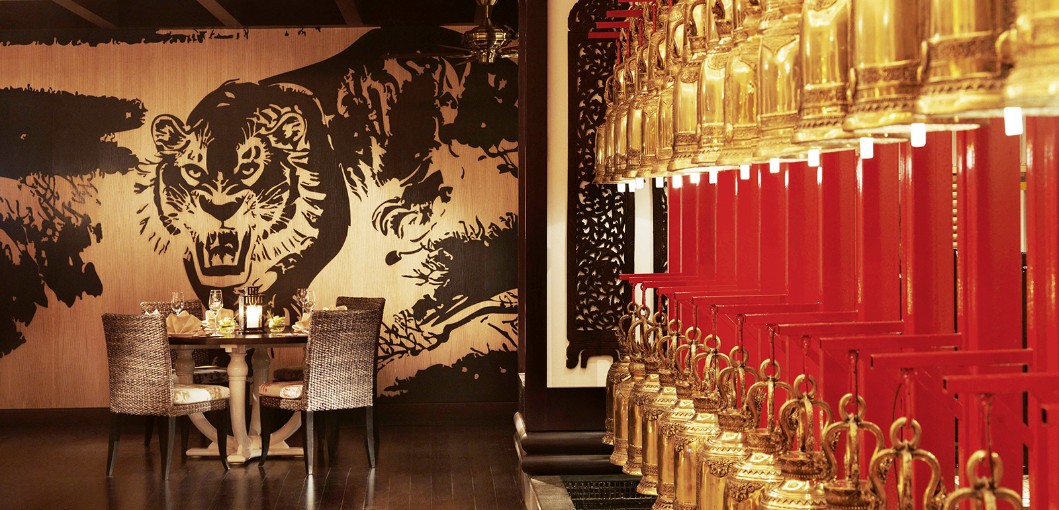 Mekong's reputation precedes itself as a restaurant that has long been favoured by food connoisseurs seeking out credibility in chosen cuisine, rather than all-too common spurious attempts to appropriate cultural know-how in cooking. Here, there's a genuineness that flows from décor to dish.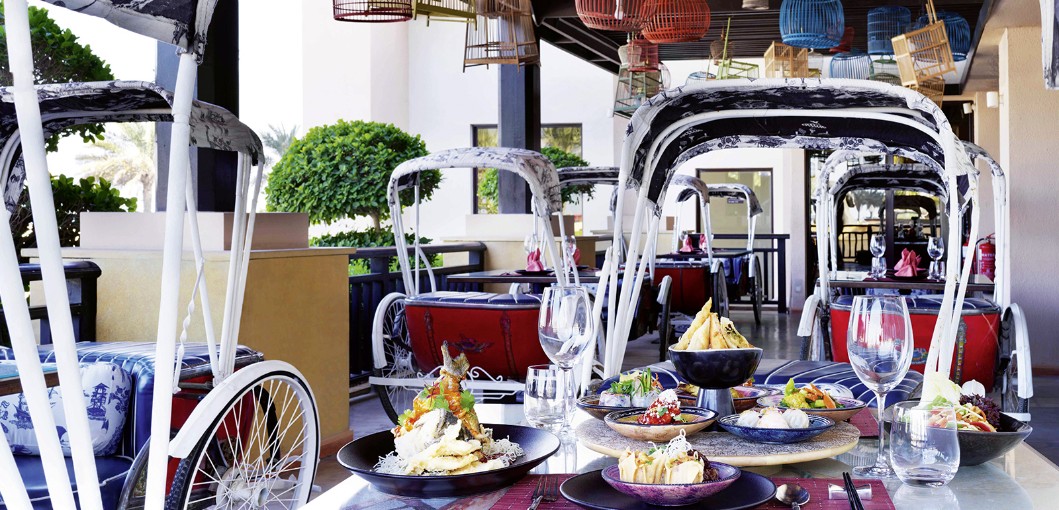 The restaurant itself is centred around a semi open-plan kitchen, that bustles with a team of chefs who dance around woks with flames that leap high from the pan. It's an artful display that provides unintentional entertainment. While the kitchen may be star of the show, if the weather's on your side, the outdoor dining tables made out of converted rickshaws are a pleasing aesthetic addition and do much to transport you to Southeast Asia. The mise-en-scène of the interiors is wonderfully eclectic: a merry mishmash of colours, materials and designs that fuse traditional with contemporary, where dark wood floors and lattice screens are met with vivid-hued murals and a scattering of water sculptures, all a perfect backdrop for the multifarious menu that lies ahead.
The menu is extensive, and while our waiter expertly guides us through the various dishes, we place ourselves in the hands of the chef, asking him to prepare us his favourite dishes instead. First up is the dim sum platter, fitted out with prawn hakaw, vegetable and shrimp dumplings, chicken wonton and spring rolls. It's an elegantly-presented selection that showcases classic dishes where every bite oozes flavour.
Next we're brought the Mekong sharing platter, which is quite the sight for hungry eyes. With prawn toast, duck spring rolls, crispy dried beef and chicken satay, it's the latter that really stands out. Beautifully cooked to allow the chicken to remain succulent and soft, the satay sauce is also served on the side, letting you really taste the meat. Both platters are generous in size and probably require only one or the other to ensure appetites aren't over-satiated before mains.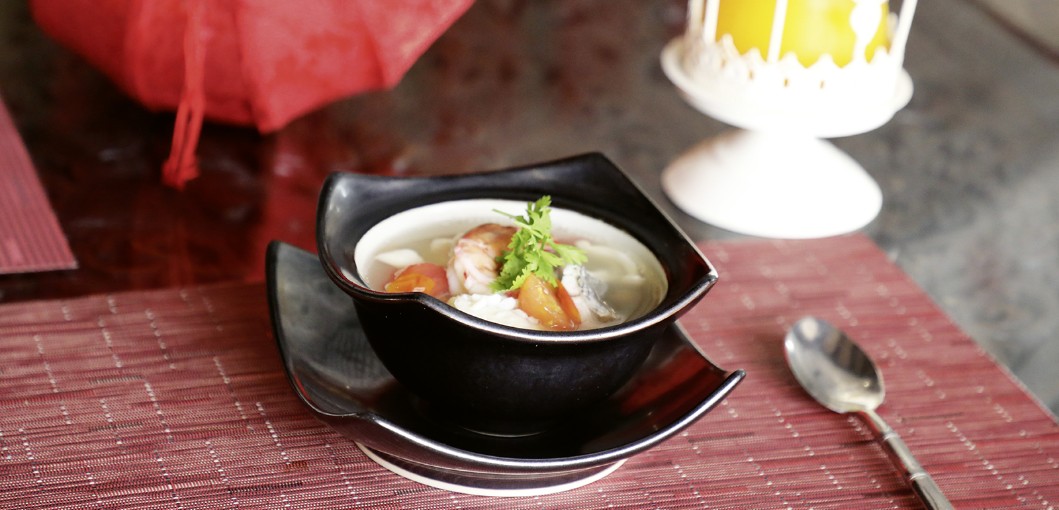 Beef tenderloin in black pepper sauce, 'Pad Cha Kai' holy chicken and king prawns with garlic sauce are brought next, where the beef wins a gold star for the most divine dish. The quality of the beef is second to none and is cleverly complemented by the light black pepper sauce, resulting in a dish that creates a riot for the tastebuds. As much as I like the other food on the table, the beef is so good that I would come back to Mekong for this dish alone.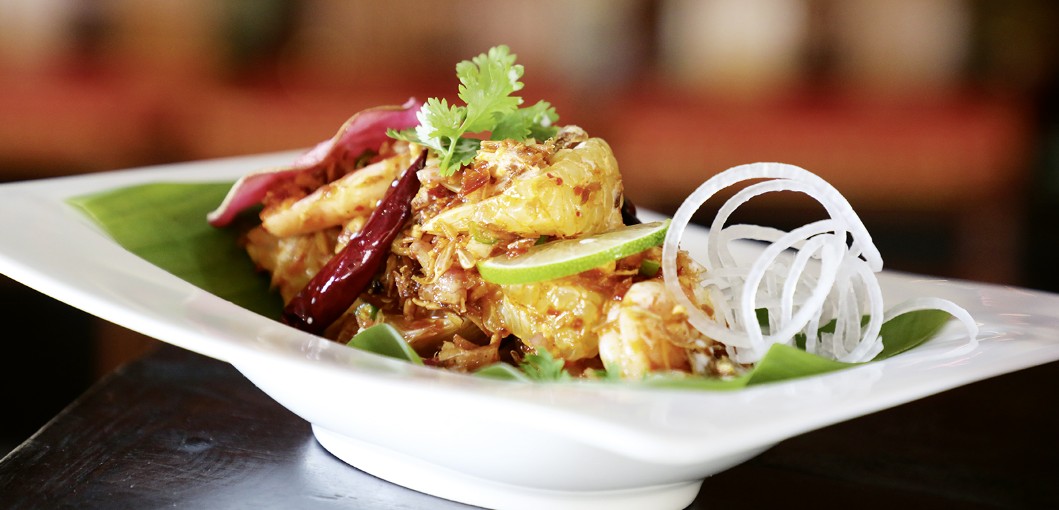 The sweet and sour chicken is served inside a hollowed-out pineapple that is a crowd-pleaser on appearance alone. But the chicken is something to write home about too – flawlessly cooked with a sauce that exquisitely slices through the sweetness for a dish with bite. The king prawns with garlic sauce are equally pleasing and moreish and had I more room, I would put in a request for round two.
That said, I have left no room for dessert and while the mango and passionfruit crème brûlée and Mekong Mist coconut ice cream flirt disgracefully with me from the menu, I decide to leave something to the imagination to tempt me back for another visit.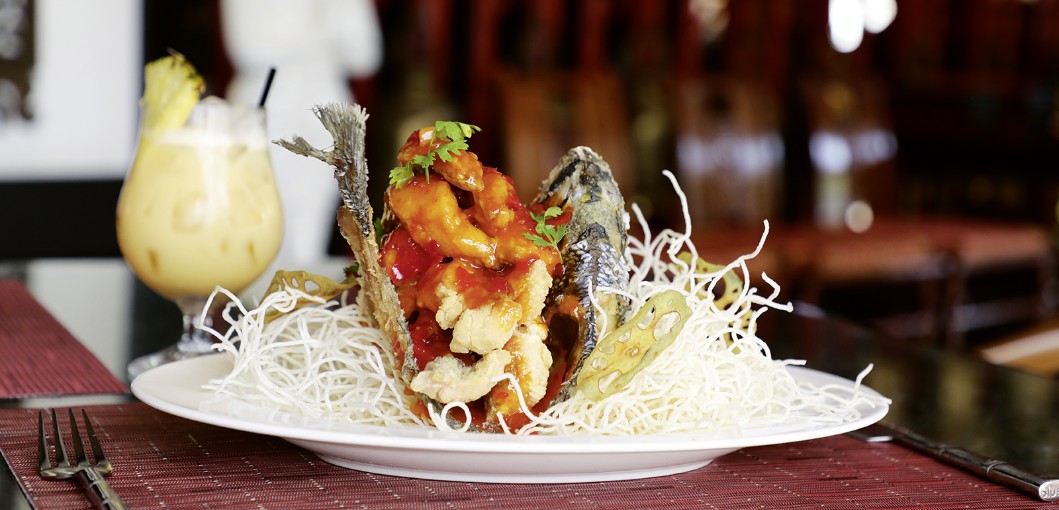 Mekong really does take you on a culinary adventure through Southeast Asia, with flavours from the region injected into everything from the food to the mood. It's a special place filled with soul that invites you to savour every mouthful.