A new luxury train service began its maiden voyage from Budapest to Tehran on Wednesday.
The first leg of the Danube Express trip follows the same path the iconic Orient Express line took in the early-20th century - but this 7,000 km journey goes a few steps further, to the heart of Iran.
The 13 revamped luxury carriages will trundle through Romania, Bulgaria and traverse the length of Turkey with a six-hour ferry crossing from Tavan to Van, shortly before crossing the border and pressing on to Zanjan, Iran.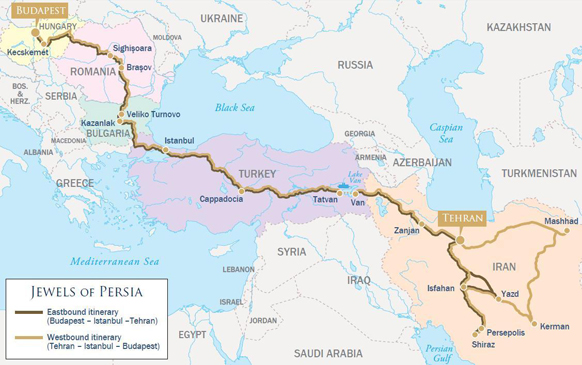 Tickets cost GBP 14,695 (US $23,680) for a Deluxe Twin Compartment on the 15 day train trek, which comes courtesy of British firm Golden Eagle, who provide a range of luxury trips across Europe and Central Asia. The carriages will return to Budapest on November 9 for a slightly pricier westbound trip, but the next eastbound trips are scheduled for March and April 2015.
Describing the Deluxe carriages on the train, Luxury Train Club writes: "each newly-reconstructed Deluxe sleeping car has just five spacious yet intimate en suite compartments offering every convenience and comfort so you may sit back, relax and enjoy the scenery as it rolls by."
"A subtle blend of modern technology, décor and fixtures create an ambiance, evocative of a bygone era, when elegance and style were quintessential elements of travel," it continues.
Along with brass and wood finishings, and a cosy private bathroom, the suites are fitted with full temperature control facilities, adjustable spotlights, a range of power sockets and personal safes for added security en route.
And while guests dine each evening, the living room space will be transformed into a bedroom with two single beds – all the while the sleeping car attendant remains on hand to provide refreshments.
THE ITINERARY:
Days 1 & 2 – Budapest and Kecskemét (Hungary)
Day 3 – Braşov & Sighişoara (Romania)
Day 4 – Veliko Turnovo and Kazanlak (Bulgaria)
Days 5 & 6 – Istanbul (Turkey)
Days 7 & 8 – Cappadocia (Turkey)
Day 9 – Lake Van and Akdamar Island (Turkey)
Day 10 – Zanjan (Iran)
Day 11 – Yazd (Iran)
Day 13 – Shiraz and Persepolis (Iran)
Days 14 & 15 – Tehran (Iran)