The very concept of a 'private jet' has just been shaken by Four Seasons. This is a far cry from a Hawker or a Gulfstream, this is a Boeing 757-200ER – often referred to as a jumbo jet.
The Four Seasons Private Jet will spring into service January 2016 when it embarks on a 24-day world tour from LA to London, taking in Bora Bora, Bali, Chiang Mai, Mumbai, Prague and more. The inaugural 'Timeless Discoveries: An Around the World Journey' will cost US $132,000 per person based on double occupancy.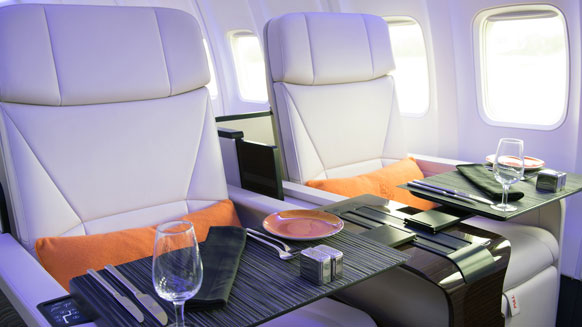 That trip and all subsequent journeys are inclusive of air travel (of course) and ground transportation, planned excursions, meals and beverages, and stays at Four Seasons properties. There should be an equal level of service in the air, given that 10 Four Seasons-trained crew, including an Executive Chef, a Sous Chef, a Four Seasons Concierge and a Global Guest Services Manager, are on board to personalise the journey.
"In our hotels, spaces are conceived as settings for great experiences," says Dana Kalczak, Vice President, Design, Four Seasons Hotels and Resorts. "The same is true for the Four Seasons Private Jet. Along with the core objectives of comfort and functionality – and adherence to strict aircraft safety standards – we wanted to create an exceptionally luxurious ambiance, and Champagne and caviar became our inspiration."