Growing up in a small town outside of Göteborg, Sweden, Alicia Vikander dreamed of becoming a prima ballerina and as a teenager trained with Sweden's Royal Ballet Company. Then an injury, back problems and a mounting dislike for the insulated world of dance led her to pursue acting as her life's dream. Twice rejected by acting schools, she decided to study law until she landed the lead role in a hit Swedish film, Pure, that launched her career.
In recent years, the lithe beauty has emerged as one of the film industry's rising young stars with appearances in Ex Machina, The Man From U.N.C.L.E., and, of course, The Danish Girl, which earned her a best supporting actress Oscar in February. She's also led a quiet romance with one of the world's top actors, Michael Fassbender, having first fallen in love on the set of Derek Cianfrance's The Light Between the Oceans, set for release later this year.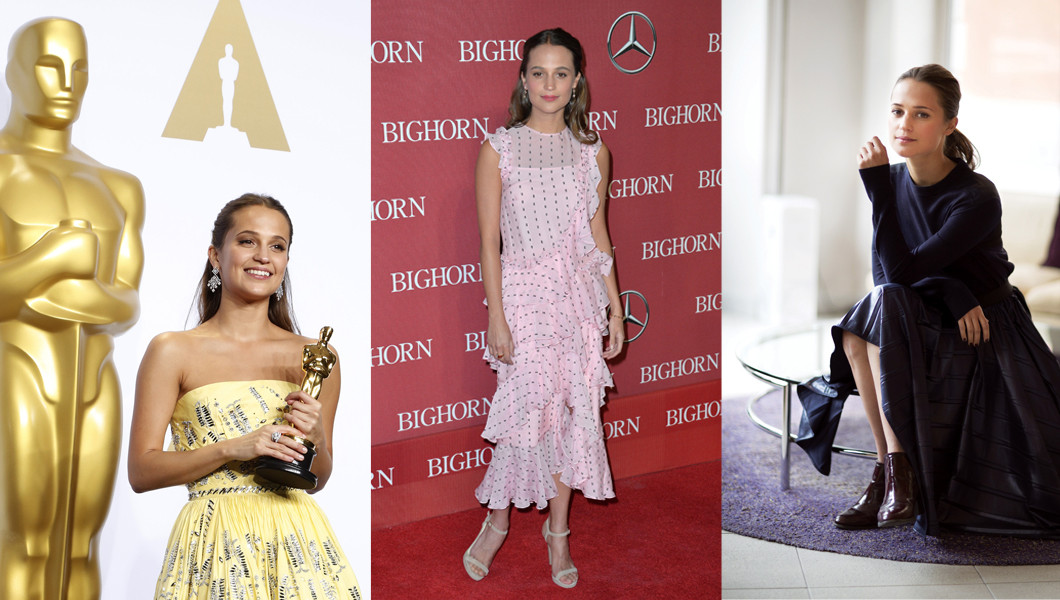 Now she's about to appear in her first big-action thriller, Jason Bourne, the latest instalment in the billion-dollar film franchise that sees Matt Damon return to the iconic role of the amnesiac CIA assassin. Vikander co-stars as a cyber expert and was thrilled to have the chance to work with Damon and director Paul Greengrass. "I was so excited to join Paul and Matt because I loved the (original) trilogy," Vikander says. "I had never met Matt before and it was such a thrill to finally meet him and get to work with him. I'm his biggest fan... He's very funny on set and then he's just extremely cool as Bourne, but we all know that."
The daughter of a psychiatrist father and a theatre-actress mother who divorced when she was a toddler, Alicia spent four years training with the Royal Swedish Ballet School and was already living on her own in Stockholm at age 15 before she tired of the rigours of the ballet world.
She was about to enter law school when she won her first lead role in a film in Lisa Langseth's Pure, which earned her Sweden's equivalent of the Oscar for best actress. Today, 27-year-old Vikander lives in North London where her constant companion of the past 18 months, Michael Fassbender, 39, recently bought a flat. She is currently shooting Submergence, the latest film from German director Wim Wenders that co-stars James McAvoy, and has just been signed to play Lara Croft in the big-budget reboot of the Tomb Raider video game that formerly starred Angelina Jolie.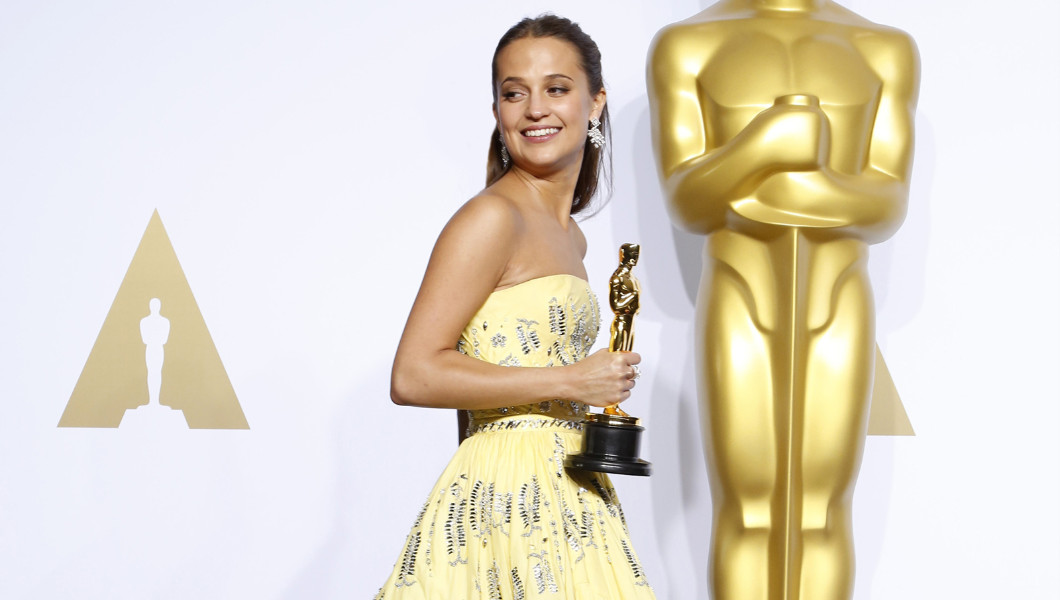 Alicia, what's it been like walking so many red carpets this past year with all the accolades you received for The Danish Girl?
It can be a lot of fun when you're meeting people and getting the chance to say hello to people and speak to the fans. But sometimes it can be stressful because you're spending three weeks thinking about what you're going to wear!
You've admitted to having "lived out of a suitcase the past several years" while working almost non-stop. How have you adjusted to that kind of a life?
Sometimes it's been hard because when you're constantly travelling and going from one film set to another you don't find time to make lasting relationships. So often you're feeling lonely. But I've stayed in touch with my family and friends in Sweden and London, and that's been very reassuring because I was worried that being away so much of the time would cause me lose that closeness that is so important. Luckily that hasn't been the case. Sometimes my friends and I have Skype dinners where we will have a bottle of wine and just sit down and chat with each other for hours.

Do you still find time to go back your native Sweden?
Yes. I was able to visit my family during Christmas. We live in small fishing town outside of Gothenburg and the big highlight was that my dad wore a tuxedo for the first time in his life at age 65. My family also came to visit me in Las Vegas where I've been shooting the Bourne film. My dad's a huge Bourne fan and I'm so lucky that my family has been able to spend this time with me.

How did you get involved in the new Jason Bourne film?
Paul Greengrass contacted me and I was honoured to get the chance to work with Matt and be part of this kind of a story that I've loved from the beginning. When I was on the set, there was a moment when I thought to myself... "Jesus Christ, that's Jason Bourne!" and I got so excited. I was like: "Wheee! I'm in one of those films!"

With all that has happened to you the last few years in Hollywood, does it ever seem overwhelming at times?
Sometimes I think I'm on this strange journey. I literally grew up in the theatre because my mother was an actress. When I was two or three, there were times when my mother didn't have a babysitter and I would be sleeping in a crib in the wings of the theatre. Then when I was older I would spend evenings watching my mother perform every night. It was like being a child who can watch the same cartoon over and over again. My mother would ask me if it wasn't too boring for me: "Are you sure? This is really for adults." But I enjoyed that world and the performances. So that was always part of my system.

But as it turned out you decided to pursue ballet, instead?
Yes. When I was five years old, I remember being spellbound when I saw The Nutcracker on TV and that made me fall in love with ballet. When I was 15 I went to live in Stockholm by myself in this terrible tiny apartment. But I felt very independent and it was like living this big adventure.

What led you from the ballet to acting?
I had a bad foot injury. I still wonder sometimes what my life would have been like if I hadn't suffered that accident. Studying ballet, though, taught me to be very disciplined and also gave me a great appreciation for the value of hard work and how that will help you succeed in life. But my life as an actress has turned out to be such an incredible time for me that I really couldn't be happier how things have turned out for me. I've been able to learn Danish and English, I've been able to meet so many extraordinarily talented artists, and I've travelled to so many interesting cities.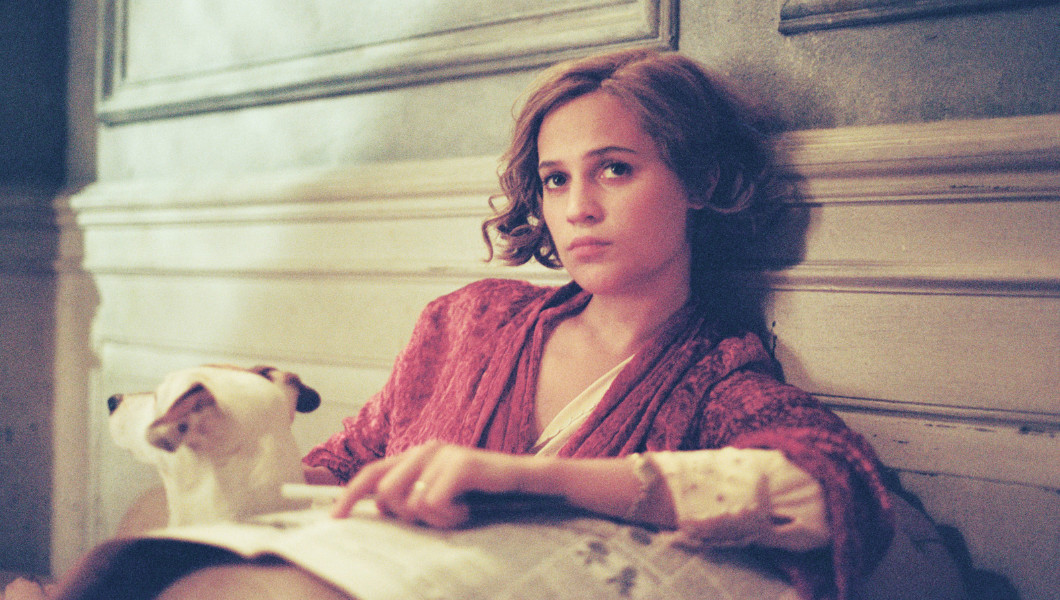 You grew up in two different households – with your father's family and with that of your mother. How did that affect you?
I think it gave me a much better perspective on everything. I have had so many stimulating conversations with my parents over the years that I feel I've learnt so much more about life. They're both very present in my life today and I never make an important decision without consulting both of them. Their love and support has been such a help to me throughout my life. It was my father who convinced me to play in A Royal Affair [the 2012 Danish film which won a Best Foreign Film Oscar nomination] when I was reluctant to do it because it meant studying Danish for two months. And that film turned out to be a major stepping stone in my career.

What are some of the principles or values that guide you in life?
I want to always be true to myself and not make compromises when it comes to my goals and the work I want to do. It's important for me to be as spontaneous and direct as possible, and be very honest and real with people. I also want to be the kind of person who is capable of compassion and gentleness, qualities which aren't always that evident in today's society.

How are you handling all the fame and attention surrounding you now?
I still feel like a normal girl whose job happens to puts her in the spotlight. Being famous isn't something I think about except when friends show me pictures that have been taken of me when I didn't know that I was being photographed. That's a bit strange. The most important thing for me is to keep my feet on the ground and be able to make lasting relationships with people. Love and being close to people is very important to me – I don't believe you can be happy in life without loving and being loved.