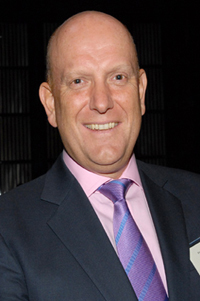 On running the Four Seasons Resort in Mauritius at Anahita
I have lived in Mauritius for the past two and half years. I moved, along with my family to oversee the opening and manage the Four Seasons Mauritius. My daughter jokes that it's my second child.
We launched just two years ago, arguably not the greatest time to open a luxury hotel and as a result, 2009 was a tough year. We came through it fighting and will finish 2010 exceeding the 50 per cent occupancy mark, which is great for a hotel that is just two years old.
On why Four Seasons Resort Mauritius is a great place to work
The people; my staff. I have lived in many countries and there is no other place that has the same level of service as here. When I first arrived, I heard a German family telling the authorities this was their 18th time to the island. It has the highest rate of repeat visitors.
The resort has many elements to it including an Ernie Els golf course, and although the resort is very young, the course is very mature. The designers worked with the original features of the island so there are trees over 50 years old on the course including the central feature - a mango tree that must be at least 60 years old. It's huge and sits right in the middle of the course.
The over-water spa stands on stilts, which is so relaxing. The residences, villas and rooms, in-fact the whole resort has a contemporary Mauritian feel. We kept the original lakes, which in season are home to many different species of bird including parakeets.
The personal touches also bring a smile to my face – I commissioned a local artist to recreate a sculpture of a Dodo (Mauritius being the land of the Dodo). The artist made it out of rubbish; in-fact the breast is a scrap part from a motorbike. It now lives in our Culture Centre. He is exhibiting here in November.
On why Mauritius is a great place to live
It's an outdoors life; we have 250 bikes scattered around the resort for guests to go out and explore. What Mauritius has over other island destinations such as the Seychelles or the Maldives, is it's a great place for families and for activities. We have kite surfing, submarine trips, diving courses, museums, a safari to walk with wild animals (including lion cubs) and trips to sugar plantations. Actually I took my staff to spend a day with the locals cutting sugar cane. We each ended the day with about three quarters of a ton and the pros ended with nine! It gave us all a new respect for this culture. Sugar cane is such a huge part of Mauritian life. We have incorporated it into our spa treatments too.
The backdrop to the resort is Bamboo Mountain. There are no tracks so you literally have to hack your way through - this is what I do for relaxation; take a machete and head up it. Of course the hotel doesn't provide this service for guests. I once took my boss up with me and we spent seven hours in the jungle. You have to get involved in the place. Most of the locals haven't even trekked the Bamboo Mountain. I love telling locals about new places to discover. A coral that provides excellent snorkeling and diving sites also surrounds the island.
On who holidays here?
Our main market is the UK, however we are seeing a huge influx from the Middle East. Our winter [June/July] is a comfortable 26 degrees and many from places like Dubai head this way to escape the heat up there. I like to think we are an ideal destination for a lot of countries. Being six hours from Dubai, Cape Town, Singapore and six and half from Perth- it's not such a big deal to pop down here.
Mauritius is synonymous with honeymooners but we offer a lot for the family too. We have a kids club and a teen centre for them to just 'hang out'. Isn't that what kids do nowadays? So they have an Imax, Wii and disco complete with mixing desks and a laser-light show.
We often get all male groups wanting some golf time, then the ladies who just want to visit the spa. For those who get married here we have created a 'Love Forest'. An area where an endemic Mauritian tree is planted in the couple's honour.
Final thoughts?
It's pretty impressive; you really just have to get involved in island life. It isn't in your face; it's calm, it's relaxing, paradise.
Visit the Four Seasons website