A splash of canary yellow here, a flourish of emerald green there and a flash of teal in my periphery. No, I'm not talking about Mauritius' exotic birdlife, rather the playful interior at recently opened SALT of Palmar, a progressive new hotel brand launched by The Lux Collective's Paul Jones. The creative behind the eye-popping aesthetics is French muralist Camille Walala, who, together with local architect John-François Adams, has infused the colourful mosaic of Mauritian culture into the east coast property. Walala's signature monochromatic stripes decorate everything from the poolside parasols to the underside of the tiled water features that ornament the 2005-built, 59-room Moorish-styled hotel.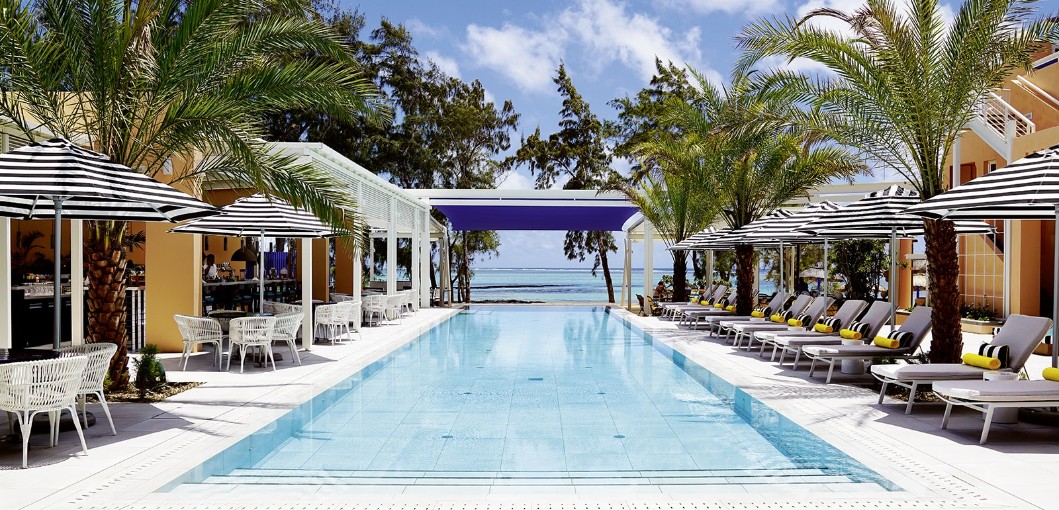 Eschewing the standard check-in protocol, I'm welcomed into an open-plan library, stocked with some 300 books (many authored by Mauritians), followed by a sandy-toed, five-minute meditation on Palmar Beach. This is to be the first of many SALT rituals that go refreshingly against the grain. Rather than sending guests home with keepsakes, the resort gifts you a snazzy reusable aluminium water bottle on arrival, which can be topped up at water stations dotted around the property (where you can also find bottomless factor 50 and reading glasses in every prescription). Realising single-use plastic is contraband; I sheepishly slip a half-drunk Evian bottle into my bag as I'm escorted to my top-floor 'Best on the Beach' room. Everything from the unbleached organic bathrobe, to the sustainably farmed bamboo ear buds and refillable tubs of bathroom essentials (including a salt scrub, naturally), uphold the brand's sustainable credentials.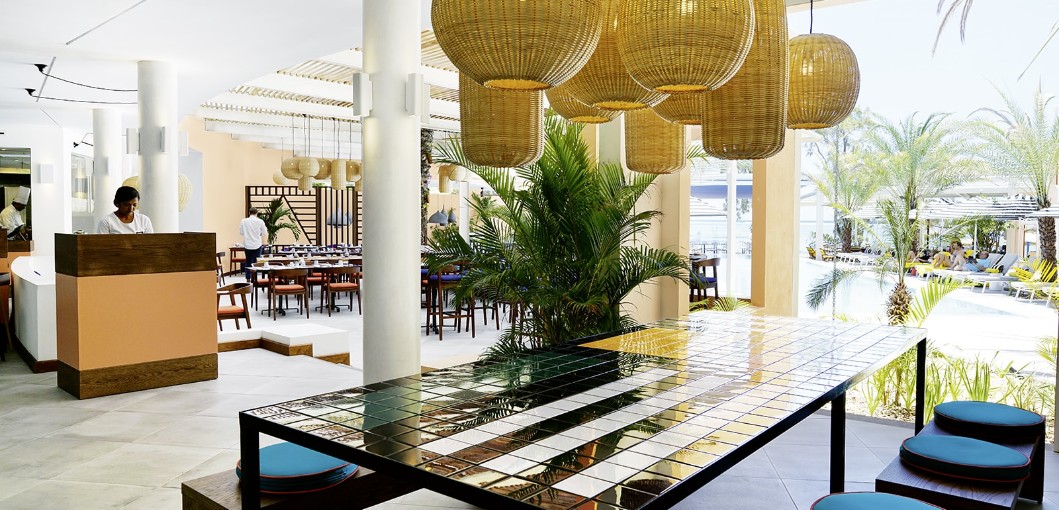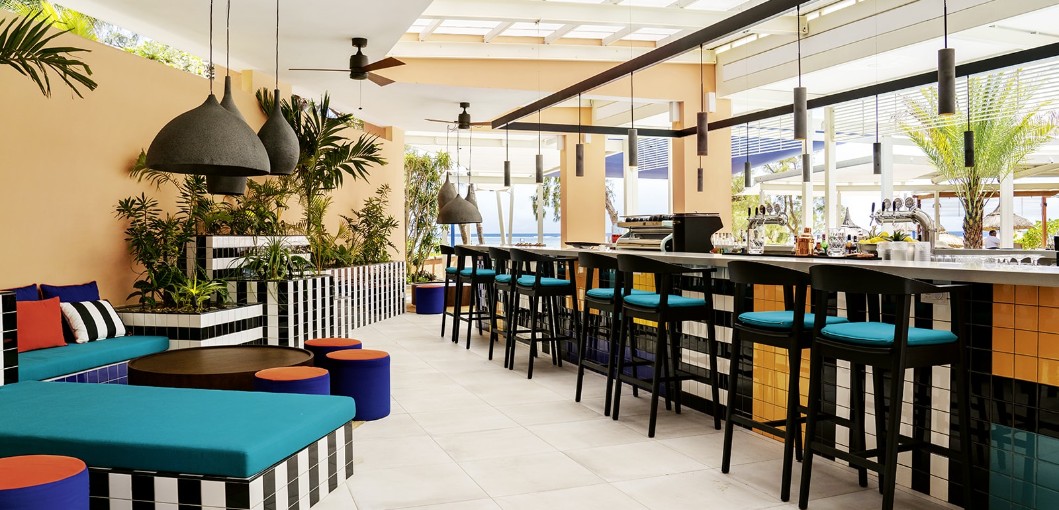 Insta-worthy pop coloured cushions and recycled plastic beach bags are offset with crisp white walls that judiciously frame the fifty shades of blue outside (which I can practically touch from my private sundeck). Set over three floors, the other 57 rooms are blessed with floor-to-ceiling windows and balconies, whilst beds are orientated to face the sea – the ultimate feng shui for ocean lovers. Sleep (and lots of it) is prioritised here. My Swedish, physio-developed Carpe Diem bed is paired with a 500-thread-count duvet, whilst the TV is replaced by a thoughtfully curated bookshelf. I leaf through the hotel's very own guidebook, penned by Mauritians, who give an entertaining and honest insiders view of the island.
Connection to local community is front of mind at SALT, the idea being not only to take you to places, but the island's people. One for "cultural purists" (a term coined by hotelier Paul Jones) is the hotel's skills swap experience. In exchange for your time, talents, or party tricks even, you can partake in an early morning fishing expedition with Kishor, basket weaving with 74-year-old Reotee, or caricature drawing with Warren. These can all be booked through the SALT app – a room key and virtual concierge service in one, enabling you to sign up to excursions like the Port Louis street food tour or sunrise serenity walk and beach yoga. There's also a fleet of pedal or electric bikes and low-emission Mini Cooper convertibles to go chasing those famous island sunsets in.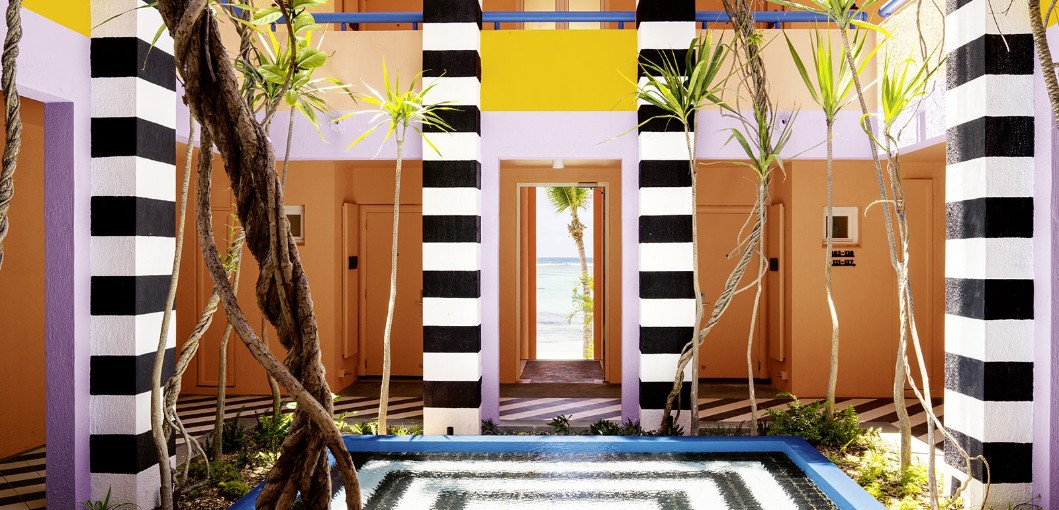 For the more horizontally inclined, you can flop beside the 25-metre pool or indulge in endless pampering treatments at the Equilibrium Spa, home to the Indian Ocean's first Salt room. I waste no time in practicing by best deep breathing as immunity-boosting pink salt particles are dispersed into the air, then treat my jet-lagged limbs to a massage that uses coconut oil blended with salt that's been hand-harvested from the Black River region.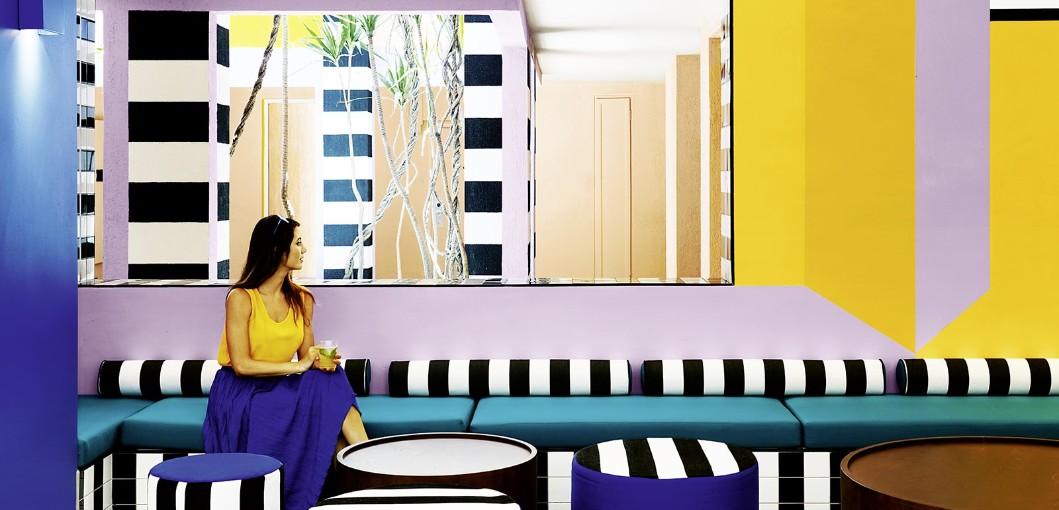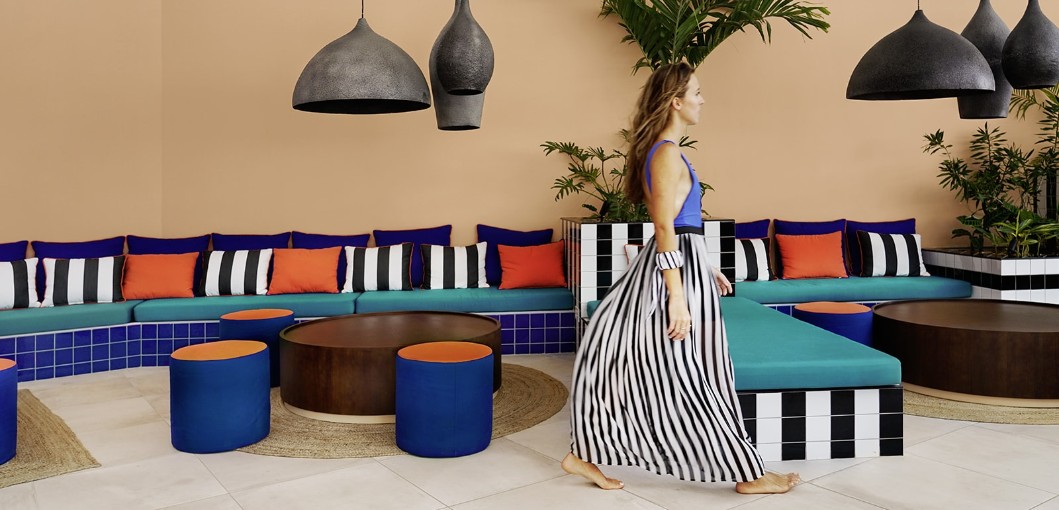 Curious to taste some for myself, I snag a poolside table at the hotel's indoor-outdoor restaurant (complete with onsite bakery) that proffers plantation-to-plate fare. The hotel collaborates with Island Bio, a non-profit community garden, as well as its very own "salt-shakers" like Angelo the cheese-maker, fruit farmers Bibi & Asok and third-generation-fisherman Ricardo. In keeping with its zero-waste policy, the restaurant is a buffet free zone and you won't find beef or lamb on the menu. "The only thing that's flown in here is you," Chef Vikram Bhaugeerutty chortles. Instead, ingredients that honour the island's Indian, French, Chinese, Creole and African heritage infiltrate the menu, as well as the cocktail list, which includes spice-infused rum concoctions.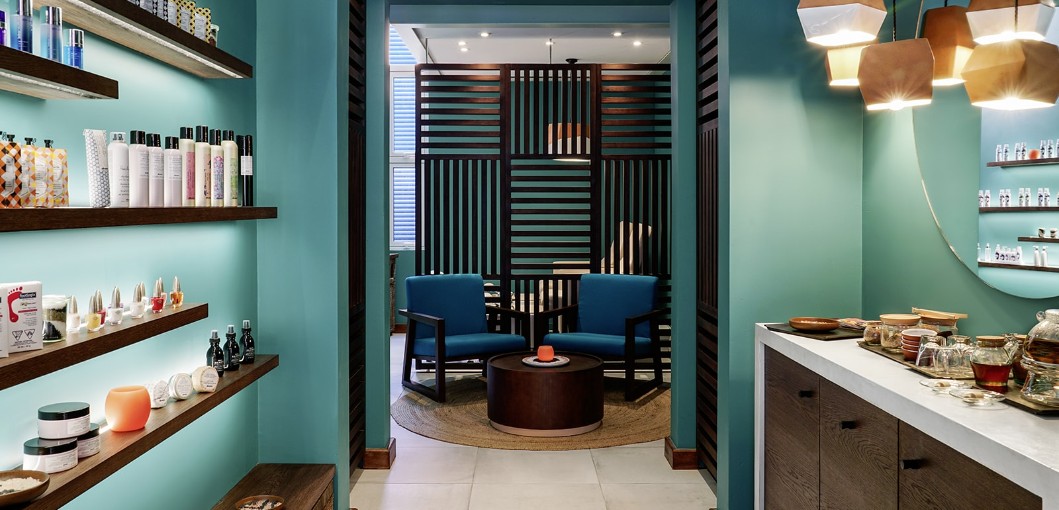 I tease my palette with Josper charcoal-grilled corn with smoked paprika and Manchego, then dive into the twice-cooked octopus and spicy cauliflower biryani, saving the vegan tacos for later. Almost as colourful as the plated food is the tableware by local ceramicist Janine, who created 950 individual pieces for the hotel. The rattan-ware chair I've sunk into, meanwhile, is the handiwork of father-and-son team Mawlabaccus and Said Moosbally, who've been honing their craft on the island for the past 40 years.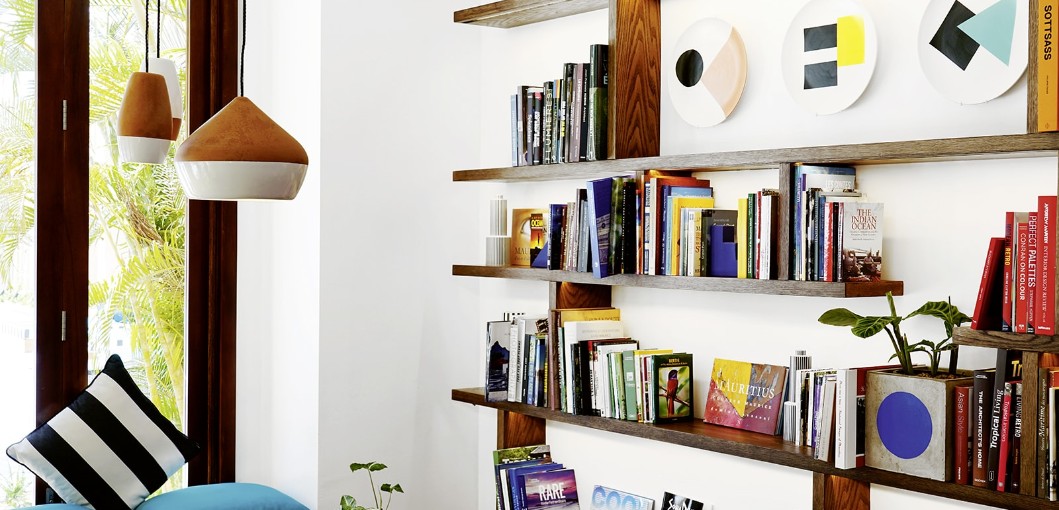 If ever you needed your faith in the tangible link between people, plate and planet to be restored, a generous pinch of SALT should do the trick. And satisfyingly, you're a vital part of this equation. Just do yourself a favour and leave the Evian at home, or better still, on the supermarket shelf…
Stay:
WHAT: Best on the Beach
WHERE: Salt of Palmar, Mauritius
TEL: +230 401 8500