A private island alive with vibrant tropical vegetation, this resort offers the ultimate in seclusion away from the stress and relentless activity of typical day-to-day life. Here, day-to-day life consists of serene sophistication, award-winning dining, blissful spa days and a marine wonderland just waiting to be explored.
Naturally hidden from view between swathes of green flora and shaded by rustling palms, Coco Bodu Hithi is the ideal romantic escape, even honoured as the Most Romantic Resort at the 2016 South Asia Travel Awards. Its contemporary design has been thoughtfully considered to blend seamlessly with the surrounding island environment, and each of the 100 individual villas boast the soundtrack of the sea, unparalleled Indian Ocean views and private pools. Where better to reconnect with the one you love most?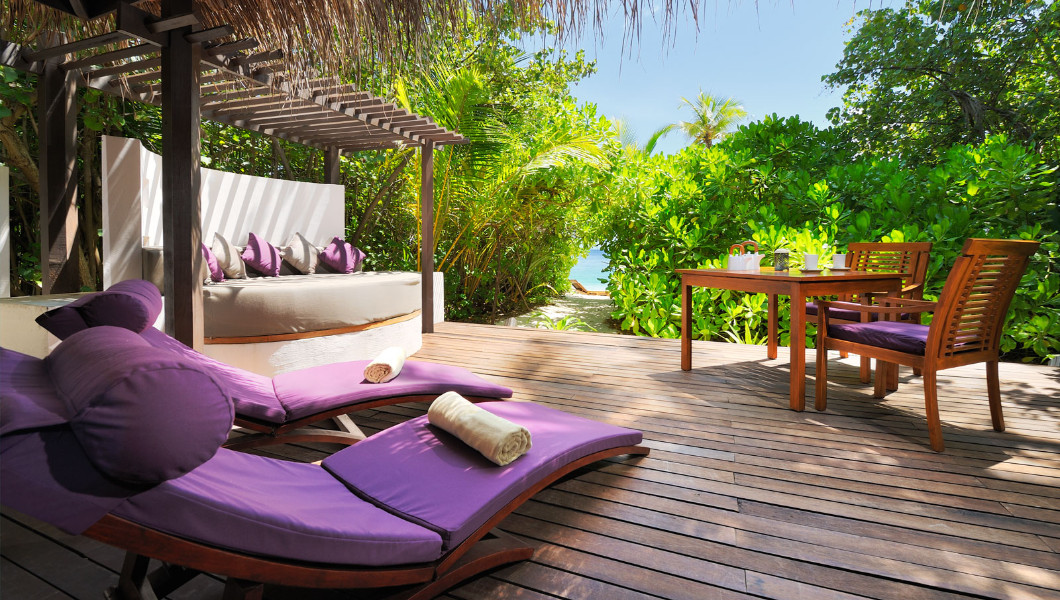 While you certainly could remain ensconced in your personal villa, the temptation of the sea's bounty and the resort's acclaimed gourmet cuisine is difficult to resist. Aqua, the fine-dining seafood restaurant set just above the lagoon, has been named the Winner of Luxury Seafood in Maldives at the 2016 World Luxury Hotel Awards, and five other bar and restaurant destinations offer everything from cocktails under a clear, star-filled sky to extravagant themed buffet dinners at the water's edge. Keep an eye out for Michelin-starred chefs visiting throughout the year as well, creating exclusive and unique experiences for Coco Bodu Hithi's guests.
In a sanctuary such as this, made of idyllic sights and a relaxed atmosphere, positive well-being is a sure thing, but opt to take the pampering route for a fully blissed-out experience. At Coco Spa, therapists deftly treat the mind, body and soul with products made from decadent Parisian label Thémaé. Eight private treatment rooms are named for parts of the coco palm, and provide total release in ancient Thai, Indonesian and Indian techniques in massages and signature rituals. Or, join the resident yogi for a sunrise or sunset yoga session surrounded by the expanse of the sea.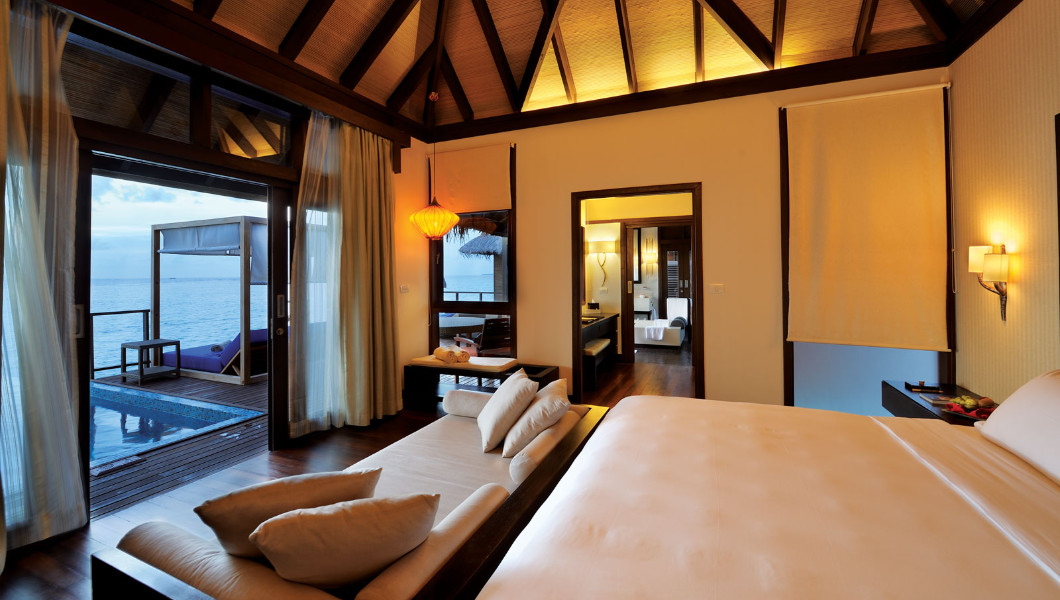 Of course, no trip to the Maldives is complete without discovering the abundance of vibrant marine life the region harbours. Home to one of the best house reefs in the North Malé atoll, sea life such as colourful reef fish, hawksbill sea turtles, eagle rays, octopus and reef sharks can be seen simply by stepping from your overwater villa into the water. A quick 10- to 15-minute jaunt away and unparalleled snorkelling and diving experiences can be found at Turtle Point and Shark Point. Swimming with the Maldives' majestic mantas is an unforgettable experience, and the nearby locations of Rasfari Point and Bodu Hithi Thila are some of the best spots to find the creatures.
However you decide to spend your time at Coco Bodu Hithi, it's a true getaway that will rejuvenate, relax and cosset with its world-class facilities and service, while the natural wonders of the Maldives presents a paradise that is unlike any other you've ever experienced.
---
Stay:
Coco Bodu Hithi
+960 664 6600