The world has grown significantly smaller since Radisson went into the hotel business 75 years ago. Back then, room keys were made of metal, breakfast was eaten amid a sea of newspapers and mail was stored in pigeon holes behind reception. It's a world apart from today's well-oiled, tech-driven hospitality machine, where brands have properties in all corners of the planet, yet a guest profile can be shared with other hotels in split seconds. Today, well-heeled leisure travellers judge dining outlets by their bandwidth as much as their food offerings, while the modern conveniences of high-speed internet, club and business lounges and 24-hour check-in mean road warriors can be on the move for longer than ever before.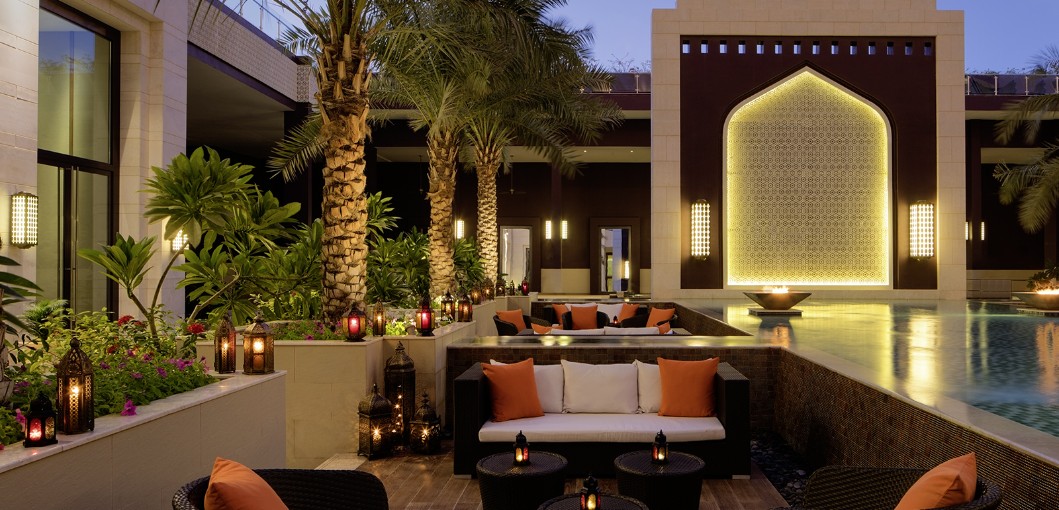 But the fundamental aspects of five-star hospitality remain the same, particularly at Radisson's portfolio of luxury and upper upscale hotels, where service is unfailingly anticipatory, rooms stylishly appointed and dining consistently first rate. Add in a great range of spas, gyms, kids' clubs and business lounges for consideration, and you have a brand that appeals to all kinds of guests, from multi-generational families and solo explorers to business travellers and staycationers. Over the next few pages, we take a look at some of the standout hotels in Radisson's Middle East and Africa portfolio and explore the bustling cities that they call home.
1. THE WATERFRONT RESIDENCE: DUBAI
Radisson Blu Hotel, Dubai Waterfront, UAE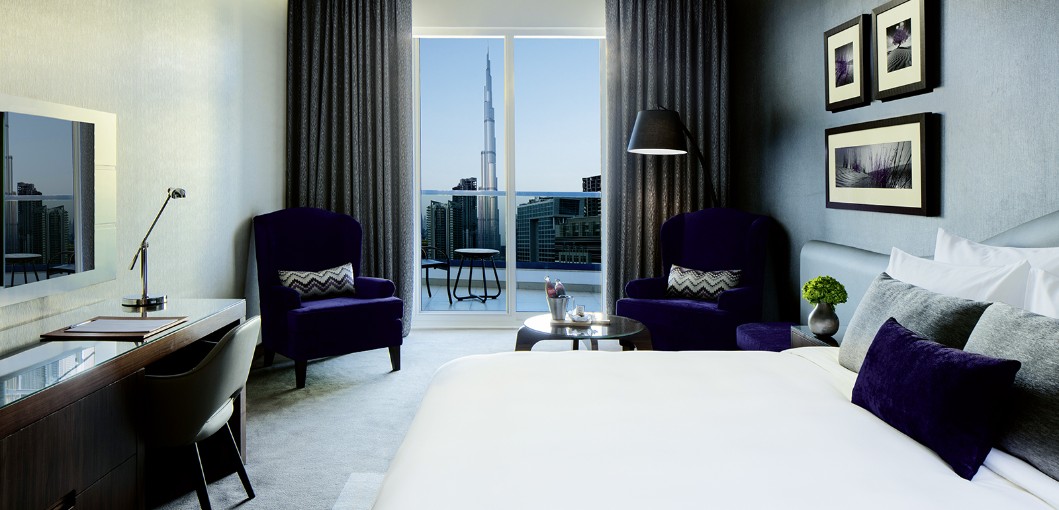 Dubai needs no introduction to seasoned travellers, but as the Emirate continues its meteoric expansion ahead of Expo 2020, new neighbourhoods are constantly evolving. In the city's burgeoning Business Bay district, the Dubai Water Canal wends its way through a canyon of tall buildings: a 3.2 kilometre waterway that meanders from the Arabian Gulf at Jumeirah Beach, through Business Bay and Downtown Dubai before connecting with Dubai Creek and flowing out into the Gulf. The waterfront has quickly become a magnet for visitors and locals alike, with a wide promenade running along the canal that's popular with joggers and walkers, and a collection of hotels, cafes and restaurants lining its banks.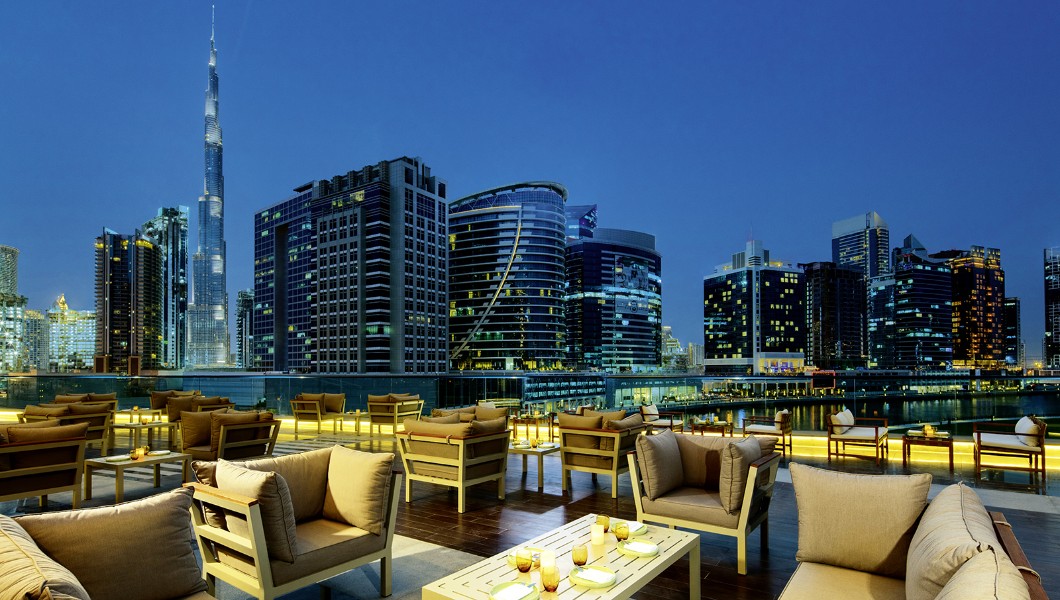 It's here that Radisson Blu Hotel, Dubai Waterfront has made its home: a striking modern tower that reflects the deep blue and bright whites in the sky above. The hotel's 432 beautifully appointed rooms and suites look out across Business Bay; some facing the beaches of Jumeirah and the towers of Dubai Marina, others looking towards Downtown Dubai and the colossal silhouette of the Burj Khalifa, the world's tallest building. Starting from a generous 34 sqm, all rooms feature a modern, pared back design in a sophisticated palette of muted greys and golds, with bright pops of purple leaping from armchairs and cushions, and warm wooden furniture creating a homely environment. Guests of the hotel's Premium Class rooms or any of the suites also have access to the Business Class Lounge, and certain room categories have private balconies from which to admire those impressive urban views.
Rooms feature a modern, pared back design in a sophisticated palette of muted greys and golds, with bright pops of purple
With seven restaurants, bars and clubs and the decadent Dreamworks Spa on site, guests might not want to stray too far from the comforts of the hotel. FireLake Grill House and Cocktail Bar promises an evening of refined fare and creative beverages inside or out; The Larder serves up an innovative menu of Nordic inspired cuisine; Abraj offers casual chic dining for quick bites and drinks; and Lebanon's successful Republic & Co. Restaurant & Lounge has opened its first outpost in Dubai to the delight of residents and visitors alike.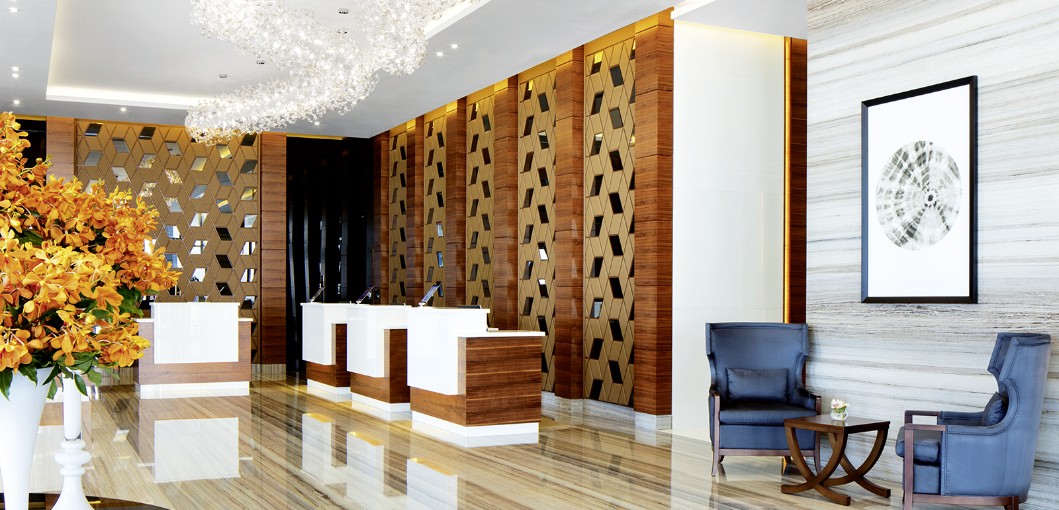 Liquid libations are too tempting to turn down at Scottish bar Makar and the swish surrounds of New York style loft bar Madison are a perfect place to while away the evening while soaking in the views, before heading to Gotha Club, where big name DJs and live entertainment keep guests moving all night long. It's fresh, it's cool: Radisson Blu Hotel, Dubai Waterfront is the hottest urban address in Dubai.
---
2. THE CULTURAL ESCAPE: JEDDAH
Radisson Blu Hotel, Jeddah Corniche, Saudi Arabia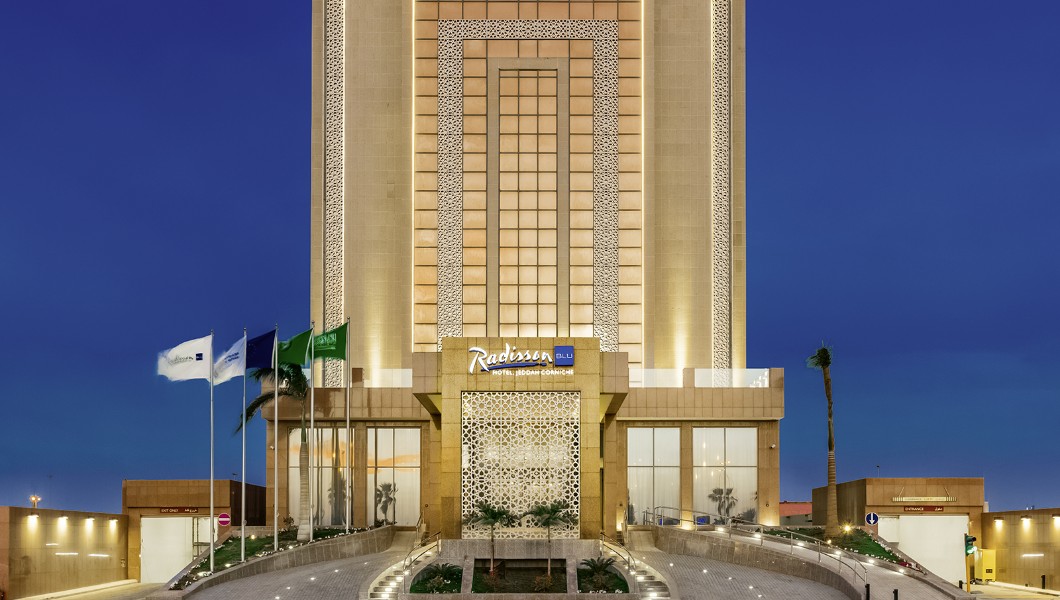 Stretched out like a string of pearls across Saudi Arabia's Red Sea coast, Jeddah is having its moment in the limelight. A thriving café and dining scene and colourful calendar of concerts and events has made the city a magnet for young Arabs; families are lured from across the region by it's endless beaches and clear blue seas; and international visitors looking for a gentle introduction to Saudi Arabian culture find it to be the ideal gateway city.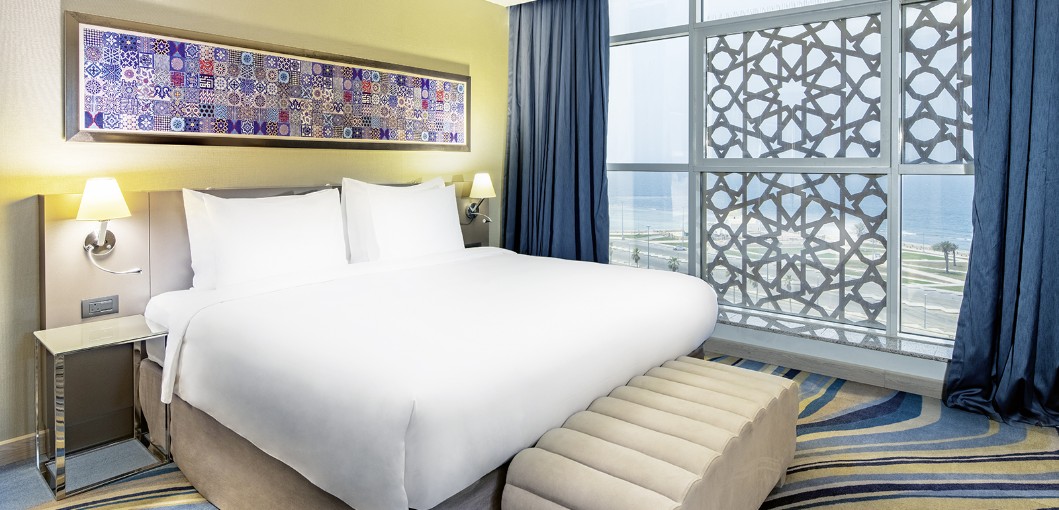 Here, visitors can wander through the narrow alleyways of the Old City of Jeddah, a UNESCO World Heritage site where intricately carved 'mashrabiya' windows cling on to ancient buildings built from Red Sea coral, and traditional wooden tower houses stand shoulder to shoulder with mosques and markets. Nearby Tahlia Street is home to the city's best upmarket shopping, with luxury brands including Chanel, Gucci, Versace and Prada situated among a collection of coffee shops and restaurants. When you've had your fill, Jeddah is a jumping off point for excursions to the Mada'in Salih archaeological site in the north and Saudi's other UNESCO-listed cultural sites, and a great base for Red Sea diving trips.
Visitors looking for a gentle introduction 
to Saudi Arabian culture find it to be the ideal gateway city
Overlooking the promenade that winds along the full length of the beachfront, Radisson Blu Hotel, Jeddah Corniche is the place to stay for discerning visitors; a home from home that's perfectly positioned to access some of the city's favourite attractions, including the restaurants and cafes of the North Corniche and the glamorous boutiques of the Red Sea Mall, the largest in Jeddah. The hotel's 150 elegant rooms and suites are bright and airy, with vibrant mosaics of Old City tiles and colourful carpets that swirl with the colours of sea and sand. Executive Rooms and the one- and two-bedroom suites offer access to the business lounge, and sea-facing rooms afford spectacular sunset views as the sun slowly drops into the Red Sea.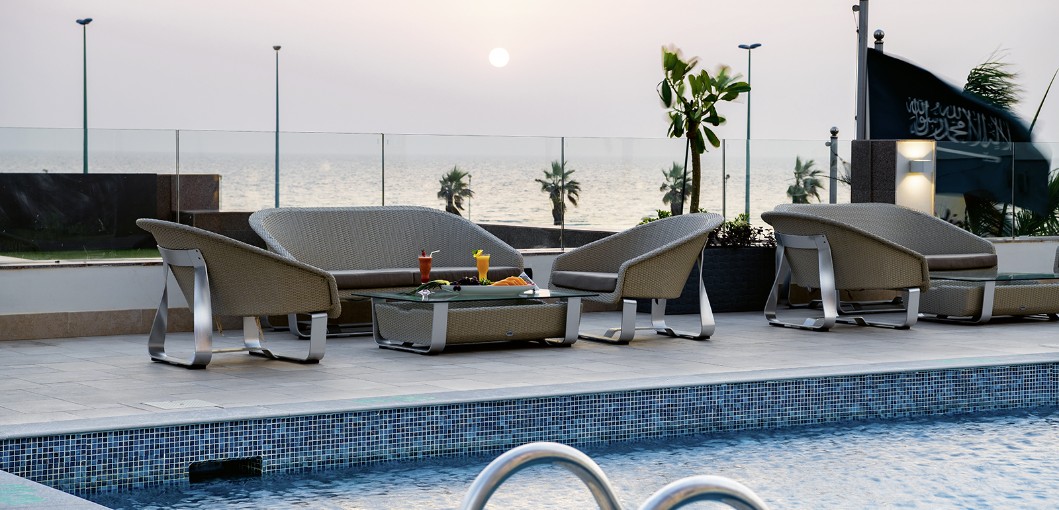 Anyone who prefers to watch their sunsets al fresco can do so at Jeddah Terrace accompanied by aromatic shisha and light bites, before heading down to enjoy Saudi delicacies and international dishes at The Larder. Work it off in the gym, fully kitted out in Technogym fitness equipment, or take a jog along the cornice before surrendering to a massage.
---
3. THE GRAND DAME: MUSCAT
Hormuz Grand Muscat, A Radisson Collection Hotel, Oman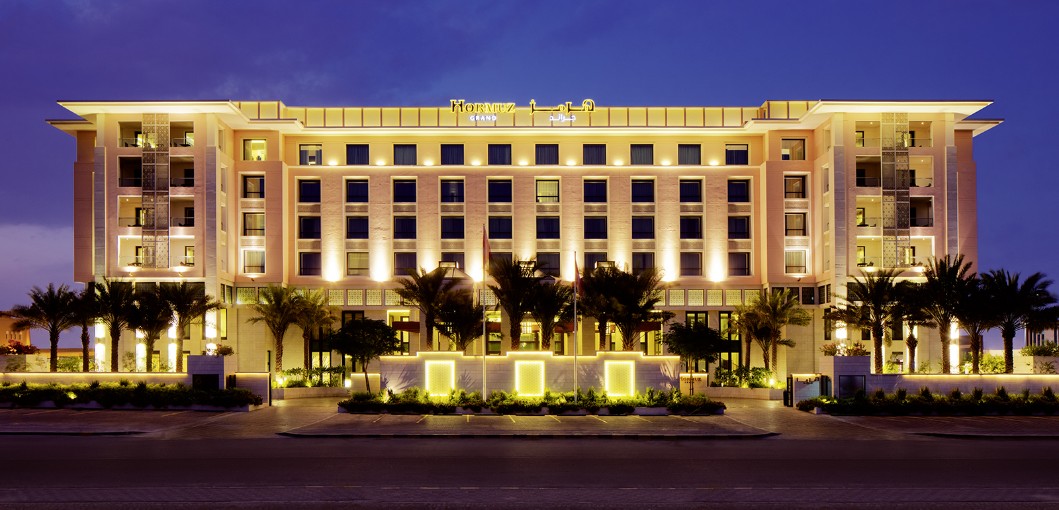 The ancient Omani capital is a refreshing anomaly among Gulf capitals: a low-rise cityscape where the whitewashed buildings seem to glow under the Arabian sun. In ocean-facing Old Muscat, the architecture is an enduring tribute to an old way of life and a reminder that Muscat is one of the oldest cities on the Arabian Peninsula. Traditional fishing dhows still bob in the harbour and visitors can take it all in by strolling through the ancient Mutrah Souq, exploring the centuries-old forts and marvelling at magnificent palaces. But while the past is treasured, there's another side to Muscat; a rapidly evolving city with a booming economy that draws planeloads of business travellers all year round.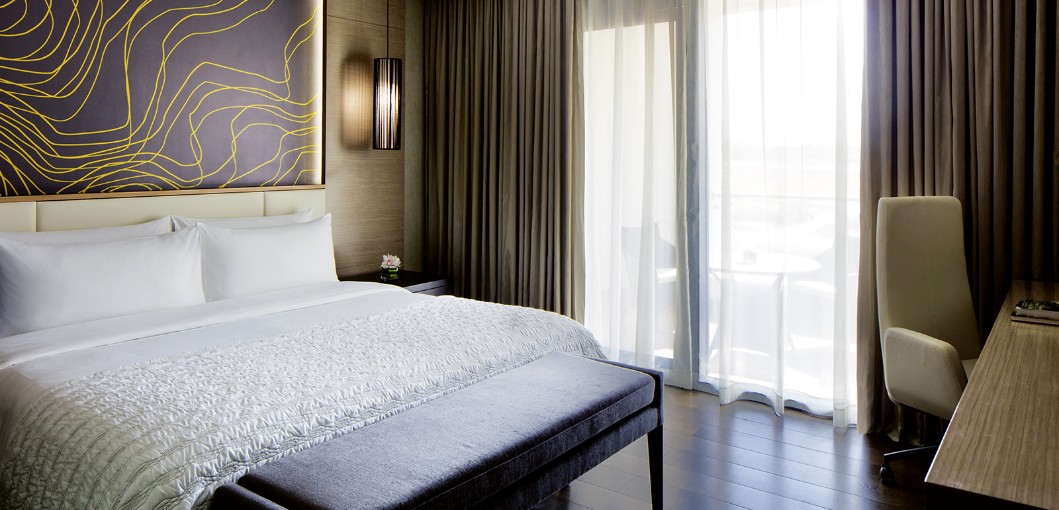 Strategically located just a few minutes from Muscat International Airport, Hormuz Grand Muscat, A Radisson Collection Hotel, is perennially primed for guests of all stripes. A short drive from Oman Convention & Exhibition Centre, the 18 manicured holes of Muscat Hills Golf & Country Club and the high-end boutiques of Oman Avenues Mall, this grand dame of a resort deftly blends business with pleasure. Modern Arabian-inspired interiors strike a balance between contemporary style and traditional design throughout the 231 well-appointed rooms and suites. From the 40 sqm Collection Rooms to the enormous 120 sqm Presidential Suite, all guestrooms feature local artwork and Middle Eastern accents that create a distinct sense of place, with soft Egyptian cotton bedding, stylish bathrooms and high-speed WiFi throughout.
The architecture is an enduring tribute to an old way of life and a reminder that Muscat is one of the oldest cities on the Arabian Peninsula
The resort is spread around a stunning water courtyard, where a sunny terrace and shaded porticoes overlook a gorgeous swimming pool, creating an inner sanctum where guests can unwind day and night. When the sun is up, it's the ideal spot for a cool al fresco breakfast or fresh juice by the pool; come evening, flaming torches and flickering lanterns illuminate intimate patios: the perfect setting in which to enjoy those warm Arabian nights.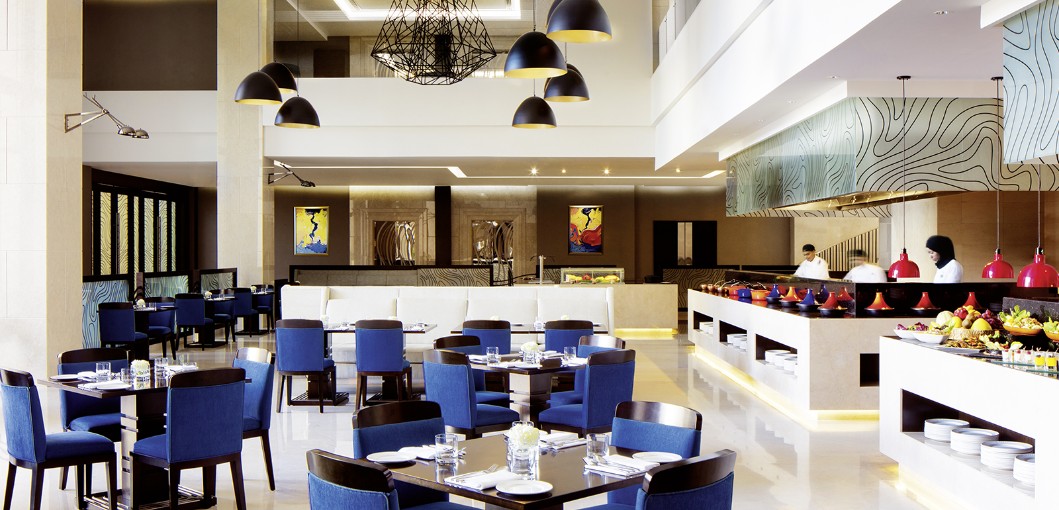 Visitors are spoiled for choice when it comes to dining. Executive chef Imtiaz Qureshi runs the brigade at award-winning Qureshi Bab-Al-Hind, which specialises in northern Indian cuisine served in a fine dining setting with a spectacular open kitchen beneath Arabesque designs. French gastronomy is beautifully presented at contemporary brasserie OMNY, where a Raw Bar showcases the best of Oman's legendary seafood: don't leave without trying Omani lobster. East and west are fused at The Straits, where traditional Oman dishes complement the finest international fare; and creative cocktails and classic concoctions are poured with pizzazz at The Vault. Whether it's business of pleasure that lures you to Omani shores, Hormuz Grand Muscat promises a slice of mellow Muscat culture and a stylish address from which to explore the Sultanate.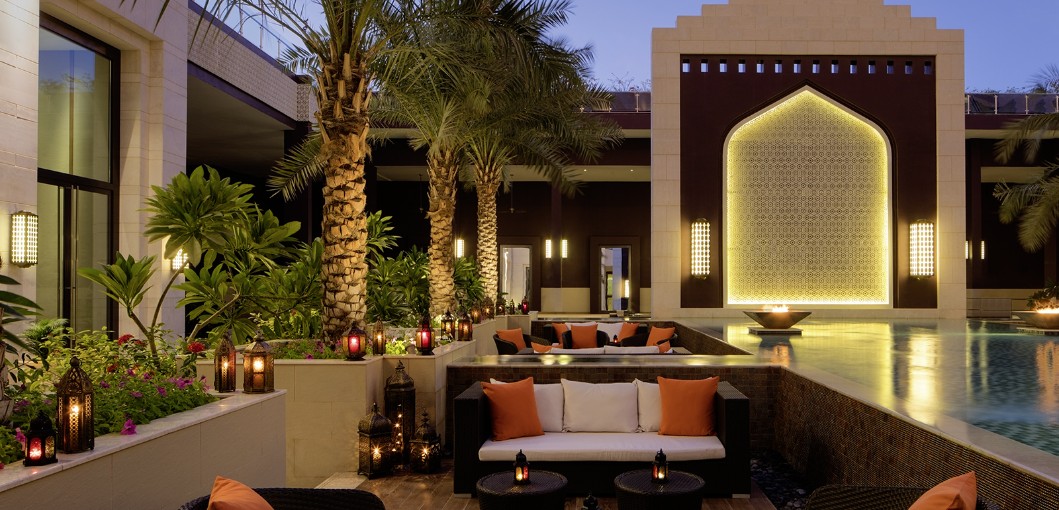 ---
4. THE ATLANTIC ENCLAVE: CAPE TOWN
Radisson Blu Hotel Waterfront, Cape Town, South Africa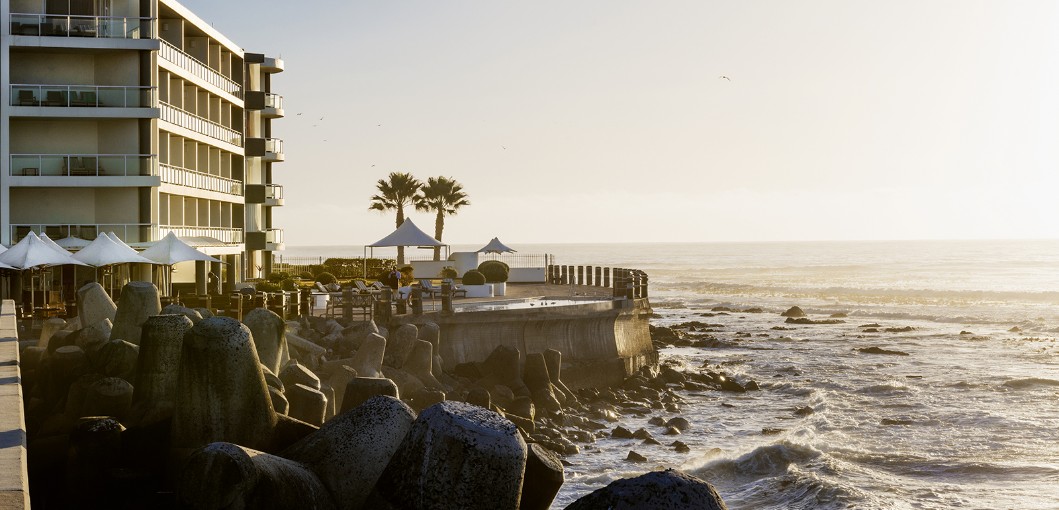 Few cities are blessed with locations quite as spectacular as Cape Town, pinched between the great plateau of Table Mountain and the frothy white rollers of the southern Atlantic, just before the continent comes to an end at the Cape of Good Hope. Hope is something that every guest arriving in this picturesque city carries with them: hope that the sun will shine while they hike to the top of Table Mountain, hope that their appetites will be able to handle the enormous selection of award-winning restaurants the city has to offer, and hope that their camera will have enough battery for the hundreds of photos they will snap from Cape Point, the spectacular promontory at the south-western tip of Africa.
Beautifully situated on the edge of the Atlantic, Radisson Blu Hotel Waterfront, Cape Town is an icon among the city's hotel scene; an Art Deco style low-rise condo that wouldn't look out of place on Miami Beach. The 177 modern rooms and suites are stylishly finished, with elegant wooden floors, louvred doors and wardrobes and a pared-back aesthetic that pays tribute to the nautical neighbourhood. Many of the guestrooms look out onto the Atlantic Ocean and some have private balconies from which guests can soak in the sunshine or admire the yachts in the adjacent private marina.
Radisson Blu Hotel Waterfront, Cape Town is an icon among the city's hotel scene; an Art Deco style condo that wouldn't look out of place on Miami Beach.
The rolling ocean provides a soothing soundtrack during treatments at the stylish Amani Spa and forms the backdrop to meals at Tobago's Restaurant and Terrace. Here, fresh local produce is used to create a menu that showcases the best South African fare, as well and cuisine from the wider continent and a selection of international dishes. Backed up with a formidable cellar of South African wines, this is the perfect spot to soak in the views.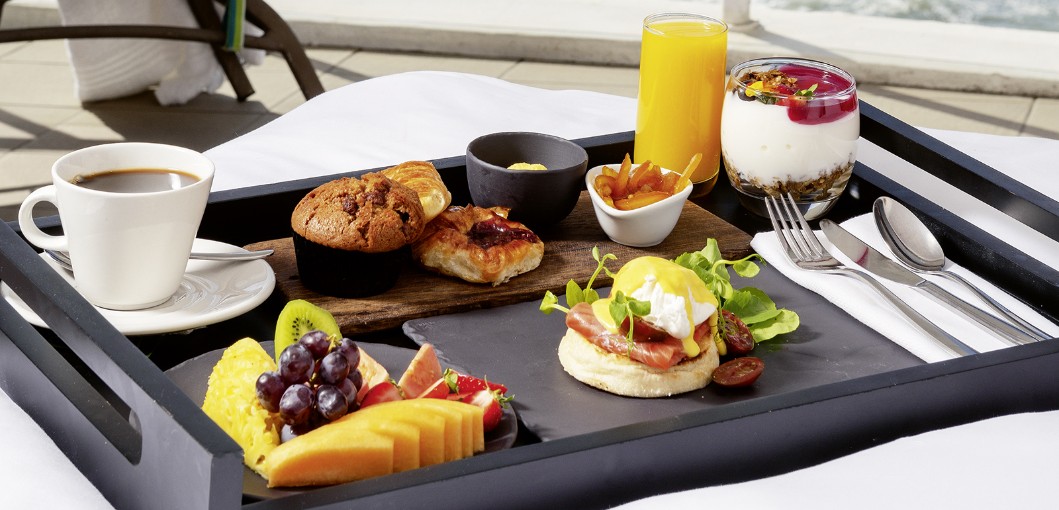 Regular transfers take guests to the shops, bars and restaurants of the photogenic Victoria & Alfred Waterfront, but when visitors have their fill of urban life, Cape Town is a jumping off point for excursions into the spectacular landscape around the city. Just off the coast, the UNESCO World Heritage site of Robben Island is where Nelson Mandela was held as a prisoner for 18 long years; and the vineyards of Stellenbosch, Franschhoek, Paarl and Wellington flank the city an hour to the east. For the ultimate cross-country adventure, the Garden Route promises 800 kilometres of picturesque driving, with spectacular bays, first class golf courses and some of the best restaurants in South Africa along the way.