If we want to begin at the beginning – to borrow a phrase from Lewis Carroll – then we really have to begin at The Cube. The light-flooded entrance lobby at FIVE Palm Jumeirah is a celebration of space, which is a luxury that's hard to find on the crowded tree-shaped island, increasingly chocked with new developments and the associated traffic that comes with them. The glass case is void of complexities and other peripheral items (even seating), but is utterly dominated by a stunning floor-to-ceiling sculptural arrangement, with bending and twisting wooden strands planted in all four corners. I'm told the welcoming art piece is representative of DNA, but it seems to me as though I was journeying, like Alice, down the rabbit hole – and these were the roots from the more mundane reality I was leaving behind.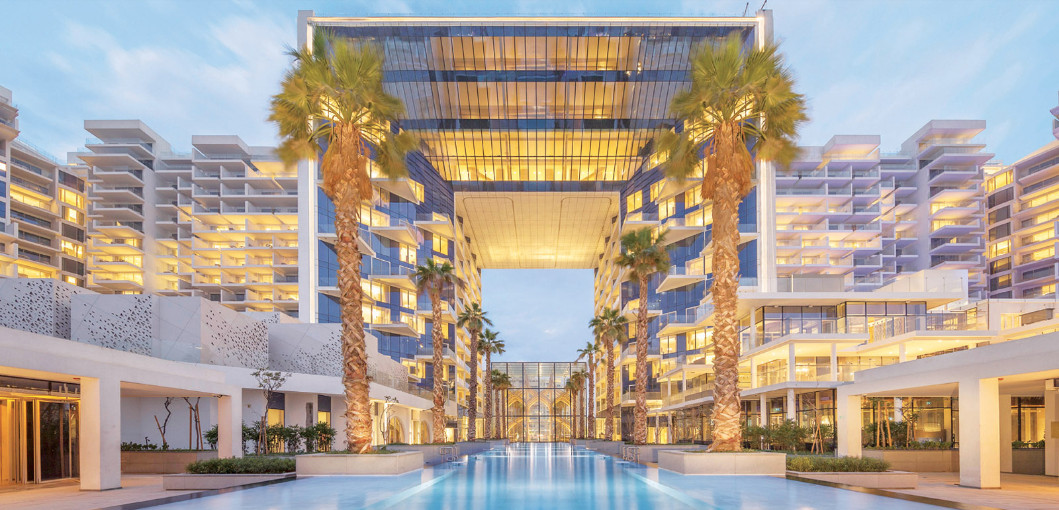 In this wonderland, there are plenty of enticing 'eat me' and 'drink me' opportunities along the way, but without the surreal and sinister components of Carroll's fictional universe. The glass lobby channels guests either left or right, to each of the hotel's wings, framed by the top-floor ballroom, conferencing areas and The Penthouse, one of the city's premium chillout venues and party spots – not actually an accommodation option for the highest high-rollers, despite its name. Though, for the right price I'm sure anything is possible. Check-in would have been a brief encounter thanks to the large iPad and a beaming receptionist had it not been for the sheer popularity of the property. Running at 99.99% occupancy I arrived to a small queue of holidaymakers who alighted at the lobby a smidgen ahead of me.

Thanks to the efficiency of the Apple devices, it wasn't long before I was in my 15th-floor Luxe Sea View room, an ample 48sqm pad that stretches all the way from the en-suite soaking tub (complete with mirrored ceiling, because why not?) to the cosy balcony suntrap. Nestled between the 'standard' Superior rooms and the hotel's range of suites and residences, the room certainly earns its luxe boast, with everything you would want from a true five-star stay; lavish Salvatore Ferragamo amenities, a rain shower, a 55-inch smart TV, sofa, a melt-your-body king-size bed and the aforementioned balcony, with its own sun lounger to save you trekking to the pool. Much like other aspects of the hotel, the rooms carry a modern take on Art Deco, which extends to the tasteful matte gold trim on the furnishings to the Gatsby-esque mini bar.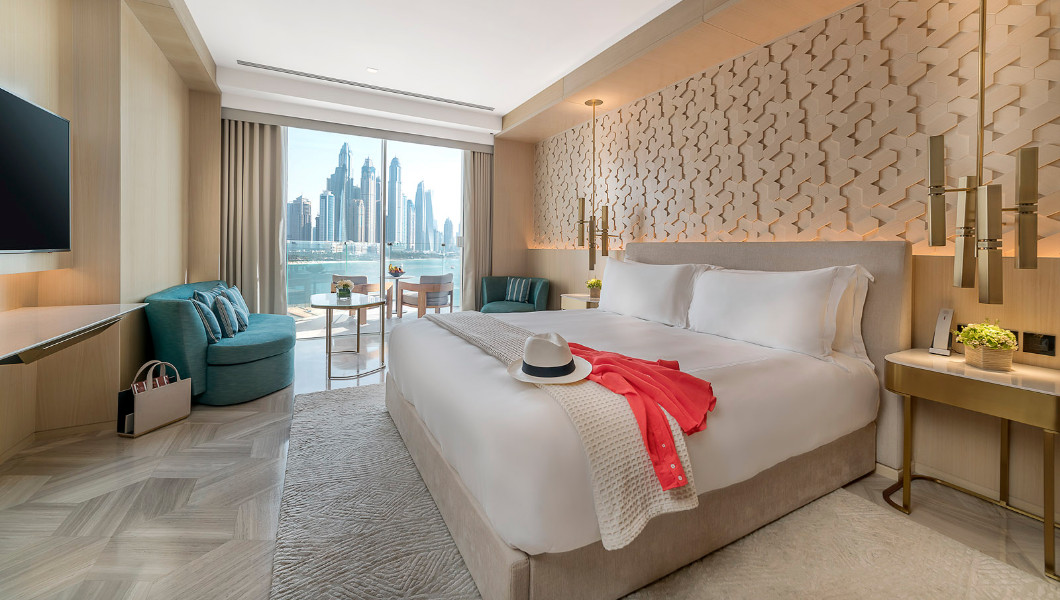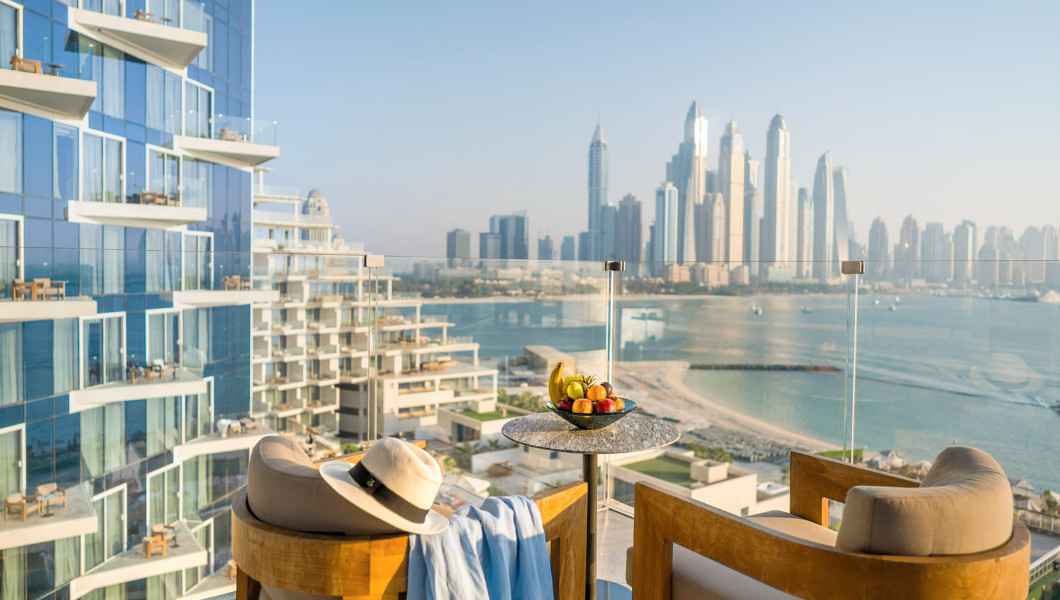 The Roaring Twenties theme is most evident at Above 21, the hotel's classy and intimately sized cigar bar, which harks back to a prohibition-era speakeasy, though not much is prohibited here, with an array of malts, Cubans and other gentlemanly vices. The venue is one of six bars and/or lounges if you include the beach and if you don't include The Secret Room, an upcoming addition to the hotel that promises an 'intimate and exclusive' nightlife experience. Thankfully there's already a bevvy of nocturnal options at the property, ranging from pan-Chinese fine-dining at Maiden Shanghai (below), to Ibiza-level revelry at The Penthouse each weekend, with stellar DJs jetted in to provide beats worthy of the hotel's incredible views across Dubai Marina.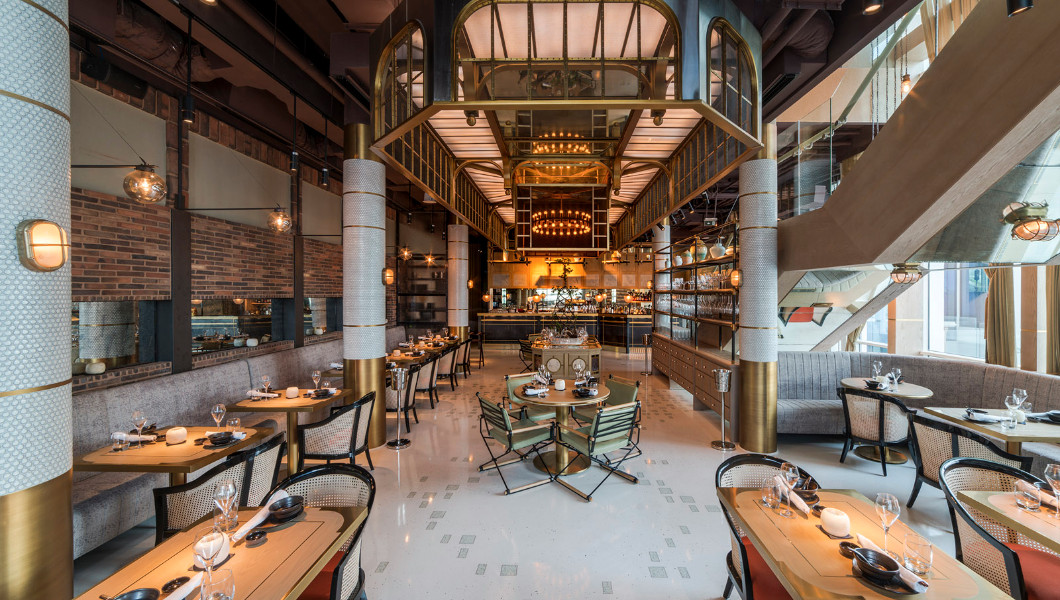 That view is available from the vast majority of rooms, suites and outlets, thanks to the architectural majesty of the gateway-cum-spaceship structure designed by P&T Architects and Engineers. Looking back at the hotel from the shore, it seems as though rooms, suites and residences are bunched up and hemmed in, but views from within are uninterrupted and certainly IG-worthy, even without a filter. Almost as impressive as the picture postcard skyline views is the functional tech available in the rooms. Huge TV screens facing the bed instead of the sofa? Finally. Smart TVs so we can connect our own devices? That's what we've always wanted. Aside from the complimentary high-speed WiFi, the headache-free mod cons really add a nice techie touch to the stylish spaces.

Another unmissable feature, stretching out from The Cube to Praia (the funky Portuguese beach club and bar) is the hotel's 60-metre pool. Shallow, narrow and impressively long, the main pool is less about swimming and more about cooling off with friends and lounging around on a semi-immersed sunbed, or floating alongside one of the tall bar tables rising out of the water. If Michael Phelps was here on holiday he'd have to get up exceedingly early to get his laps in, let alone claim his sunbed, with the sheer volume of guests deciding to flop by the water all day long, but he might prefer to kick back in the adjacent Jacuzzi, peering over into Praia, and summon a series of cold ones from The Pool Bar, which has two serving stations that flank the lengthy water feature.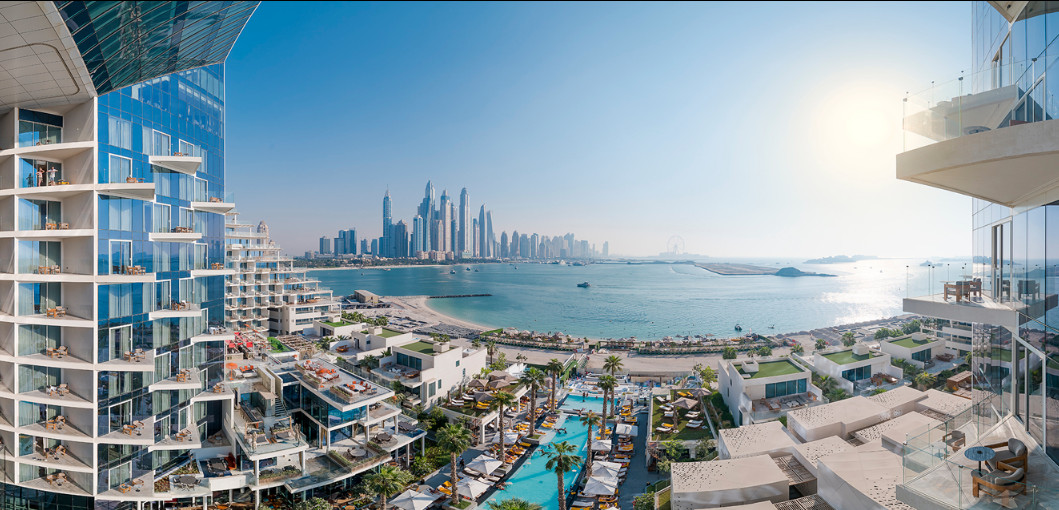 Open for lunch and dinner – as well as liquid refreshment into the small hours – Praia offers an exquisite menu from the Atlantic edge of Europe, with a resident DJ supplying some laid-back beats and seemingly flawless service. The DNA is not too dissimilar from the aforementioned Penthouse, which doubles as both a day lounge experience and transitions into the night, though it has a slightly more Far Eastern culinary bent. The Japan-inspired menu is perfect for sharing with friends, or for more intimate occasions and certainly shouldn't weigh too heavy while you cool off in either of the glass-lined swimming pools. Just make sure to tuck in the tummy when you pose for your latest Instagram uploads.

Also located poolside is Quattro Passi (below), the hotel's Italian ristorante and tribute to the original namesake eatery in Nerano on the Amalfi Coast, which vaunts two Michelin stars. Designed by Chef Antonio Mellino and led by the hotel's Chef De Cuisine, Giuseppe Pezzella, guests can dine with friends, 'famiglia' or their loved one with the classic flavours of Southern Italy, including a range of pastas, seafood, grilled and roasted meats, sharing platters, and assorted pastries and desserts. Please note, however, there are no pizzas in sight – but thankfully room service has you covered if you do want a doughy feast, day or night. The unpretentious décor blends a trendy aesthetic with rustic touches and is ideal for a laid back lunch or a candlelit dinner, with a particularly enticing spa and lunch package on offer.

I should probably clarify that the massage doesn't actually take place in the restaurant – nor the kitchen – but at The Spa, FIVE Palm Jumeirah's marbled wellness haven. The main sanctum is a modern take on a traditional hammam, with a hallway hewn from rock, but the treatment rooms themselves are an entirely contemporary twist; a series of sci-fi-looking cubed pods above the main spa area that area that sit opposite the Maiden Shanghai terrace. The diverse treatment menu offers a range of massages, aromatherapies, reflexology and even a detox program to help you recover from a particularly thorough session at one of The Penthouse's weekend parties. Following your choice of treatment, which could be the 90-minute 'FIVE Desert Sensory Experience', you'll be left to your own devices to roam the spa area and make use of the dedicated pool, a more serene affair compared to the ultra-popular main pool on the ground floor below.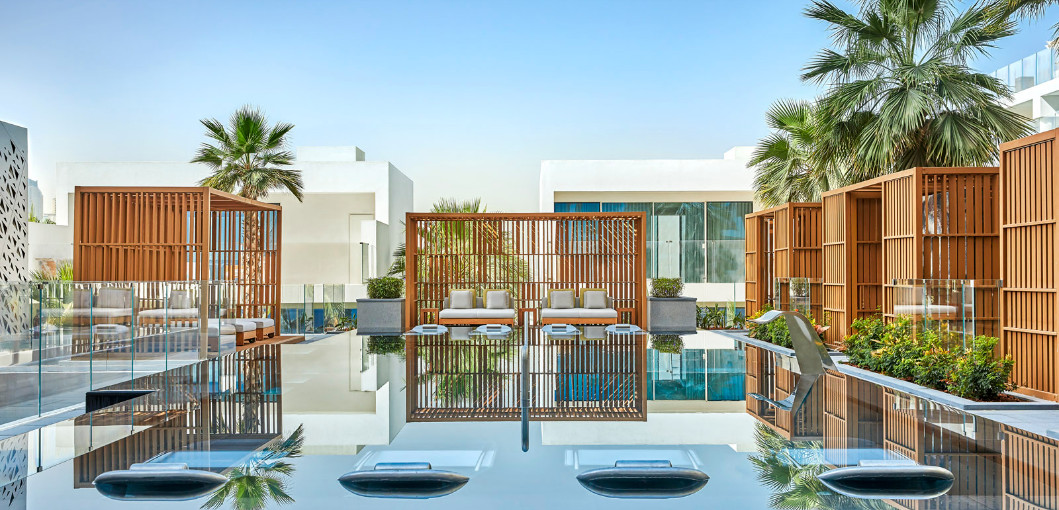 If you're not inclined to burn away some calories at the 24-hour gym, with private and group training packages on offer, there are a multitude of ways to indulge at FIVE Palm Jumeirah: your sweet tooth with some confectionery at The Deliserrie; your tired muscles at The Spa; and your liver at literally any of the bars – to name but a few options. But there's also a tender heart within the trendy setting, which is why the hotel has initiated Project Udaan (meaning 'flight' in Urdu), partnering with a number of children's charities in order to support the goal of changing lives on a daily basis. Long-term commitments include special relationships with the Diya India Foundation, which means a portion of your spends will fund life-saving heart operations for children born with congenital heart defects.

There's also a link with the New Faces Trust, which provides surgeries to children in Bangalore, India born with facial deformities. In the iconic words of the British boy band of the same name: "Five will make you feel alright". It's a slight step down from quoting a literary legend, but it's hard to argue with. From the stunningly tasteful architecture and interiors, with their use of woods, marbles and tiling, and a cheery, enthusiastic staff, great facilities, dining and a captivating view, FIVE Palm Jumeirah is already one of the UAE's finest hotels. Whether you're a party-goer, Zen master or an adventurous foodie, you'll undoubtedly find an aspect of the resort that will appeal to at least one of your senses – if not all five.

---