It's sunset and I'm standing at an open-air club on a hilltop overlooking Vagator beach. Glamorous Indian fashionistas sip cocktails as a DJ spins house music, and performers clad in leather and dramatic makeup prowl around theatrically, blowing fire into the air. As the sun dips into the sea, a trapeze artist swings in the air, contorting her body in dizzying stunts against the horizon. The glam factor at the W Goa's official launch party is already high, but then Joan Smalls saunters past. The Puerto Rican-born supermodel, usually seen sashaying down catwalks in Victoria's Secret fashion shows, is the star guest at the brand's first Indian property, and newly anointed as W Hotels' first Global Fashion Innovator.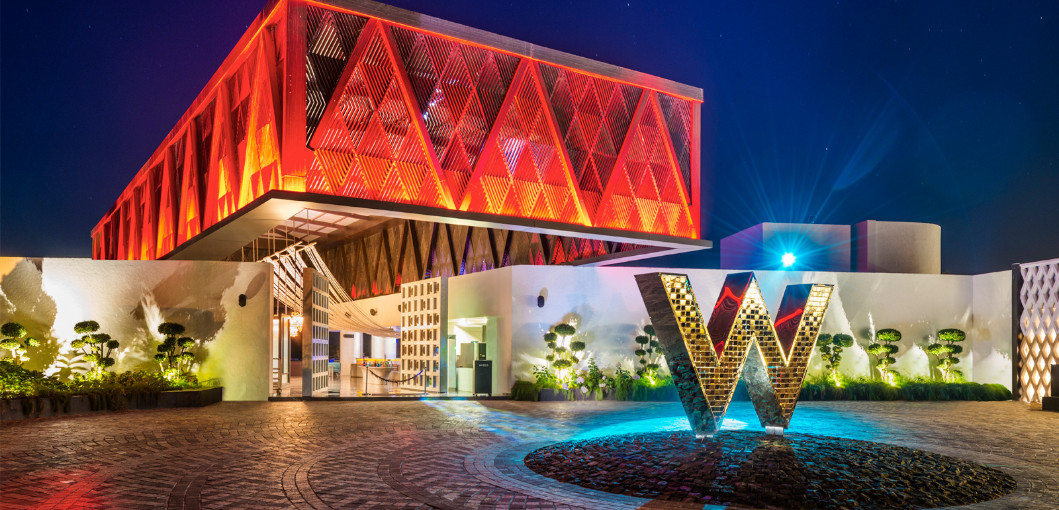 Smalls is not the first supermodel to explore Goa, however. As the cradle of hippie culture since the 1970s, India's southern beach destination has long been a favoured haunt for celebrities like Kate Moss and Jade Jagger, who has a home in Goa, and a jewellery boutique in Ashvem. More boho-chic than ultra-luxe, today Goa is still better known for its hedonistic trance parties than its sprinkling of opulent hotels. But now that W, the hospitality industry's original disruptor, has opened in the South – and with such sexy fanfare – luxury travellers have a new place to play.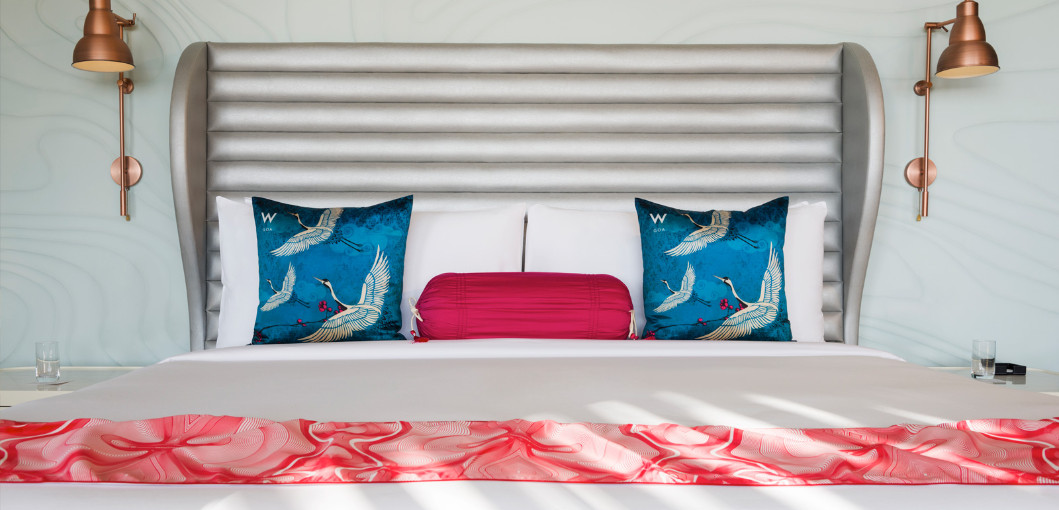 ---
Just as there's nothing subtle about Goa, there's never a dull moment when it comes to W Hotels design, and the eye-popping lobby, known as the Living Room, at the Goan property is one of the highlights. Thick strands of fishermen's rope fall from the ceiling, reimagining the nation's ubiquitous flower garlands and the state's nautical heritage, while at every turn, colourful art abounds. At check in, staff are flanked by the psychedelic colours of murals painted by Indian artist M. Narayan, and the dedication to local talent is far from tokenistic, with faithful references to Goan creatives throughout, such as husband-and-wife duo Sachin and Babi, members of the Council of Fashion Designers of America, who designed kitsch, Goan-inspired scarves and tote bags exclusively for the hotel. There are 160 equally colourful guest rooms in the brand's signature categories – Wonderful, Fabulous, Spectacular and Marvelous – along with a series of villas tucked in beachfront coconut groves along an Edenic coastline, right up to the Extreme Wow Villa (the brand's version of the Presidential Suite) – and as to be expected, the interiors are Goa meets Miami by way of an illicit substance. Everything is idiosyncratic, catches the eye and is sprinkled with boho flair, from the black-and-white screen prints of Portuguese heritage buildings behind the beds to the Portuguese tiling and Bodhi-leafed mirrors. Victorian chandeliers come in neon hues, and scattered on the sofas are cushions featuring auto rickshaws. Every suite has some access to the great outdoors, whether it's a patio that backs onto a communal garden, or a private patio with a lap pool.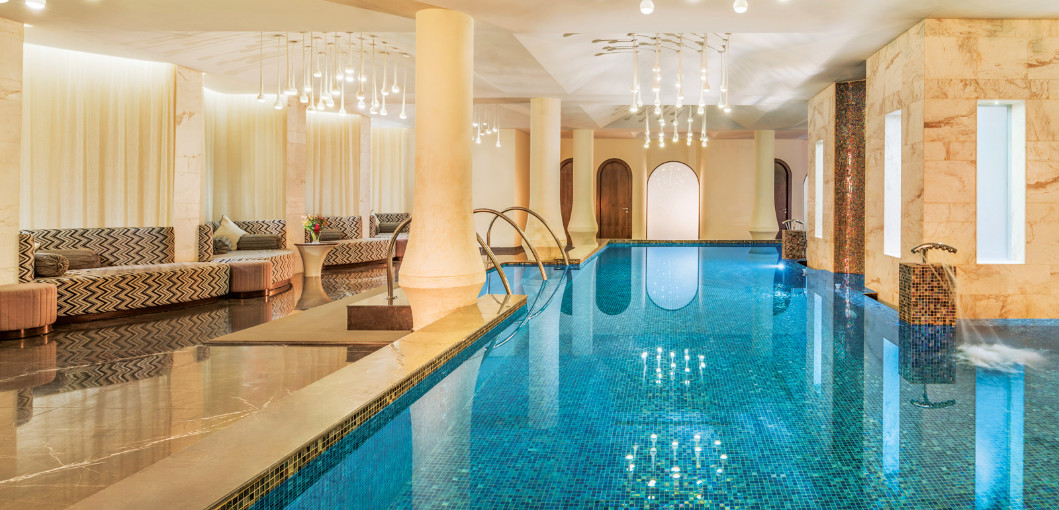 W regulars will find much of it reassuringly familiar, though there are quite a few firsts with this property, such as Clarins' first spa in India, tucked subterranean style beneath the hotel with a dazzling wet area, the ideal spot to repair in W's suggested itinerary of "detox, retox and repeat". But even hedonists grow up – and there's no surer sign of this evolution than at this resort, which is the first W property to have a Wee kids' club. It's on the petite side, but with a yellow slippery slide, friendly staff and a soft play area with scores of toys and games, along with a trampoline on the grass just outside, there's plenty to keep my little boy entertained, plus activities for kids and teens like aqua aerobics and even family yoga.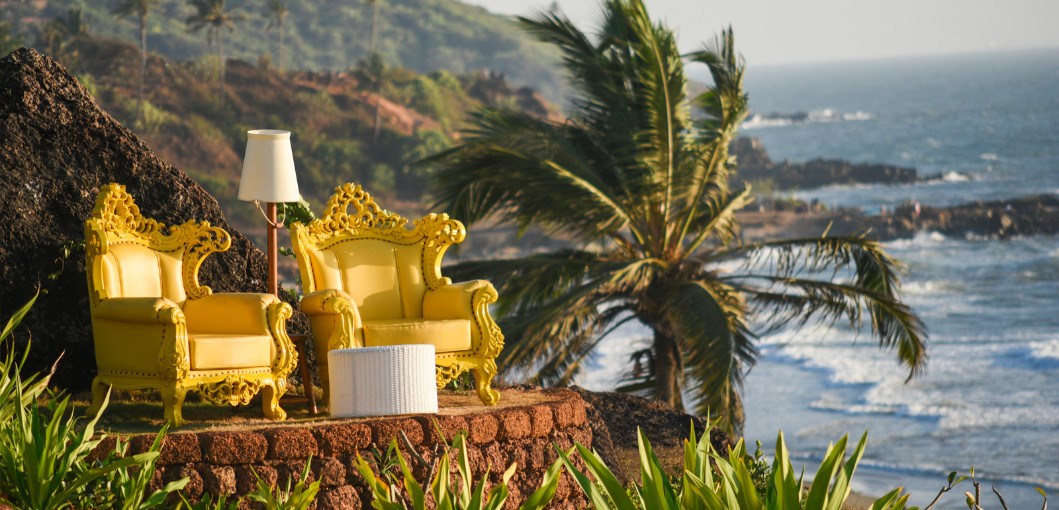 Even by the pool, I notice that couples with children seem to be the majority, though W is far from developing wrinkles. If ordering tequila at Woo Bar, the menu suggests drinkers "go neat or go HOME!", while throughout the property, the brand's devotion to music is also amplified – literally. No matter where I stroll, there's a hip soundtrack of electro-beats selected by Hasnor Sidik, W Hotels' music director for Asia-Pacific. Among the talent mixing tracks for the hotel is Aneesh Gera, a Goan producer who splits his time between his studio and London. On an outing with one of the W Insiders – local ambassadors who have a little black book of all that is hip, chic and must-visit-now – we visit Gera's studio (inside an ancestral building with a 400-year-old deity statue, no less), listening as the passionate producer fuses progressive electronic music with traditional Indian percussion instruments and the haunting vocals of a local singer. We also pause in Panjim, Goa's atmospheric old town where streets are lined with charming old Portuguese mansions. Inside one of these is the fashionista favourite, Sacha's Shop, (Swami Vivekanand Rd.; +91 832 222 2035; www.sachas-shop.com), a treasure chest of Goan-made or Goan-inspired fashion, jewellery and collectibles. With gems like this scattered kilometres apart, and a vast number of beaches and towns to explore, a car is necessary to properly explore Goa's sights. Some of the other must-sees are the gorgeous Portuguese churches like the Our Lady Of The Immaculate Conception Church, the brilliant blue-and-white structure standing sentinel among towering palm trees in Panjim. There are also culinary discoveries en route, such as Mustard (78 Mae de deus vaddo, Chogm Rd., Sangolda; +91 98234 36120; www.mustardgoa.in), a delightful French-Bengali restaurant off Chogm Road, which has a sun-dappled courtyard with live music and a vegetable garden. With many dishes fused with mustard oil or mustard seeds, it's a style of cuisine that's become hugely popular in Goa, I'm told, but despite the fab chingri maacher malai kari (a creamy coconut prawn dish) and fish paturi wrapped in banana leaf and imbued with mustard, ginger, onion and coconut, there's plenty to tempt back at W Goa.

---
Just as there's nothing subtle about Goa, there's never a dull moment when it comes to W hotels design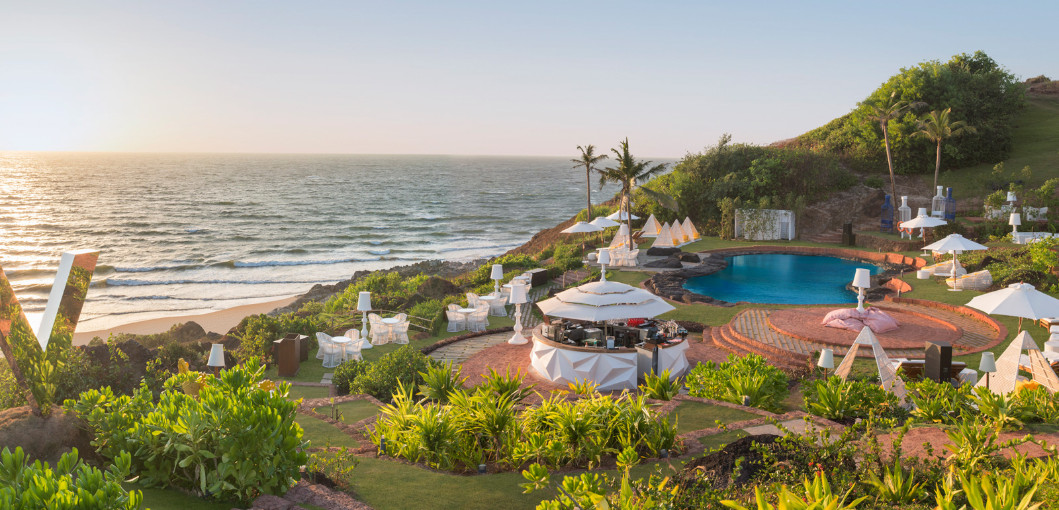 I'm still smarting from the spice infusion the next morning, which I sweat out on a hike up to Chapora, a 16th-century Portuguese fort that towers over Vagator, with sweeping views of the coastline. The red earth still clings to my feet down at the beach, where I time a walk just before sundown, when Vagator is at its most atmospheric. Crowds of families and friends have gathered to watch the sunset; some are seated on the rocks that jut out into the Arabian Sea, but by the peak of the performance, I'm at Rockpool, sipping something tropical as the breeze (and the beats) pick up. Shaped like a natural amphitheatre with a pool, teepee-style cabanas and even a pair of yellow throne-like armchairs perched on a cliff, W's 4,500-sqm, cliff-top bar is by far the best seat in the house for a sundowner, and for revelling in "susegad". Derived from the Portuguese word sossegado (quiet), the Goan term roughly translates to a laid back, carefree vibe – or in W-speak, chillaxing.

---
Stay:
W Goa
+91 832 671 8888