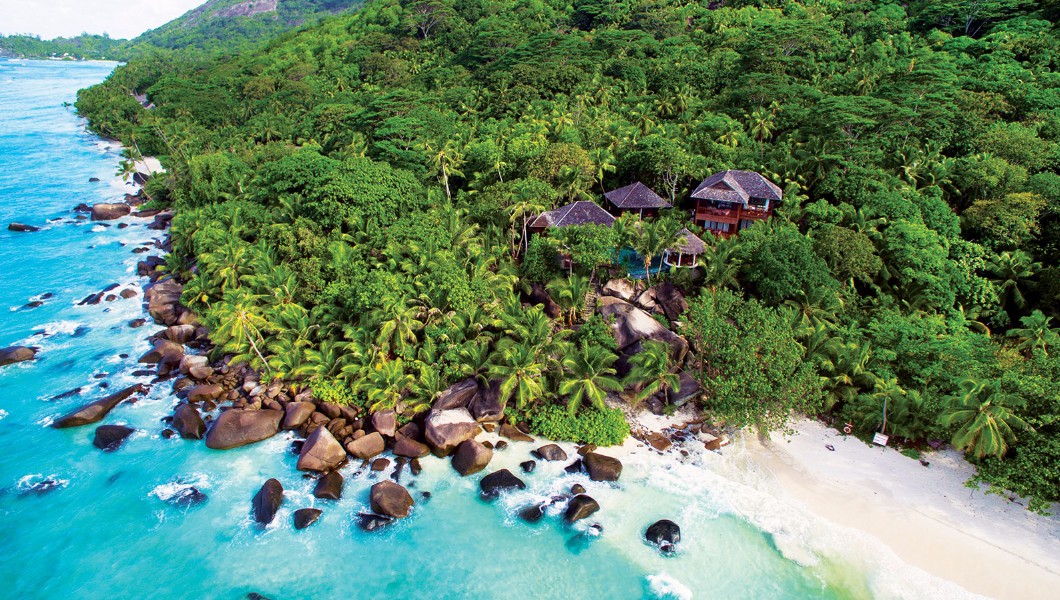 FROM JET TO JETTY
"There's nothing on this island that will kill you." This wasn't an answer to a question I'd asked, or even thought about, but now I was suddenly curious. Surely a falling coconut could do some serious damage? My guided tour of Hilton Seychelles Labriz Resort & Spa had essentially been a leisurely spin around the fertile complex in a golf buggy, but this was an abrupt and dramatic tangent.
"Well, you might see a hairy caterpillar… you don't want to touch that." On reflection, it wasn't such a strange comment. This was Silhouette Island, a half-hour boat ride, 20km from Mahé, the foremost island of the 115-member island cluster and the home of Silhouette National Park, spanning 93 percent of the landmass – a lump of earth so verdant that its 751-metre ceiling, Mont Dauban, is barely accessible without a gang of chainsaws.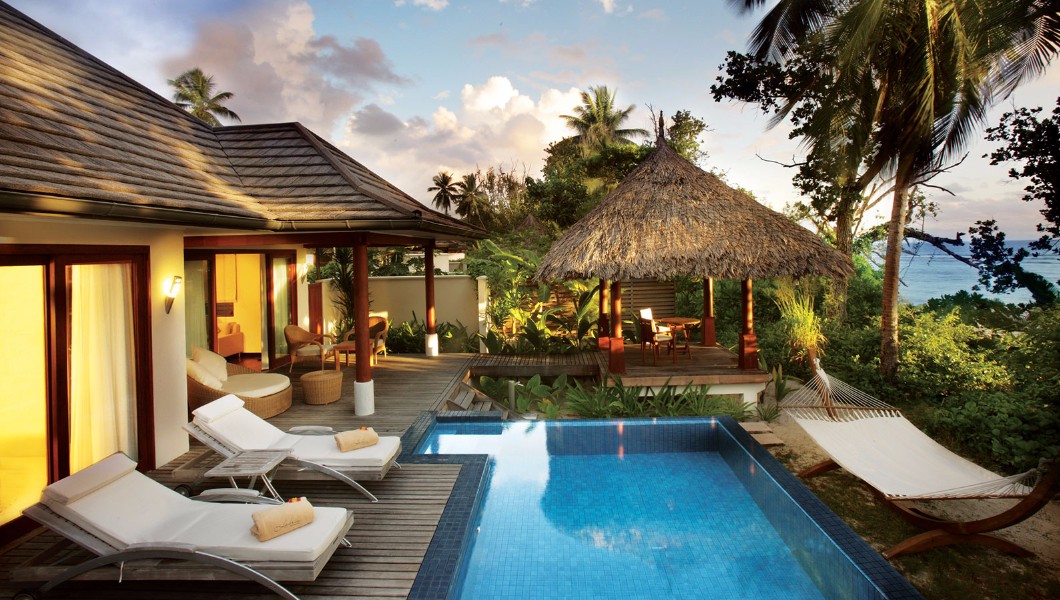 Save the ferocious caterpillar, this might be the safest tropical island playground on offer. Despite trekking to a few corners of the island reserve, and discovering (among a multitude of other things) secluded coves, shy lizards and wonderfully serene pathways, it turned out the prickly yellowish critter didn't make an appearance during my stay – but the advice soon came in handy when I encountered my first shark. After a lavish buffet breakfast at Café Dauban I was fully unpacked and strolling back out of the resort across the lagoon walkway to catch a boat around the island and explore the views below the surface.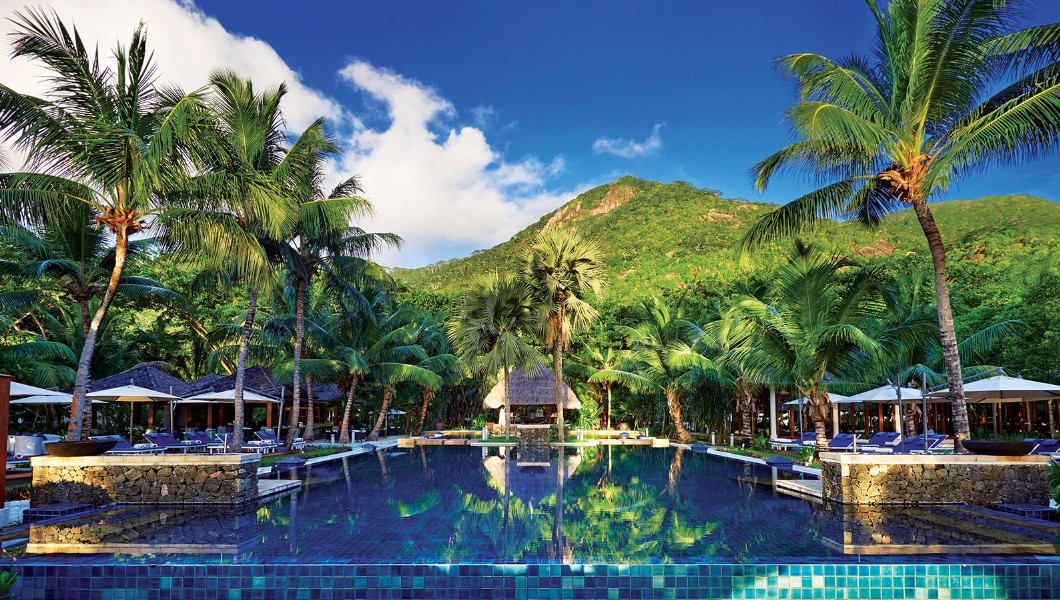 The 20km-square island is maintained and monitored to a meticulous degree. The local ecologists could readily list the number of house cats and giant tortoises, with a clear idea of what feathered friends would be lurking among the palms. But the Indian Ocean is a different beast. Plunging below, the near transparent waters around Silhouette are home to multitude of sea life so dense, varied and vivid that it's like an audition day for the next Finding Nemo movie. Or like an aquatic version of Hitchcock's Birds, minus the horror.
The two whitetip sharks were utterly nonchalant at my arrival, weaving their way around the topographic granite floor below, though I made sure not to extend any digits in its general direction. Because you just can't be too sure. Within two short hours, I'd been acquainted with shoals of darting fish, trio of sea turtles, a bobbing family of squid, I thought I'd seen it all. But a pair of eagle rays the size of some flattened out Mini Coopers glided past our boat as we ambled back to the jetty.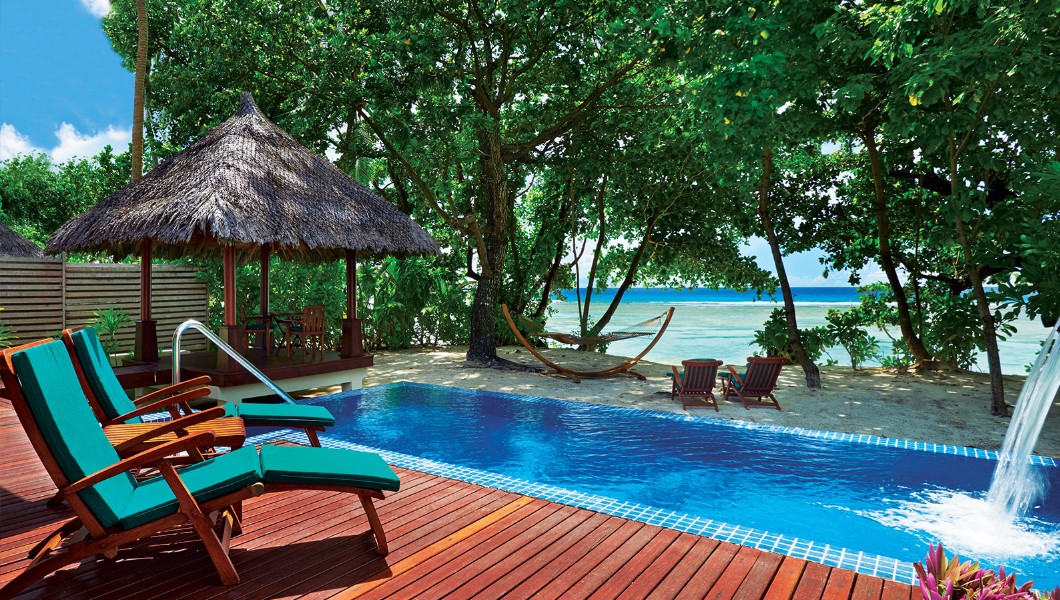 A PLACE AMONG THE PALMS
The aforementioned Café Dauban harks back to the Dauban family of France who once owned the island from the mid-19th century. "Rothschilds of the Indian Ocean" had developed plantations on the volcanic island, as well as several properties that have been painstakingly preserved until today. The resort itself, however, strays from the colonial style of the listed Grann Kaz reception building, for a more chic, ocean-facing experience. My stay was in a King Oceanfront Villa, which as the name suggests, is quite a regal dwelling right up on the shore.
Thanks to some natural foliage, there's plenty of privacy in the sandy "front yard", with a deck for lounging immediately out of the sliding French windows. Inside, the studio villa is centred around the inviting 300 thread-count king-sized bed, with a surprisingly spacious, white-fixtured bathroom – and an outdoor rain shower to bathe at one with the elements. And if you're a real water baby, don't overlook the beachfront villas with the plunge pool option.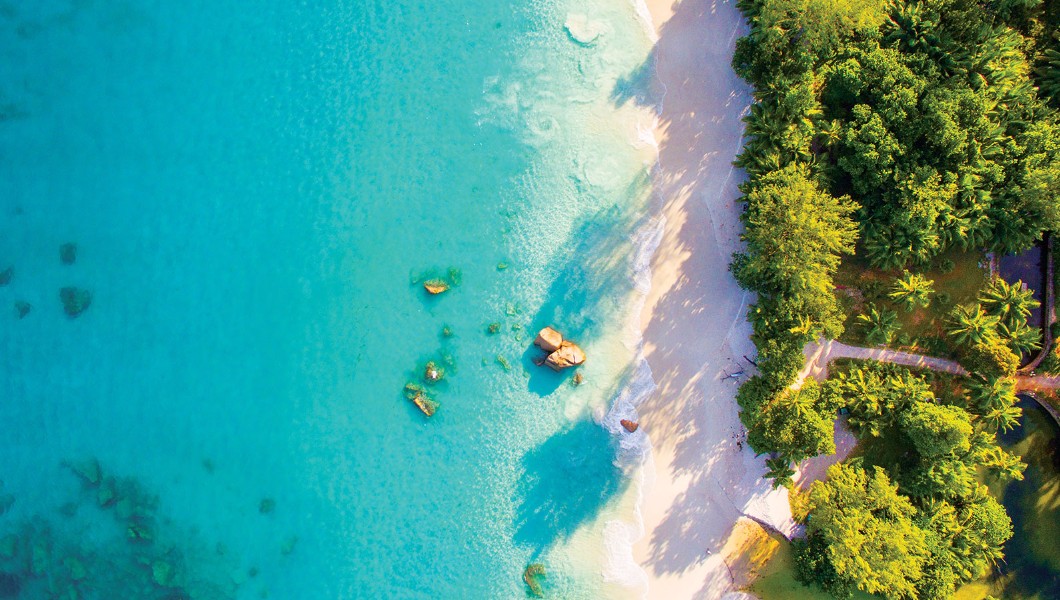 Following my close encounters of the underwater kind, I was happy to unwind between the villa and my personal slice of beachfront before sampling some dining options. With seven on-site restaurants, it would be a challenge to sample every menu highlight within a short stay, but Friday nights present a hand solution in the form of a "Street Food Night". Following a torch lighting ceremony that seems to involve the entire resort's staff, the pool area and adjacent restaurants (La Pizzeria and Lo Brizan) are transformed into a food festival with handy bites and dishes from various corners of the globe.
The variety of cuisine reflects the diversity of Creole cooking, with pan-Asian, European and African influences; sushi, pizza, barbecued meats, a noodle bar, and even a Mexican taco station for flavours from further afield. The following morning, still semi-stuffed from the night before, I made sure to scope out a more formal venue in the shape of Portobello, Labriz's Italian fine dining restaurant, which has a comprehensive à la carte breakfast menu. My one shortcoming, however, was not booking a seat at the Sakura, a taste of Asia, open for dinner only – aside from private cooking classes.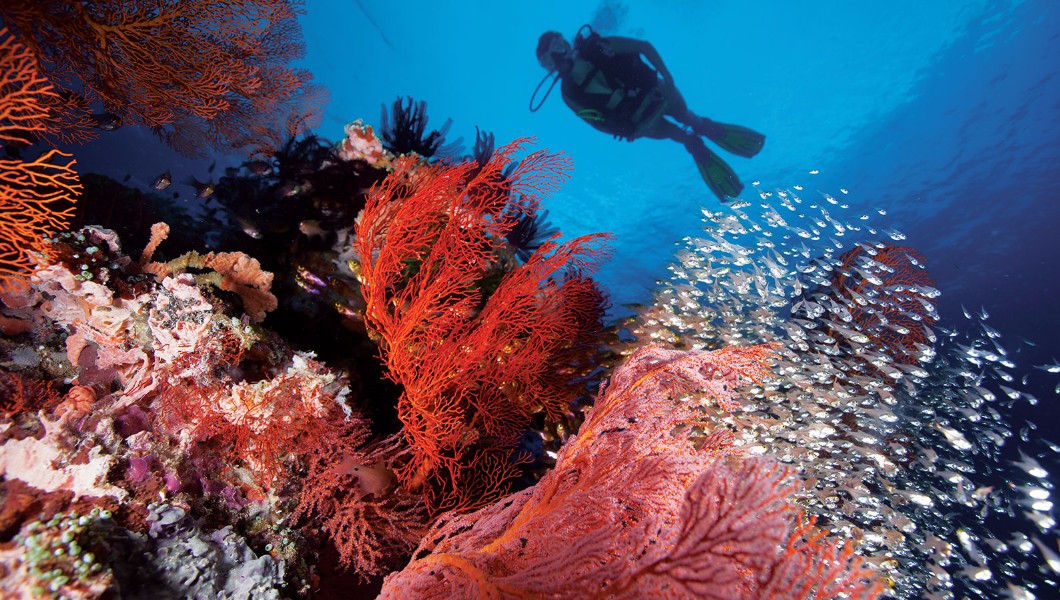 THE HILLSIDE HIDEAWAY
Disappointed for brief a moment that I'd miss a hand's on cooking experience with Hilton chef, I was suddenly salivating at the thought of getting behind the stove at Hilton Seychelles Northolme Resort & Spa. Cruising back to the mainland of Mahé, it wasn't long before I was checked in, freshened up and plonking myself in a seat at Les Cocotiers. The hotel's exec chef Kevin had prepared a preview of the soon-to-be updated menu, with a goat's cheese parfait to start and a generous salmon portion with scallops and a succulent pea sauce.
Retiring early to make the most of the following day, I was more than happy to tinker around in the King Hillside Villa – a lavish wooden lodge perched above the lapping waves of a secluded beach below – for a more private splash than the resort's centrally located infinity pool. Decked out in dark woods, the cosy space features a Jacuzzi tub to soak in, large armchair to flop in, and a large viewing deck where you can nap, read, dine or just watch the world go by. With a view of the bay, you'll soon be spotting the immense fruit bats zooming between trees, no doubt munching on the variety of sweet treats in the lush surrounds.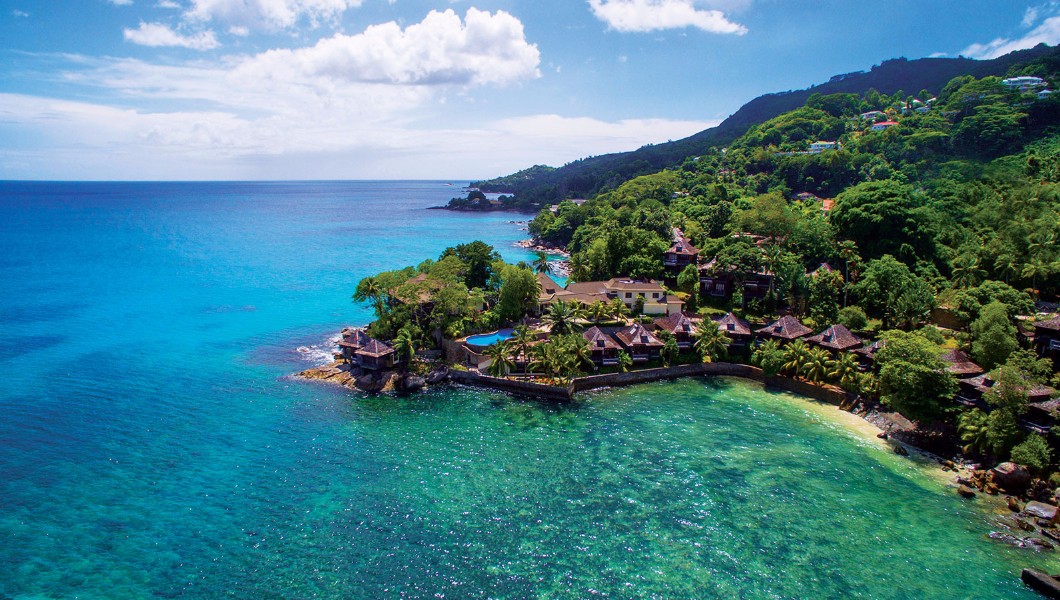 James Bond author Ian Fleming is said to have spent time in this particular corner of Mahé, and the resort even had a dedicated Fleming-themed accommodation for some time. It's easy to see why the writer tucked himself away in the Seychelles, with space to think and the apparent slowing of time to aid literary inspiration. If only time slowed even more at the eforea Spa, where an hour or more on the massage table, waves gently folding below the ocean-facing chalet, is a surefire way to unwind.
I'd checked out from the 100+ Labriz jungle resort, filled with families, and checked in to a chic hillside hideout, with a little more than 50 villas, making this the smallest Hilton "hotel" in the brand's entire global family. The absence of "little ones" clearly creates a different atmosphere, with couples kicking back on the various verandas around the Ocean View Bar as the deep orange sun plunges behind the horizon. But my afternoon wasn't entirely dedicated to contemplation – I had an appointment with Chef Kevin.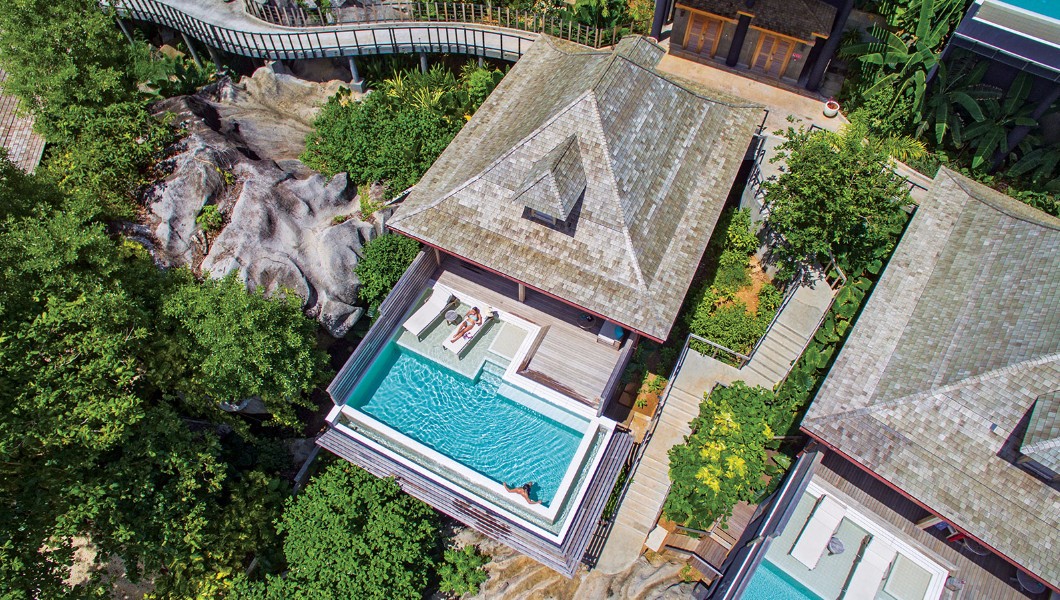 Returning to the lofty Hilltop Restaurant, where I'd enjoyed an English breakfast and honey-laden waffles earlier in the morning, the team had prepped a colourful range of ingredients ahead of the afternoon cooking class. All I had to do was refresh my wine glass and say "yes, chef" when necessary. Kevin, a Northern Ireland native, got to grips with Creole cuisine during his four years on Mahé, overseeing teams of budding local chefs and fervently absorbing the culinary culture. After slicing and dicing my way to a homemade orange juice salsa, I was soon slurping on a hearty seafood soup and eventually searing some red snapper in a scorching hot pan – with a heap of butter and more than a splash of the white wine that was at hand.
The cooking classes are popular, I'm told, and the classes are a fun and engaging break from the utter hardships of lounging around. Pocketing the recipes I'd just been walked through, I made a beeline for the beach for a round of paddle boarding. Getting the opposing view of the resort from the water, it's easier to see how these spacious villas offer utmost privacy, especially the newer premium options with private pools – perfect for honeymooners who want to maximise their time indoors.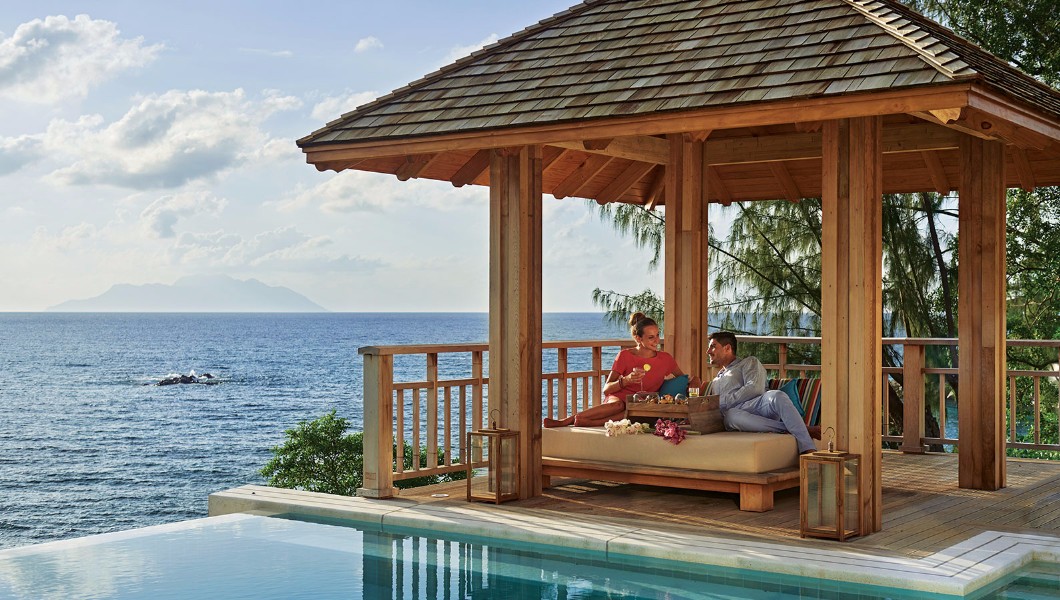 Whichever resort is more to your fancy, their sibling properties certainly complement each other well, and many holidaymakers end up combining an experience at both the Labriz island escape and the elegant Northolme. Either way, despite the literary reference in this article's headline, the Seychelles clearly doesn't have so much in common with a Dickensian novel. Far from the bleak, inner-city themes of Victorian (or dare I say modern?) life, the vibrant and perma-sunshiny archipelago is pure escapism that transcends even the greatest work of fiction. It's so tangible, effervescent and utterly vivid, you'll be flicking through the pages in your memory banks for years to come.
Stay:
Hilton Seychelles Labriz Resort & Spa
La Passe, Silhouette
+248 4 293 949
www.hiltonseychelleslabriz.com
Hilton Seychelles Northolme Resort & Spa
N Coast Rd, Glacis
+248 4 299 000