Despite being a vast, hefty construction, Dubai's Downtown 15-storey Ritz-Carlton is overshadowed (only in the literal sense) by the picket fence of skyscrapers that line the city's superhighway. But once you roll off Sheikh Zayed Road and into the business district, the hotel is nigh on the most imposing buildings in the neighbourhood. The 341-key property is heavily based on art deco design with some Arabic flourishes and countless contemporary works of art strewn through the public spaces and corridors. The seven dining venues each present their own aesthetic, including Le Cirque, touted as the Big Apple's oldest French fine dining concept.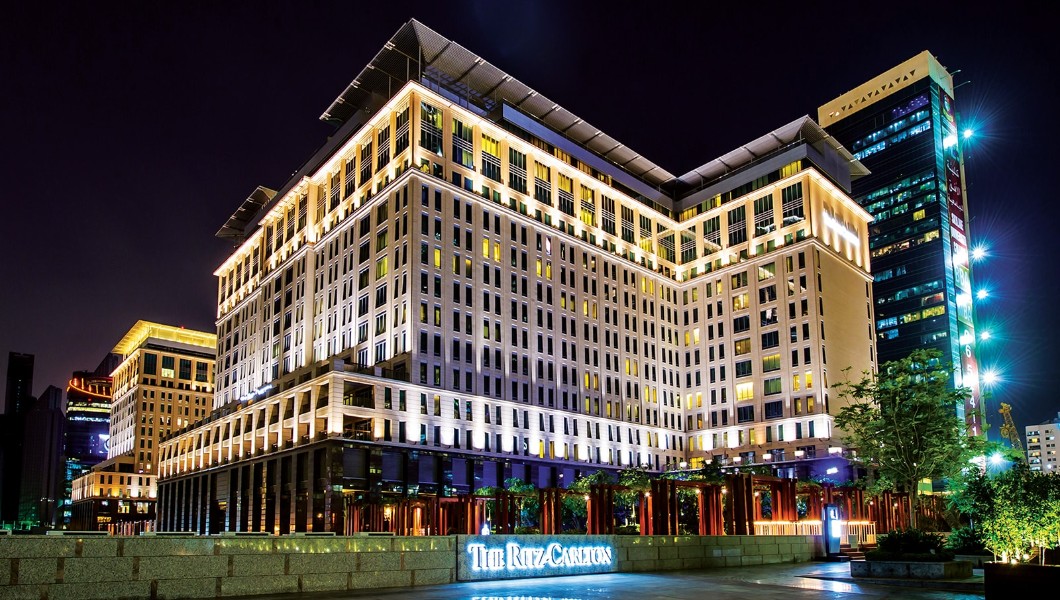 Junior whopper
One of the first tweets I posted when I moved to Dubai was from the lobby of The Ritz-Carlton, DIFC. To paraphrase: "the bathroom in the lobby of The Ritz-Carlton, DIFC is bigger than my apartment". It was about a month after I had arrived in the concrete jungle and I was still very much within the phase of gawking at all the fancy buildings. This one was no exception – except I was more focused on the interiors. If you haven't had the pleasure of perusing the hotel, I can assure you it wasn't hyperbole. And the reason I'm now recalling a vintage tweet? Because seven years later – just last month – I realised the bathroom in my suite was even bigger.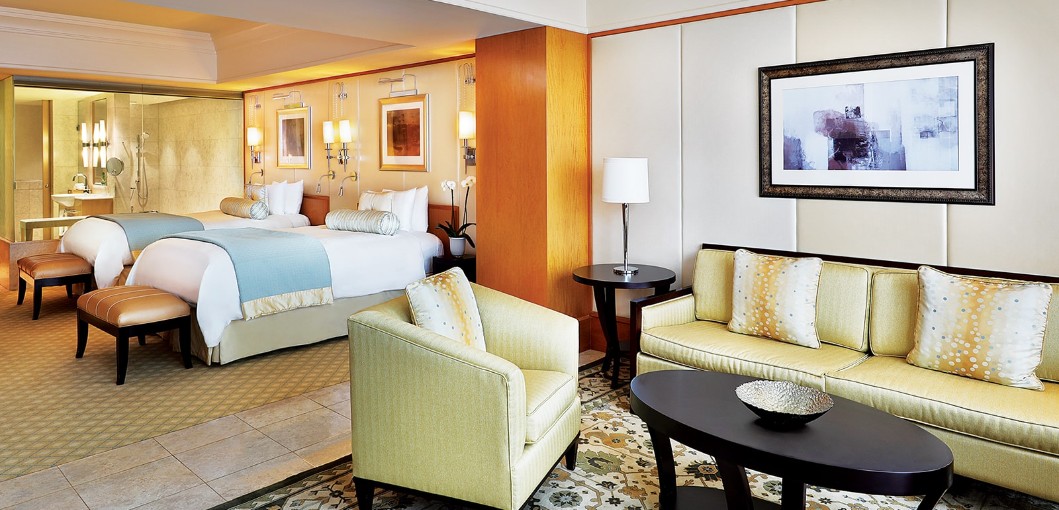 I'm no longer a prolific tweeter so I didn't rush to update my several dozen followers on my sporadic bathroom commentary – but I was enthralled with the quality of echo I could produce in the combined shower, WC and closet area. Starting from 59 sqm, the space doesn't sound as capacious as it feels, but your door opens to a small corridor with a guest bathroom (also very large) ahead of the desk and dining area, complete with mini bar and coffee-making facilities. Ahead of you, the lounge puts a plush L-shaped sofa across from the TV, with an armchair completing the seating layout. The vibe is classic, elegant and very much in keeping with what you'd expect from a Ritz-Carlton suite – luxurious.
Light and dark tone woods, fine linens, oversized rugs and a stunning marbled bathroom – it's your own private palace
An echo location
Stepping through into the bedroom, the first thing you'll notice is the size of the king bed. Not just wide enough to sleep on at any angle but surprisingly high off the group. The huge slab of soft white dominates the room, across from a second TV, with another desk-cum-dresser, easy chair and a couple of storage units for stowing your essentials. The actual wardrobe lies past door number three, a frosted glass gateway into the aforementioned marble bathroom, which produces an echo perfect for shower-based a capella sessions. You won't be short of amenities, with a full complement of Asprey's Purple Water amenities and grooming products.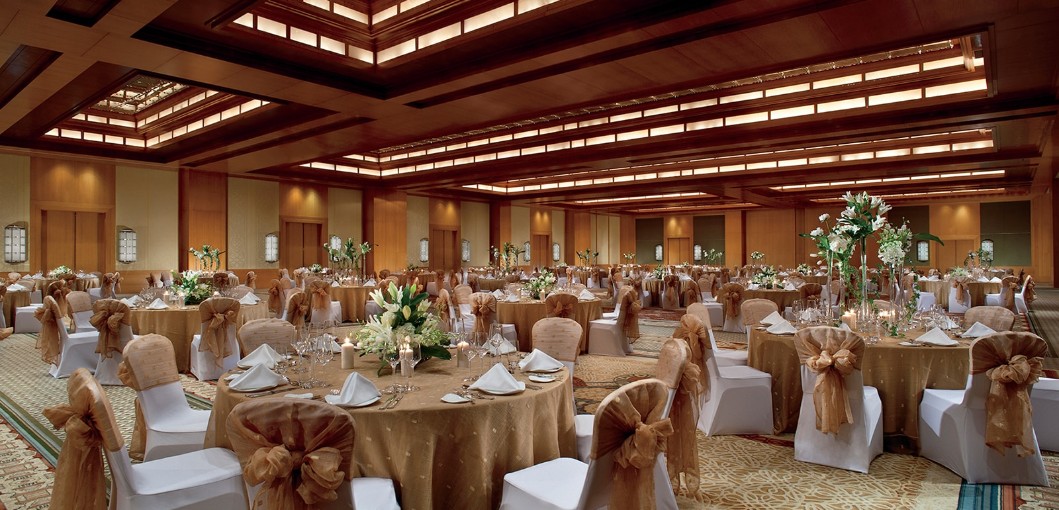 The suite experience can be enjoyed without tapping into the hotel's swathe of eateries or entertainment options. It's tempting just to bunker down, order room service and let the hotel staff attend to every need in your little art deco hideaway. Light and dark tone woods, fine linens, oversized rugs and a stunning marbled bathroom – it's your own private palace – but at this time of year you'll want to venture out and enjoy the mild weather. There's certainly space for a Jacuzzi (or a production of La Perle) in your suite's bathroom but without a space to soak, you may choose to venture to the 15th storey pool. Catch some rays and order from the light menu as you enjoy the views of the surrounding behemoth buildings.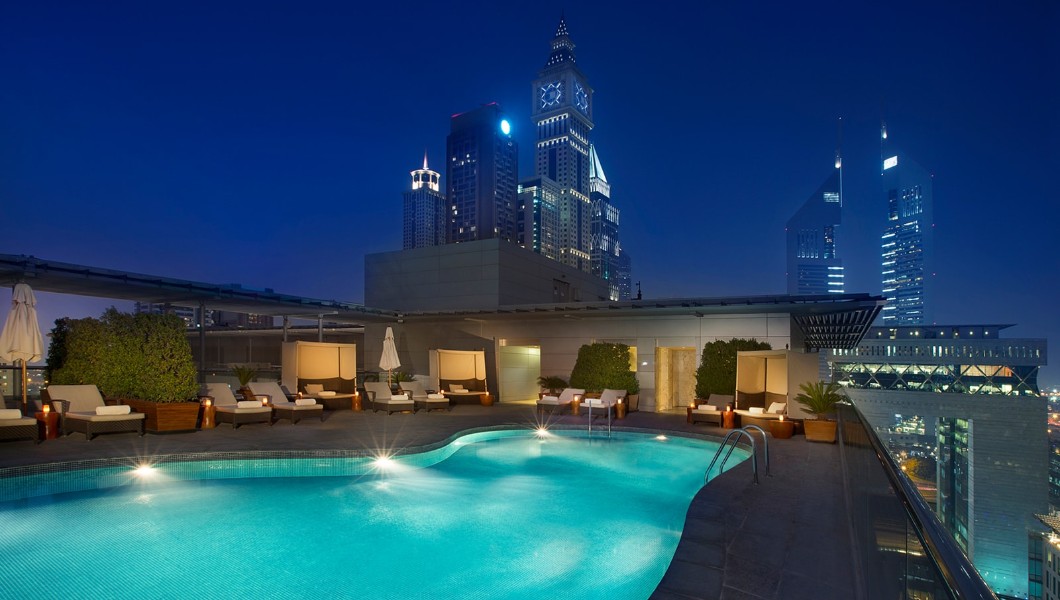 Drift off on your lounger but don't miss out on the executive haven that is The Ritz-Carlton Club Level. For a heightened level of comfort and personal exclusivity, the Club Lounge at The Ritz-Carlton, DIFC is only accessible only to Club Level guests. This oasis is often referred to as a hotel within a hotel, with exclusive amenities and continuous culinary offerings including breakfast, light lunch, hors d'oeuvres and sweets, with premium beverages available from midday. With a dedicated concierge at your service, it is the ideal place to conduct business, plan a couples retreat or simply unwind. There's even a welcome cocktail to sample after a long day in Dubai (or unwinding in your suite) and a generous buffet that's refreshed several times throughout the day.
Downtown Romance
To commemorate romantic moments in February there is a special package available February 14, which includes a multitude of exclusive experiences such as a 60-minute couple's relaxation massage in the award winning spa, local pick-up and drop off by the hotel car, an exquisite brunch at Café Belge the next day, complete with dining in an intimate ambience of Le Cirque featuring an extensive array of delicacies and bubbles – perfect for a memorable celebration of love in the bustling city. There's no rush whatsoever with a 4pm check-out and your loved one is sure to be touched by the customised in-room floral arrangement. Simply check the hotel website for more details.
To read more about hotel's spa, fine dining venues and how to enjoy the best of Dubai's financial district, pick up the upcoming "48 Hours in DIFC" feature in our March edition.
Stay:
WHAT: Junior Suite
WHERE: The Ritz-Carlton, Dubai International Financial Centre
Price: from $340 per night
TEL: +971 4-372-2222