There's something undeniably romantic about arriving in the African bush by water, particularly when it's fiery red from the setting sun. Half an hour earlier, I was touching down on an airstrip scratched into the Zambian savannah, where runway traffic amounts to a couple of skittish impalas and grazing zebras. A short and breezy river taxi along the mighty Zambezi and I'd arrived at my destination, camouflaged in a grove of evergreen mahogany. Owner-run Chiawa Camp was established in 1989 by the conservation minded Cumings family, making it the Lower Zambezi National Park's longest-standing camp.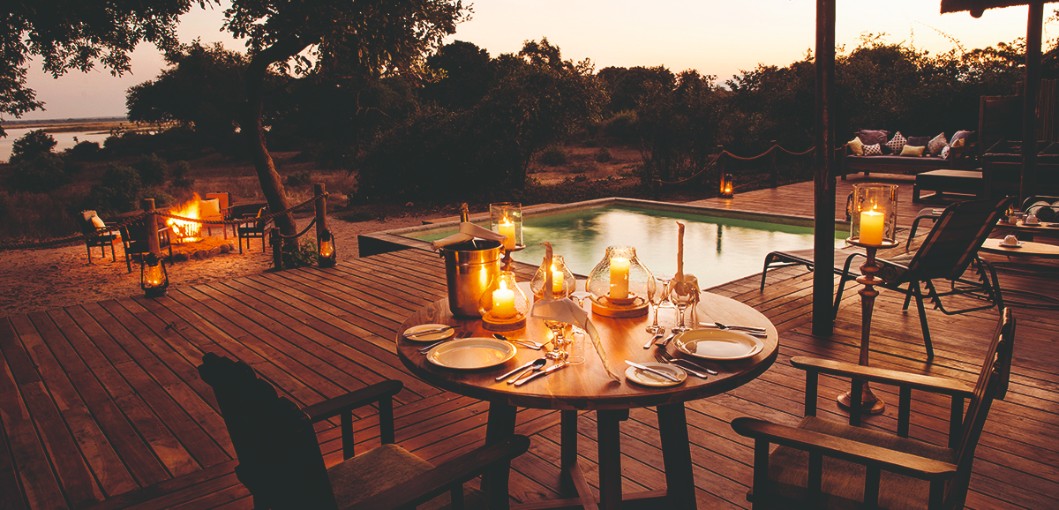 No sooner have I stepped onto terra firma than I'm whisked upstairs to the observation deck to witness a bull elephant wade into Zimbabwean waters. The transboundary Lower Zambezi (all 1,600 square miles of it) was formerly the private game reserve of Zambia's president before being designated a National Park in 1983.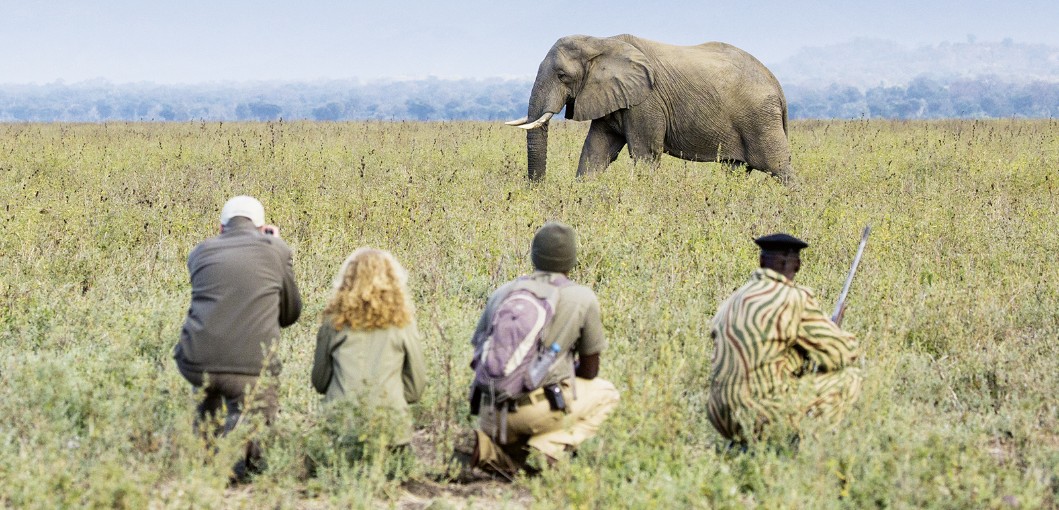 Lightheaded from the views and my first wildlife sighting, I'm led along a sandy trail past Chiawa's nine Meru-style tents hugging the riverbank. Set on an elevated corner plot, the camp's only suite is a safari tent hybrid of thatched roofing, timber beams and grey canvassed walls. Inside, it's a study in bush luxe.
Teak floors and antique copper weathered taps embody the camp's colonial aesthetic, with bleached-wood side tables, mosaic mirrors and muted grey soft furnishings infusing some Scandi cool.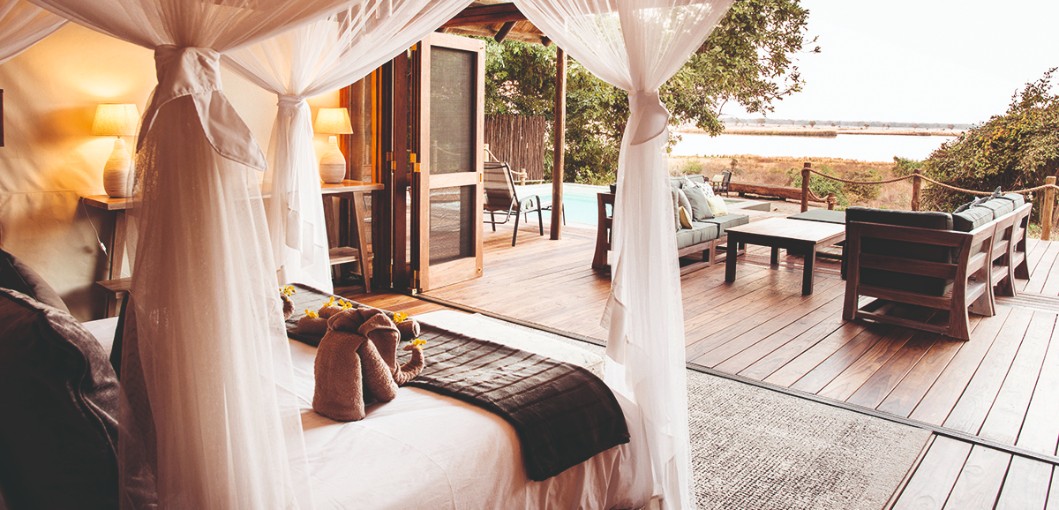 From its come-hither super king bed or claw-foot bath you can eyeball a private plunge pool and, occasionally, a long-trunked bather. Folding wooden doors stretching the 16-metre width of the 96-sqm suite open out to your very own Out of Africa – a dry riverbed where game congregate, framed by an escarpment sloping down to the Zambezi. Swaddled in wool blankets, I cosy up beside the fire pit with a sweet potato coconut curry and the ultimate bush playlist: snorting hippos, humming cicadas and rustling waterbuck.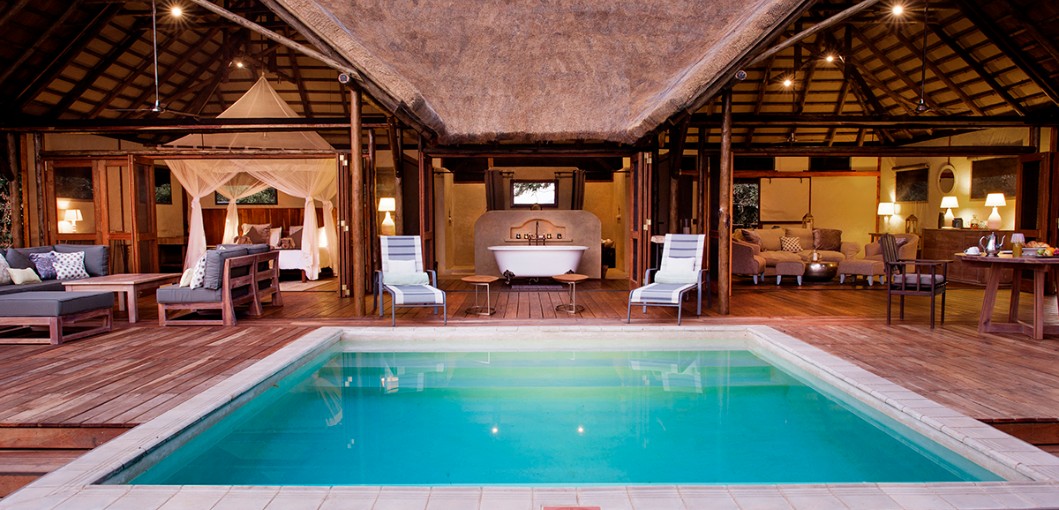 The next morning, I'm coaxed out of my 6am slumber with tea and warm muffins. I eschew four-wheels for a walking safari; Zambia pioneered them after all. "They're designed to observe things a game drive misses," Chris tells me. He's one member of Chiawa's award-winning guiding team and an expert in "reading the dirt" – from elephant dung to feathers.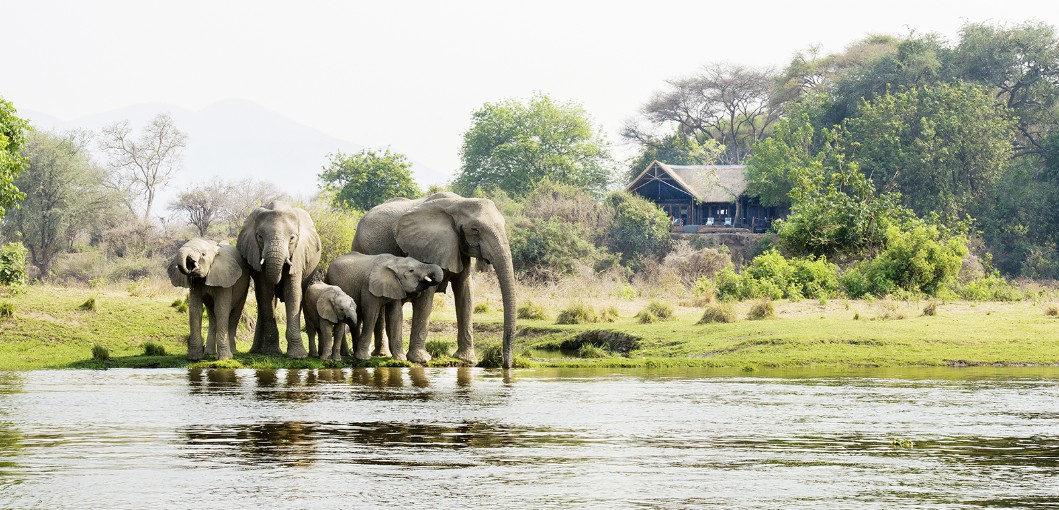 Over the course of three hours, I drink up the tiniest of details, from the medicinal golden flowers of scrambled egg bushes to freshly laid lion tracks. Save for a few baboons kicking up dust and clumped herds of buffalo on the horizon, there are no too close for comfort wildlife encounters to report. The big game and even bigger gasps are reserved for Chiawa's legendary night safari drives. Our preparation? A very British afternoon tea of scones and sandwiches, piled high on multi-tiered cake stands in the teak-furnished lounge-library.
As for the drive, our sun-chasing Land Cruiser weaves through dense bush that gradually unfolds to vast plains, where giant baobabs reach for the sky. We hold our breath as a pride of lions eye up a sounder of warthogs, only for howling baboons to blow their cover. There may not be a heart-stopping chase, but the sight of hippos cannonballing into Bad Angle Road Lagoon makes for eventful sundowners. A white clothed table is quickly set up; G&T's are mixed and before too long, night unfurls its inky wings, prompting us to hit the road again.
Guide Moses points out a banded tail slipping into the low brush. "It's a civet," he whispers, explaining the unlikely link between the nocturnal mammal and the world's most iconic fragrance. Back in the 50s, its prized musk put Chanel No.5 on the map. Our eleventh hour highlight is one of Zambia's stealthiest hunters, a leopardess, stalking through tall grasses just metres from camp.
There, gathered around Chiawa's curvaceous teak bar, guests are serenaded with a pre-prandial recital by the camp's own choir. A veritable feast of Thai butternut soup, lemon parsley crusted bream and pear praline crumble spanning four courses unfolds, served up on an 18-man table hewn out of a winter thorn tree. If you prefer your company four-legged, Chiawa can arrange a romantic dinner on a private island near camp, in the bush, or a floating barge lunch with bubbly.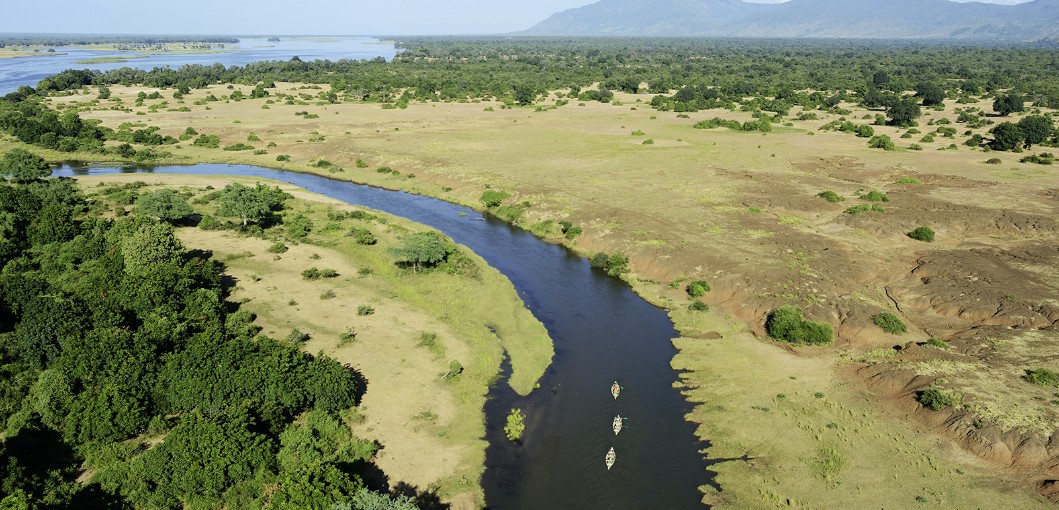 Determined to marvel at wildlife from a water-based vantage, my penultimate afternoon is spent on a 7km canoe trip along the half-moon Inkalange Channel. Aside from the cautionary snort of hippos, the experience is blissfully tranquil, with guides manning the paddles in the fiberglass canoes, allowing us to sit back and enjoy the view. Malachite kingfishers dart between reeds, playful elephants splish splosh along the water's edge and 15-foot crocs sunbathe on the grassy banks.
Just when I think I've seen it all, I return to find fresh leopard tracks padding right down from my suite to the dried riverbed. It's in this moment I resolve Chiawa may well have made me an Africaphile for life.
Stay:
WHAT: Chiawa Camp
WHERE: Lower Zambezi, Zambia
Suite: Safari Suite
TEL: +260 211 261 588