Pausing on a near vertical incline, six hours into a challenging high-altitude volcano hike in the ash-strewn wilds of Guatemala, I allow my mind to wander. Sweaty, frozen and fatigued, I imagine swaying in a sun-baked hammock to the tune of gently crashing waves – well-worn book in hand. I imagine the tight knots in my calves being kneaded by expert hands, as the smell of fresh lavender fills the room. But above all, I imagine a sound night's sleep in a regal four-post, queen-sized bed, with soft linens and freshly plumped pillows; a world away from my moist, leaky tent. I continue at an arduous trudge – two steps forward, one back – thankful that this seemingly distant fantasy is soon to be realised on an upcoming trip to Costa Rica's west coast, with a two-night stay at OCiO Villas by Casa Chameleon.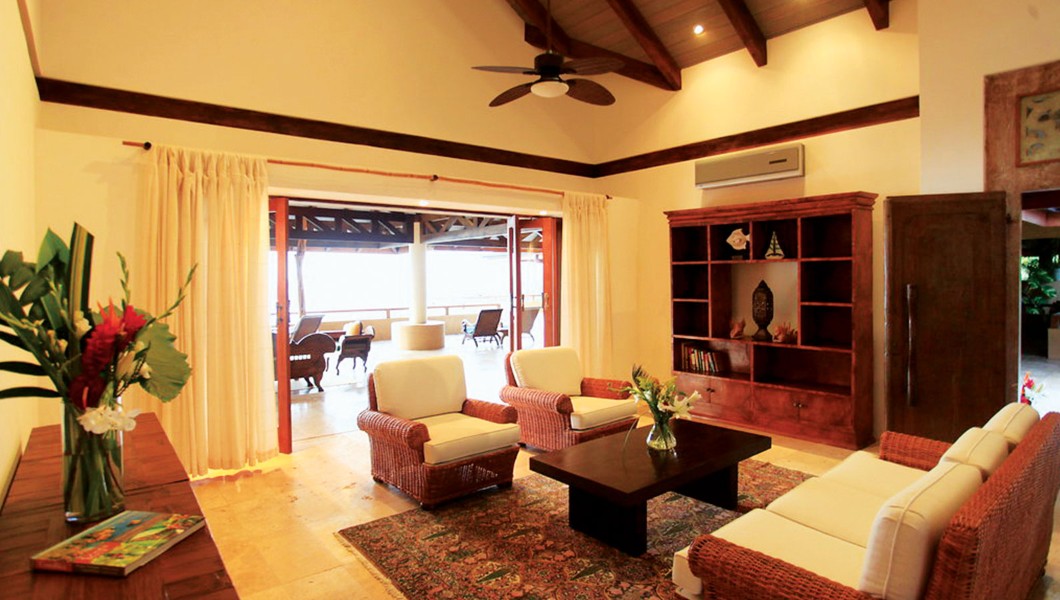 Nestled among the sprawling, verdant jungles of Mal Pais, a small coastal district at the north-eastern tip of the Nicoya Peninsula in the country's Puntarenas province, OCiO Villas offers guests a rare glimpse of Costa Rica's truly unspoilt natural beauty. Comprising just three purpose-built villas, the exclusivity of the estate is rivalled only by its stunning vistas. Each of the properties boasts a custom-designed infinity pool overlooking the jungle canopy and sweeping golden coast of neighbouring Playa Santa Teresa and Playa Hermosa – famed for their exceptional sustainable fishing and ranking among the countries best surf spots.
"I was actually surfing and fishing with our chef just this morning," explains Jose, the general manager of Casa Chameleon, upon check in. "We caught some amazing red snapper – you have to try it!" he enthuses further. He's instantly likeable. In fact, as he gives me a brief tour of the kitchen to display his catch, I note that all of the staff are incredibly endearin. There's something familiar and genuine in their demeanour – and in how they enjoy their work – that is all-too-often lacking in comparable big-brand properties. Soon, a short, bumpy ride in a 4X4 delivers me at the towering front doors of my home for the next two nights.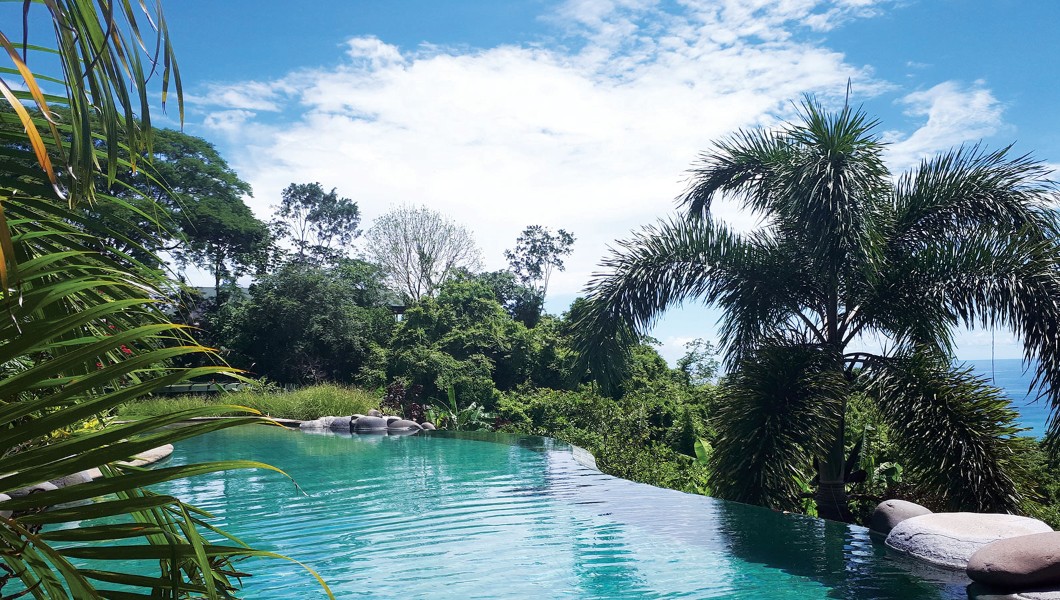 I am staying in the second of three villas in the estate. Sleeping up to four guests, the property is designed in a traditional Balinese style, with a particularly strong emphasis on achieving understated elegance through the use of all-natural materials. Indeed, all three villas feature local driftwood tree trunks, huge natural stone bathtubs and lamps forged from reclaimed wood. Although unique in their own right, each property achieves an earthy, rustic feel. They have been purposely designed to reflect the untouched environment in which they reside – airy, open and unbounded. Upon entering my villa, the large reception area opens directly onto a cushioned outdoor seating space above the infinity pool (with hot tub) and expansive wooden sundeck. Adjacent, a long breakfast bar meets the outdoor dining area and neighbouring kitchen. The master bedroom, complete with large adjoining balcony, overlooks the pool, as well as the rainforest canopy and beaches beyond – the perfect setting for lively sun downers or a more casual, intimate dinner with a partner.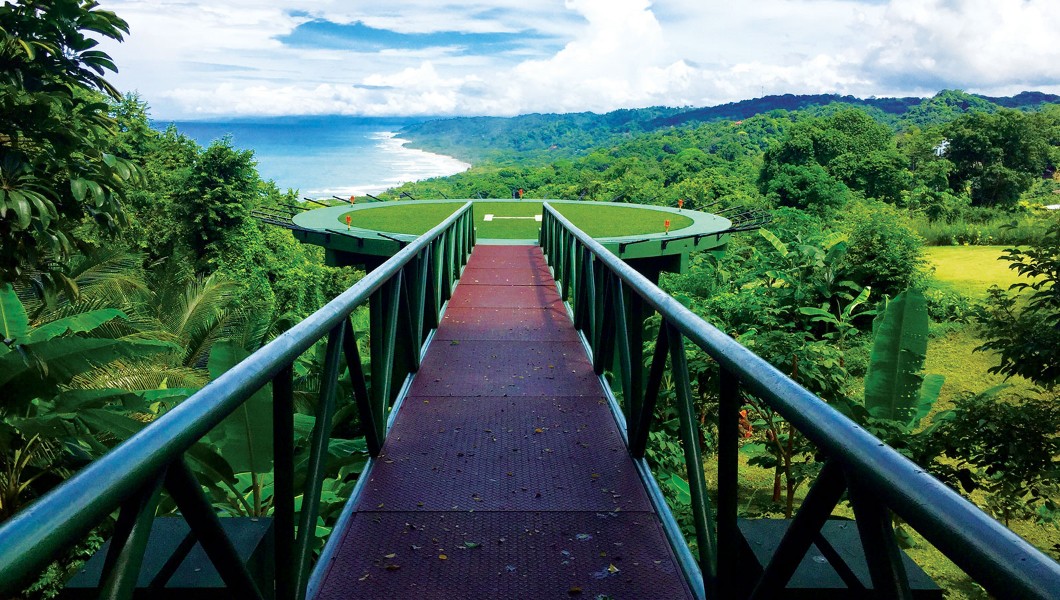 However, beyond the exceptional styling of the villas themselves, it is the truly customisable nature of my stay at OCiO that really captures my attention. Whether you want to organise a massage, quiz a sommelier or request a particular chef from the hotel's kitchen, there are no limits to your options. It is no surprise, therefore, that the estate is so popular with A-list celebrities, ranging from blockbuster movie stars to top models. Presumably this was also the thinking behind the property's private helipad. For larger groups, the flagship villa sprawls an impressive 14,500 square feet, replete with two infinity pools, a trio of oversized Master Suites and three additional bedrooms to accommodate upwards of 10 guests. In fact, if you are so inclined, you can rent all three villas and enjoy a private paradise for a heftier party of family and friends.
On the final day of my stay, after realising my somewhat light-headed volcano-hike dream, I settle down at my villa's outdoor dining area for the last time, ready to sample local, fresh-caught red snapper sashimi tacos. They're not on the menu, but they are heartily championed by my smiling private chef – so I reason they're worth a try. As I dine, the sun sets in a hue of dulling oranges and pinks, mingling with the slow-moving clouds. Sitting high above the rainforest, it is the first time I have properly appreciated it since arriving in Costa Rica. But, as OCiO Villas demonstrates time and time again, I think that's the point.
the important bit:
WHAT: OCiO Villas by Casa Chameleon
WHERE: Mal Pais, Costa Rica
SUITE: Luxury Villa
TEL: +(506) 2103-1212