Excelling in the five-star hotel game seems tough enough, but when you bear the name of one of the most iconic Italian luxury houses of all time, then heavy lies the designer crown. Just like the late Gianni Versace himself, Palazzo Versace Dubai has greatly benefited from a depth of creative vision. Emerging on the Dubai Creek just over two years ago, the ultra-luxe 215-key property had its official ribbon cutting last year ahead of the Dubai Water Canal's unveiling, and for a while seems like an oddly located construction.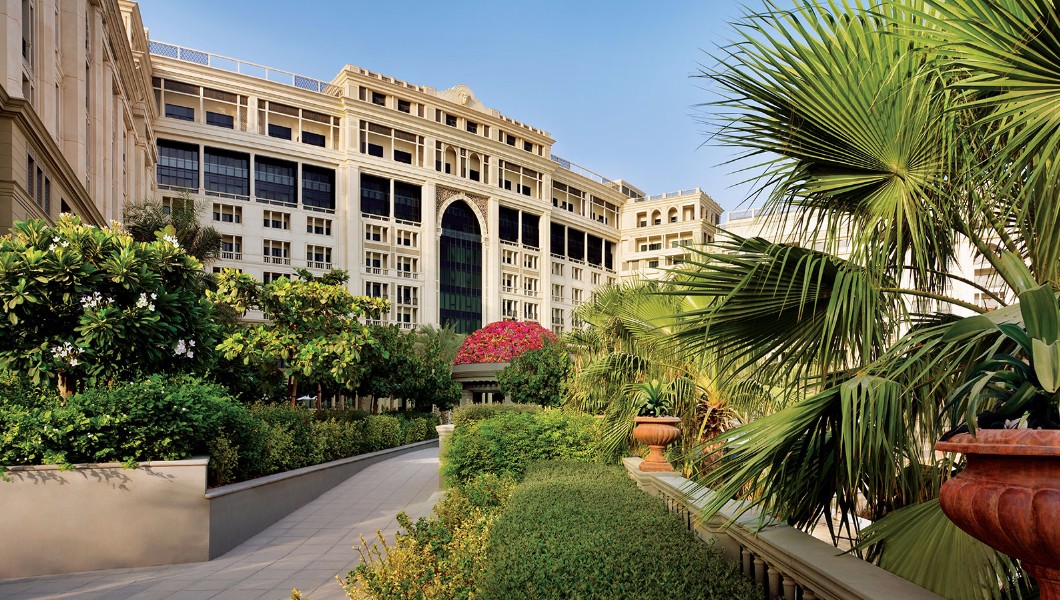 Now that the waterway has irrigated the emirate and turned central Dubai into an island, the property has pride of place on the burgeoning waterfront in the Culture Village area. While other developments are still breaking ground and lurching into life, the palatial property is already firing on all cylinders, with eight sumptuous dining venues, male and female hammam spa areas, three elegant pools and a total of 65 meticulously designed suites. My stay was in a Grand Suite Creek View – one of six categories that range from Executive Suites for business travelling bon vivants, to the exceedingly capacious two-bedroom duplex 1,200sqm Imperial Suites.
For my partner and I, referring to the Grand Suite as "sufficient" might be the understatement of the year so far. We enter the 120sqm abode via the deep purple carpet of the hotel's fifth floor, opening the door to a hallway and 'powder room' and large lounge area, ample enough for a desk, dining table, mini bar, 55-inch TV, bureau and couches, with plenty of room leftover to swing a designer cat. Into the next room, the king-sized bed is dripping in patterned silks and half buried in a carefully arranged pile of cushions.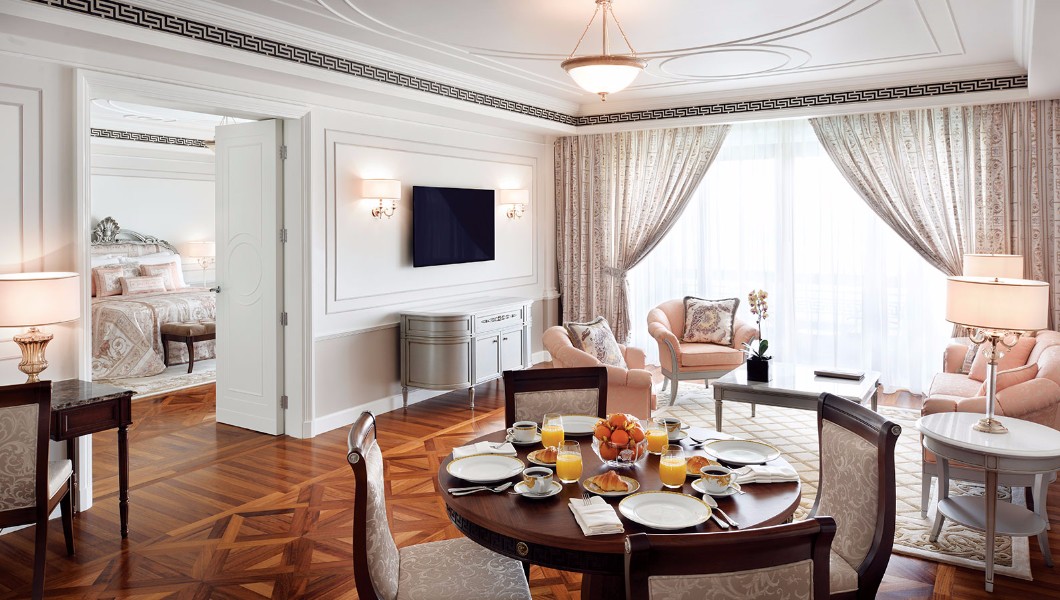 Both rooms share a private balcony and vantage point over the hotel's main pool, an elongated oblong that appears to spill over into the Creek, lined with sun loungers and guests basking in the autumn sun. Walking barefoot, the hardwood floor transitions to a cooler Carrara marble tiling; left to the mosaic-laden bathroom, with tropical rain shower, soaking tub and all-Versace-everything when it comes to amenities; and right to the expansive walk-in wardrobe and Hollywood-style vanity table. The closet area is actually so large that you've effectively got your own catwalk and full-length mirror to strut and preen ahead of dinner and/or libations.
It's not hard to find a true taste of Italia at the Palazzo, and at Vanitas it's impossible to miss. The hotel's signature Italian eatery injects a smattering of deep red upholstered chairs – 70 indoors and 35 al fresco – against the off-white, patterned walls and wooden floors. The menu, overseen by Chef de Cuisine Andrea Gaia, seamlessly blends taste, texture and aesthetics with a comprehensive but well thought out.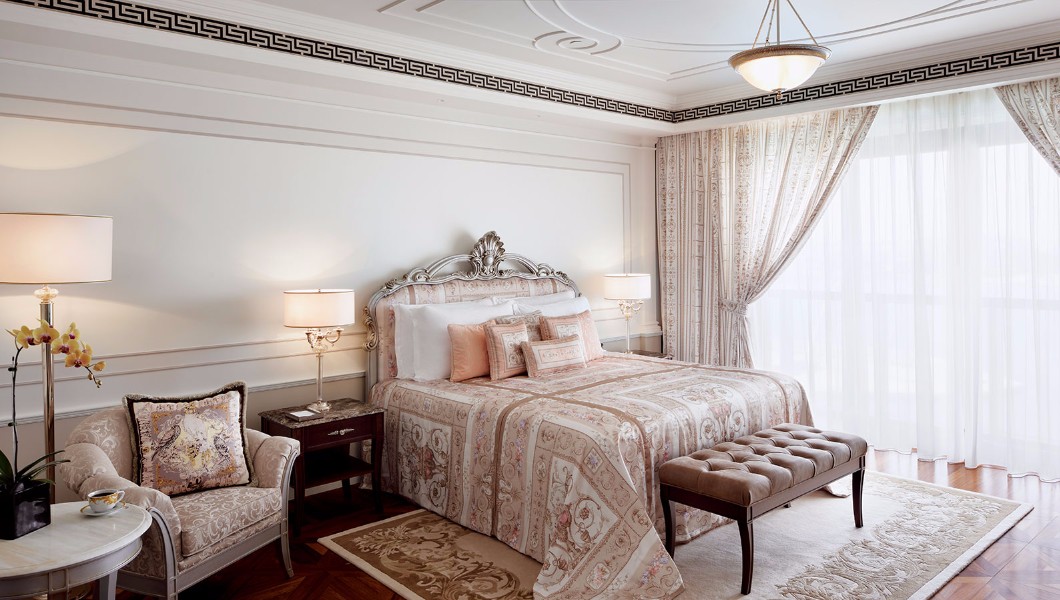 'Per iniziare' (to start) I opted for the Spaghetti Aglio, Olio e Peperoncino, a neatly arranged mound of homemade potato spaghetti, baby squid and, of course, garlic oil and chili. The fresh potato pasta had the taste and consistency of gnocchi in the form of tagliatelle, lightly dressed (not drenched) with a few simple components. 'Per continuare' (to continue), the Agnello e Patate Arrosto consisted of three slow-cooked and roasted lamb loin medallions in a potato crust, with miniscule seasonal veggies, lamb jus and beetroot mayo.
The following evening, across the lobby, the nearby Enigma also suckered me with its lamb option – the "7 Spices Lamb Neck", cooked at 68°C for 36 hours. That's not a typo – that's a full day and a half of prep time for a melt-in-your-mouth meat experience. The renowned restaurant is known to cycle its concept every few months, but recently lingered on a popular, modern Turkish menu, but is set to transform into a Persian dining destination by the year's end, offering more engagement between the chef and guests, with succulent meat skewers and other Iranian delicacies.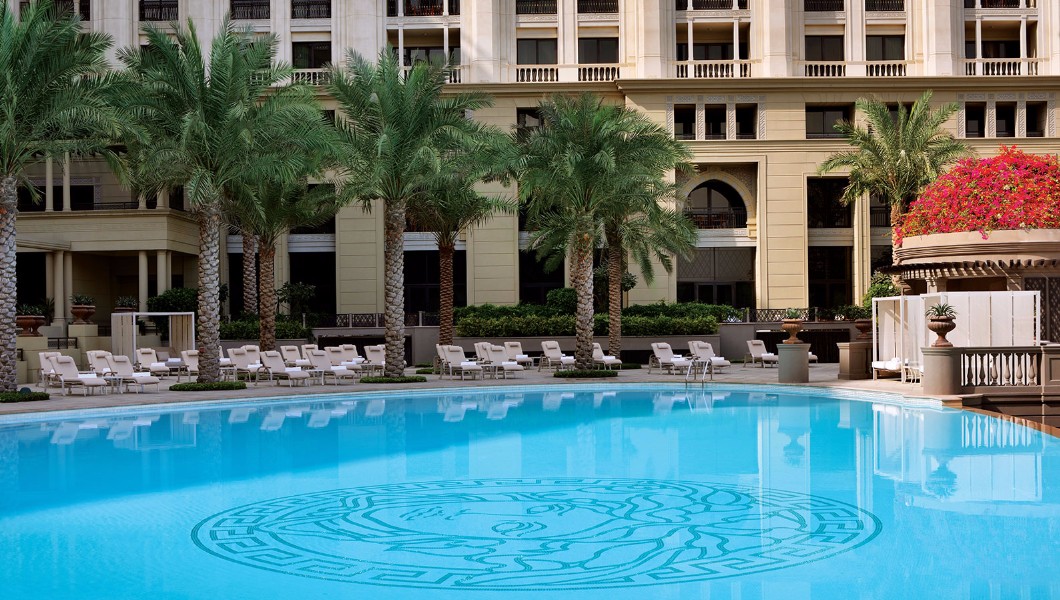 Given its proximity to one of the smoothest nightspots in town, the restaurant also offers a pre-show dinner menu. Next door, Q's Bar and Lounge is Dubai's foremost venues for live jazz, and music performances in general. I arrived in time to catch one of the final shows of piano maestro Justin Kauflin and band as they came to the conclusion of his two-month residency. Reminiscent of a Chicago jazz lounge, the intimate venue, decked in black, is the perfect place to end a refined evening with a dose of rhythm.
From the poolside Amalfi, with its Saturday barbecue fiesta, to the decadent Champagne brunch at Giardino, there's a bounty of dining options and ways to unwind at Palazzo Versace Dubai. Just like the ornate mosaics strewn throughout the property, the hotel itself is a painstakingly arranged collection of detailed, lavish luxuries held together by a radiant team – across all departments – ready to offer assistance and go the extra mile, with a beaming expression all the while. Forgot a plane ticket to anywhere else, whether you're in or out of the UAE, Palazzo Versace Dubai is your ticket to a stylised state of bliss.
THE IMPORTANT BIT:
WHAT: Palazzo Versace Dubai
WHERE: Culture Village, Al Jadaf - Dubai
PRICE: AED5720, BB basis. (US$1,557)
TEL: +971 4 556 8888