A favourite hotel of mine for many years, I have never stayed at Fairmont The Palm, utilising it rather for the hotel's myriad daycation or dining options. After too many years to count, however, I can finally tick this property off my To Do list with a stay that feels worth waiting for.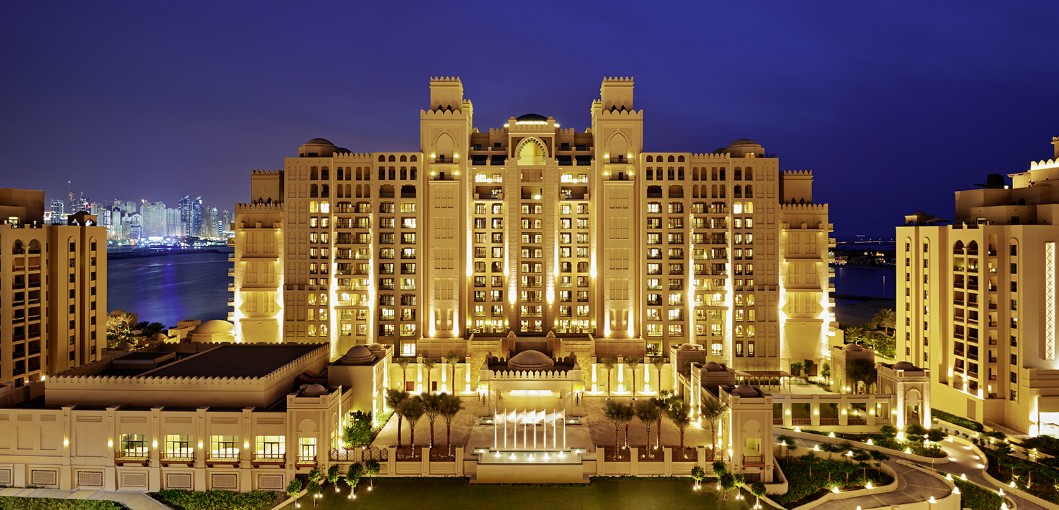 Thanks to its rather advantageous positioning on Palm Jumeirah's Golden Mile – flanked by the Arabian Gulf, the beach, Al Ittihad Park, the Golden Mile's shopping strip and, most recently, the newly-opened Nakheel Mall – its location ranks up there with some of the top real estate in Dubai.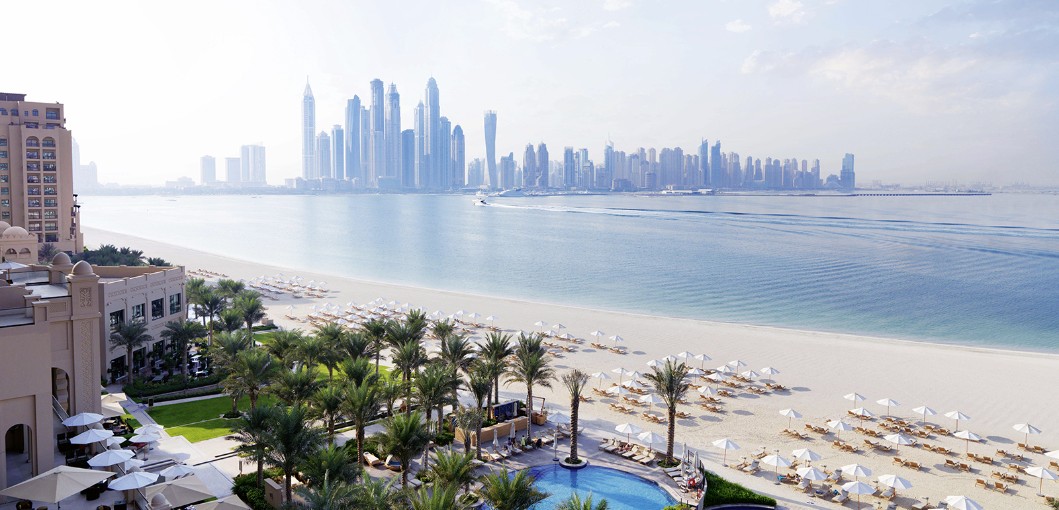 Having visited many times before, I'm well-versed in the warmth and friendliness of Fairmont The Palm's staff who, with a subtle affability, have this wonderful way of making you feel like royalty no matter who you are or what you're visiting for. My room for the night is a Corner Suite, and I've kindly been offered Fairmont Gold access, which means I'm taken straight from car to lounge on the 9th floor in a matter of seconds, where private check-in awaits. The lounge itself is a five-room space reserved for Fairmont Gold members and those with upgraded access, and takes care of the myriad needs of its guests.
Tucked away in the corner of the third floor I find my suite. It's a little walk away from the main elevator lobby but, as I find out, much closer to the Spa's private elevator, which I appreciate later when I venture to Willow Stream's sanctuary. 201 square metres of open-plan space invites me into the Corner Suite, with a spacious living room that seems to go on for miles. It's 'divided' up into a work area with mahogany desk and two arm chairs, for those using the hotel as a base for business; 
a 10-seat sofa arrangement made for families travelling en masse; and an area for dining, with a table beside the balcony doors to allow for virtual al fresco mealtimes. The balcony itself is huge and wraps around from bedroom to living room, and whilst the outdoor space feels a little wasted on just me, it again provides added allure for those travelling with friends or family. In fact, the whole socially-focused design element of the Corner Suite feels centred around those who like to capitalise on space and utilise each element in their daily forays into work, rest and play.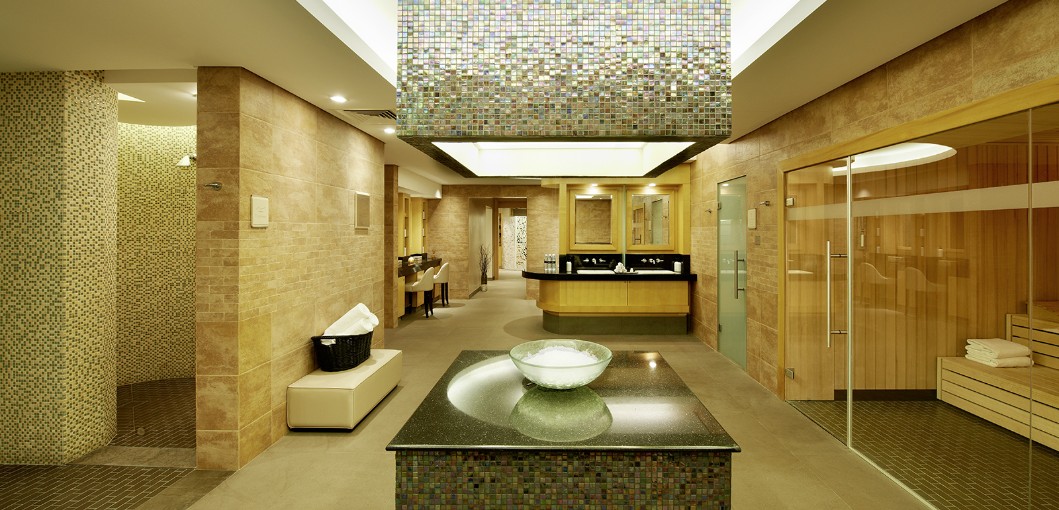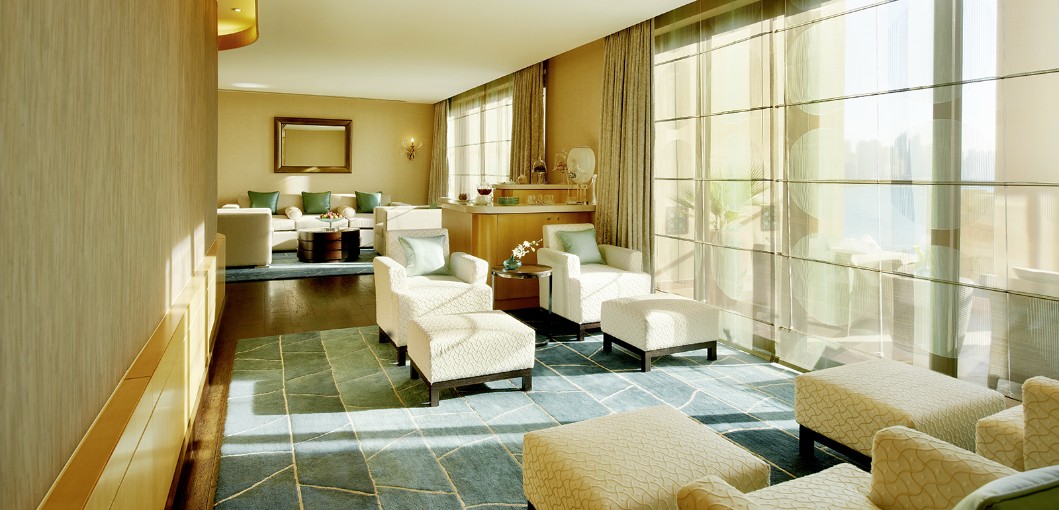 The tri-tonal interiors throughout the suite combine soothing blues, browns and beige, where dark wood bounces off light blue walls, rugs and soft furnishings. It has a calming effect with no obtrusive bursts of garish colour to distract or detract, proving that less is definitely more.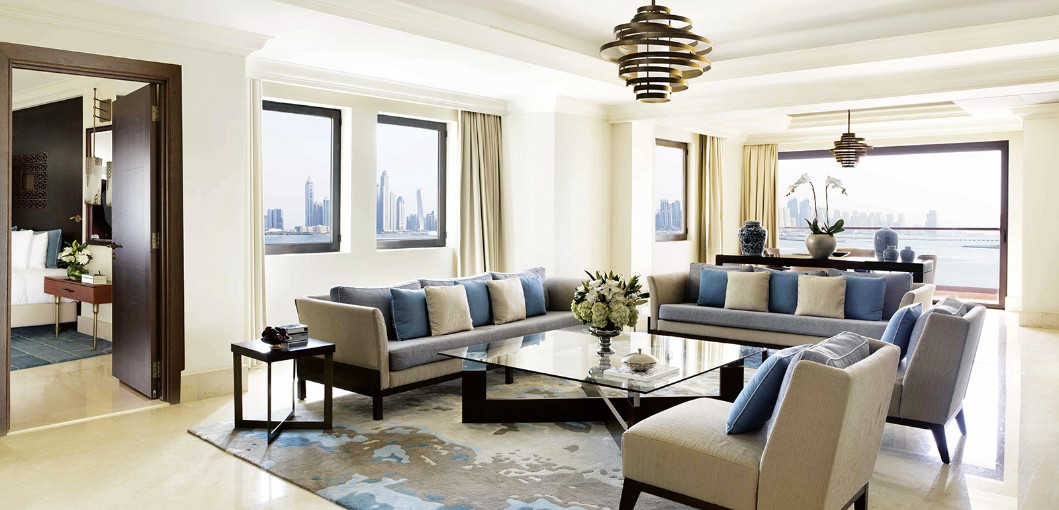 In the bedroom, the space is all the more cosy where it needs to be. 
The king-bedded room is furnished with desk, beauty console, a divine blue velvet oval armchair and views of the beach and Arabian Gulf from the balcony. Opening the doors to let in the afternoon air brings with it a melody of sounds – the sea, birds, the chink of crockery from a nearby restaurant and the light chatter of bathers below. The cacophony is soothing and gives the sense that you're hearing the heartbeat of the hotel, where a relaxed energy weaves through the hotel's veins.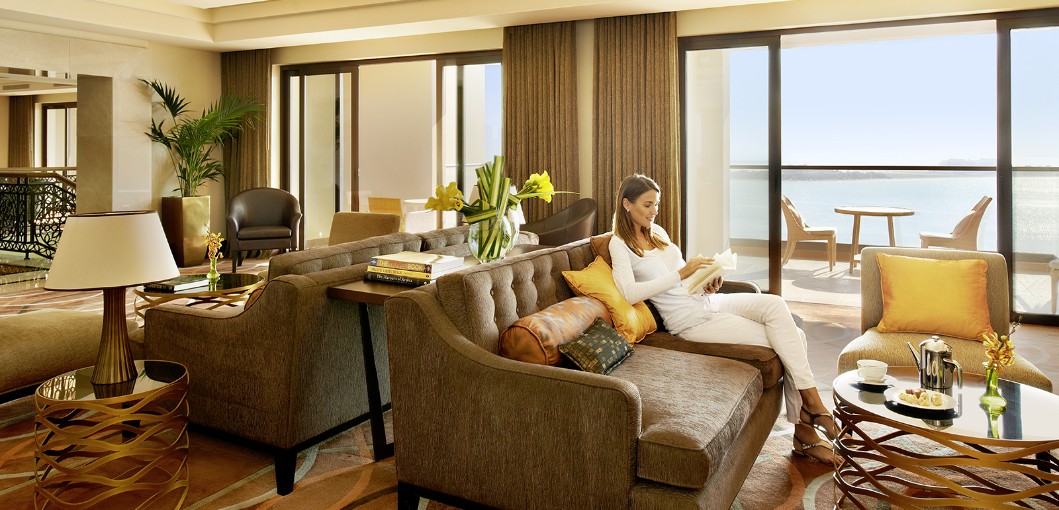 Whilst Fairmont The Palm has over 12 restaurants (Little Miss India and Frevo are favourites), I instead take myself back to the ninth floor to the Fairmont Gold Lounge. It is open 24/7, offering guests something different throughout the day – from full-blown breakfast to afternoon tea and for me, Golden Hour drinks at sundown. I find a table on the balcony and watch the sun set over the horizon with a cocktail that tastes all the better when complimentary of the Fairmont.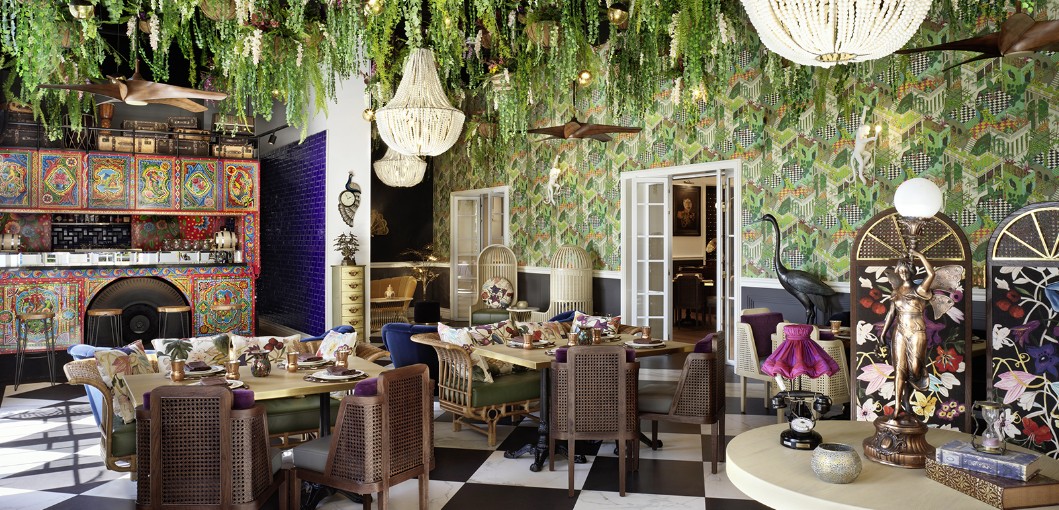 I nibble on spring rolls, salad and 
a cheese board, but for dinner I retire to my suite to order room service and take advantage of the 10-seat sofa. The menu is expansive, and my order of lentil soup and Arabic mezze is prompt, delicious and elegantly presented.
I often think that no suite stay is complete without a bath, so my evening ends amid Le Labo scented bubbles. There is no TV in the bathroom, which I prefer, because it forces me to down tools, lie back and switch off. The bathroom itself features a five-piece marble suite, with two sinks 
(on neighbouring walls), a huge walk-in rain shower and, the best bit, your name printed on the Le Labo bottles, for your own bespoke amenities.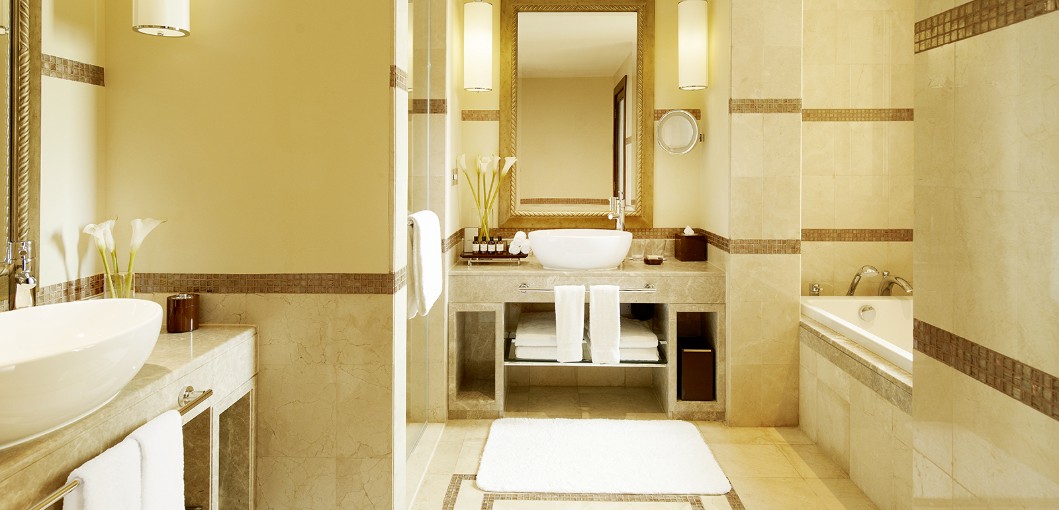 There are two things I note when my night draws to a close... Firstly, the three-layered curtains in the bedroom, with black out, sheer and normal draping options. It allows you to choose exactly how much light you'd like to filter in come morning, and for those who like privacy or, like me, natural sunlight, it offers the best of every world. Secondly, I note how easy and unfussy the lighting is. In fact, how unfussy all the technology is. Each light has a light switch, and the curtains are manually-operated, meaning there are no tech-pads to fumble your way around, allowing you to calibrate your room exactly as you please, easily.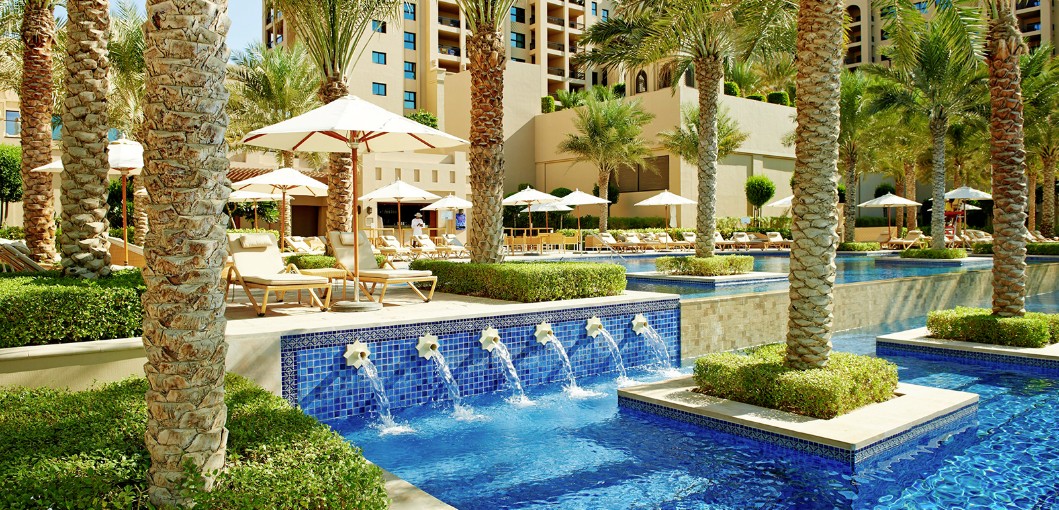 In a world where so much choice is on offer, that often the choice can be overwhelming in itself, sometimes it's necessary to strip things back a little and revel in the beauty of simplicity. Fairmont The Palm has mastered this well – a hotel that has all you could need and more, but that presents it to you in a subtle, unassuming way. An enlightened approach to understated luxury that feels very now.
Stay:
WHAT: Corner Suite
WHERE: Fairmont The Palm, Dubai
+971 4 457 3388