The sound of trickling water and melodic birdsong drowns out any conversation, as I snake between spine-bearing succulents and elephant-shaped leaves. Some of these drought-resistant plants may hail from Madagascar, but I find them firmly rooted 5,000 miles away in the exotic gardens of Marrakech's Le Jardin Secret. Founded over a thousand years ago, Morocco's most beautiful imperial city is a riot of colour, exotic sights, and spirited souks, which are hectic and exhilarating in equal measure. But concealed behind its dusky pink walls and elaborately studded doors, is a parallel world of hushed riads, greened rooftop eateries and scented courtyard gardens.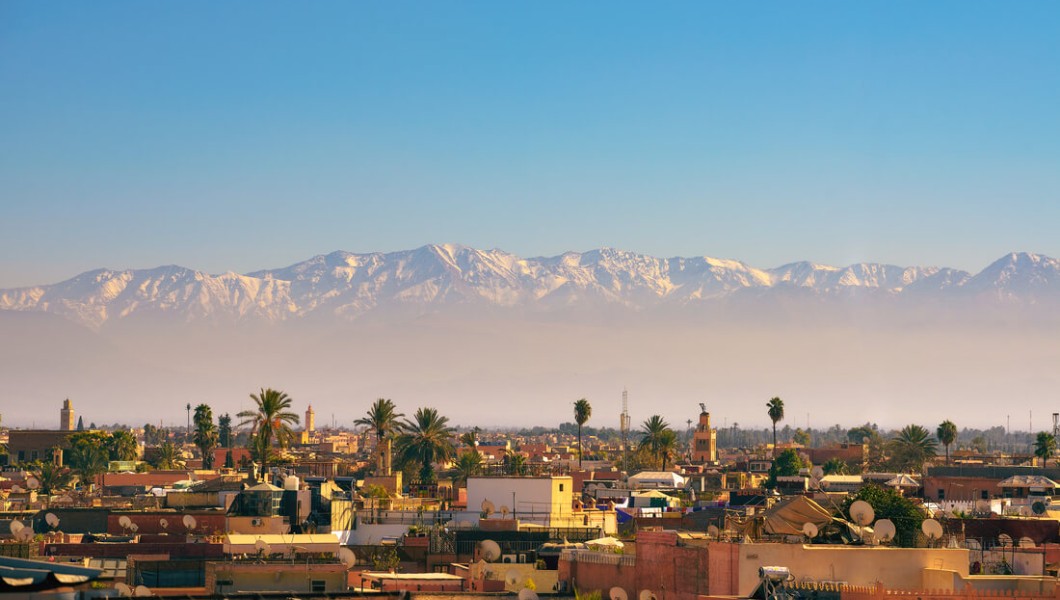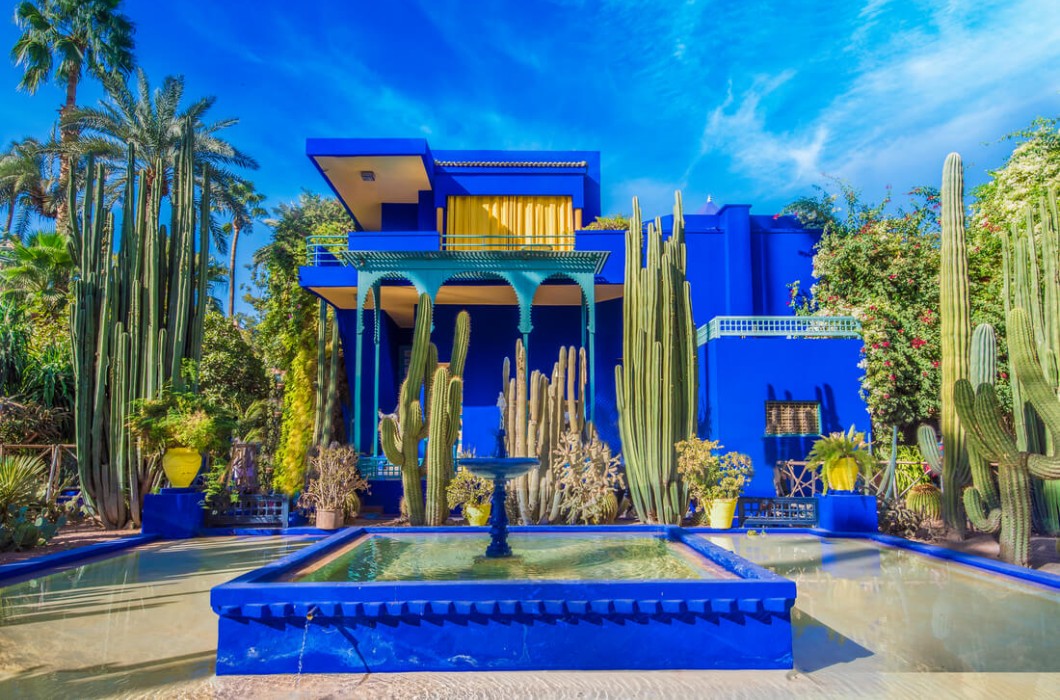 Marrakech is a city of gardens: from enclosed ones burbling with fountains, to botanical beauties boasting mountain views. Now overrun with tourists, Yves Saint Laurent's Jardins Majorelle is by far the most famous, but Le Jardin Secret merges two gardens in one. Its larger Islamic one was restored to its former 16th-century glory in 2019, its excavation uncovering a khettara (an ancient irrigation system) that conveyed water from Morocco's High Atlas Mountains.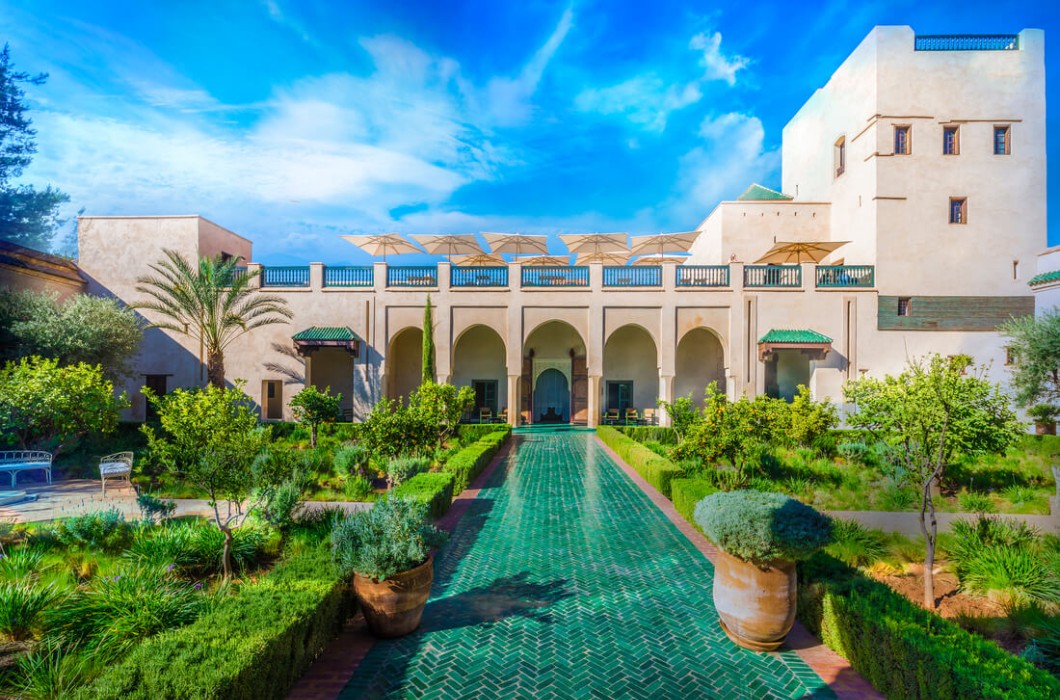 A striking new sea-green-tiled pavilion separates it from its exotic sister. To enjoy a bird's eye view of the complex (once owned by the head of the watchmaker's guild of Marrakech), you can sip on fruity mocktails from its onsite café's ramparts. Or, even better, clamber up its tower (for 40 MAD): the second highest spot in the city's 11th-century medina after 77-metre-tall Koutoubia Minaret, dubbed the Red City's very own north star.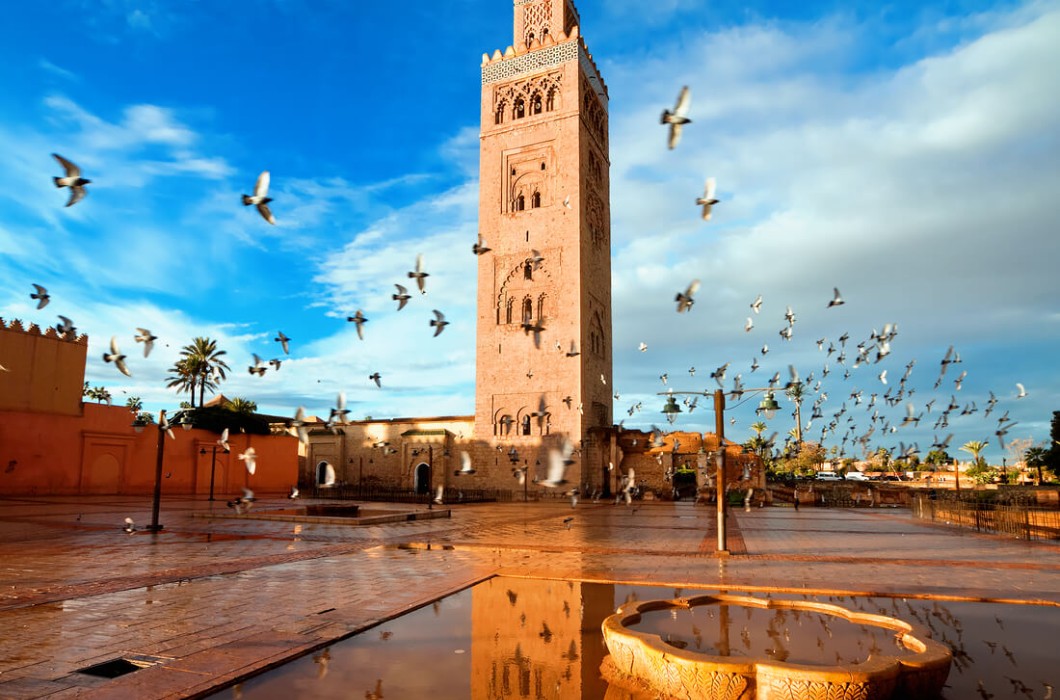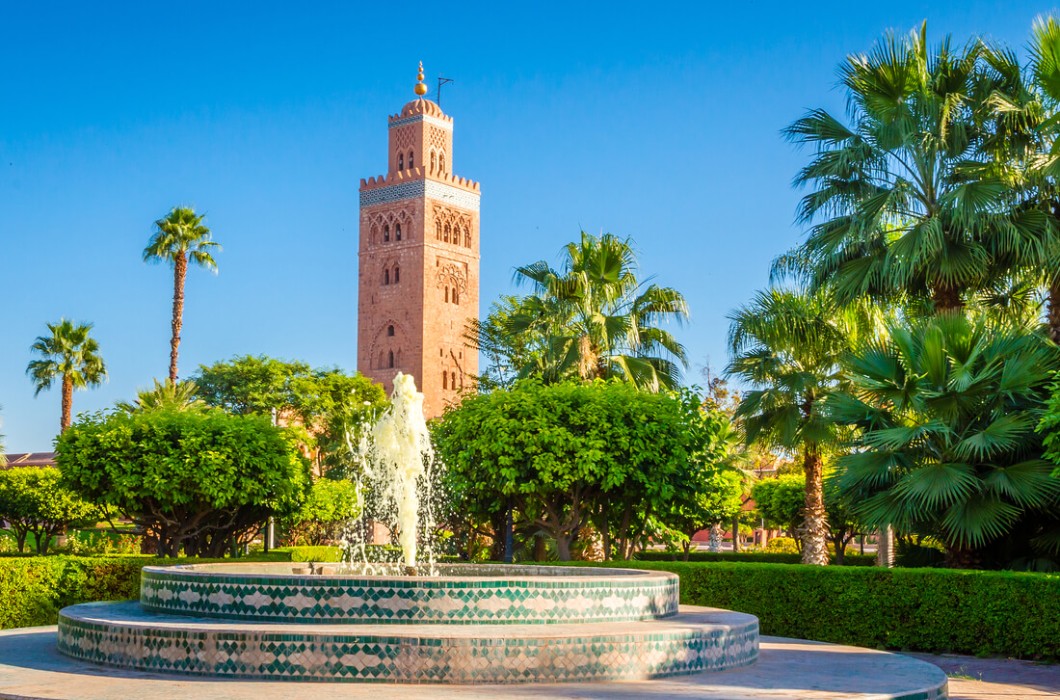 Swapping one fragrant watery wonderland for another, I hop in a grand taxi (comfier than its "petit" sister) to the Mandarin Oriental Marrakech situated three miles southeast of the medina. Nestled on the site of a historic 50-acre former farm, this contemporary oasis' sprawling grounds are beautified with mirror-like heated pools, avenues of almond trees and more than 100,000 roses!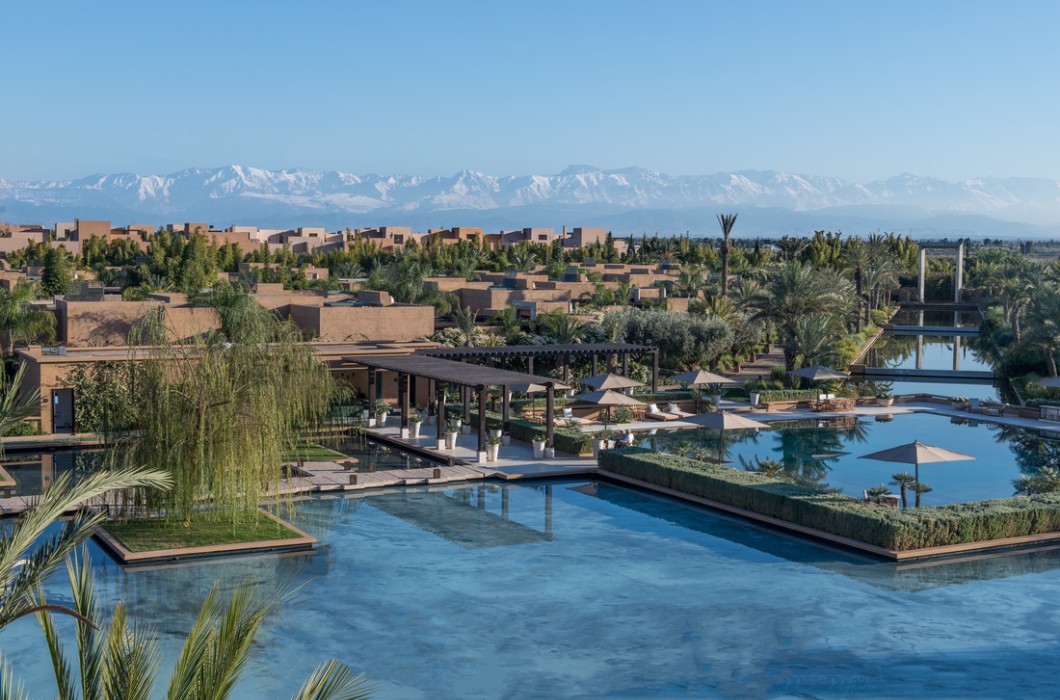 Under the shade of a bougainvillea-draped pergola, I dine on light locavore fare infused with Mediterranean flavours at its pretty poolside restaurant. The grilled octopus with oven-roasted red cabbage is garnished with greenery grown in its onsite garden, where everything from purple cauliflower to antioxidant-packed tri-coloured tomatoes grow. Next up is an artfully-plated grilled sea bass fillet with roasted fennel and orange salad. I wash it down with a health-giving elixir of ginger, Atlas Mountain honey, celery and lemon from the restaurant's "detox cocktail" list.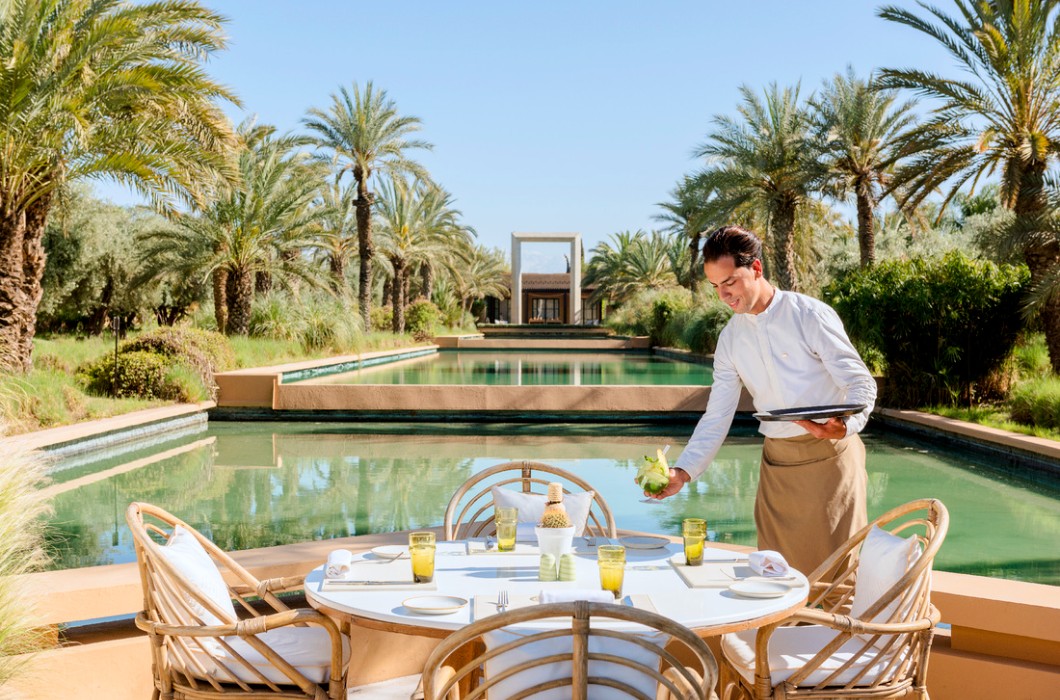 Stuffed with healthful food, I sink into one of the sunbeds skirting its French Riviera-chic swimming pool. A vision of inky blues and emerald greens, it's the perfect hideout on hot afternoons. A pool garden day pass grants guests full lounging rights until around 6pm, when jasmine wafts through the early evening air.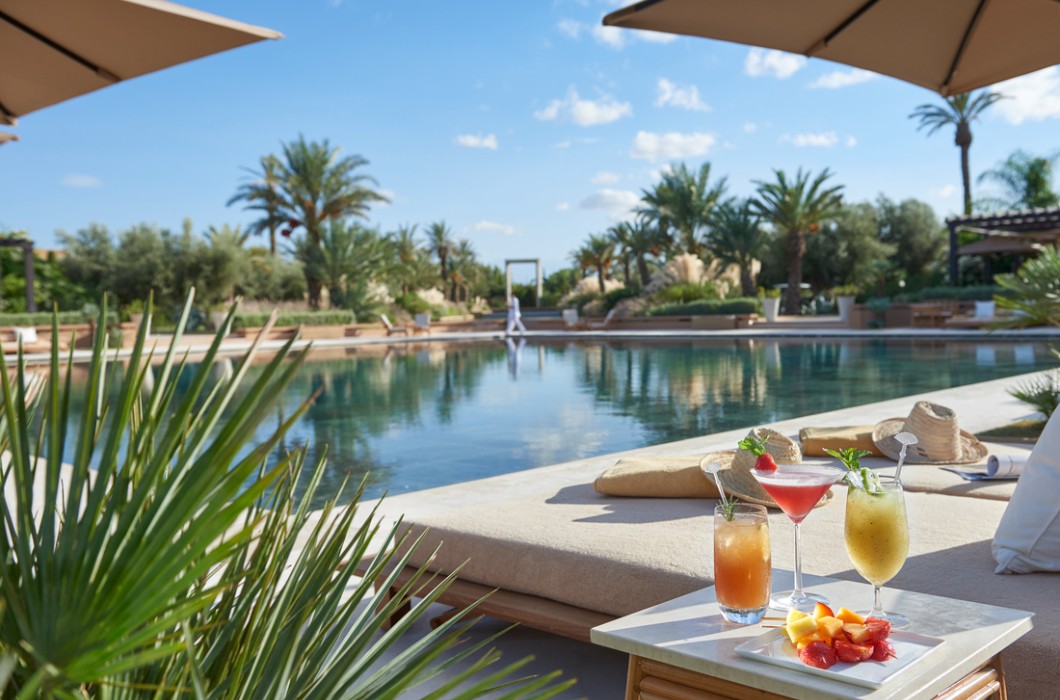 Another address delivering utopian serenity in spades is the The Royal Mansour, which straddles the city's New Town and honey-combed medina. The regal masterpiece was commissioned by King Mohammed VI in 2010, who recruited 1,200 master craftsmen to make everything from the cedarwood-scented panels, to the dazzling zellige tiled floors. Heads of state and visiting royalty have all fallen under the hotel's spell. And no wonder. Set amongst 12 acres of reflective pools and manicured gardens (featuring date palms transplanted from nearby UNESCO Heritage-listed Agdal), with four restaurants and a 2,500-square-metre spa, it's a destination unto itself.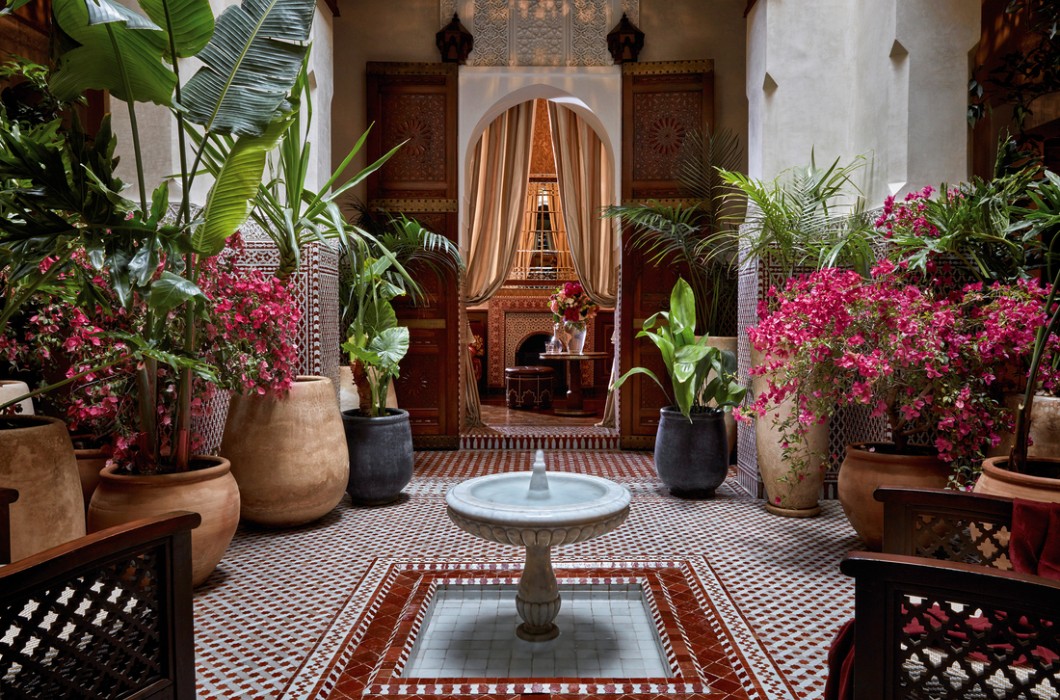 After checking in at its luminous atrium, I navigate along electric-green, palm-lined laneways that connect to the property's 53, three-storied peach-hued riads. Traditionally the stately homes of monied merchants, these places of repose wrap around an enclosed garden with a central fountain. As I step inside the jade-tiled courtyard of my own 175-sqm premier riad, birds gently coo from the Arab-Andalucian-styled rooftop terrace, where I waste no time in cooling off in its bijoux plunge pool.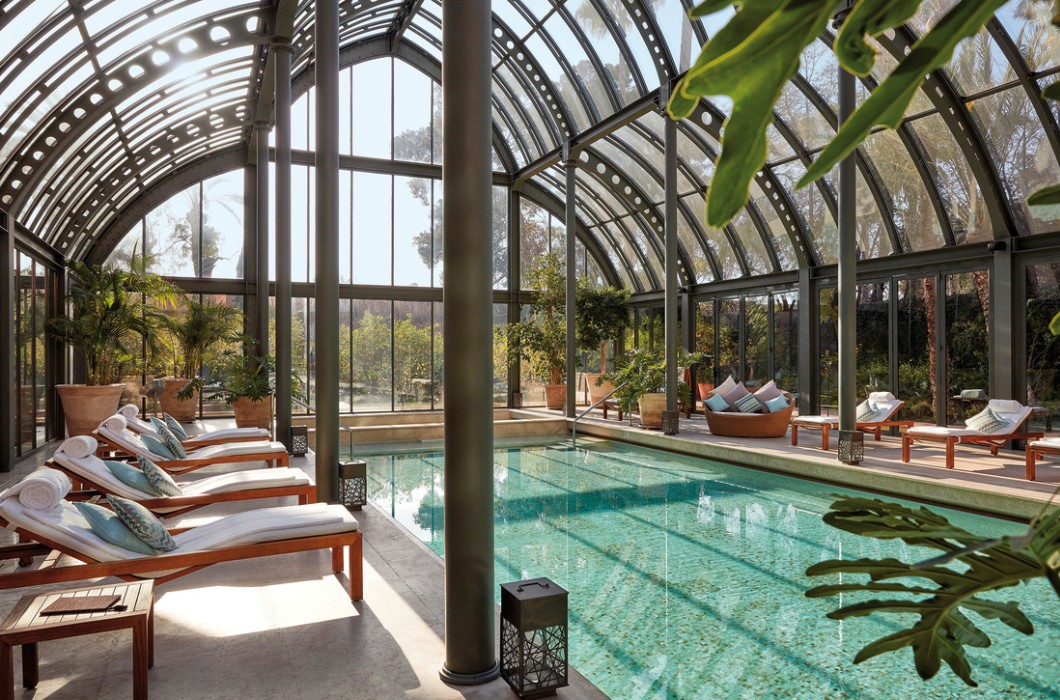 Back inside, tasteful opulence-meets-artisan tradition, with an interior dripping in embroidered damask curtains, Baccarat chandeliers and mother of pearl-inlaid furniture. Outfitted with a fireplace lounge-cum-dining room, a second living room, small kitchen and first floor bedroom that's annexed to a creamy marbled bathroom, it's easy to see why guests never leave these paragons of privacy. That's until you've clapped eyes on the hotel's all-white, birdcage-inspired spa that is, where I flit in and out of over the coming days.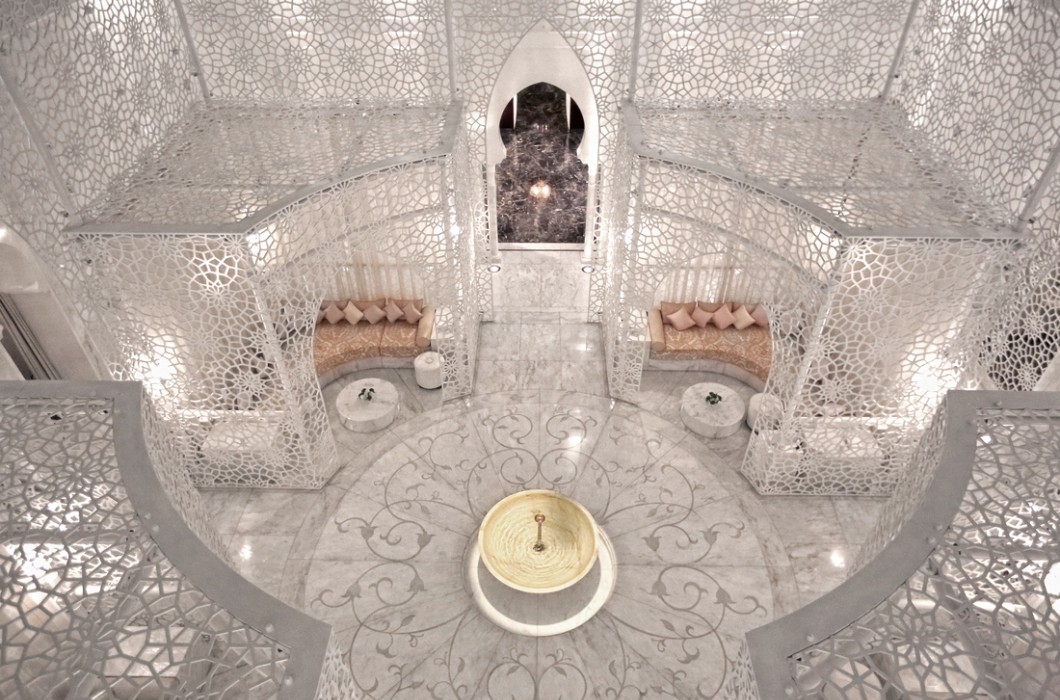 Last September, the Royal Mansour debuted a revitalised spa in line with a quartet of wellness programmes geared toward personal transformation. Of the four all-inclusive packages, I elect for the 'Immunity Boost', designed to "regenerate body and mind", with the help of ancestral techniques and innovative technology. After a brief consultation with a wellness advisor the next morning, my top-to-toe transformation starts, appropriately, with a scalp analysis as part of a takhlita hair wrap treatment. First, a wand-like-instrument is hovered over my head to determine the condition of my scalp and hair follicles. Next, a potion concocted of creams and powders procured from glass jars in a brilliant white apothecary-like-room, is applied to my dehydrated locks. I descend, head turban and all, downstairs, to experience an ancient ritual to rival mint tea drinking in Morocco: the hammam. Within minutes, I'm laid flat on a heated marble slab, where my body is wrapped with clay dredged from the Atlas Mountains. After being doused with warm water, veiled in orange-blossom-scented bubbles and gently scrubbed, I emerge 90-minutes later with newly silken skin.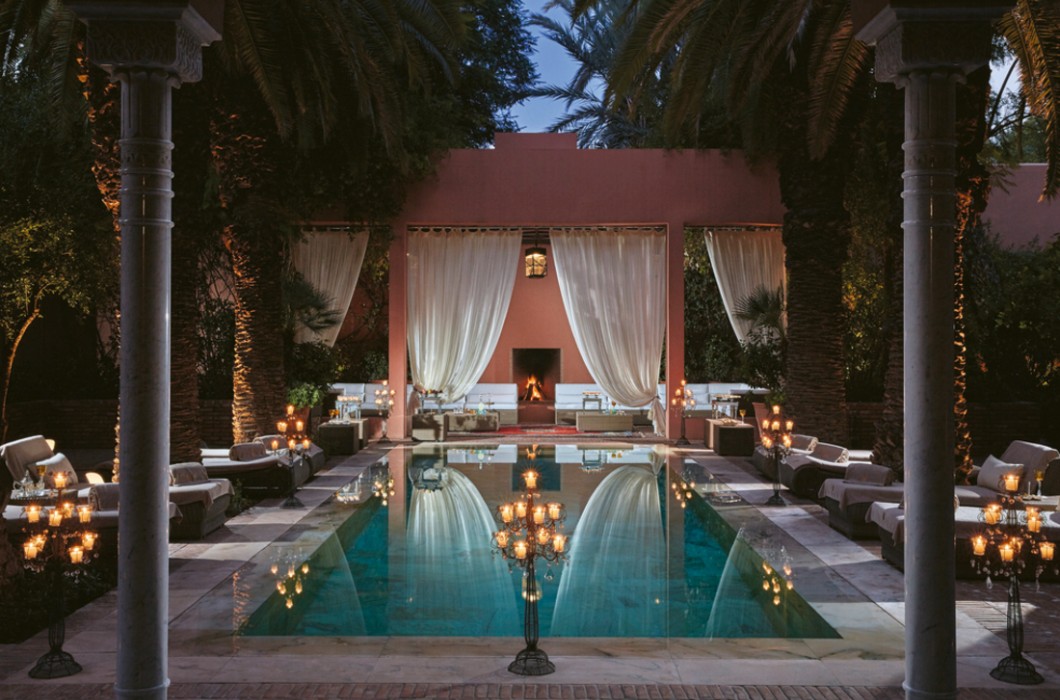 All that spa-ing is hungry business, so I retreat to the hotel's orange-tree-shaded Asian fusion restaurant, Le Jardin. On the nutritionist-developed, mindful-eating menu is sea bream carpaccio and a healthy take on okonomiyaki (a Japanese omelette), garnished with herbs plucked from the new kitchen garden. It's part of the Moorish gardens' three-acre extension, featuring a greenhouse atelier where guests can try their hand at everything from photography to pottery as part of the hotel's art therapy sessions.
Come late afternoon, most guests gravitate around the gorgeous sun-dappled square pool, where I find myself glued to a cabana after a siesta-inducing marma massage. As twilight approaches, the hotel reveals its romantic side. I follow lantern-lit trails to La Grande Table Marocaine, where Moroccan classics are reinterpreted through the French lens of multi-starred Yannick Alléno. After my hands are washed in orange blossom water, a cavalcade of traditional Moroccan salads pile-up on the table. It's all rather magical. Refracted light from filigreed lanterns dances on the ceiling, whilst an oud musician strums the soundtrack to the region. The gastronomic highlight is the pigeon pastilla (pronounced "bastiya") – an elevated take on Moroccan's spiced sweet-savoury meat pie – that literally melts in my mouth.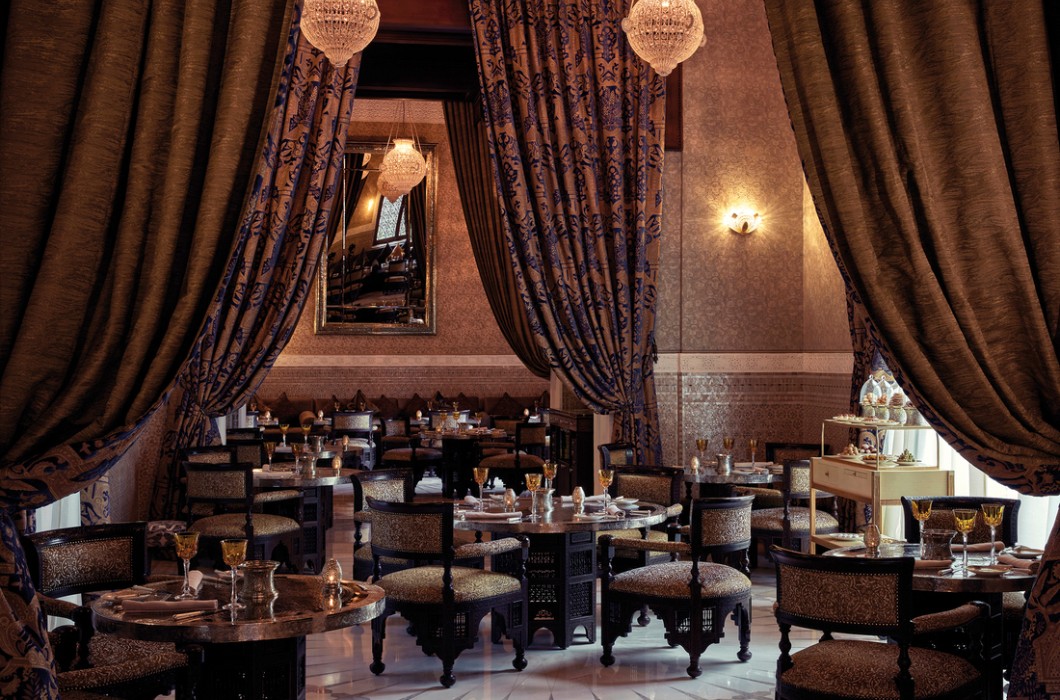 The next morning, I wake to find a surprise breakfast fit for a family waiting for me downstairs. Even with 24-hour room service and an army of 500 employees, staff manage to move unseen, thanks to a warren of half-a-mile-long subterranean tunnels. Mercifully, I don't sink to the bottom of the spa's hydrotherapy pool. Said to quieten our autonomic nervous systems, watsu involves being stretched and massaged by a therapist who gently guides your floating body through the water.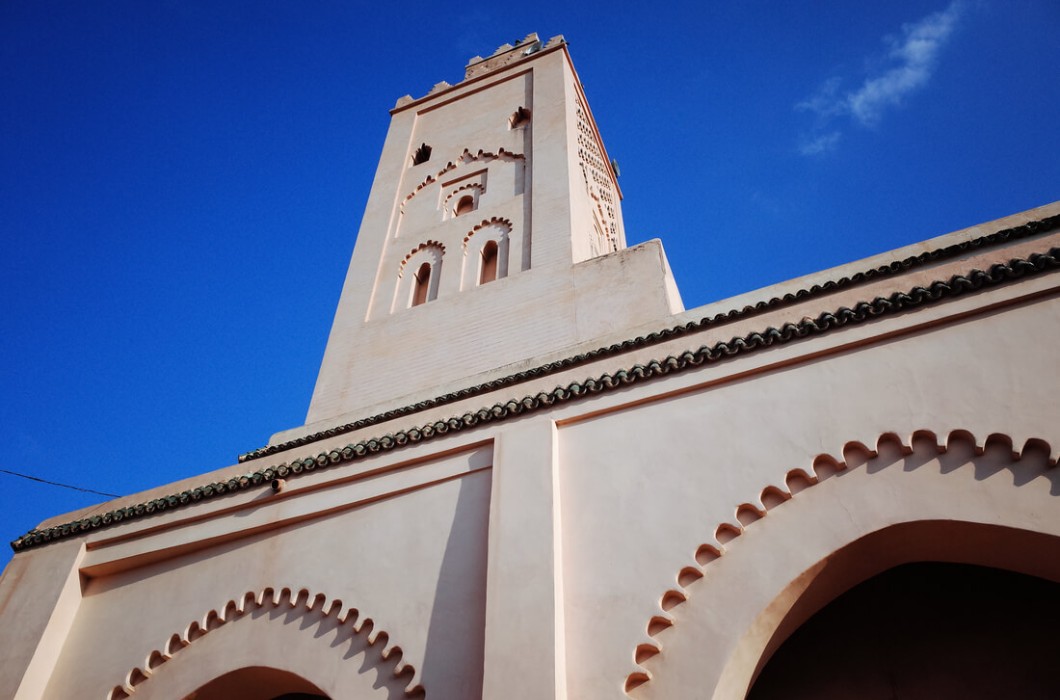 Whilst some guests remain happily holed-up in this sanctuary from the outside world, my itchy feet lead me to the city's medina, encircled by 10-miles of ramparts and gates. One such gate is Bab D'oukkala. It's located a six-minute walk from Dar el Bacha Museum: the former palatial residence of party-throwing Pasha of Marrakesh, the country's most powerful man from 1912 to 1956. Set around a lime-tree-shaded rectangular garden is a series of salons displaying bronzes, Islamic arts and jewellery spanning civilizations dating from 5000 BC to the present day.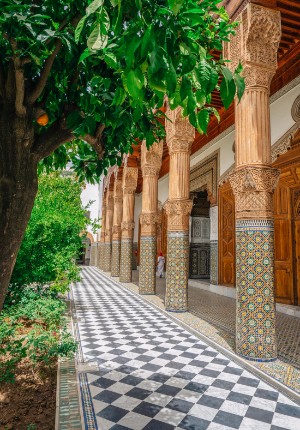 The rooms are works of art in their own right. My eyes dart between the cedar-carved ceilings decorated with indigo and saffron pigments, and columns emblazoned with colourful zillijes. Ensconced in one corner of the courtyard is the palace's namesake coffee shop-cum-café: a chinoiserie-wallpapered Belle Époque delight. Here, coffee-lovers can choose from some 200 varieties of single-origin beans from 33 different countries, served by fez-wearing waiters. The legendary coffee house is set to open its first-ever Dubai outpost next year.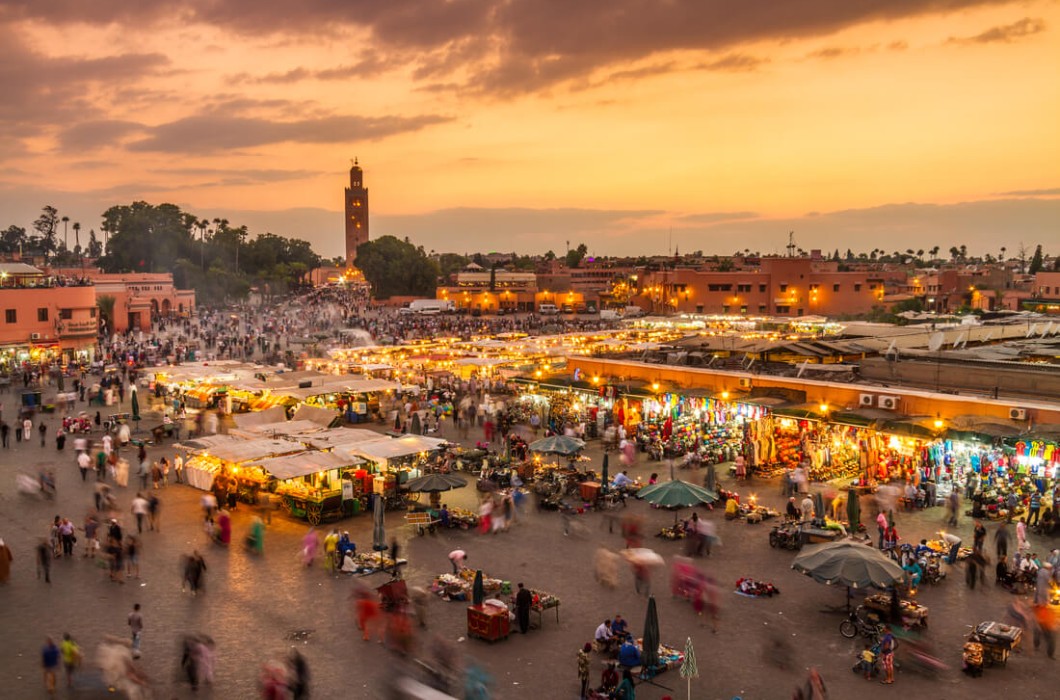 The museum is a mere 15-minute walk from Jemaa el-Fnaa Square: the beating heart of the Ochre City. As dusk descends, it comes alive with hawkers and henna ladies, medicine men and snake charmers. Stretching north from here are its famous incense-perfumed souks. Getting lost in these ancient trading markets – that peddle everything from argan oil to Berber jewellery – is practically a rite of passage.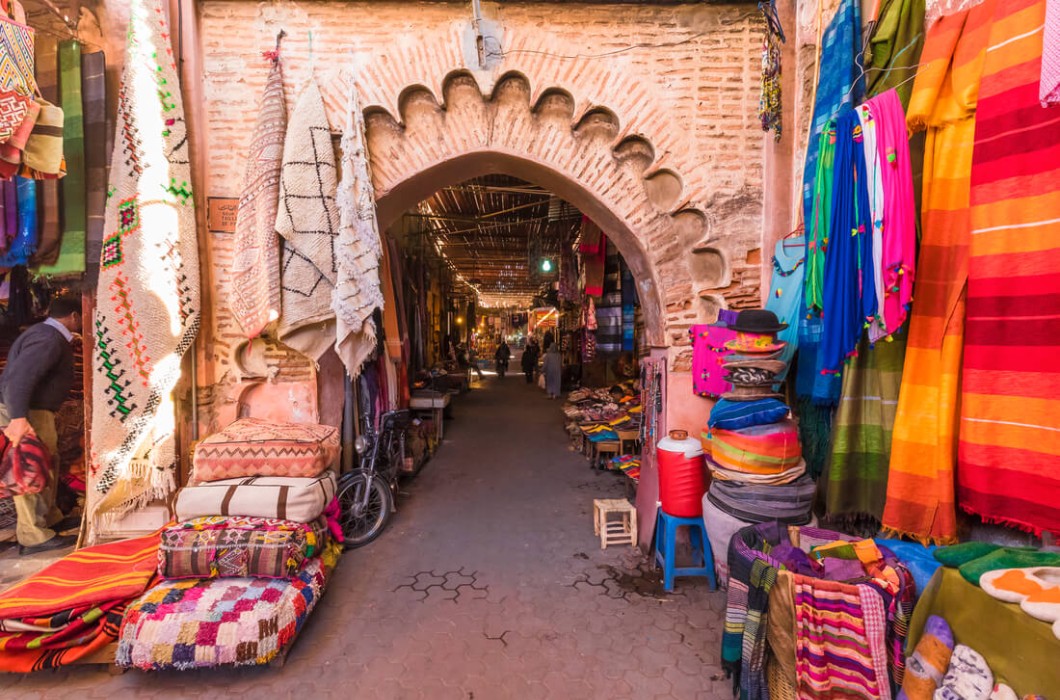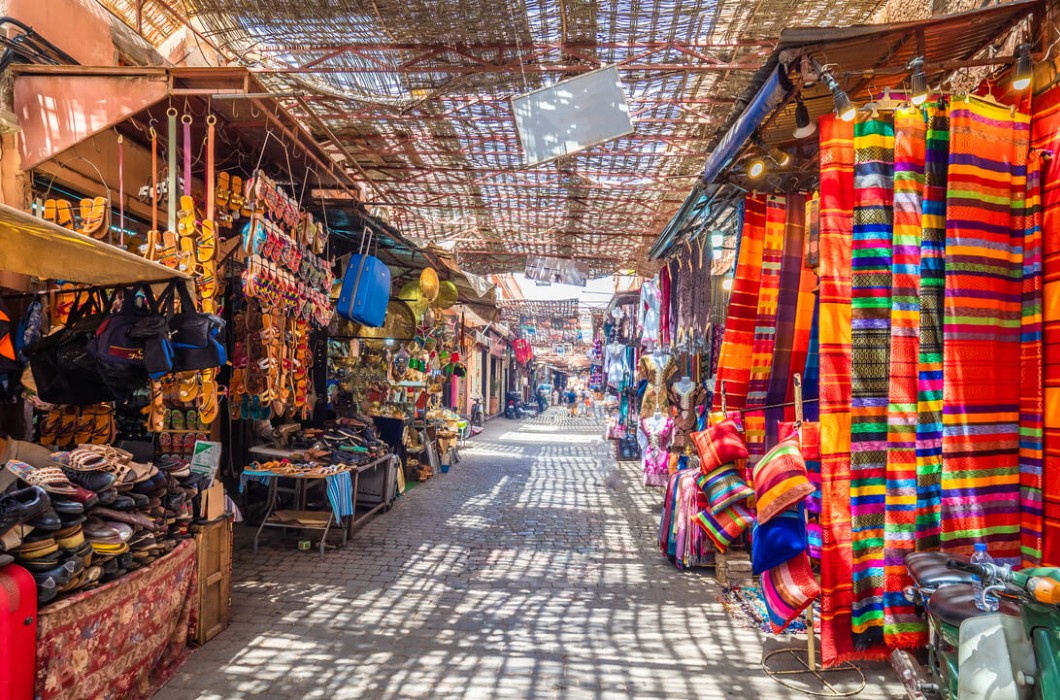 Seeking refuge for my overwhelmed senses, I follow my nose to L'mida. The rooftop restaurant's inconspicuous entrance is tucked into a narrow alley leading off the spice souk. Run by best friends Omar Lyazidi and Simon Sebbagh, and opened in 2019, its kitchen is helmed by Casablanca cookbook sensation, Nargisse Benkabbou. The menu bristles with the chef's modern spins on Moroccan classics, like taktouka (roasted pepper and tomato salad), served with burrata and a seven vegetables vegan couscous. It's all plated onto pottery as colourful as the eatery's bohemian décor, where jazzy parasols, bold murals and oversized terracotta-potted cacti, try their best to upstage the Atlas Mountain views.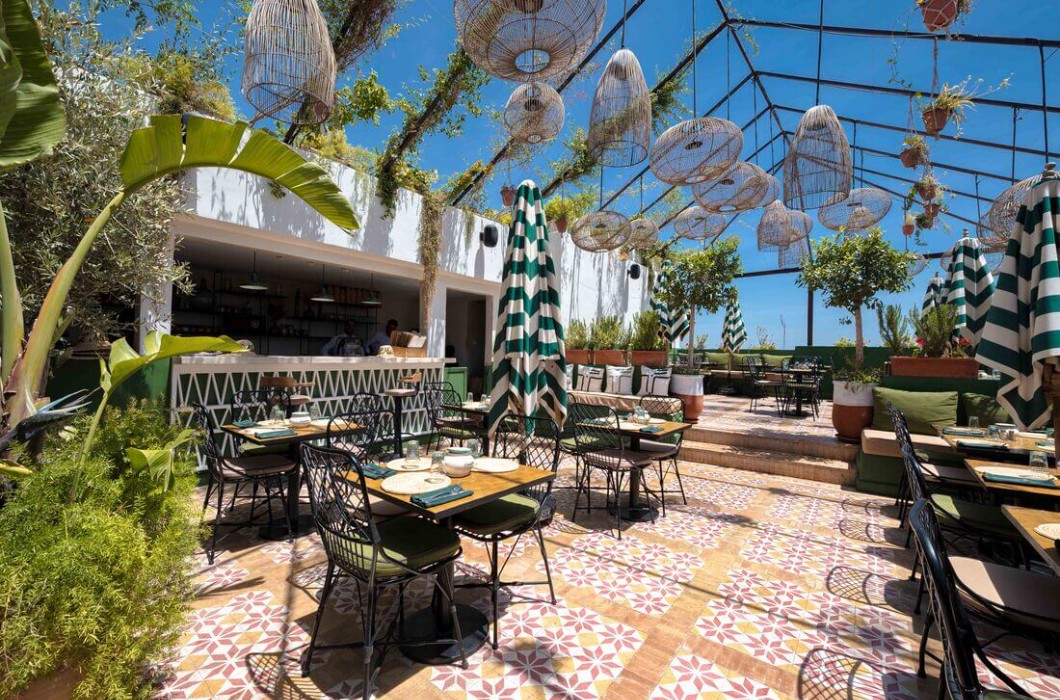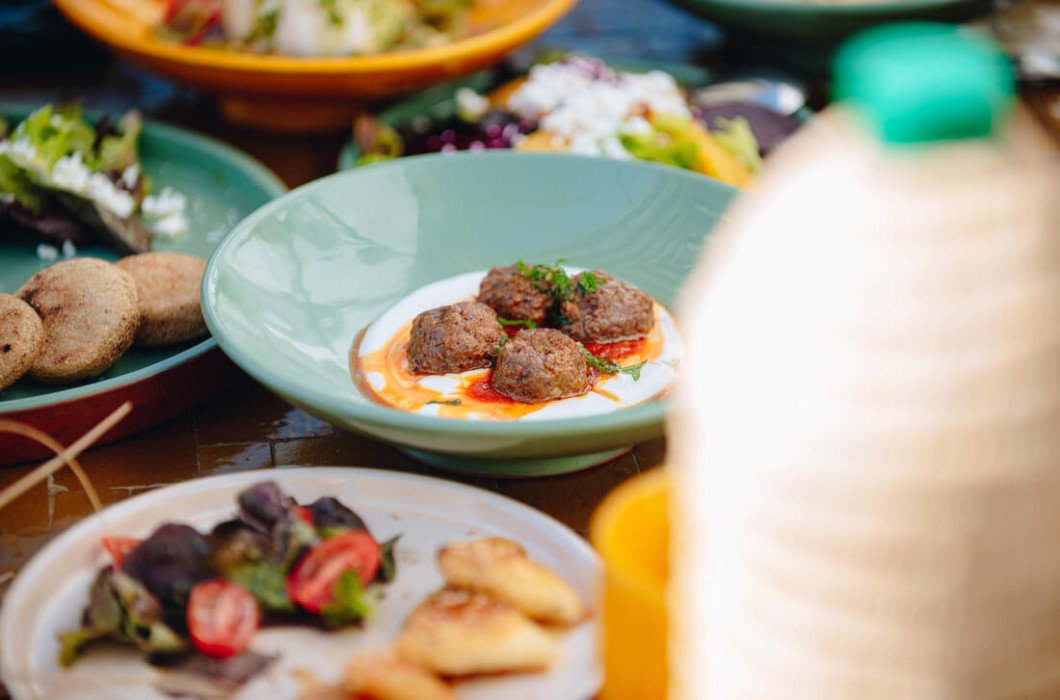 After breakfasting on a steamed fruit tagine in the shade of ancient olive trees the next day, I return to my latticed hideaway for one final treatment. Marrekech's dusty streets are not kind to feet. Luckily, I'm in very capable hands of Gael Ksouri, who's trained under Paris-based pedicurist to the stars, Bastien Gonzalez. Between the Bastien Foot Beauty Treatment's hydrating black diamond mineral scrub, and mother-of-pearl that's buffed into my unloved nails, I feel sandal-ready! Which is just as well, since my dinner date happens to be one of the city's most stylish riads: El Fenn, co-owned Vanessa Branson, sister to Richard. Its sprawling 1,300 sqm rooftop is accessed via a spiral staircase leading from the hotel's fire-engine red boutique, located by the Bab El Ksour gate. Its thoughtfully-curated collection includes bold printed kaftans, pineapple bedside lamps and even a signature El Fenn fragrance.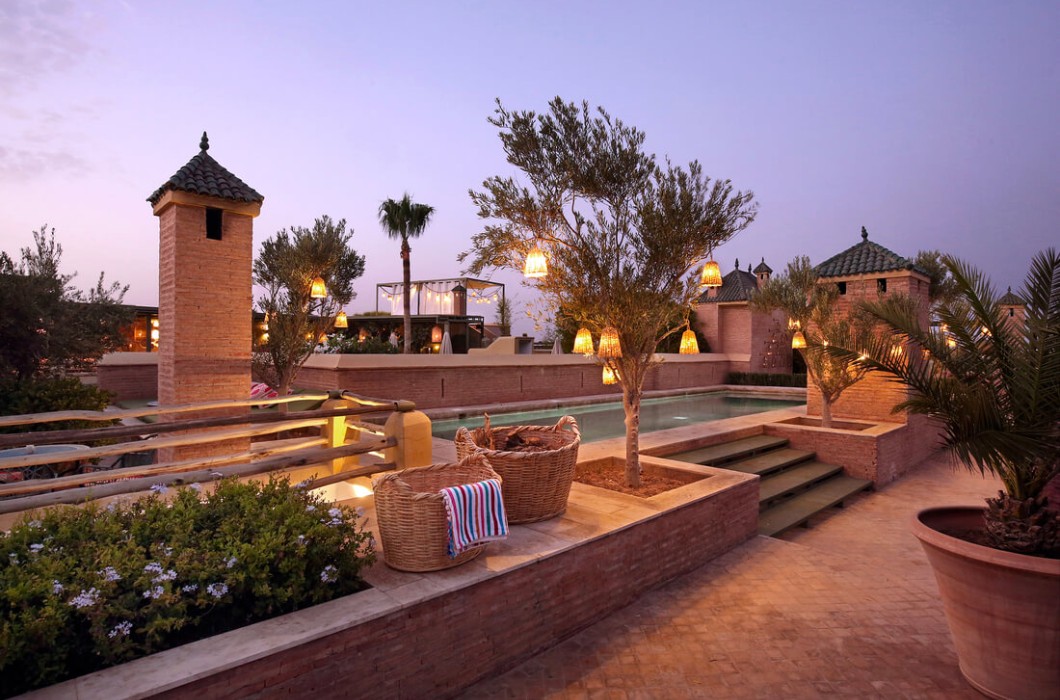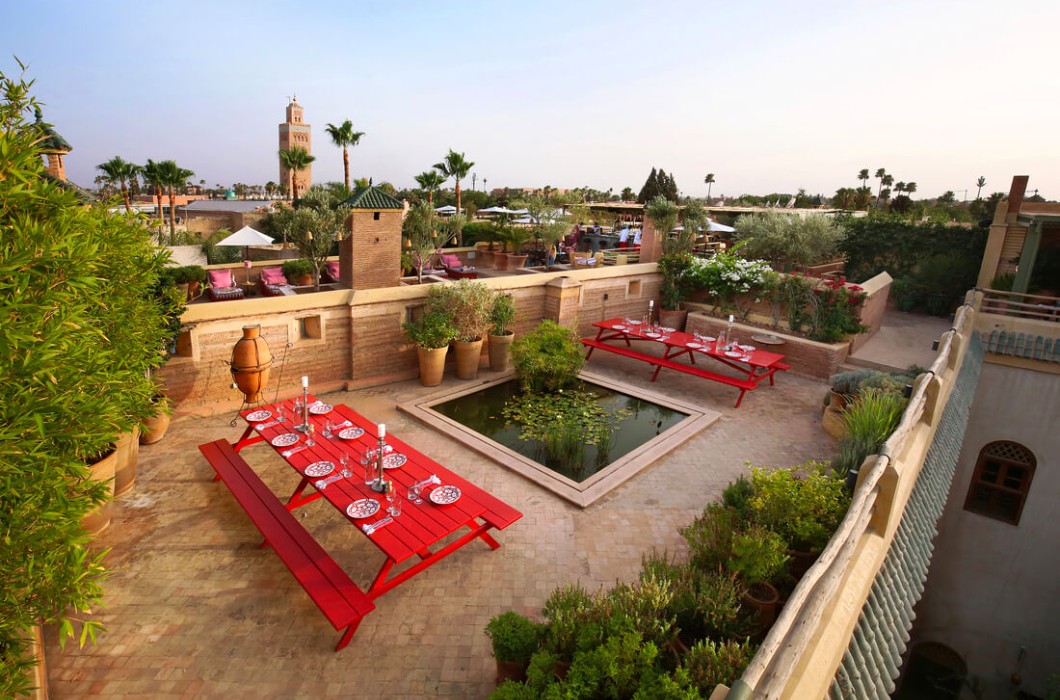 After an impromptu pre-dinner shop, I find myself silenced by the city's 12th-century Koutoubia Mosque, a sight to drink in with a hibiscus ginger margarita from El Fenn's enchanting rooftop. Here, you're high enough to escape the melee of waspish scooters and donkeys dragging carts of oranges, below.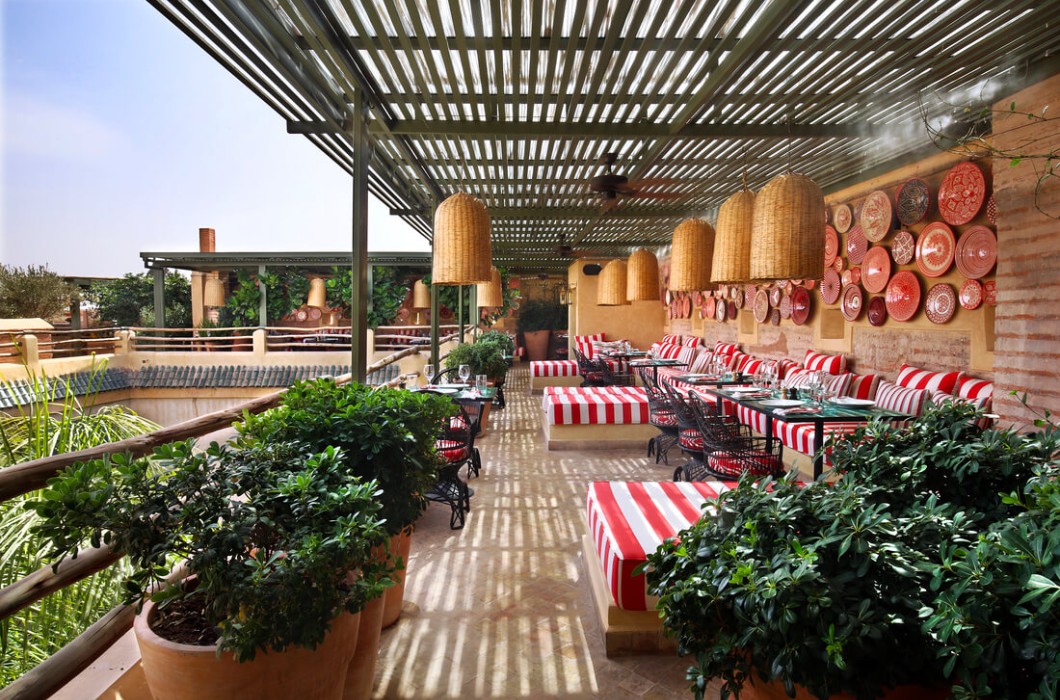 Dinner is served from the comfort of a squishy red-white-striped banquette, that wraps around one of the property's 12 courtyard gardens (one of which is home to a family of tortoises!). Against a backdrop of exposed brick walls decorated with traditional ceramics, I tuck into chef Bob Touatou's veggie-leaning modern Moroccan dishes. A tastebud-tickling charred avocado quinoa is followed by cauliflower done two ways, which packs a powerful flavour punch. Keeping things local, I indulge in a golden-hued pour from Guerrouane: a region in north-eastern Morocco that's been producing wines for over two millennia.
As if on cue, the cry of the muezzin peals as the Atlas Mountains lift into a magnificent haze. I linger a little longer to watch the sky turn the same colour as the city itself. It's one of those magical Marrakech moments to add to the many that I've already amassed…
Stay:
WHAT: Royal Mansour Marrakech
WHERE: Marrakech, Morocco
TEL: +212 52980 8080
WHAT: Mandarin Oriental Marrakech
WHERE: Marrakech, Morocco