Paddling down a silent waterway, the clouds above us, like thick black bonfire smoke, part to reveal an almost full moon. Torches beneath our stand-up paddleboards fill the water with white-blue light, so we can see vibrantly coloured coral below.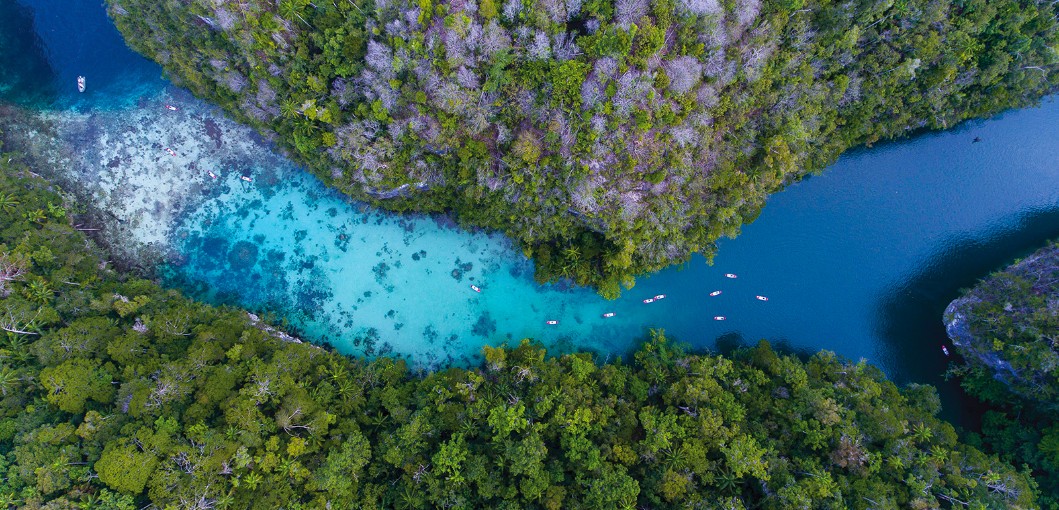 Reaching a still lagoon, surrounded by thick mangroves, we pause and lie down on our boards. Running our hands through the water brings out the bioluminescence. There's plenty more that glistens and glimmers above. Out here in the remote wilderness of Raja Ampat, far from civilisation, the night skies are bright and clear. Fireflies emerge from the mangroves and flicker orange against the backdrop of silver stars.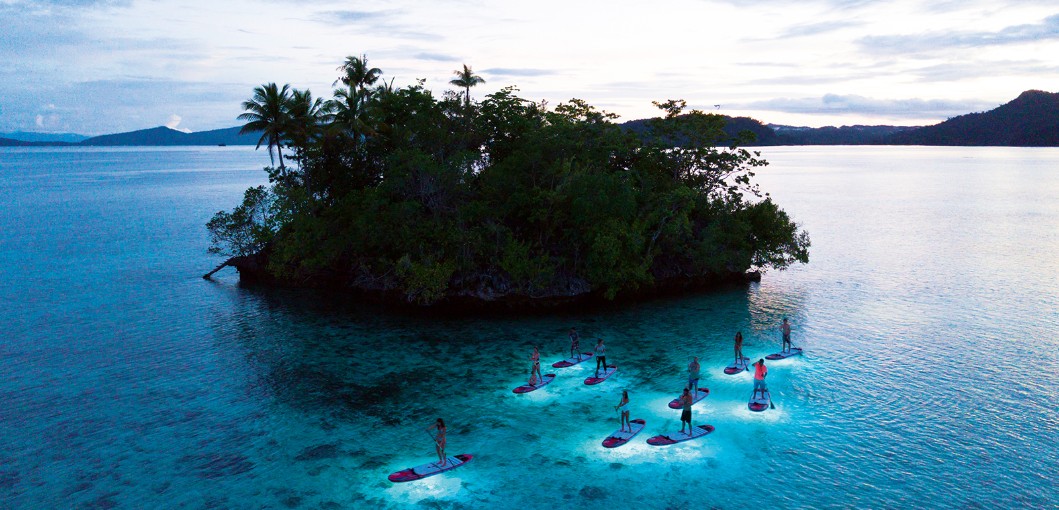 "Nature has a bigger presence than civilisation here," Sean Galleymore, founder of Meridian Adventures and leader of our expedition, tells me, as we float on the water. "That's why I see Raja Ampat as the 'last frontier'. This place has been left alone. This is how you'd expect to find it 'way back when'." It's a long way to come just for a peaceful paddle. The remote Indonesian archipelago of Raja Ampat is a 9.8-million-acre area of land and sea in West Papua, to the north of Papua New Guinea, with four major islands and more than 1,500 smaller islands and countless limestone karsts to explore.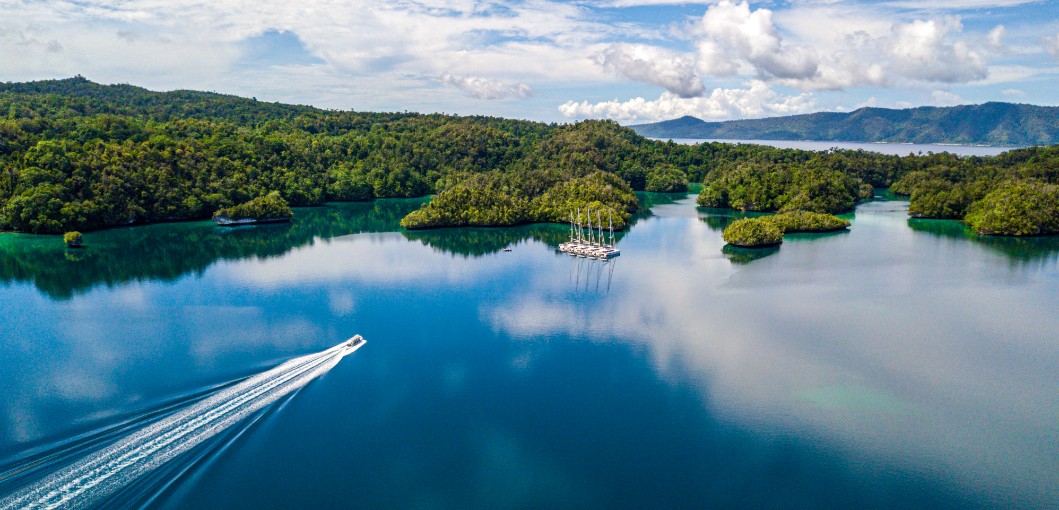 I cruise the karst-filled landscapes of Raja Ampat onboard one of Meridian Adventure SAIL's fleet of six luxurious Lagoon 62' catamarans, each staffed and sailed by a crew of thoughtful, friendly and meticulously helpful cadets, trained at Meridian's Academy. Each day, the fleet of catamarans sails to a new location, anchoring for the night in 
a secret bay or a tucked away lagoon. Along the way, we get to explore some of the world's most life-filled and colourful dive sites, as well as hiking on uninhabited islands, SUP expeditions and attempting to surf on electric surfboards.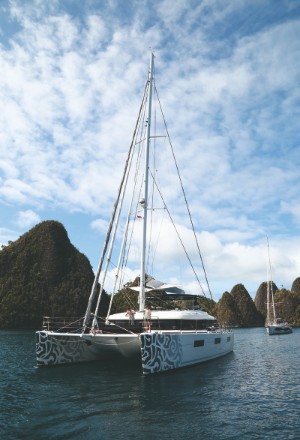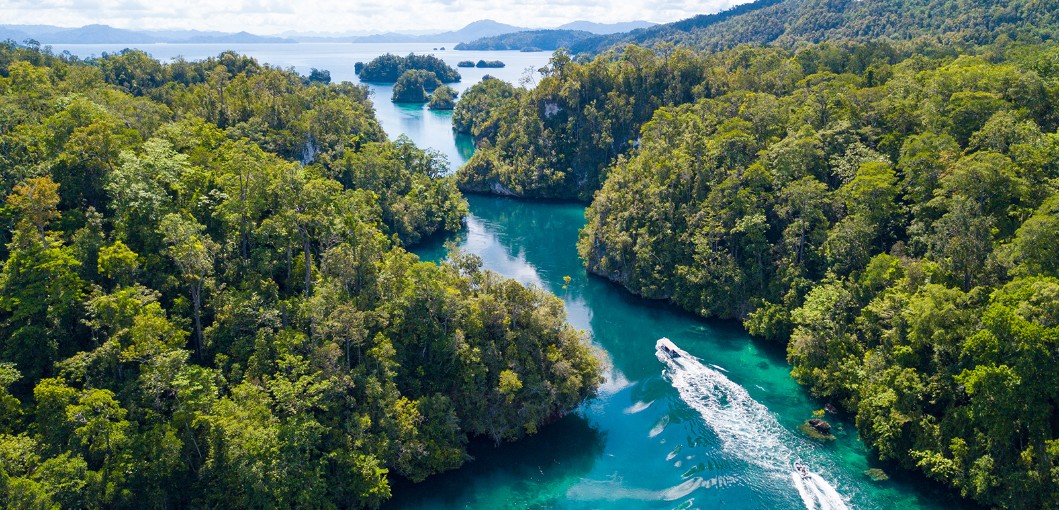 Having flown from Jakarta to Sorong, the largest city in West Papua, we cross the tempestuous Dampier Straits, before our captains greet us in tenders and ferry us to the catamarans, which are tucked away in a still bay behind a limestone karst. Onboard, shoes are removed; they're not required again for a full week.
"I've fallen in love with Raja Ampat," Darryn Timm, who's in charge of the fleet, tells me, onboard our striking white catamaran, beneath its 32-metre mast. "It's paradise. It's untouched. There are new things to see all the time."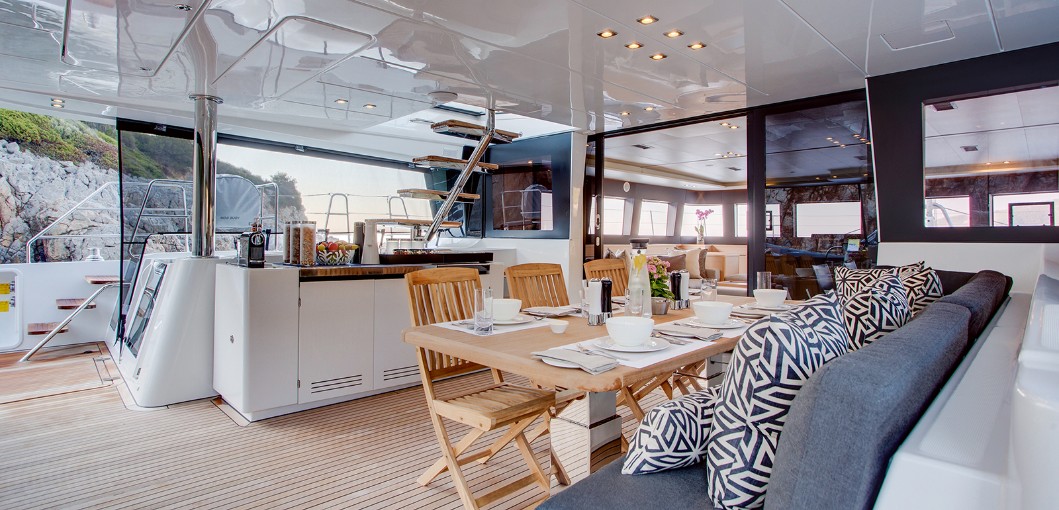 After G&Ts on the smart wooden deck, we're shown to our cabin, one of three on the catamaran, down in one of the hulls. The bedrooms are compact, with space for a pristine white double bed on an elevated platform, with plenty of drawers and cupboards below, plus an en suite bathroom off to one side. The catamaran, which we share with other guests, also has a lounge area with grey sofas, wooden tables and a computer monitor marking out our route. On the upper deck, there are comfy cushions laid out for taking it easy beneath the shade of the sails. Cadets work tirelessly to keep the vessel looking good, mopping decks and polishing metalwork, as well as making our trip more than comfortable, from tidying our cabin to supplying cocktails and canapés on the fly deck.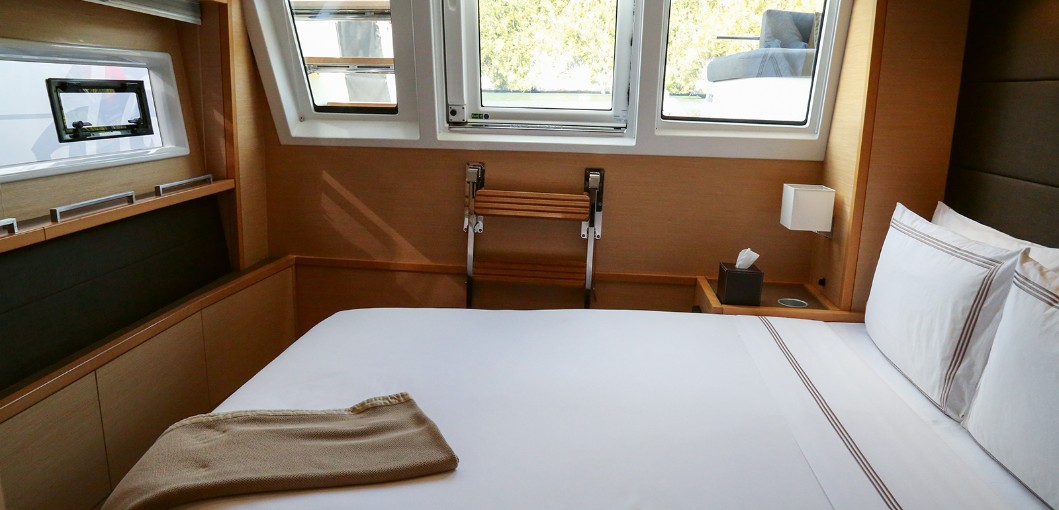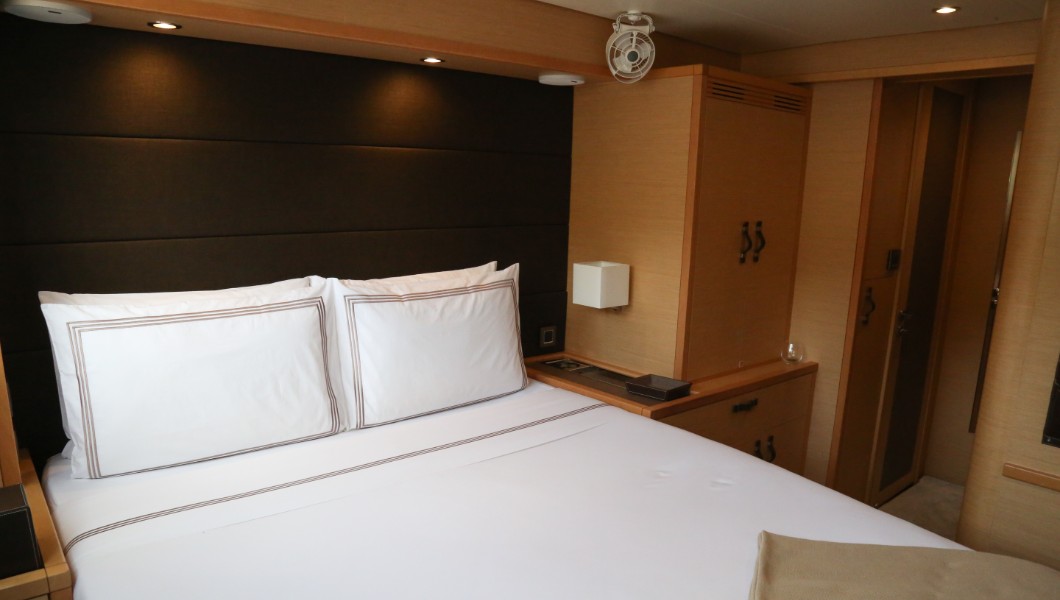 In the afternoon, our group of around 20, are taken on six tenders for a tour of the nearby karsts, a maze of limestone pinnacles thick with jungle and tall palm trees. We see hornbills flying between trees and a luminous blue malachite kingfisher soar across the water. "Raja Ampat looks untouched, like nature without people," Sean tells us from the main tender. "Raja Ampat is so remote. It's hard to get to. The islands and karsts are not logged. 
This place has been left alone."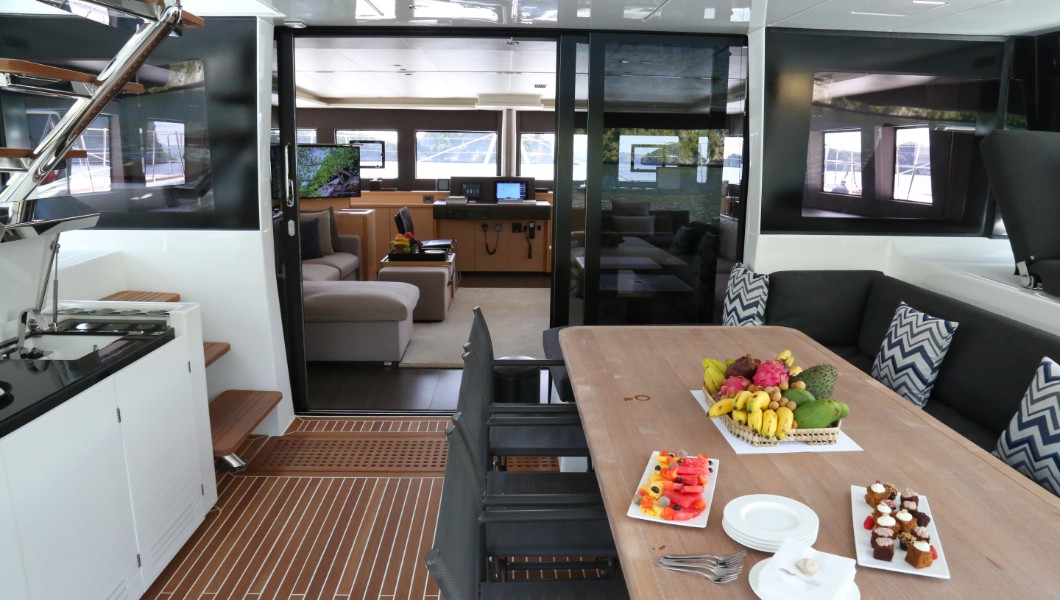 Nature reigns beneath the surface, too. 
We make our first dives next morning, swimming with sweetlips and snapper among the barnacle-crusted beams of Yenbuba Jetty on Mansuar Island, and with beady-eyed soldier fish, strange-looking humpback grouper, and striped grunts at the popular Cape Kri site. Everywhere you look, there's something to see, with corals, from fan to brain, giant shoals of fusilier fish, black tip reef sharks, and swarms of silver and gold fish filling alcoves. Moray eels watch from holes in the coral. "It's this biodiversity that people come here for," dive instructor Joanne Esterhuizen tells me. "Metre by metre, you can see the biggest diversity of hard and soft coral and fish life. You've got everything here, from macro life to sharks and mantas."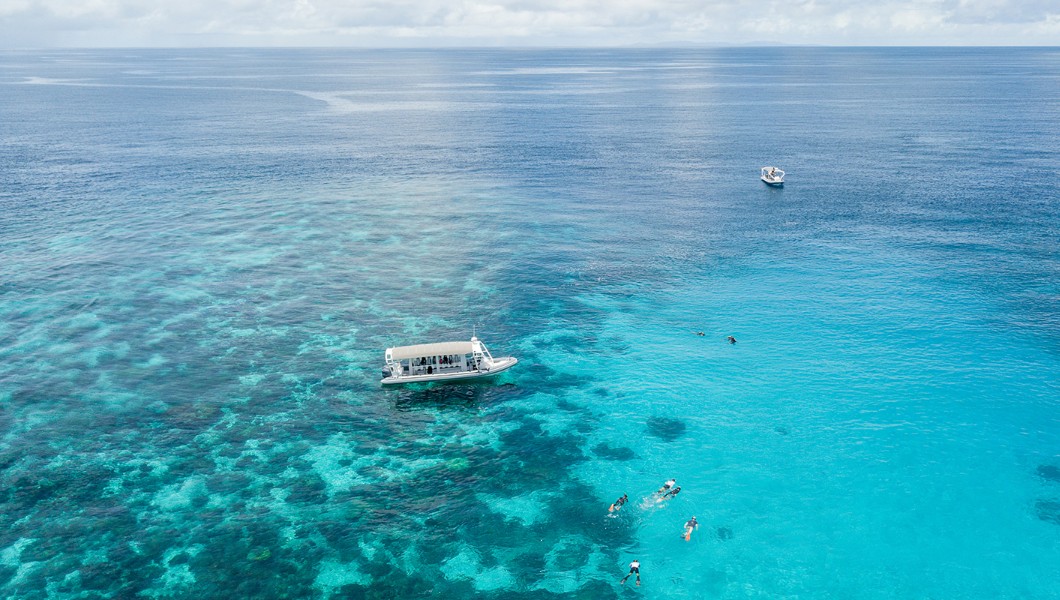 The amount of life found in Raja Ampat is down to the fact this area is being looked after. Regional authorities and local people have committed to protecting their natural resources, favouring tourism over the harmful fishing (such as dynamite bombing coral reefs), poaching and unsustainable logging that were destroying Raja Ampat, as they have other parts of Asia. Seven Marine Protected Areas (MPAs) now cover 1,185,940 ha (12,000 square kilometres), providing sanctuary for sharks, turtles, dugongs and manta rays.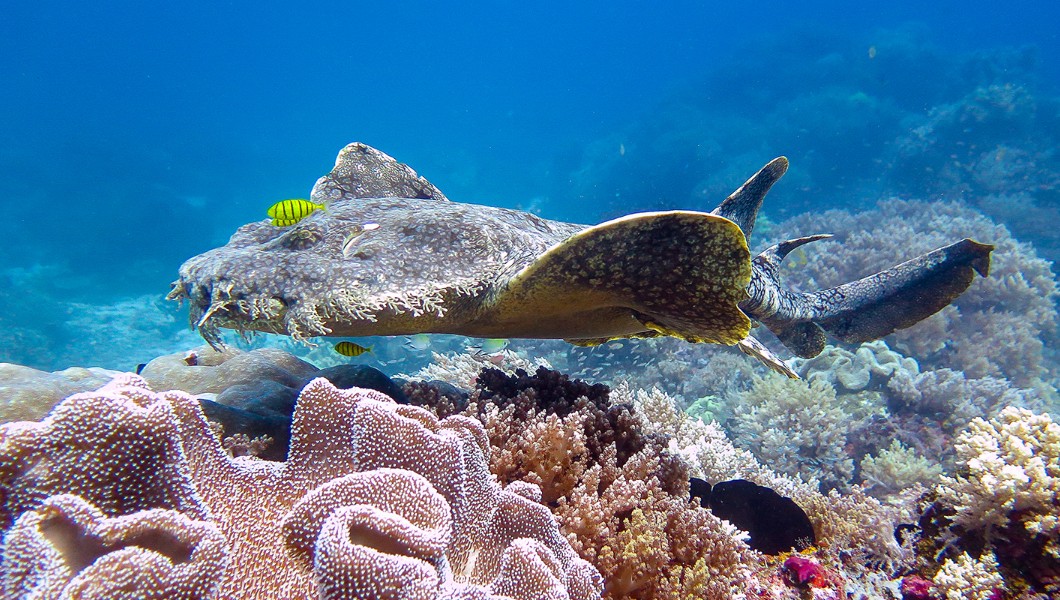 A pair of pilot whales break the surface next morning as we drop off the boat down into Lalosie dive site, a long ridge of colourful coral. At Yeben Shallows, off Yeben Island, a sandy coloured pinnacle jutting out of the ocean blue and sky, 
we observe hundreds of garden eels sticking curiously out from sand banks, while black tip reef sharks swim around the thriving coral garden.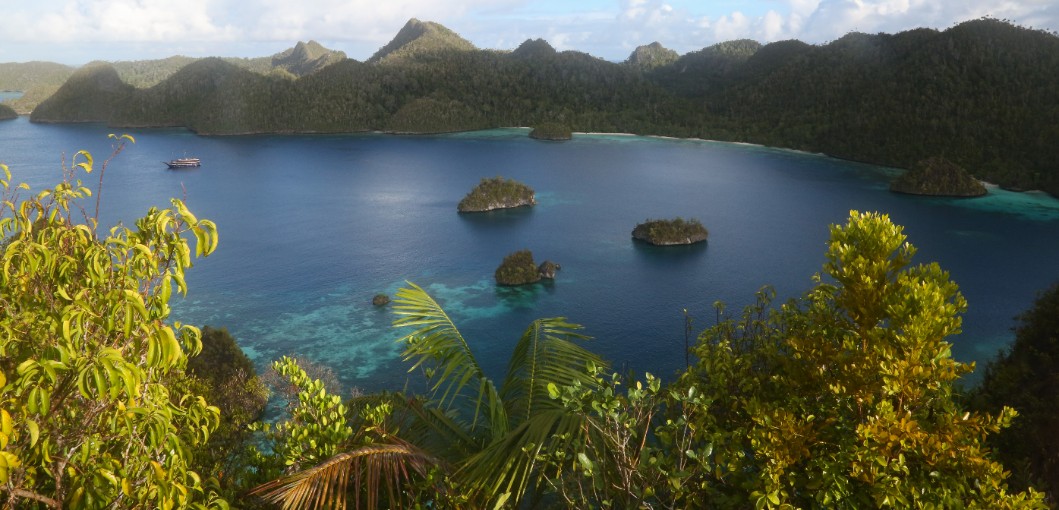 Further north, we drift with powerful currents along a wall, where the corals look like a strange vegetable garden. Halfway through the dive, our direction changes with the shifting currents where the Halmahera Sea meets the Pacific. "Like being in a washing machine," is how Sean describes it.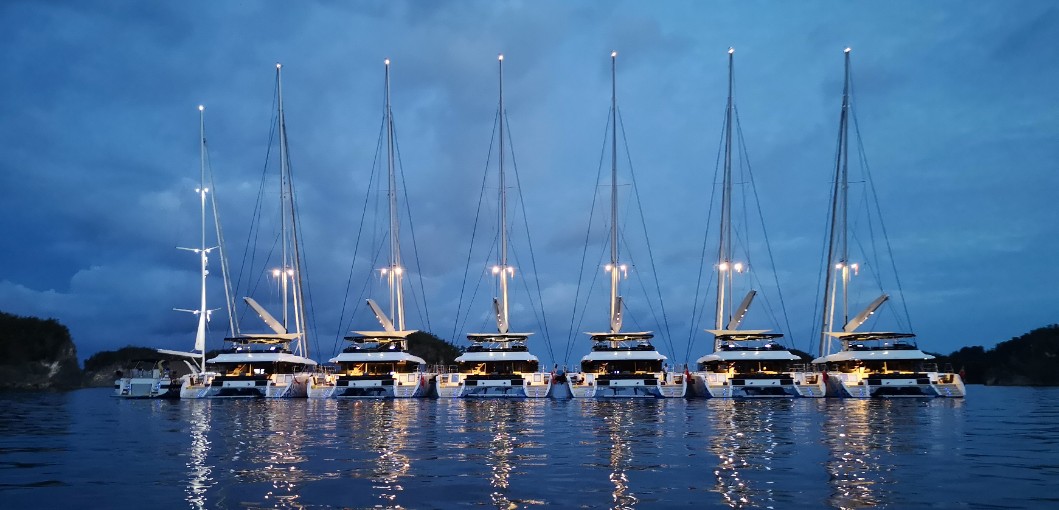 We sail north, across the equator, and cruise through the striking pinnacles and islands of Wayag Bay, like Vietnam's Ha Long Bay, only far less busy. It's a striking spot to drop anchor for the night.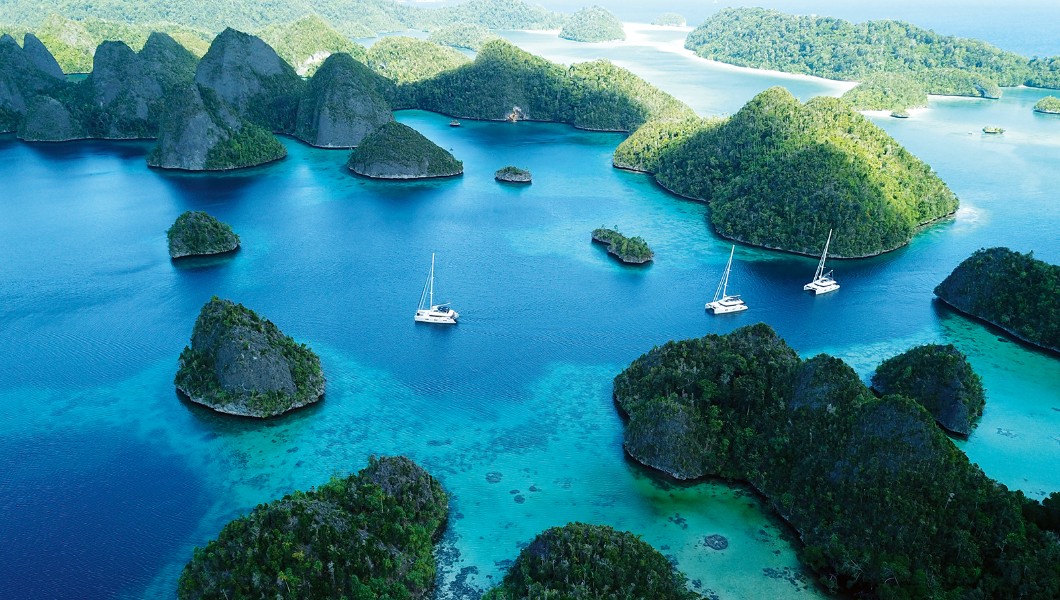 In the morning, our group paddles across placid water, weaving around karsts and passing a galleon with a pirate-style skull and crossbones flag to reach an empty beach. Climbing a challenging path of jagged volcanic rock to the island's summit, 
we earn a view across the bay's shifting blues, from navy to turquoise, and the karst landscape that's been carved by the coming and going of the ocean. "Nature never stops," Sean says to describe the process.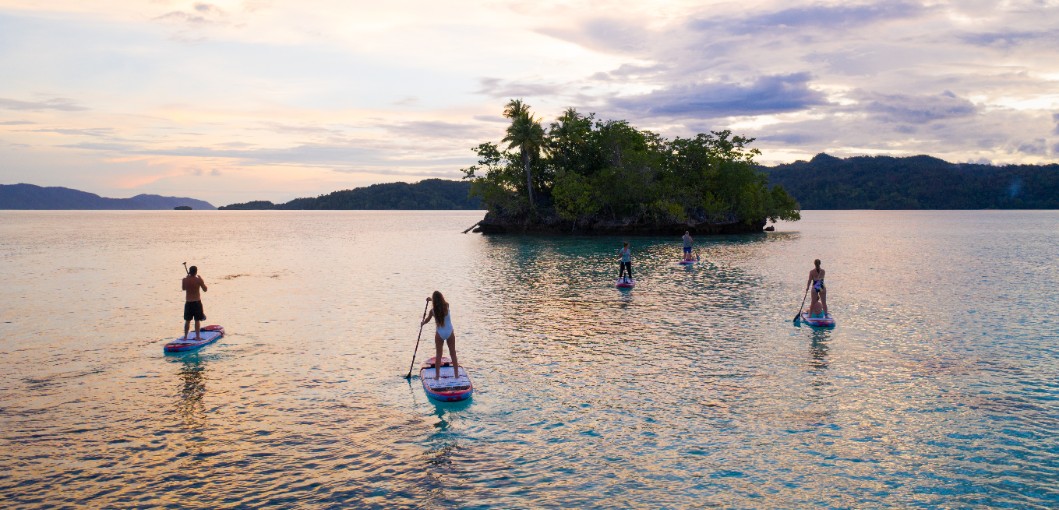 Our days have a pleasant pattern: dives in the morning, followed by lunch and downtime on the catamarans, often as we sail on to our next secluded location, with time in the afternoons for watersports before dinner. The catamarans are kitted out with some impressive high-tech gadgets, including a Fliteboard, an electric surfboard that hovers futuristically above the ocean surface. 
I manage to stand for a few seconds, but spend more time being catapulted into the water and falling spectacularly. I'm more adept on the Seabobs, a small jetski-like machine which, if you hold your breath, can hurtle beneath the water.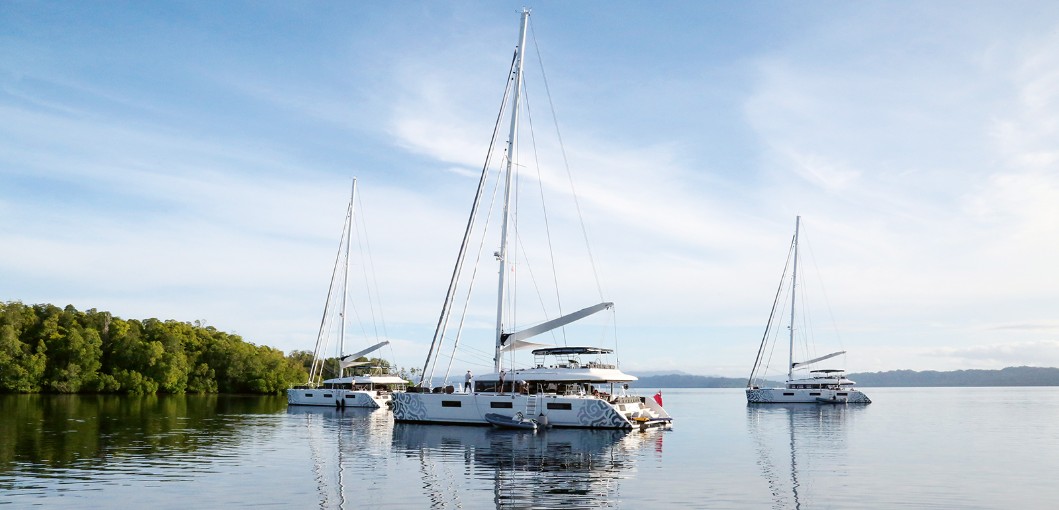 Next day, we take a more mellow tender tour of the mangrove-lined canals and secret lagoons close to where the catamarans are anchored, 
the sun lighting up incredible colours: vivid green mangroves; water so blue and clear it feels like our boats are floating. "I'm always amazed how diverse everything in this region is: the reefs, the fish, 
the jungle," says Nick Hall, who's driving our boat down the channels. "And it's so beautiful too, with all the colours." Herons flap across the channels, landing in opposite trees. A shadow glides beneath the water, a stingray on the move. Rarely short of words, Sean is speechless, holding up his arms to signal: "Look how beautiful this is."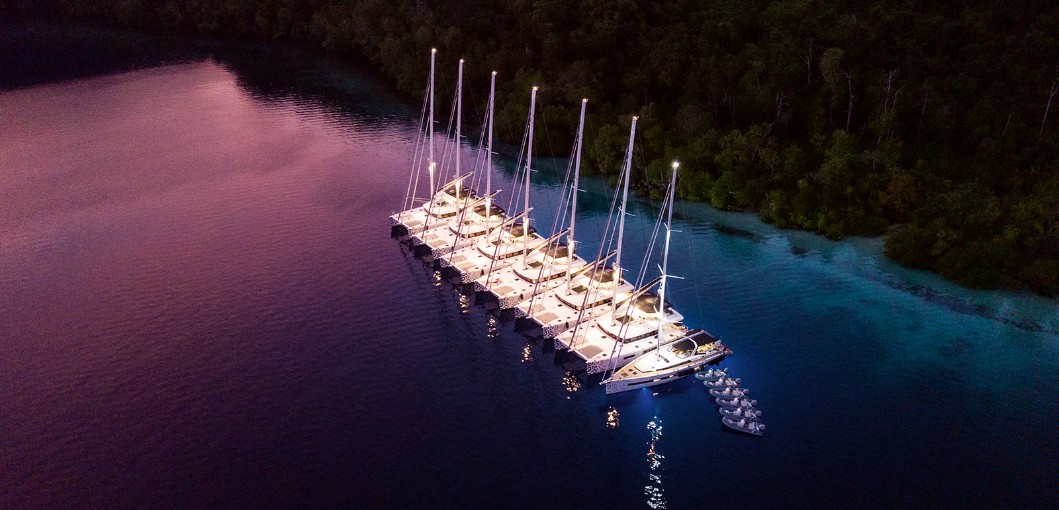 Herons flap 
across the channels, landing in opposite trees. A shadow glides beneath the water, 
a stingray on the move
I get up close to a spotted stingray on our final day of diving, when one swims out from under 
a coral shelf and joins multitudes of colourful fish at Miaskon, off 'Bat Island'. But with reports of manta rays seen around Blue Magic, we make our way to the popular site. Beneath the surface, there are seemingly endless shoals of silver jacks and trevallies, huge trigger fish and parrotfish, and more reef sharks.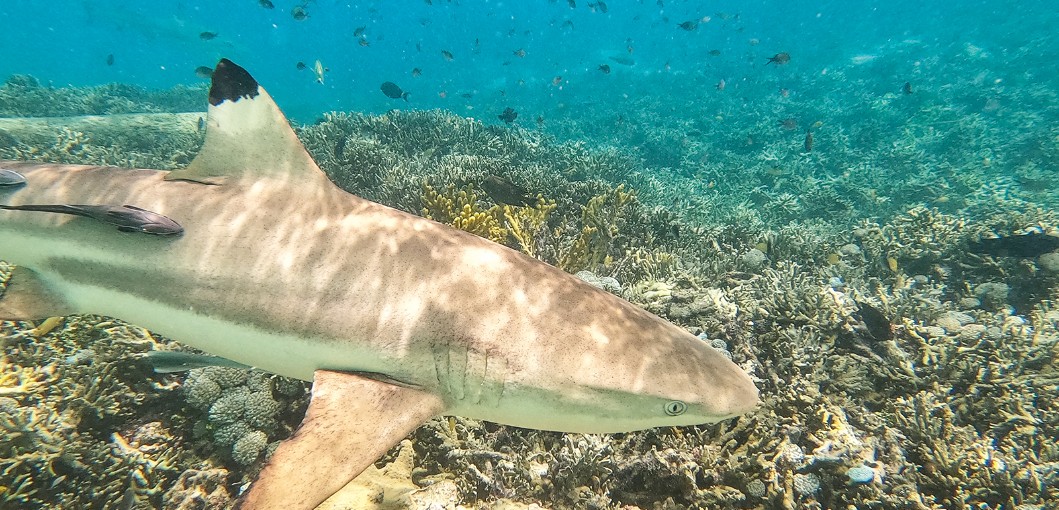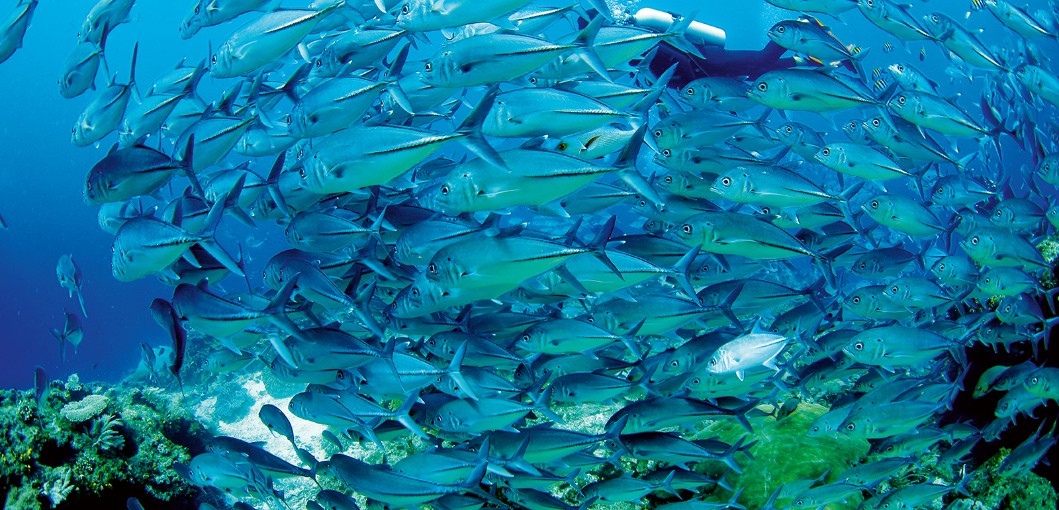 It would already count as a spectacular dive. But then, out of the silty darkness, a manta ray swims silently, gracefully towards us. It's a giant, measuring at least three metres across its wingspan, though it's just an infant; oceanic mantas can reach up to six metres across. The presence of manta rays, who feed on plankton, is a sign of Raja Ampat's healthy oceans and coral reefs. I watch the mysterious creature circle elegantly in the water and disappear into the darkness, only for it to reappear minutes later above the colourful coral garden, this time with a silvery snapper sheltering beneath its wing.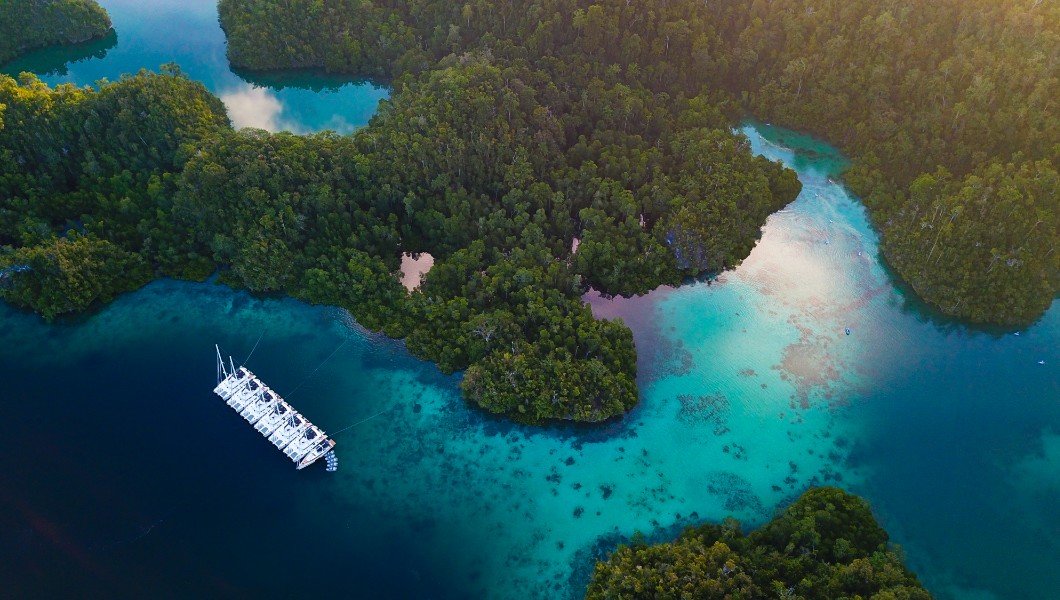 It's a high point to finish off a remarkable week. "You've only just scraped the surface of what there is to see here," Sean suggests, as we sail back to the mainland. "Raja Ampat goes on and on. It's endless. This is just the beginning."