In November, we launched a photography competition – in partnership with HRH Sheikha Mariam Bint Khalifa Bin Saif Al Nahyan and 
MKS Jewellery – to celebrate the 
beauty of the Emirates. The results, 
are outstanding….
---
WINNER
Shukhrat Gafurov 

36, Uzbekistan, photographer

Title: 10:45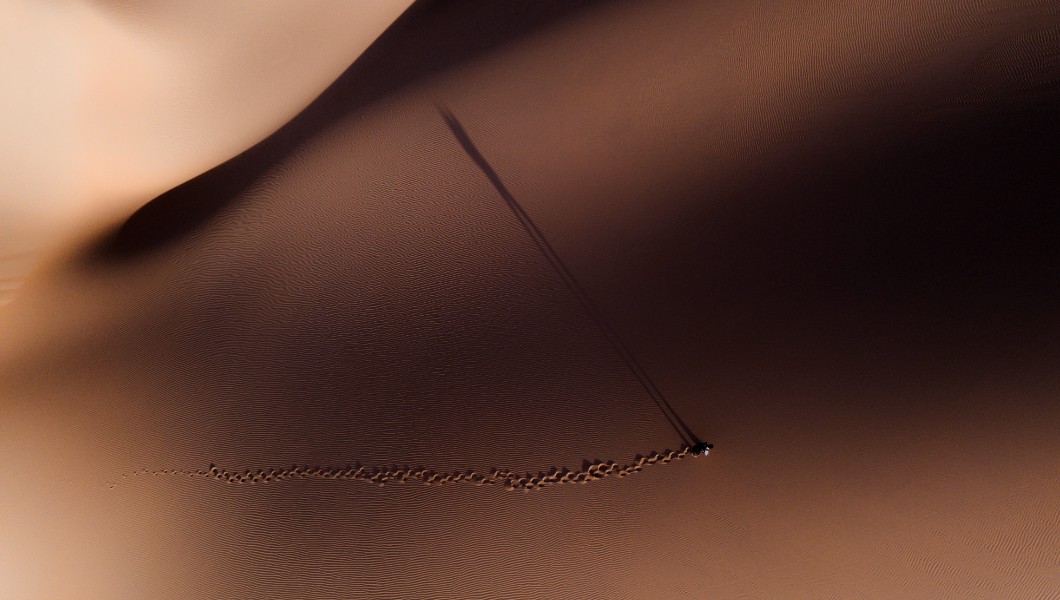 Story: My friend and I travelled to the Liwa Desert in Abu Dhabi, and while he was climbing the dunes I launched my drone to offer a different perspective from above. It looked absolutely stunning, so I decided to capture the image.

The Tech Stuff: I used a DJI Mavic Pro Drone

About Shukhrat: By trade, I'm an oil and gas engineer with 10 years background in the field. At the same time, photography is my hobby and I decided to turn it into my job, which I did successfully, and I'm extremely happy that I did. Life is short, you need to do what you truly love.

Love For The UAE: The thing that inspires me the most about this region is the cultural diversity and the people here.

Favourite Place To Shoot: Definitely Sheikh Zayed Grand Mosque in Abu Dhabi.

Why You Entered The Competition: I love challenges!
"Shukhrat's image really depicts what the UAE is to me – a beautiful contrast between the wilderness and modernity, people and nature, the finite and the everlasting. It's an incredibly striking image that stirs something in my soul" – Emily Baxter-Priest, Editor-in-Chief, Destinations of the World News
"A calm, flawless desert of alluring beauty and mystery." – HRH Sheikha Mariam Bint Khalifa Bin Saif Al Nahyan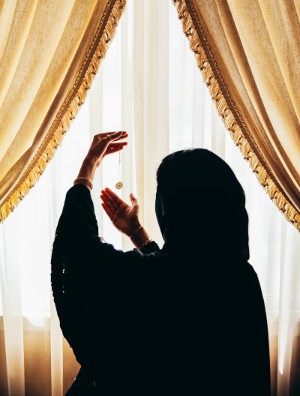 ---
HIGHLY-COMMENDED
Ali Al Kharusi
31, Emirati, QHSE & BC Manager

Title: Mars in the UAE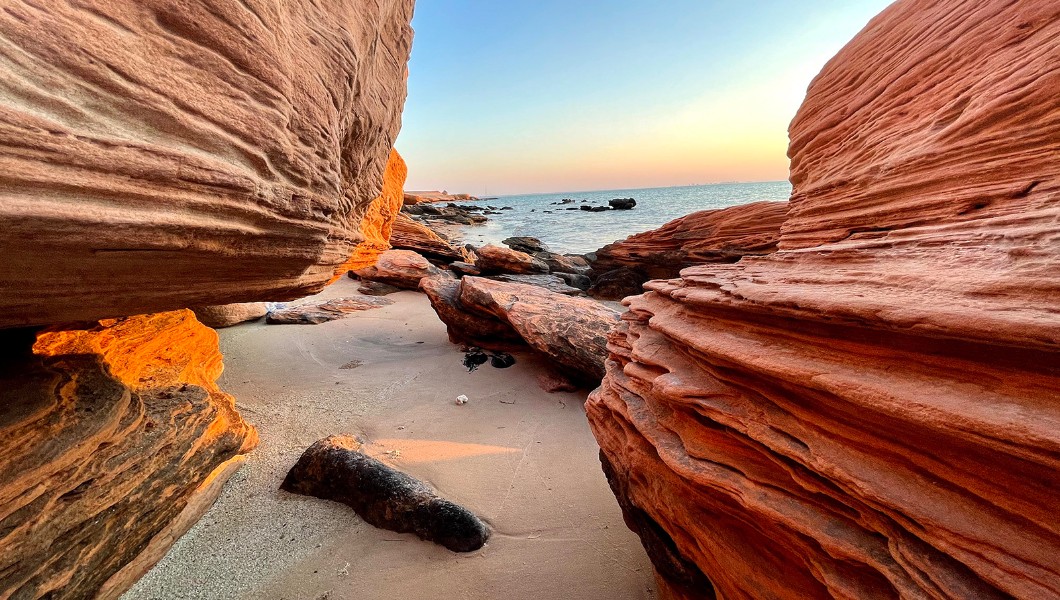 Story: This image was taken in December last year at Al Shuweihat Island in Abu Dhabi. I was exploring the UAE during the winter and 
I couldn't resist the view between the rocks with the sunset too.

The Tech Stuff: iPhone 12

About Ali: I've been taking photographs since 2003 when I bought my first digital camera. I was an amateur at the beginning, but once my friend and cousin heard about my passion, he joined me and gifted me a Nikon d60, and that gave me a big push to pursue my passion with different types of lenses. I have more than 300,000 photos and journeys, in addition to winning competitions and opening photography exhibitions in the GCC.

Love For The UAE: The people, the old sites and the landscapes. Favourite place to shoot: The sand dunes in the Liwa desert.

Why You Entered The Competition: I wanted to share this image to spread the reputation of the natural beauty in the UAE.
"The colours in this image are absolutely stunning, and I like the angles Ali has chosen – they're interesting, not obvious. It does much to show the great natural beauty of the UAE" – Emily Baxter-Priest, Editor-in-Chief, Destinations of the World News
"Sky above, sand below and joy within. I love this portrait as it signifies the beauty of nature and the stillness of the rock formation. It gives us peace and that feeling is bliss " – HRH Sheikha Mariam Bint Khalifa Bin Saif 
Al Nahyan
---
HIGHLY-COMMENDED
Myles Loach
19, English, student

Title: Concrete Golden Hour
Story: I took the image on a friend's rooftop when I came back to Dubai from university due to Covid-19 over a year ago. The picture was left on my hard drive – forgotten. Until mid-October, when I stumbled across it again and felt the need to edit it. The image signifies a lot for me, as it shows when I began shooting again. Almost a year later, I am now looking to start my own production company in Dubai, called SkyHigh Creatives.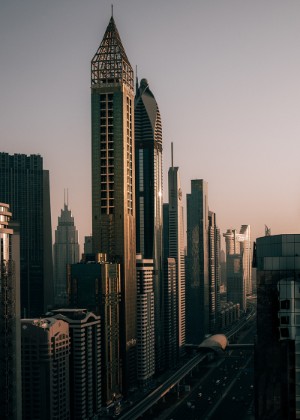 The Tech Stuff: Canon Eos R with Tamron 35mm 1.8

About Myles: I started photography when I was a child, given my first camera by my uncle. I began by taking photos of my dog and realized, soon after, that photography was my dream job.

Love For The UAE: I love the UAE because of the drive that people have here. I know that to succeed in what I do in the UK would have been extremely difficult but here people support you and push you to follow and learn your creative passions. I also love how many different nationalities there are here – it feels so united. Everyone and anyone has a story to tell, which is what I try to capture with my photos.

Favourite Place To Shoot: I love taking pictures in the cities of the UAE, because of the architecture. Back in my home town, there is no such thing as architecture with the sheer size or beauty that the buildings have here.

Why You Entered The Competition: I was pushed to 
enter by a very dear friend. He told me that people needed to 
see what I was capturing. At first, I was hesitant, but after some convincing I too thought I was at the level where I could push my work and allow people to witness and enjoy it.
"The lighting that Myles captured in his image is simply stunning – it feels filled with hope and expectation, two things so synonymous with the UAE. Sheikh Zayed Road is the pulsating vein running through Dubai too, so to have captured it in such a 'peaceful' moment is very unique." – Emily Baxter-Priest, Editor-in-Chief, Destinations of the World News
"You can't mention Dubai's dynamic growth without paying home to its magnificent skyline. A message to the world that no matter how big your dreams, the sky's the limit." – HRH Sheikha Mariam Bint Khalifa Bin Saif Al Nahyan
---
HIGHLY-COMMENDED
Rohit Rattan
43, Indian, Sales & Marketing leader

Title: Reflections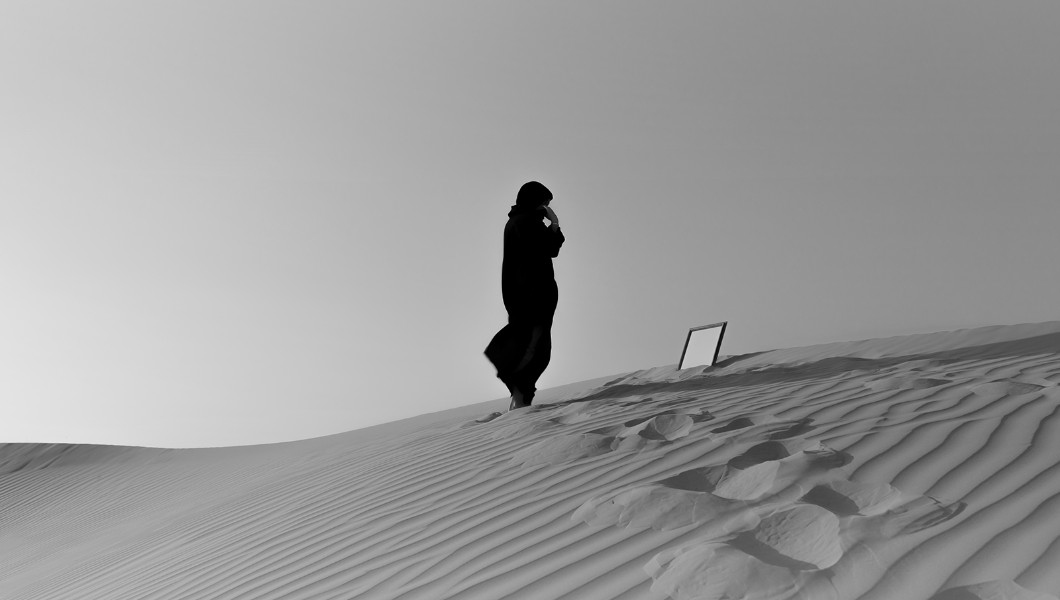 Story: The series of images portray self-expression of mankind creating meaningful proficiencies through life. It reflects expression, personal freedom, emotions, understanding of life and its fulfillment eventually relating to expressing perceptions and evoking emotions that tie us to life itself while illustrating how we echo people's reflections time and again. It's 
a cohesive representation of reflections of humanity which are uncontainable.

The Tech Stuff: Canon 6D Mark ii / 35mm

About Rohit: I'm a very passionate sales and marketing leader in the hospitality industry and moved to Dubai from Qatar in 2000. I started playing with photography a few years ago, trying to capture the stillness of life in every form. It brought me immeasurable inner satisfaction which still stands firm today. Photography is a very broad subject, and I decided to focus on fine art photography because it's the genre that gives me the most satisfaction. Photography challenges me to imagine, explore and create the pieces in my head – it's a never-ending process of learning and it's something find extremely magical and exciting.

Love For The UAE: The UAE is so diverse and presents anything and everything, from undulating dunes and traditional rustic hubs to shimmering skyscrapers, all from different eras and cultures. For a photography, it's incredible to try and capture that essence. I try to simplify these contrasts in my photography, working on negative space and isolation, looking for the complexity in its simplicity in my mind.

Favourite Place To Shoot: The desert dunes and by the UAE's coastline.

Why You Entered The Competition: I saw it as an opportunity 
to present myself and my work to the audience.
"I love the sense of voyeurism Rohit's image gives the viewer, as if we're on the sidelines to a very intimate moment. I'm left wondering who is this woman, why she is looking in the mirror and, most importantly, what does she see in the reflection. It's very evocative." – Emily Baxter-Priest, Editor-in-Chief, Destinations of the World News
"Who are you when no one is watching? I always believed that not all storms come 
to disrupt your life; some come to clear your path. Quiet the mind and the soul will always speak." – HRH Sheikha Mariam Bint Khalifa Bin Saif Al Nahyan
"The diversity of both talent and imagery from this competition was astounding, each presenting the emirates in such a raw and natural light"
– Emily Baxter-Priest, Editor-in-Chief, Destinations of the World News