Do you recall your first foray into food?

My first true gastronomic experience was in a restaurant that my father had booked following the recommendation of one of his suppliers. We turned up at the hotel and two waiters came out to the car wearing white gloves and bow ties. We thought our father had made a mistake with the booking, as it was completely unlike him. I was 12 and had my first real explosion of tastes.
My mother and father were eating nouvelle cuisine style frog's legs and snails, whilst my twin brother and I had the most delicious, simple tomato salad with really flavourful tomatoes, shallots, olive oil, sea salt and a little red wine vinegar. I then had a beef fillet larded with beef fat and hand cut chips cooked in beef dripping. It melted in the mouth. Then I had 
a very simple poached peach in vervain with vanilla ice-cream. 
I can still remember very distinctly those first tastes and flavours after all these years.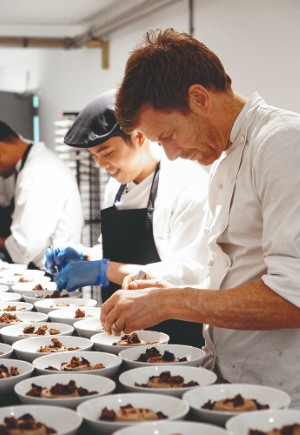 What five words would you say best describe your cooking style?

British cuisines with a twist. I use only seasonal and, as much as possible, locally-sourced ingredients. It's very tricky to pinpoint the exact style as I have cooked Michelin-style food for most of my career and this would be definitely in the mould of gastronomic French cooking. On the other hand, I have spent a lot of time creating casual all-day dining concepts that focus on great British classics and comfort food. With other restaurants in the Middle East, I have had to adapt my style of cooking to these locations as well.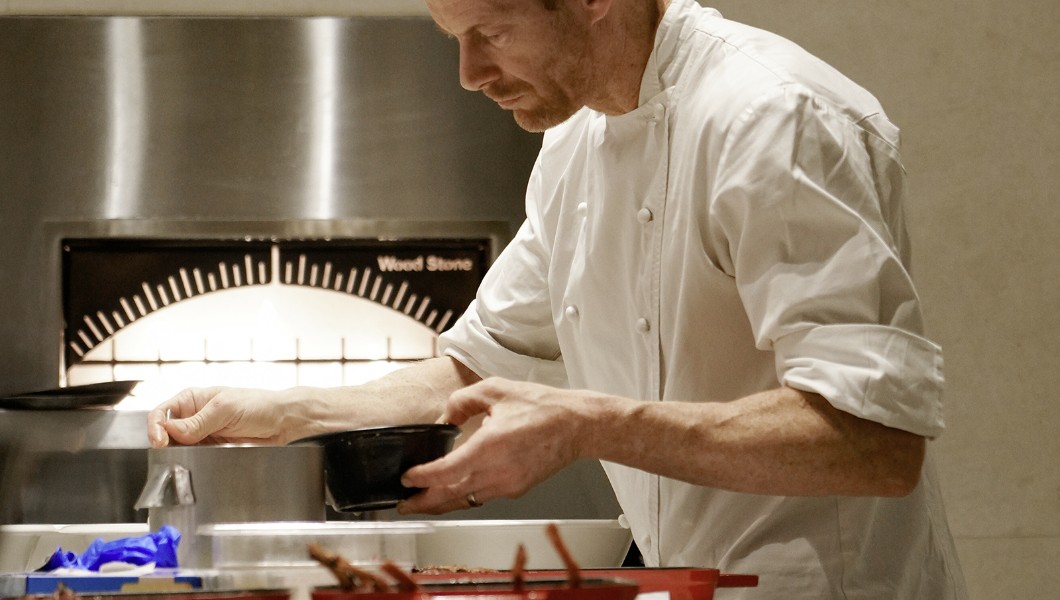 You're renowned as being a great British chef. What makes you proudest to be British?

To be working alongside some of the best British suppliers in the country who produce the best seasonal, high-quality produce. I'm also proud of how far the British culinary scene has evolved over the years.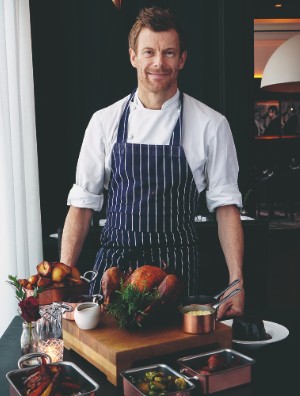 Talking chef heroes, Who has inspired you?

The two chefs that really shaped my career and who inspired me were Pierre Koffman and Joel Robuchon, who were both very different chefs. They both used amazing produce but one was all about flavours and tastes on the plate, while the other was really about precision, details and, of course, taste as well. 
My style is a mix of both of them, as I love the intricacy, but it has to have the good flavour as well.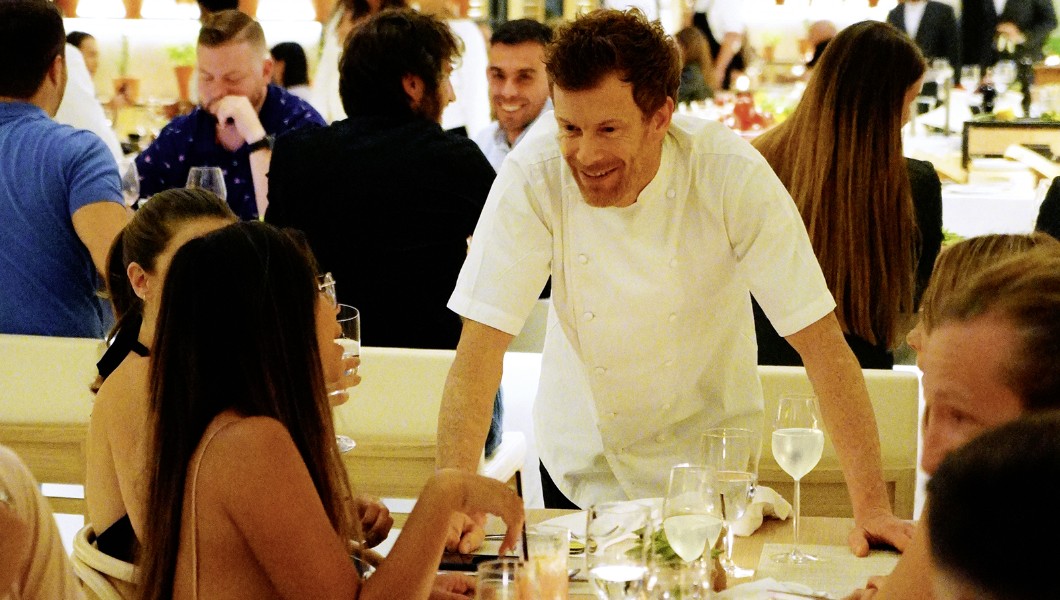 What philosophy do you cook by?

I always want to challenge myself and constantly push the boundaries and myself so that I am always accomplishing something.
So, take us through the restaurants that you oversee at The Abu Dhabi Edition…

Well, firstly I wanted to make sure that each of the three restaurants at The Edition stood out from what else was going on in the restaurant scene in Abu Dhabi, and that what we were doing was way above anything else in terms of quality, originality and value. So, the three outlets are all very different, allowing for a lot of choice. Alba Terrace is inspired by Mediterranean cuisine; then there's the informal yet informed British rock'n'roll steakhouse, Oak Room; and the all-day dining restaurant, Market at EDITION, that focuses on well-being and healthy eating.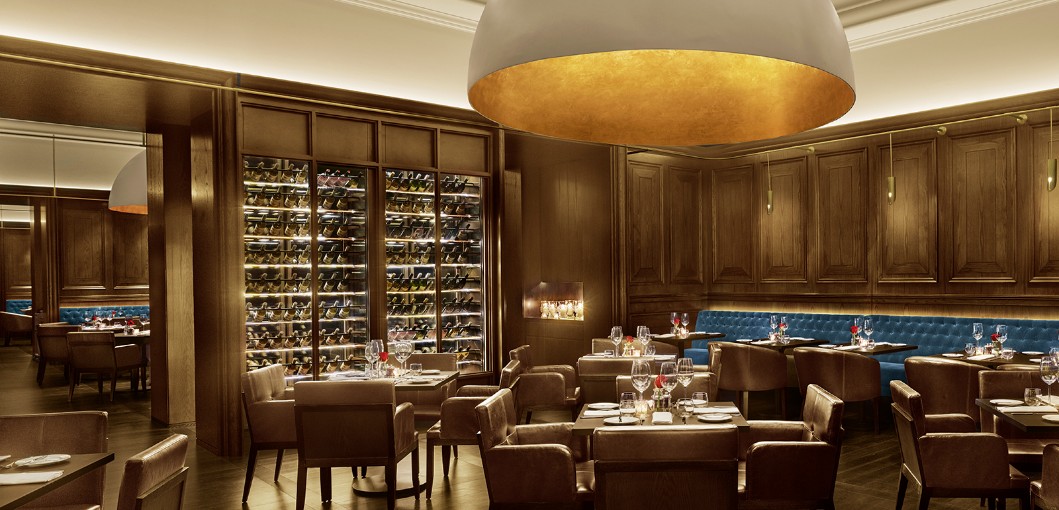 Tell us about Market, which really embraces veganism and a plant-based methodology...

I wanted to give guests tasty, delicious healthy food, as most people think it is boring and unsatisfying. The style of cooking is focused on Asian style from Korea and Japan, with lots of delicious raw salads, such as Poke bowls, broths, vegan and vegetarian burgers, to a prawn or a sustainable tuna burger, that are all served in vegetable based brioche buns like spinach, kale and spirulina, beetroot and cardamom and an activated charcoal bun. There is even a healthy pizza made from activated chia seeds and grated cauliflower. There's also matcha teacake with green tea and yoghurt ice cream, chocolate and avocado mousse with yuzu ice cream.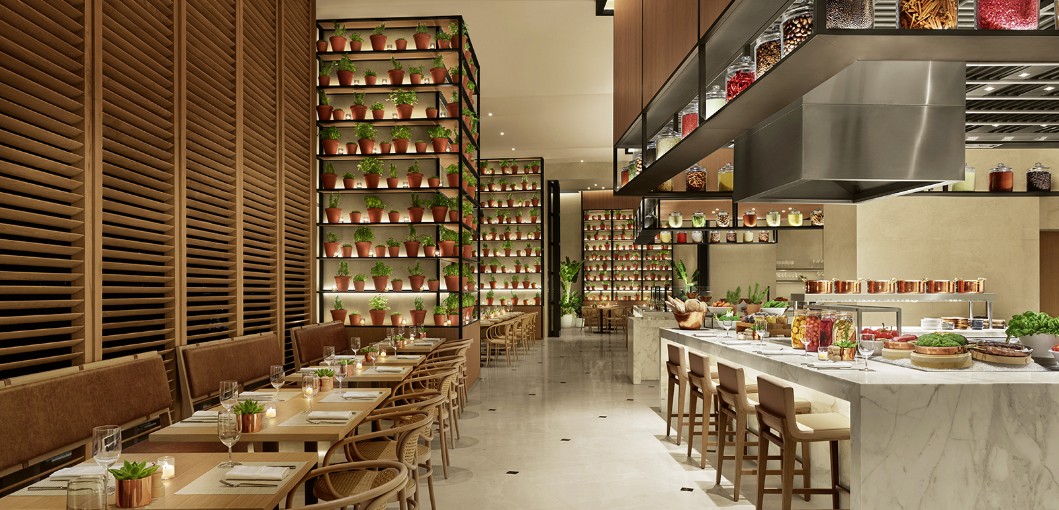 The Oak Room turns meat into an art form. Was that the idea?

Well, there is so much great, good quality choice out there now, so incorporating theatre into the room is what can make a dining experience electric without being too gimmicky. 
The Oak Room offers steaks from all over the world: John Stone beef from Ireland, Wagyu from Australia, Prime USDA beef from America and Kobe beef from Japan, and we showcase them 
all in a glass-fronted chiller cabinet.
Take us on a tour around the restaurants… what should we eat?

At Market at EDITION, I'd definitely say the Green Earth Burger, made from chickpea and shiitake patty with aubergine relish, grilled piquillo pepper, halloumi, muhammara and grilled avocado; at Alba Terrace, go for the bream ceviche; then at Oak Room, try the glazed shortrib.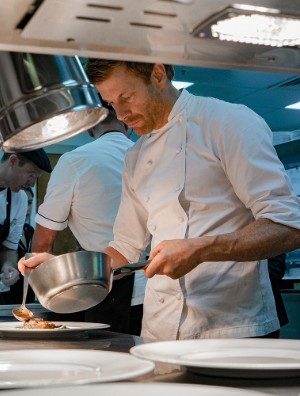 Sustainability is hot topic at present. Are you able to go 'green'?

Food is strongly linked to the whole concept of sustainability, 
so I will always try to source the ingredients as locally as possible, no matter which country I am in, and I adapt the restaurant's menus accordingly to flavours, tastes and even cooking techniques. I also adapt all my menus according to what the suppliers can provide us with, so I can serve the freshest, best-quality ingredients. If the produce that is grown are harmful to the planet then it is damaging the produce itself, which of course affects the taste. I believe the best-meals can be made from the simplest recipes, if you get the best ingredients.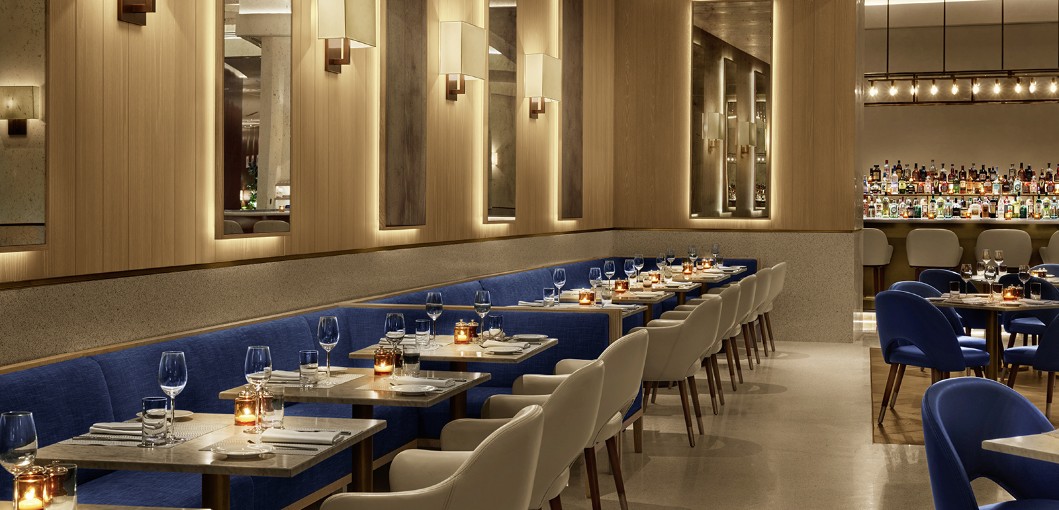 Is it a challenge to find the best produce 
in the UAE?

It depends. I will always do a thorough study of the produce available by trying the restaurants in the area and asking chefs who have been working there for a while which supplier they use and what they recommend in terms of local ingredients. 
Of course, the quality of the produce, as well as the food costs will play an essential part in the new menu as I try to source my ingredients. But as you are aware, the majority of the produce is flown in and this is mainly the beef which comes from all over, whilst we use a local vegetable grower called Green Heart Organic that is based just outside of Abu Dhabi.
How does the culinary scene in the UAE compare to England?

Standards are very high in the UAE, and the culinary scene is varied due to many international chefs from Europe, US and Asia. In terms of difference, I would say that produce is slightly different because of the climate. Most produce is imported, 
so it means we can get seasonal produce all-year round. 
I've enjoyed learning new cooking techniques and new flavours, which has been fun and interesting to incorporate in my menus 
here in Abu Dhabi.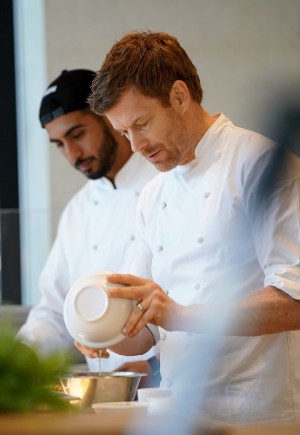 In what ways does travel influence your work and cooking?

Well, travel definitely broadens your mind and knowledge. 
It is very difficult to stand out as chef, and when I was at the beginning of my career, back in 1993, it was also very unusual to leave your own country. But I took the initiative and went to France for two years, which was my way to stand out. Today, the world is much smaller and young chefs should travel the world to get better experience, push themselves to the limit and be influenced by what others are doing and offering and why. Working 16 hours a day in a country where you do not understand the language is a very hard thing to do, but you discover if you really love the profession enough to be a chef, plus you will meet some like-minded chefs. I have sent several chefs abroad – chefs I know that can push themselves and chefs that have a dream.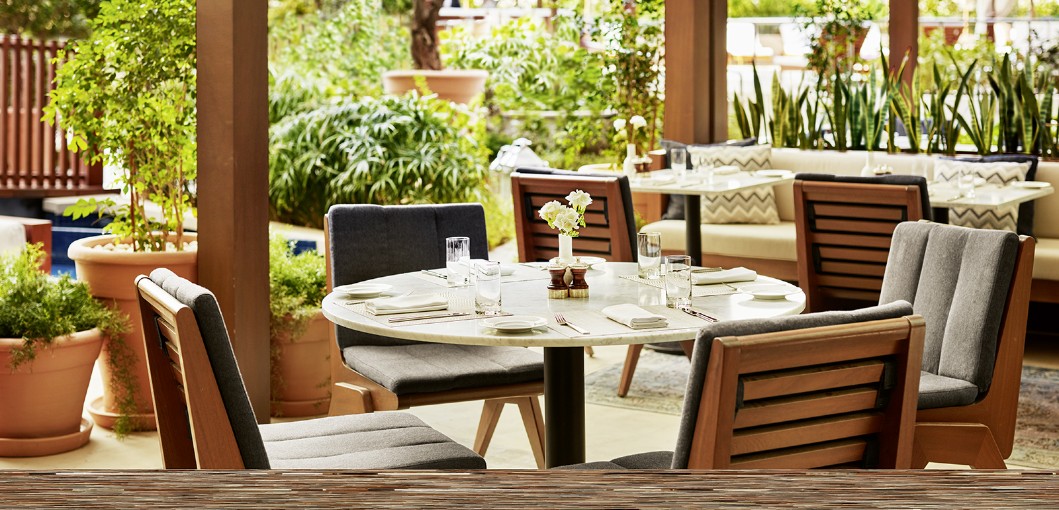 What's the best career advice you've been given so far?

Be passionate, caring, hardworking, dedicated, and most importantly look, watch, listen carefully and follow orders. Work hard, have self-belief, be patient and persevere, as sometimes working as a chef involves taking steps backwards to get to where you want to be.
Lastly, what restaurant trends do you think will emerge throughout the rest of 2020?

Comfort food and home cooking is becoming more popular, with people taking up more basic skills of cookery, such 
as breadmaking, which is very on-trend. My new restaurant 
[in London], Muse, may be fine dining, but it retains an intimate and cosy feel. In my opinion, eating out at a restaurant needs to be more interesting as people are wanting a more special, intimate and relaxed environment. We should be creating 
a more relaxed, non-stuffy style of dining, as opposed to the oversized restaurants where guests can become just a number on the conveyor belt.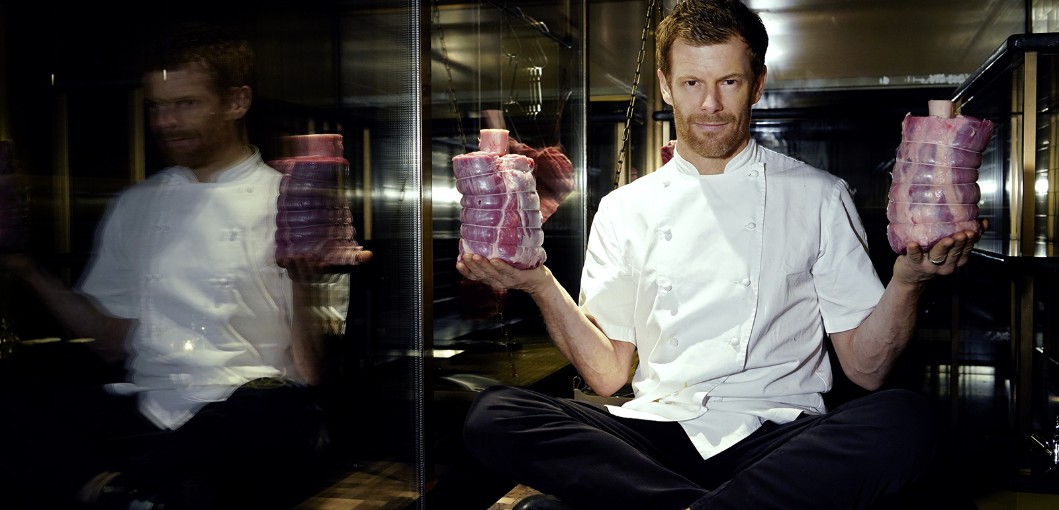 Dish that changed your life: One of them would be my seven-hour slow-braised shoulder 
of lamb in Tom's Kitchen.

Favourite ingredient: I think the best pleasures in life are always the simplest, so good olive oil, salt, balsamic vinegar and dry-aged beef.

Your last meal would be… Scallops cooked in the shell with garlic, butter, lemon zest and thyme to start, a good dry-aged medium rare steak and my mother's apple pie to finish.

Greatest food indulgence: Vanilla ice-cream.

Three dinner party guests: My partner Justine and my two beautiful daughters, Violette and Josephine. Being a chef with restaurants abroad requires very long hours and a long time spent away from home. So spending quality time with my family, and cooking for them, is the ultimate luxury.

Favourite food destination: Devon, UK, for all its great fishing ports and food producers.

Best-loved restaurants: Thomas Keller at the French Laundry, as his tasting menu is seriously amazing. And Chad Robertson at Tartine, to have his sourdough bread.

Holiday destination: I love Ibiza, because there's so much to do. I do a lot of running and the terrain around Es Cubells is perfect for that. 
I also love Paris, which I moved to in 1993 to cook with Joel Robuchon and Gerard Boyer at Reims. I love all the museums and markets, such as Marche aux Puces de St-Ouen.

Ideal holiday: The simplest things in life create the best getaways, so anywhere with sun and a relaxing setting with my family.

Cookery book you can't live without: I collect a lot of old cookbooks, and one is a fish cooking book from the 18th century, which has just a beautiful tone of writing and the ingredients are fascinating.