7.00
Arrive early – and come hungry. For Montreal, emboldened by its French roots, is a food lover's paradise. Step off your plane at Montréal-Pierre Elliott Trudeau International Airport to hear French wafting in the air like a song. A 20-minute taxi ride whisks you to Old Town; along the way you can discover how Montreal earned its nickname, "City of One Hundred Churches". These abundant, soaring and captivating steeples compete for your attention, each harbouring a story, and the historic Old Town boasts anecdotes aplenty. Its cobblestone roads curl like vines gone awry all the way to the great St. Lawrence River.
The heartbeat of Canada's second-largest city, Old Town was home to the indigenous Iroquois, then later, the realm of 17th-century French fur traders. Formerly walled and now refurbished, it holds restaurants, galleries, boutiques and hostelries. Check into Le Petit Hôtel & Café, a lavish, Lilliputian lair. Sleek and chic, it encompasses 28 rooms in a retrofitted, 19th-century building. A symphony of cathedral ceilings, original stone walls and loft-like rooms, Le Petit pleases with a personable bistro downstairs. Ask nicely and the waiters will bring fresh- baked pain au chocolate and cappuccino while you freshen up to hit the town.
9:00
Choose a side in the bagel wars. For more than a century, two competing, family-owned, 24/7 bagel dynasties have kept Montrealers quarreling. Fairmount (74 Fairmount Ave.; +1 514 272 0667) and St-Viateur Bagel (263 Rue St-Viateur; +1 514 276 8044) bakeries, both located in the characterful Mile End neighbourhood, are wedged amid the Jewish and Italian districts. Each busy location produces more than 700 varieties daily, offering samples of their warm, dense bagels – smaller and sweeter than their New York City counterparts – for visitors to taste test.
Commit to your favourite, as locals will want to know where you stand. Afterwards, peruse Mile High's artsy élan, with more than 10 blocks brimming with bookstores, ateliers, restaurants, bars, coffeehouses, mom-and-pop shops and chocolatiers. Chocolate lovers should save room for Chocolats Geneviève Grandbois (162 St-Viateur W; +1 514 394 1000), while home chefs must reserve time to ogle pans and such at Les Touilleurs (152 Ave. Laurier W; +1 514 278 0008), the ultimate cookery shop.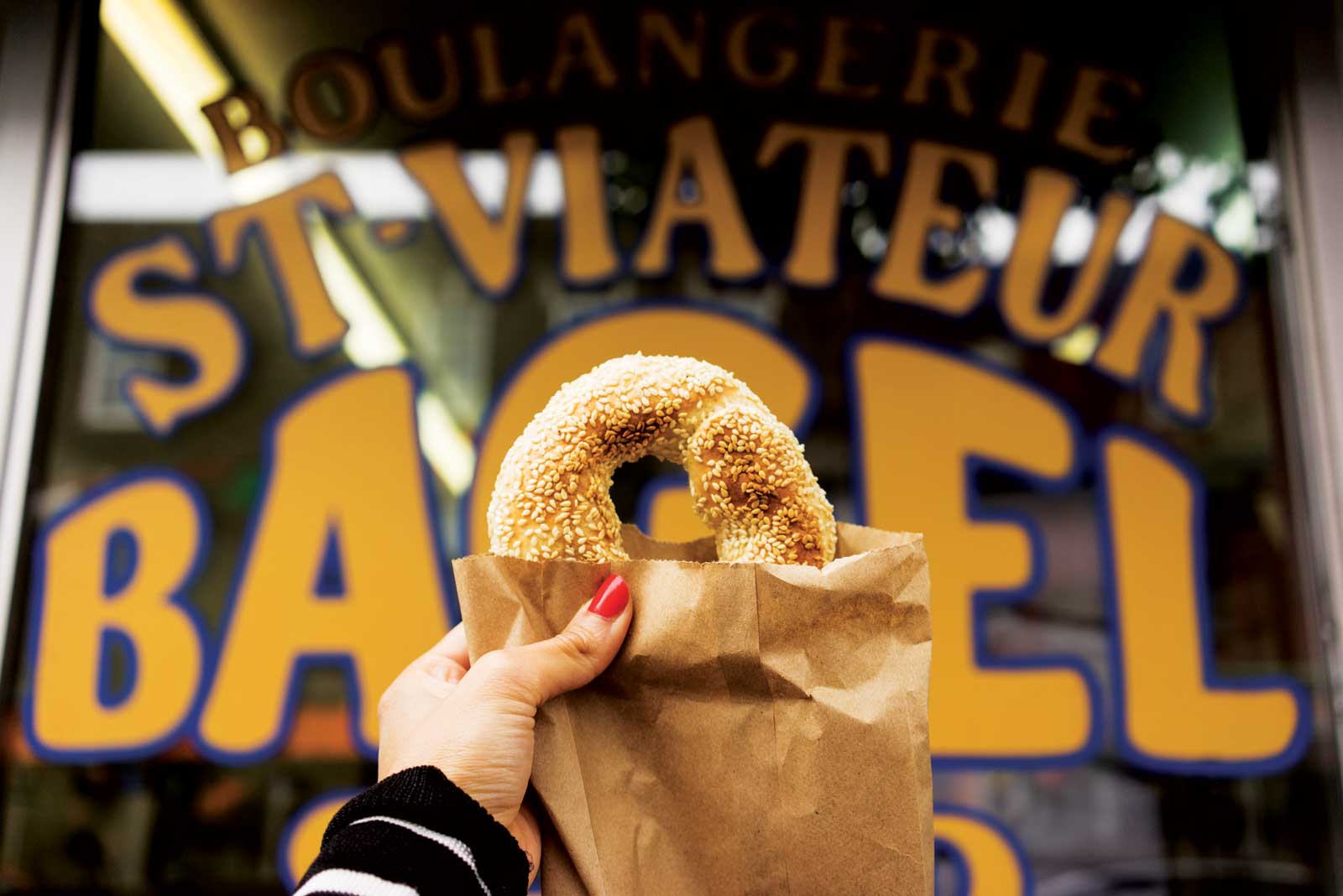 11:00
Montrealers live for brunch. Do it deli- style at legendary Schwartz's (3895 Saint-Laurent Blvd.; +1 514 842 4813), a buzzing, no-nonsense eatery in the Jewish Quarter, which owes its fame to a secret spice rub used to cure and smoke nearly 10,000 kilos of meat every week. Towering sandwiches, matzoh balls and potato varenekes tempt, but when you gobble up the brisket, you'll be committed to snapping up some takeaway for the flight home. If a fancier nosh appeals, pull up a table at tony Lawrence Restaurant (5201 Saint- Laurent Blvd.; +1 514 503 1070), where chef Marc Cohen sources eggs and bacon from local purveyors, and turns out British-inspired gourmet fare.
13:00
Time to work it off. Pedal your way along any of Montreal's 482 kilometres of bike paths, which snake through the compact, bilingual city. Lease your cruiser at one of the myriad self-serve BIXI bike-share outposts, then steer the waterfront circuit, Les Berges cycle path. This 21-km route undulates through a bucolic green belt. Begin near Atwater Market (buy some supplies from the artful stalls for a snack or picnic), and then follow the trail. Detour to René Lévesque Park to rest amid the sculpture garden.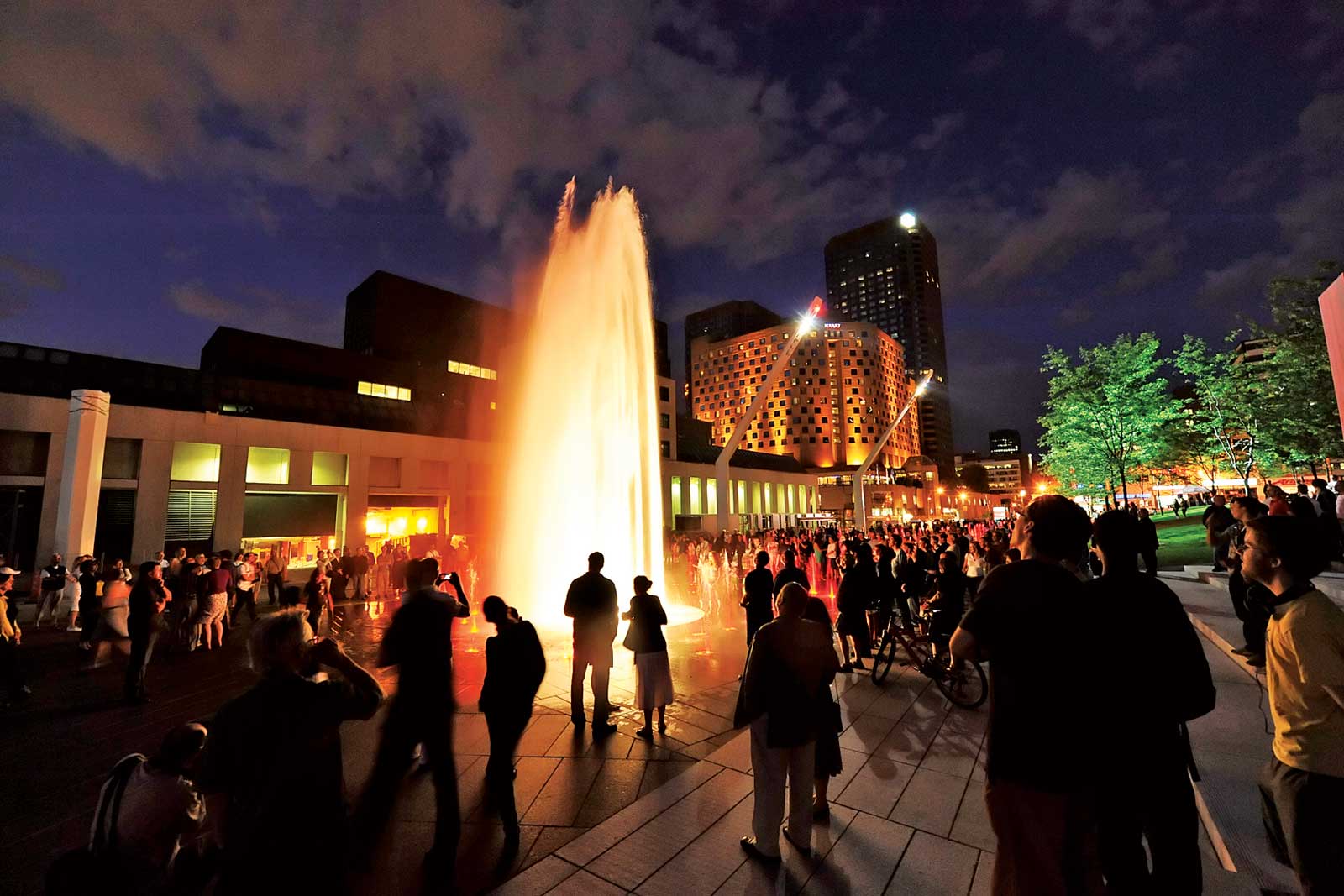 15:00
Though fuelled by an undercurrent of old-world European elegance, Montreal relishes its pioneer spirit and its Quebec-influenced independent underpinnings. That makes it an ideal laboratory for an edgy arts scene, manifested by street murals, boundary- splitting contemporary galleries, and stellar museum collections. Dubbed a UNESCO City of Design for its support and commitment to the art world, Montreal vaunts canny architecture, its own hip music (Leonard Cohen hails from here) – plus a free thinker's creative boundlessness. To delve into it, start at the inclusive Museum of Fine Arts (1380 Rue Sherbrooke O; +1 514 285 2000), which showcases a bit of everything from Inuit artefacts to Canadian contemporary superstars.
17:00
Explore St. Lawrence River aboard an anchored, vintage, ferry-turned-spa near the Old Port. On Bota Bota (corner of McGill and de la Commune W; +1 514 284 0333), yield to the ministrations of an able masseuse with the gentle lapping of waves creating your personal symphony. Lounge awhile in your bathrobe on any of five decks, unravel knotted muscles in the water circuit, and treat yourself with an array of fantastique treatments from facials to body wraps.
19:00
Back in Vieux-Montreal, clip-clop the cobbled lanes in a horse-drawn carriage beneath the romantic street lights. Disembark at Place Jacques-Cartier to watch street performers, tour Notre-Dame Basilica (where Celine Dion was married), or enjoy an aperitif by the river at Taverne Gaspar in the atmospheric hotel, Auberge du Vieux-Port (94 Rue de la Commune E; +1 514 876 0081). A short walk later, tuck into cosy, award-winning Chez l'Epicier (311 Rue Saint Paul E; +1 514 878 2232), the lair of chef Laurent Godbout, whose French-savvy, Quebec-style cuisine celebrates the region's bounty.
22:00
Mingle with Montrealers when you partake in any one of the city's 100 or so festivals held throughout the year, covering comedy to jazz. One of the best, Montreal High Lights Festival (+1 514 288 9955), celebrates the end of winter (February 18-March 5 this year). A rollicking good time, it keeps denizens and visitors at play all night – in spite of frosty temperatures – with myriad light installations, 24/7 museum openings, gastronomic events, late- night bar and restaurant parties, and abundant, ongoing concerts that take place throughout the city.
23.45
Some people drink warm milk for a midnight snack. Not in Montreal, where poutine, the signature dish of Quebec, reigns as king. A mound of hand-cut French fries slathered with gravy, unadorned poutine allegedly prevents hangovers. The comfort food, crowned with everything from sausage to peppers, appears in various adaptations. Taste it at La Banquise (994 Rue Rachel; +1 514 525 2415), open 24-hours, which serves up more than 28 varieties.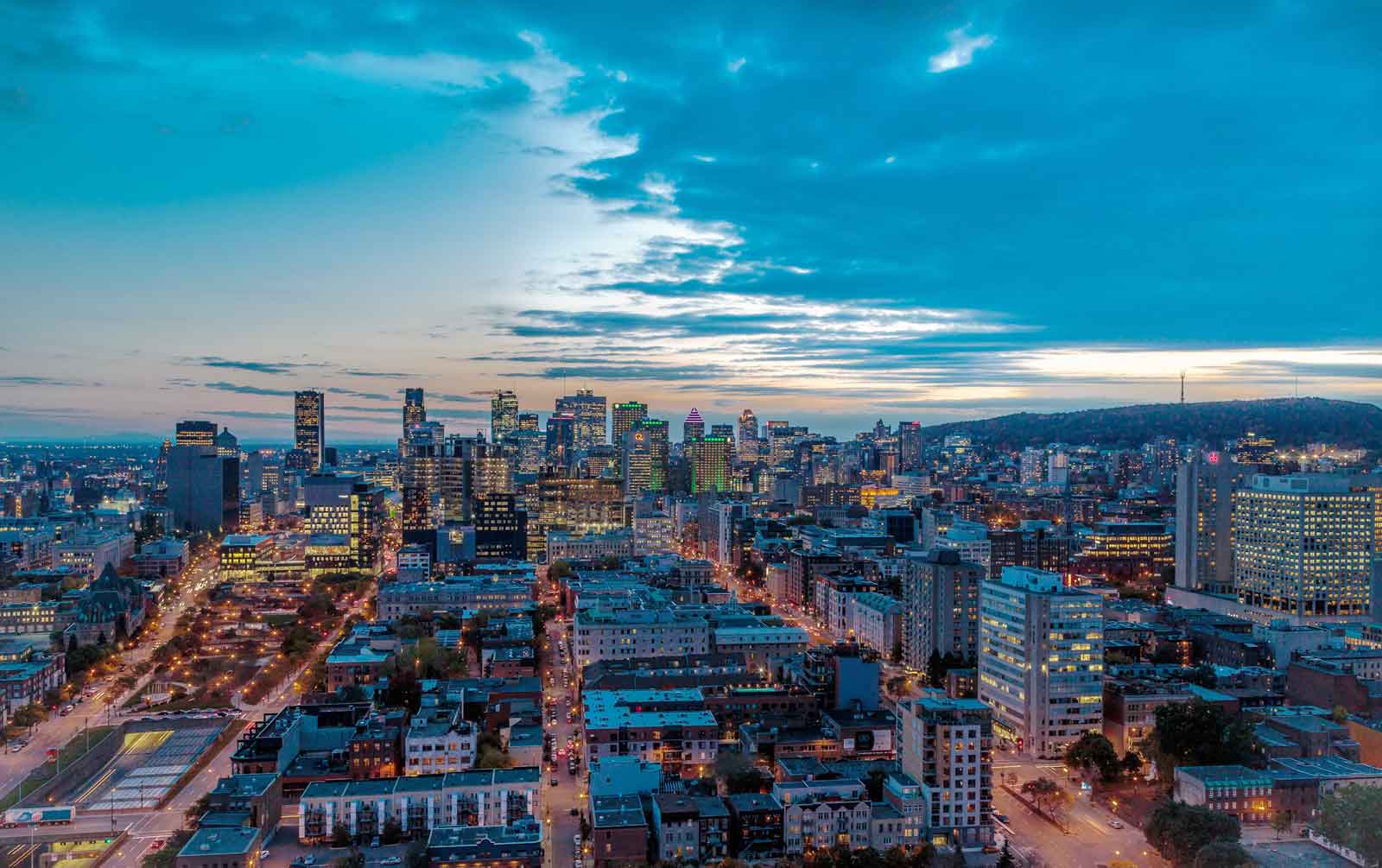 Montreal cityscape at night by Diane Gelinas
---
STAY
Le Petit HôteL & Café
+1 514 940 0360