Royal Caribbean International has announced its next-generation Royal Caribbean International, Harmony of the Seas, will launch in April 2016.
The vessel will be the third Oasis-class ship, which are currently the largest cruise ships in the world, and will feature seven distinct "neighbourhoods" that offer a range of experiences, amenities and activities at sea.
Spanning 16 decks, the 227,000-ton ship will carry 5,479 guests at double occupancy within its 2,747 staterooms. The aforementioned neighbourhoods will include Central Park, Boardwalk, the Royal Promenade, the Pool and Sports Zone, Vitality at Sea Spa and Fitness Center, Entertainment Place and Youth Zone.
Thrillseekers can take a plunge on the ship's three multi-story waterslides, all of which twist and turn over "Central Park", located 10 decks below (pictured). One of the slides also will feature a champagne bowl that swirls guests around as they make their approach to the end of the ride.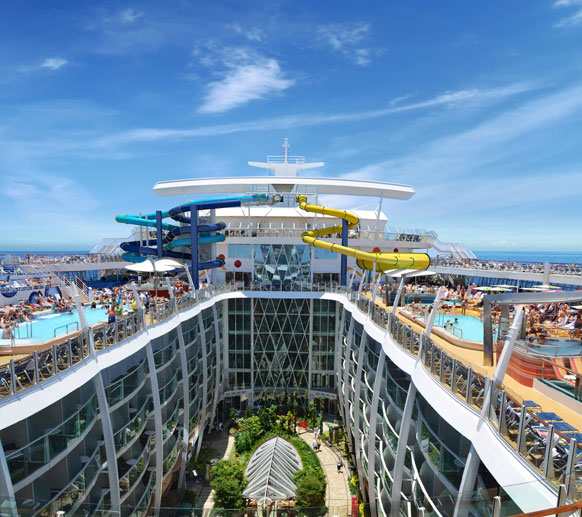 Harmony of the Seas also will feature a new Bionic Bar on the Royal Promenade. The Bionic Bar was first introduced aboard Quantum of the Seas, and feature robot bartenders serving up unique cocktails while manoeuvring to a beat.
Passengers of Harmony of the Seas will be invited to make the most of the RFID technology built into the Royal WOWBands, providing access to their staterooms as well as make on-board purchases and reservations. The on-board high speed Internet will also be fast enough to allow guests to stream video and make Skype video calls.
New specialty restaurants will also be introduced, including Izumi Hibachi & Sushi, with a new teppanyaki menu, and the Sabor Modern Mexican restaurant. The new Wonderland Imaginative Cuisine concept will boost the culinary repertoire even further, with on-board chefs cooking a variety of fare in what the firm is describing as a "whimsical setting".
"We are orchestrating a medley of new exciting concepts with the best Royal Caribbean innovations to strike the perfect chord for adventurous vacationers. That is why we are calling our third Oasis-class ship Harmony of the Seas," said Michael Bayley, the firm's president and CEO.