Sense of place' has been a buzz term in the luxury hospitality business for the last decade or so. In its essence, the idea is that each hotel should have an identity and ambience that reflects its location – its culture, style and traditions – so guests have a strong impression of wherever in the world they are, even before venturing out beyond the lobby. From the dining offerings and the staff uniforms to décor and the artwork on the walls, the best hotels are local champions that reflect the best of their destinations.
Today, creating a strong sense of place is a fundamental part of the creativity process for the best hotel companies, which endeavour to create local experiences throughout the guest journey. But though it was hotels that originally adopted this obsession with 'place', the quest to deliver authentic local experiences has been quickly adopted by other travel businesses, none more so than Turkish Airlines.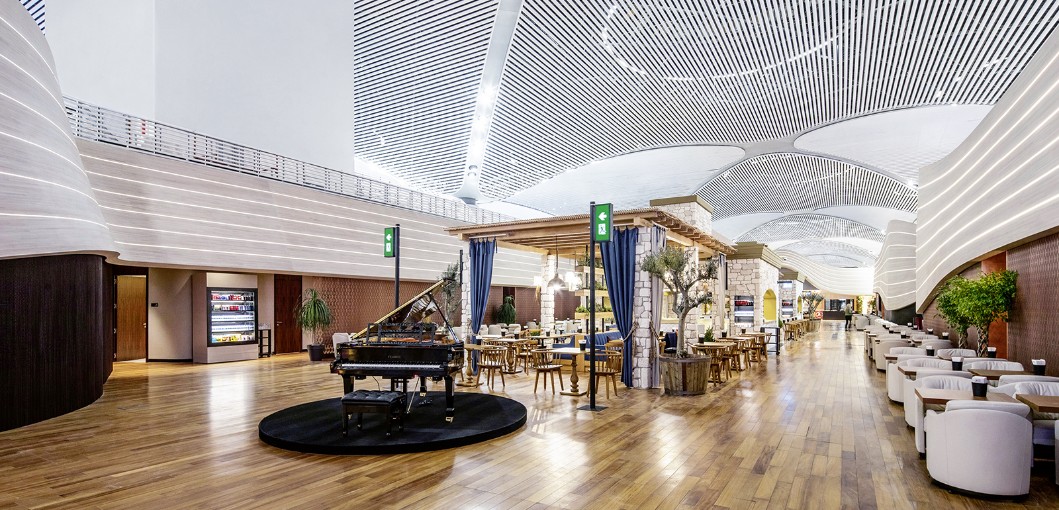 Since the opening of its legendary business class lounge at Istanbul Ataturk Airport the Turkish national carrier has been widely recognised as one of the best in the game when it comes to creating a sense of national identity in its home hub. The sprawling two-level lounge was bigger than some airports, and the experience was every bit like that of an exuberant luxury hotel, from the exceptional food and beverage offerings to the unfailingly good service. In one especially memorable six-hour layover there, I played several rounds of virtual golf at courses all over the world on a pro simulator, I sampled an endless array of Turkish culinary staples, all freshly prepared, piping hot and delicious, and I enjoyed a brief and incredibly invigorating neck and shoulder massage from one of the roaming masseuses. 
As far as airport experiences go, it was unrivalled.
Situated at the top of a discrete escalator, the turkish airlines business lounge is a little slice of turkish escapism
But the opening of the new Istanbul Airport earlier this year offered the opportunity for Turkish Airlines to push the concept even further in the midst of the world's largest aviation hub; a vast airport that will have six runways and capacity for up to 200 million passengers a year when complete.
Whereas the former lounge catered to all Turkish Airlines' business class customers in addition to all their codeshare and Star Alliance partners' premium guests, the new airport features three separate lounges: one for its own business class passengers travelling on international flights, one for Star Alliance and Miles&Smiles, business class passengers and premium loyalty card holders, and one for domestic business class passengers.
Situated at the top of a discrete escalator, the Turkish Airlines Business Lounge is a little slice of Turkish escapism near the central part of the enormous concourse. Stepping inside after scanning a boarding pass at an electronic gate, you're quickly transported away from the hubbub of the airport into a world of modern Aegean design and tempting aromas.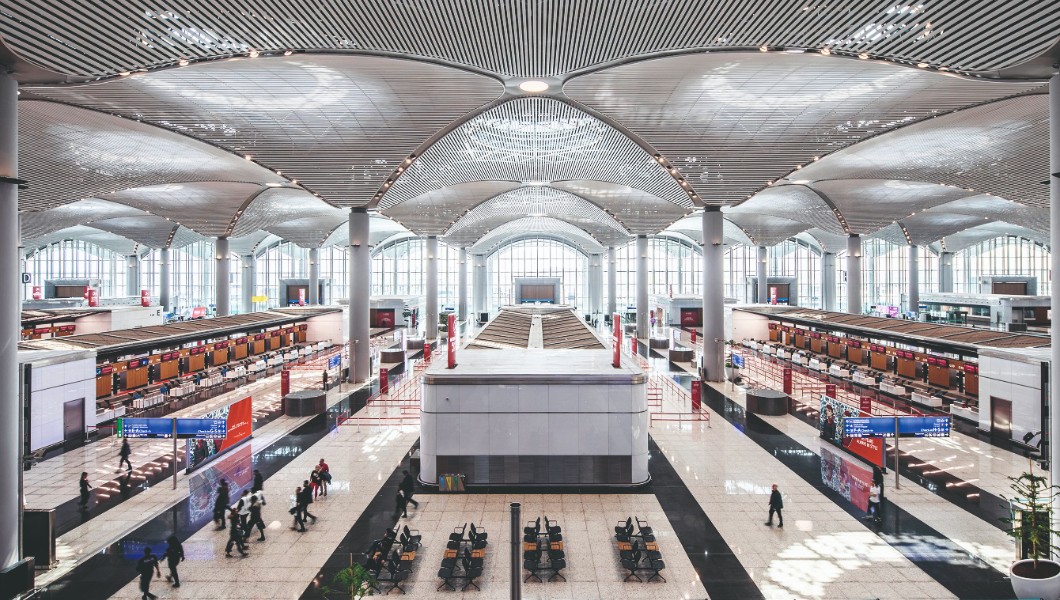 Guests are greeted by the tinkle of a self-playing Fleurich piano, whose ghostly ivories play classical numbers throughout the day. Moving around to the right of a large wall-sized TV screen, you'll find yourself walking through a traditional style taverna, with two open plan cooking stations from which chefs produce a constant stream of delectable Turkish treats. Rustic brick walls and a woven bamboo roof canopy make this feel like a genuine small town restaurant somewhere on the Aegean coast, but the cuisine is every bit five-star.
The 5,600-sqm lounge is divided into several distinct areas seating up to 765 guests, each offering a different flavour of Turkish life. Behind a sweeping ribbon of wooden wall that curves around the entire lounge, there are two more intimate seating areas, where smartly dressed waiters move deftly around pouring Turkish coffee, and tall bookshelves are lined with travel mementoes and art. Like the previous Turkish Airlines lounge, this one has a pro golf simulator and a dedicated cinema and TV area, and kids are well catered to with their own play space fully stocked with PlayStation and X-Box consoles.
Then there's the museum. Turkish Airlines has partnered with the Istanbul Modern to curate a collection celebrating the best of Turkish contemporary art, which is on display in its own dedicated space within the lounge. I cant think of any other airline that has gone to such great lengths to celebrate local talent in such a collaborative and pro-active way; further evidence, if needed, of the airline's commitment to celebrating Turkish culture and creating an authentic sense of place in 
a busy transportation hub.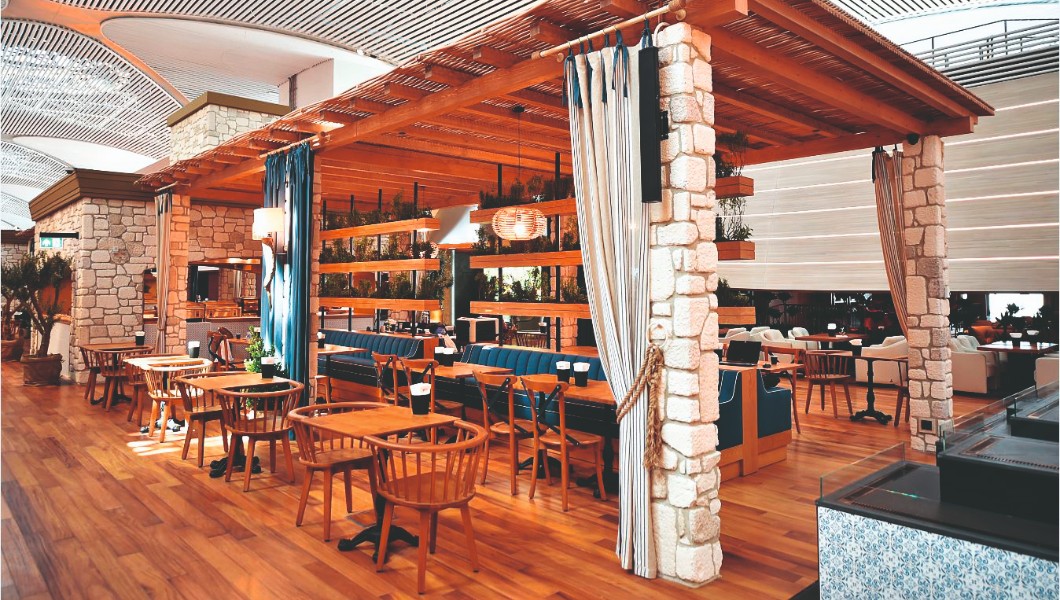 The collection is best enjoyed with a generous pour of something from the various beverage stations dotted around the lounge, which feature a good selection of Turkish and international wines, as well as fresh juices, soft drinks and other non-alcoholic concoctions. The food offering is simply immense. Chefs at speciality cooking stations prepare Turkish treats like simit (a sesame crusted bagel), pide (an oven-baked flatbread stuffed with minced beef or spicy chicken) and delicious grilled meats, and there are several stations piled high with fresh salad, delicious pickled treats and vast bowls of Mediterranean olives.
Much of the lounge looks out across the impressive new concourse, which has already been awarded a series of accolades for its architecture, sustainable design and CSR initiatives. 
It's worth noting that getting around this behemoth takes time, so plan accordingly. The Business Lounge is located in the airport's central hub, and handy information cards advise how long it takes to walk to various gates, some of which are up to 20 minutes walk away.
The highlight of the new lounge is the 13 private suites, complete with comfortable beds and an en suite shower
But the highlight of the new lounge is the 13 private suites, complete with comfortable beds and en suite shower; made available to guests who have more than eight hours to wait before their next flight. If you don't quite meet the eight-hour threshold, there are still showers and relaxation areas available, but the idea of being able to squeeze in a quick nap in complete privacy during a long layover puts this lounge at the head of its game, the latest innovation from an airline that never fails to impress.
Stay:
What: Turkish Airlines Business Lounge
Where: Istanbul Airport