Following on from a previous foodie collaboration on-board flights between London and Hong Kong, Cathay Pacific and Mandarin Oriental have announced another range of in-flight fine dining options for 2015.
Top chefs from Mandarin Oriental hotels in Hong Kong, London, Paris, New York, San Francisco, Tokyo and Boston will each design menus according to their own styles.
The menus will then be made available to First Class passengers travelling on Cathay Pacific flights between Hong Kong and London, Paris, New York, San Francisco, Tokyo and Boston.
Menus will be seasonally inspired and change throughout 2015 on a monthly basis, though the brands say all options will reflect the culinary culture of the relevant destination.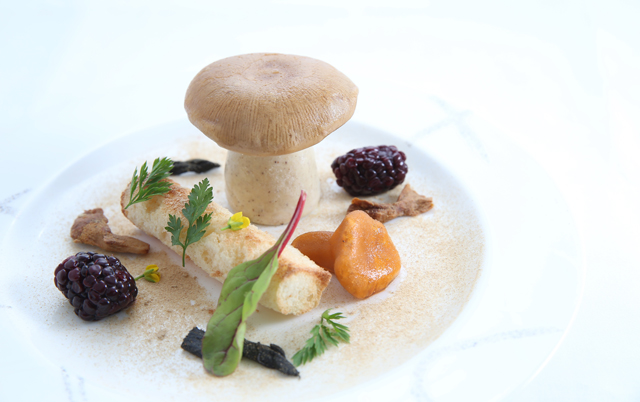 Foie gras, mushrooms and pickled blackberries
"This is the first time we have worked with chefs from different properties of an award-winning luxury hotel group at the same time to design menus for specific destinations," said Cathay Pacific's general manager of inflight services, Dominic Perret.
According the hotel group, the highlights of the first wave of menus will include a traditional presse of chicken, mushrooms and foie gras from Paris-based Chef Thierry Marx, as well as slow-roasted tomato soup and miniature grilled cheese sandwiches from New York's Christian Pratsch.
Throughout February, passengers travelling from Hong Kong to Paris and New York to Hong Kong will be treated to a selection of dishes created by executive chefs Uwe Opocensky and Christian Pratsch, from Mandarin Oriental, New York.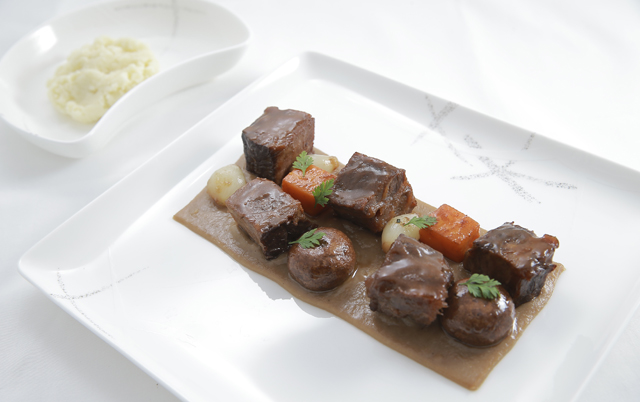 Classic Beef bourguignon using cheek and short rib