When it comes to football and money, there's only one question on everyone's lips; who's the richest footballer? Luckily, we have the answer. Here's our definitive list of the World Cup's wealthiest players, as verified by wealth intelligence experts Wealth-X.
---
1. Cristiano Ronaldo
Net worth: US $230 million
Team: Portugal
Age: 29
Position: Forward
Club: Real Madrid
With a string of awards to his name ranging from FIFA World Player of the Year to the Ballon d'Or – and with a yearly wage of US $40 million – Cristiano Ronaldo is the undisputed champion of our World Cup rich list. Alongside his incredible US $109,589-per-day base salary, the silky skilled European roughly doubles it in off-field endorsements and lucrative advertising contracts. Unfortunately, none of this helped when Portugal faced Germany earlier this week and took a 4-0 battering.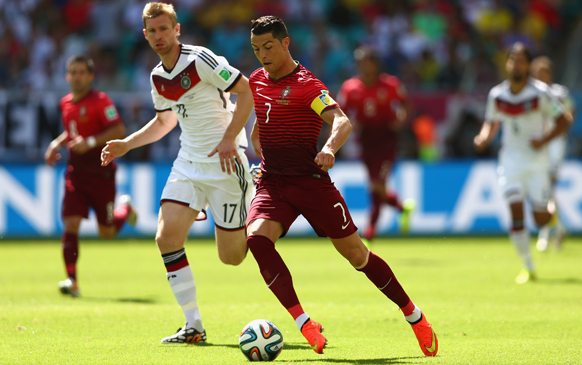 ---
2. Lionel Messi
Net worth: US $180 million
Team: Argentina
Age: 26
Position: Forward
Club: FC Barcelona
Widely considered the best player in the world (and possibly of all time), Lionel Messi has been shimmying past opponents and slotting in impossible goals for FC Barcelona since he was 16 years old. He not only holds the title of all-time top goal scorer at the club, but also became the youngest player to ever score in a professional game at Barcelona. In terms of wealth, the Argentinean prodigy earns the highest base salary of any footballer in the world, an eye-watering US $44.68 million per annum. Not bad for a 26-year-old with a growth hormone deficiency.
---
3. Wayne Rooney
Net worth: US $95 million
Team: England
Age: 28
Position: Forward
Club: Manchester United
As England's go-to man, Wayne Rooney has forged an incredibly impressive career since his 2002 senior debut at Everton. Since then, he has become one of footballs most recognisable and formidable figures, known for his no-nonsense approach and pinpoint accuracy. He doesn't do too badly financially, either. With an annual salary of US $26 million, he is one of the highest paid players in the English Premiership.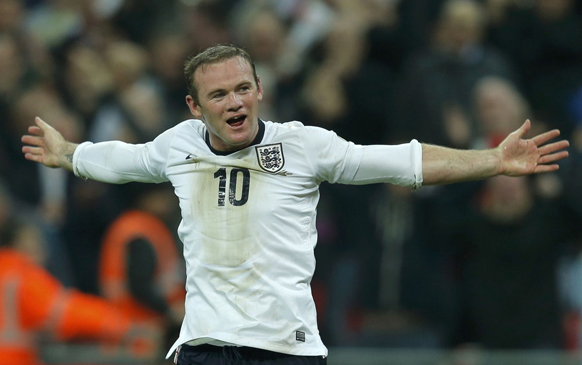 ---
4. Didier Drogba
Net worth: US $90 million
Team: Cote D'Ivoire
Age: 36
Position: Forward
Club: Galatasaray S.K.
As the top scorer of all time for Cote D'Ivoire, Didier Drogba is undoubtedly the linchpin of his national team. The 36-year-old's senior career spans more than two decades and includes a record-breaking US $24 million transfer fee for Chelsea, making him the most expensive player in Ivorian history. His clinical prowess in front of goal has made him one of the most instantly recognisable, and richest, footballers on the planet.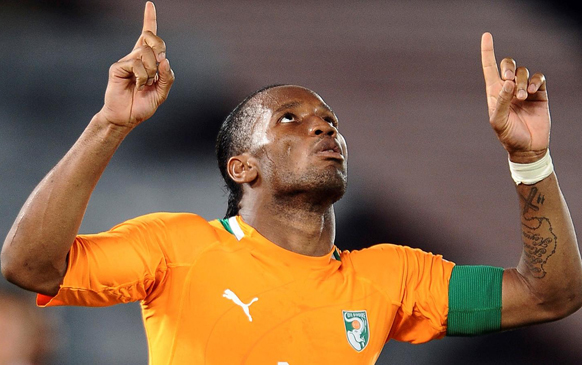 ---
5. Samuel Eto'o
Net worth: US $75 million
Team: Cameroon
Age: 33
Position: Forward
Club: Chelsea
Perhaps best known for scoring more than 100 goals in five seasons and winning the UEFA Champions League twice with FC Barcelona, Samuel Eto'o is a prolific goal scorer with an accumulated wealth to match. The Cameroonian national boasts an impressive annual salary of US $26 million and is by far the most feared element of the African team. Unfortunately, Eto'o alone wasn't enough to see his team past the group stage this year.


---
6. Yaya Touré
Net worth: US $70 million
Team: Cote D'Ivoire
Age: 31
Position: Midfielder
Club: Manchester City
Alongside teammate Didier Drogba, Yaya Touré is the second Ivorian national to make our World Cup top ten list. Primarily known for his successful career in Barcelona and Chelsea's respective midfields, the 31-year-old footballer earns US $19 million per annum and recently aided his national team to a 2-1 victory over Japan in Brazil. But can he do the same against Columbia this evening?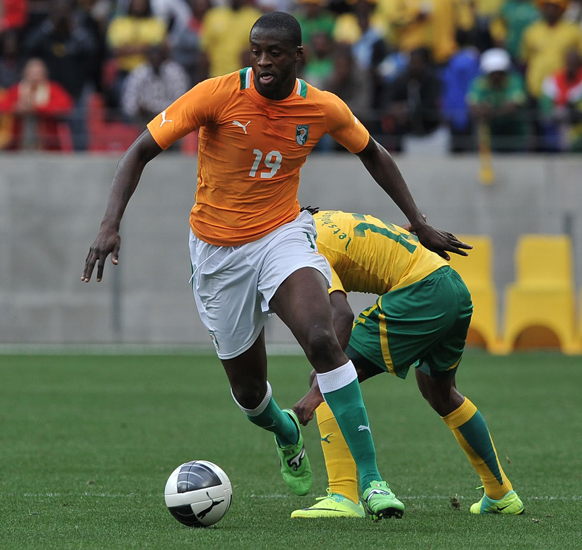 ---
7. Frank Lampard
Net worth: US $60 million
Team: England
Age: 35
Position: Midfielder
Club: New York City FC
Quoted yesterday, Frank Lampard said that the "fear factor" of going home early will spur England to victory over Uruguay in tonight's match. This is a fear that the prolific midfielder knows all too well, having donned the national jersey more than 100 times. If England does bow out of the competition early, Lampard can take some consolation in his US $12 million-per-year salary and accumulated net worth of US $60 million. He also has plenty of top shelf club football accolades to soothe the pain.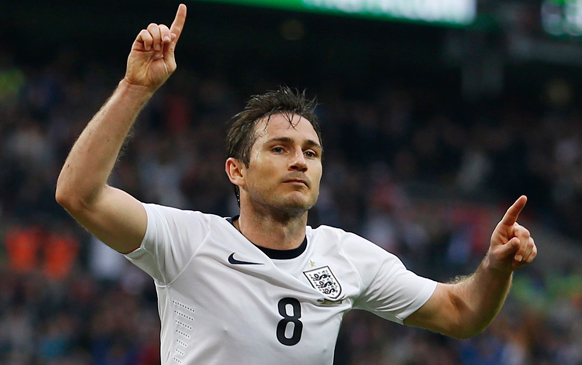 ---
8. Steven Gerrard
Net worth: US $55 million
Team: England
Age: 34
Position: Midfielder
Club: Liverpool
The third English national to grace our list is none other than Midfielder and goal scorer extraordinaire Steven Gerrard. Generally known for his creative play and relentless work rate, the 34-year-old Liverpudlian boasts an impressive collection of accolades including the FA Cup and UEFA Champions League trophy. These incredible prizes are narrowly outshone by the player's earning; accumulating an impressive total net worth of US $55 million.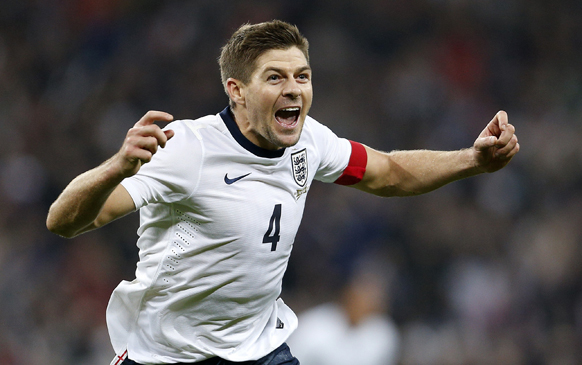 ---
9. Fernando Torres
Net worth: US $50 million
Team: Spain
Age: 30
Position: Forward
Club: Chelsea
Defending champions Spain may have dramatically crashed out of the World Cup after a shock two nil defeat to Chile last night, but the team's distinguished striker can take some small consolation in making it onto our rich list. With a career history that includes winning the Euro Golden Boot and being ranked third best in FIFA's World Player of the Year awards, Torres has no shortage of footballing highlights. Annually, the Chelsea forward earns US $17 million a year, with endorsements for companies like like Pepsi and Adidas accounting for an additional US $3 million per annum.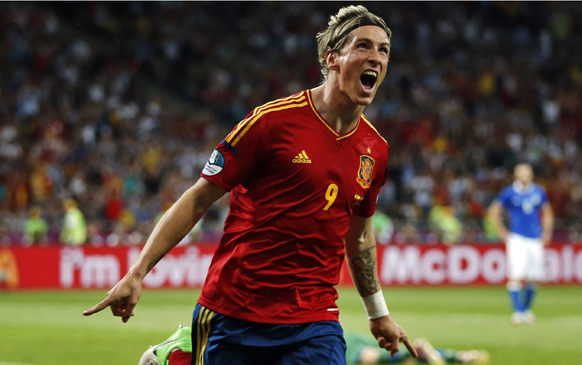 ---
10. Gianluigi Buffon
Net worth: US $50 million
Team: Italy
Age: 36
Position: Goalkeeper
Club: Juventus
As the undisputed richest goalkeeper in the World Cup, Buffon also holds the title of highest paid keeper in history. Over his impressive 20-year career, the Juventus superstar has won the UEFA Cup, been named UEFA's 'Most Valuable Player' and received the organisation's coveted 'Goalkeeper's Award'. He's also, quite evidently, earned a lot of money.