Abu Dhabi is offering travellers an opportunity to pick up some locally-made goods before departing back home.
Luxury retailer DFS Group recently announced its latest retail concept, "Made in UAE", at Abu Dhabi International Airport's Terminal 1. Designed to showcase the UAE's own high-end brands, the pop-up be open this month with exclusive pieces from MKS Jewellery and items new to travel retail from Yas Perfumes and YASA Caviar.
The 30 square-metre space is inspired by traditional Mashrabiya latticework and has been designed to new brand experiences while celebrating Middle Eastern heritage.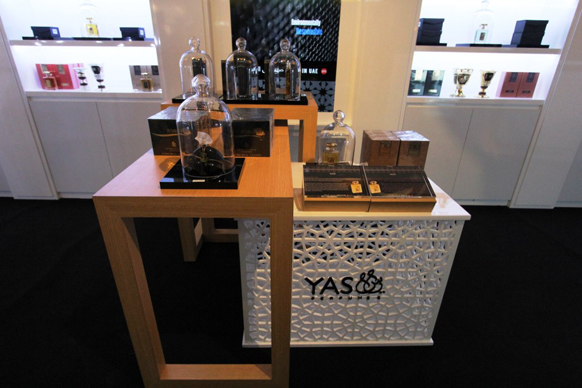 Yas Perfumes at Made in UAE
The pop-up comes just a few short months after Abu Dhabi International Airport inaugurated its new VIP terminal. The luxury faciility was designed to provide an upgraded, world-class travel experience to passenger arriving at, departing from or transiting through Abu Dhabi.
"The main objective behind this new proposition is to enhance the service level offered at Abu Dhabi International Airport to passengers from all travelling classes. Through the new VIP Terminal, Abu Dhabi Airports aims to provide the ultimate in privacy, luxury and security through unique personalized services," said H.E. Ali Majed Al Mansoori, Chairman of Abu Dhabi Airports.
The new 924 square-metre terminal has boosted the airport's capacity and is being operated by National Aviation Services (NAS), which currently provides Golden Class services in Terminals 1 and 3.
All passengers, regardless of their ticket class or destination and airline, can use the terminal by paying a pre-set fee. The terminal has dedicated facilities, separate from those of Terminals 1 and 3, as it includes its own drop off area accessed via a roadway built specifically to accommodate it. It also offers immigration, police and baggage handling facilities, as well as Mercedes-Benz limousine services that will ferry passengers to and from the terminal and aircraft.
The airport is now recording its highest passenger traffic increases, according to recent figures, welcoing 20 million inbound, outbound and transfer passengers in 2014. Abu Dhabi International Airport will see further expansion in 2017 when the new Midfield Terminal Project comes to fruition.
A VIP area at Abu Dhabi International Airport