To paraphrase Rudyard Kipling, Edgar Rice Burroughs and countless other authors, you can take the man out of the wild, but you can't take the wild out of the man. If the wild in this sense is the untamed parts of the world in need of luxurious tented camps, comfortable transportation and all the trappings of a home in Knightsbridge, then the sentiment is certainly true of Geoffrey Kent. The Abercrombie & Kent founder still travels for about 300 days a year, and bristles with boyish excitement when recounting his youthful capers in post-colonial Africa or the depths of the Amazon.
Some believe it's the nine-figure bank balance that keeps the sparkle burning in his eye, or perhaps his Brazilian wife Otavia Jardim, but after I spend half an hour talking to him, its apparent that Geoffrey's biggest passion is travel. He recalls his travel memoirs like they happened yesterday, and reels off place names with an alacrity that belies his 70-odd years. Geoffrey is restless as we talk, revealing his plans to discover new routes into far-flung and off-the-beaten-track destinations like Iran and Socotra to create new experiences for the legions of loyal customers who have discovered the world with A&K.
---
What did the world look like when Abercrombie & Kent was founded in 1962?
I am a white Kenyan, so I was born and grew up in Africa. When self-government came to Kenya in 1962 and we lost all of our farms, my father, mother and myself sat on our farm and decided to start a safari camp. The company was born with one Land Rover, 100 pounds and the made-up name of Abercrombie & Kent. The truth is, there never was an Abercrombie. I wanted it to start with an 'A' to put us top of the Yellow Pages [telephone directory]. The first thing I did was develop the first luxury photographic safari, which was a challenge as everyone hunted in those days.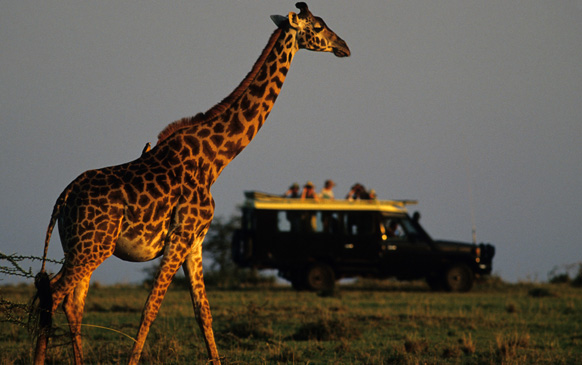 What was the plan when you set out?
I had this vision of creating something that would be able to take people to the wildest places in the bush in utmost comfort. This was when I was very young but I had it all worked out. I used all my training. Growing up on a farm in Africa meant I had resilience and used my brain. When I was 16 I drove a motorbike from Nairobi to Cape Town, so I was very well travelled. By age 17, I had been to the Belgian Congo. We were very adventurous and we had no fear. Zero. When I was in the army I was with the 5th Royal Inniskilling Dragoon Guards, so in effect I brought the elegancy of a cavalry officer, I bought the pioneering spirit and resilience of living on a farm, and I bought the logistics of
the British Army.
How did things grow from there?
I realised I had hit on something really interesting. Basically, people lead very boring lives and actually they are quite frightened [by the idea of wild places] and reasonably so. But they would sit in awe when I told them about my expeditions to here and there, and I said to myself, "why don't I take them all on these trips?" And so I started to. My father had this wonderful expression, which was a Kings African Rifles Expression: "Geoffrey, you're going to all the places where you can't drink the water." I used to look for the most impossible place you could think
of and go there myself.
---
Where did you go in the early days?
I was the first person to drive a truck all the way down to Bechuanaland, which is now Botswana, and set up the first camps there and in Tanzania. I went to Uganda in Idi Amin's time. I went to Southern Sudan where I was locked up as a suspected CIA guy for a while. I went all over. I went to China in 1979 and got the first license to travel into China — no one had been there before. Then, I went to Antarctica and pioneered that in my little red Explorer, and after that I took her and went 500 miles up the Amazon. No one had ever done that before. It was always pioneering and exploring. And then it was a case of working out how I could take my clients to this destination, having de-risked it. I did everything myself. I still do everything myself today. I de-risk everything, and then put in logistics and the best guides; clever, intellectual guides. They are all university graduates and very smart guys. I put a huge emphasis on that.
What lures you to new destinations?
I'm always very inquisitive. I have a passion for it. I think I'm like an artist; I like to see an impossible place. When you have a whole world that has been Google-Mapped, it's hard to find something that is new in travel. So what I look at is every country that has a present and ongoing revolution — that's my prey. Sri Lanka had been in my sights for a long time. We went in there this year and bought a company.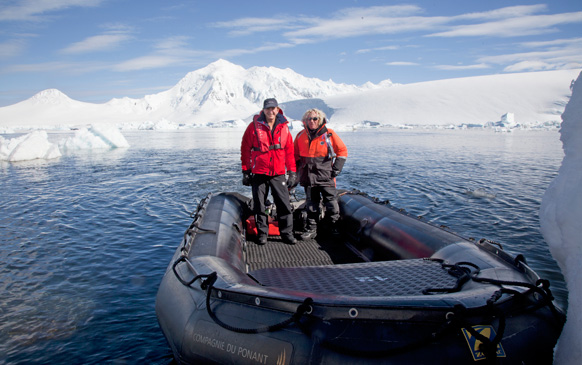 After de-risking, how do you create a luxury destination?
Let's take Egypt. It's not very popular today, but it is one of our most successful products. When I first went to Egypt, I don't think they had one boat. One year later David Niven was doing the movie, Death on the Nile, and he asked me up there. There were two boats at that time, the Isis and the Osiris. I thought they were too big, so I built the first small boat on the Nile, with a swimming pool. Everybody flocked to it and loved it because they were small, intimate trips. I went to the university in Cairo and hired the best guides. And the rest is history. We now have four beautiful ships and we dominate Egypt with that product. In Africa we did the same in Botswana where we now have 400,000 hectares of land. We built camps, airstrips, logistics and so on. We now have 13 properties all over Africa.
How did you get into Uganda so early?
When [Ugandan President Yoweri] Museveni was coming into power, I went in with a bunch of SAS guys, who called me and said, "Hey, Geoff, do you want come and to do a little trip into Uganda?" We got on this little plane and when we arrived we found Museveni, who was still in his fatigues, like he was running a revolution. I said to him, "Listen, if you ever get in, I know there are a lot of gorillas down in the Bwindi Impenetrable Forest." (I was one of the first to find them — in fact long before [American zoologist] Dian Fossey ever found them.)
I said, "I want that concession. If you give it to me, I'll come and build it. I'll build tourism for you." It's a long story, but he got in to power and he gave me the concession, true to his word. I habituated the gorillas and built a camp, the Bwindi Impenetrable Forest Camp. Today, 25 years later, we produce US $1 million per year for the community. We're also building a huge hospital and schools for them. Those gorillas today represent 50 percent of the world's gorillas; the rest have been killed or moved out of their habitat.
---
What were some of your most amazing travel moments?
Wow. Well, of course, safaris are always the best of all of them, because it changes every time. To see a female leopard giving birth to cubs very early in the morning is amazing. I saw a crocodile pulling down a rhinoceros once. Animals always have exciting moments. On the other hand, doing the Royal Inca Trail in Peru and walking up to see Machu Picchu at dawn is an amazing sight. I've done so many adventures. The other day I was in the Galapagos; my god! We were down 80-feet and there were 50 hammerhead sharks swimming above us like a necklace. It was incredible. I just love doing all this.
You must have a house full of souvenirs — any items you are particularly proud of?
I still love my Zanzibar chest and I've got some wonderful things from South Korea. I collect paintings and jewellery from different artists around the world. I don't have the typical house full of stuff. I have tonnes of masks from Papua New Guinea that live in a warehouse in Nairobi. There's tonnes of the stuff.
What happened to your plans to enter the space race?
I had A&K Space at one stage with 20 people working for the company. Like I told you, I do everything myself. Well, I went to South Africa and didn't tell anybody and I trained for a week flying in an English Electric Lightning; a 1960s British interceptor bomber that flies at Mach 2.2. You have two little seats and the rest is fuel and a rocket.
We flew up to 40,000 feet in one minute, wearing just a tracksuit, and took on five or six Gs. Then, at 65 or 70 thousand feet, at Mach 2.2, we saw the curvature of earth. When we came back down I thought that it was quite hairy and I said, "I'm out of it". I let 20 people go from A&K Space and cancelled [the company] in 2006. I queried then whether Richard Branson would ever do this. Those G-forces were too much. I am tough, but for your average guy...
That's why I do everything myself.
---
Abercrombie & Kent has just opened its first Travel Boutique in the Middle East in Etihad Towers in Abu Dhabi. To book an appointment with a Travel Curator, call +971 56 665 3106 or visit www.abercrombiekent.ae