Wolfgang Puck has scored a bullseye with his first Middle East restaurant, CUT, at The Address Downtown Dubai. The fine dining modern steakhouse concept is beloved across the Atlantic, as is the celebrity chef himself, but Puck is now eyeing ripples in the Gulf and beyond, with plans for a host of other eateries across the region in Bahrain, Istanbul and elsewhere. A few months after publishing his latest book, Wolfgang Puck Makes It Healthy, the chef seems reinvigorated and set for world domination. Here Puck outlines his first foray into Dubai and gives an insight into his new lease of healthy living.
---
How do you explain the differences between your brands?
CUT is high luxury. It really is our luxury brand, and it's the most expensive one. We focus on fast casual in airports and places like Disneyland. We're actually in talks with people from Dubai Airports, so we'll do a Wolfgang Puck Pizza Bar there. People can see the difference 100 percent. But we don't want fine dining to be stuffy either. We want it to be a little classy, but we want it to be fun. We don't want to have a quiet place like Guy Savoy, or some of these French chefs, where you have big long tablecloths, high chairs and no noise or music. I like Pink Floyd or Jay-Z, or rock and roll.
Do you curate the music for your restaurants yourself?
Well now people know what I like, so I'd have someone look into it. But when we opened CUT eight years ago I decided on the food, as every chef would do, but I decided what the waiters would wear, what the music would be and my wife decided on the art.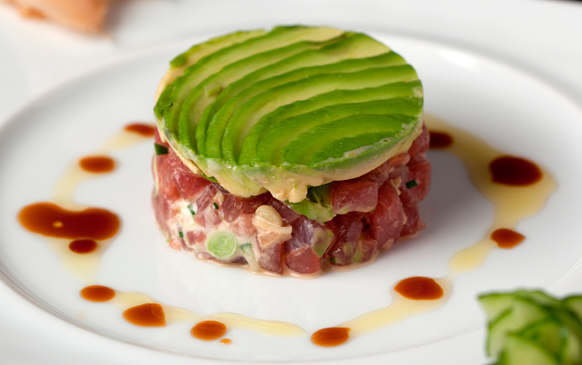 You just opened CUT Dubai – what do you do differently in your international restaurants?
We have a brand, so we have to stay true. We can't be everything to everybody and we can't change our cuisine. Will be add some extra spices here and there? Probably. But I think at the end, we are who we are. If you have a mall and you try to get Gucci and Hermes to open stores, you know what you're getting; the same bags and scarves. They might make some small changes, depending on what appeals, but at the end of the day people want that Gucci bag.
In terms of inspiration do you look at trends or are you doing your own thing?
We have to stay who we are. If you asked Yves Saint Laurent, they would say, "we are who we are". But there's always an evolution. Louis Vuitton started working with Murakami [in 2002] to do the bags with the cherries on. We are all the same in that we have to have an evolution; we cannot sit still, but we cannot change so fast that people don't know who we are.
How do you find time for these global endeavours? You have such a busy schedule in the US and various TV opportunities. Do you still enjoy the grind?
The restaurant business is my passion. Television is boring to me; I do it just to stay in the picture a little bit, so that they know I'm still there. People are so visually affected. Do I need it? No, but once in a while it's OK – whenever it's good for me and I don't have to travel. If I had to go to Alaska, I would say no.
---
Do you incorporate cooking into your travels much?
My wife is from Ethiopia and has an orphanage there, with 600 kids – she started with 20. They are talking about doing a cooking school there, but it's out in the country, which is difficult. But we might do something with the Sheraton or the Hilton there and we may able to involve a hotel with the school, or something like that.
Has your wife influenced your cooking at all in terms of ingredients and flavours?
I was always interested in spices and everything, though I'm sure she influenced me a lot. I always really liked flavours, and after I opened Spago 32 years ago, the next restaurant was a Chinese restaurant. It was a very different range of spices and flavours and I still enjoy cooking that way.
How did you get into fitness and healthy living?
I started maybe six or seven years ago, when I was 25 lbs heavier. I used to ski and it was so difficult to breathe. I thought I would have to give up skiing with my friends – old Austrian Olympic skiers. With tennis it was the same thing. Then I met Chad Waterbury, who lives across the street. He's a fitness guy and also into physical therapy.
I started work out with him on a slow basis. You have to pace yourself or everything hurts like crazy. So now, I look back to six years ago and it's like day and night. Whatever was hard then, I can now do with my eyes closed.
How did the book come about?
I really wanted to do an exercise book because I started to feel so much better after exercise. I watch what I eat more now, because that's what happens when you exercise. Do I think, could I be skinnier? For sure, but I'm a chef, so I eat all day. I like bread, I like sweets, I like food. If I wasn't a chef then I probably would be skinny. But that said, I don't want to be that skinny – my aim is to be in shape. It's also good for the brain; exercise and eating right and smaller portions. The book has low-calorie recipes, nutritional content and then at the end we have exercises.
CUT by Wolfgang Puck is located at The Address Downtown Dubai.