Business Bay is so much more than a central location for those suited, booted and chasing dollars and deals. A cornucopia of skyscrapers, this beating heart of Dubai, with its labyrinthine roads and meandering waterways, is a destination for anyone in pursuit of space and epic urban panoramas.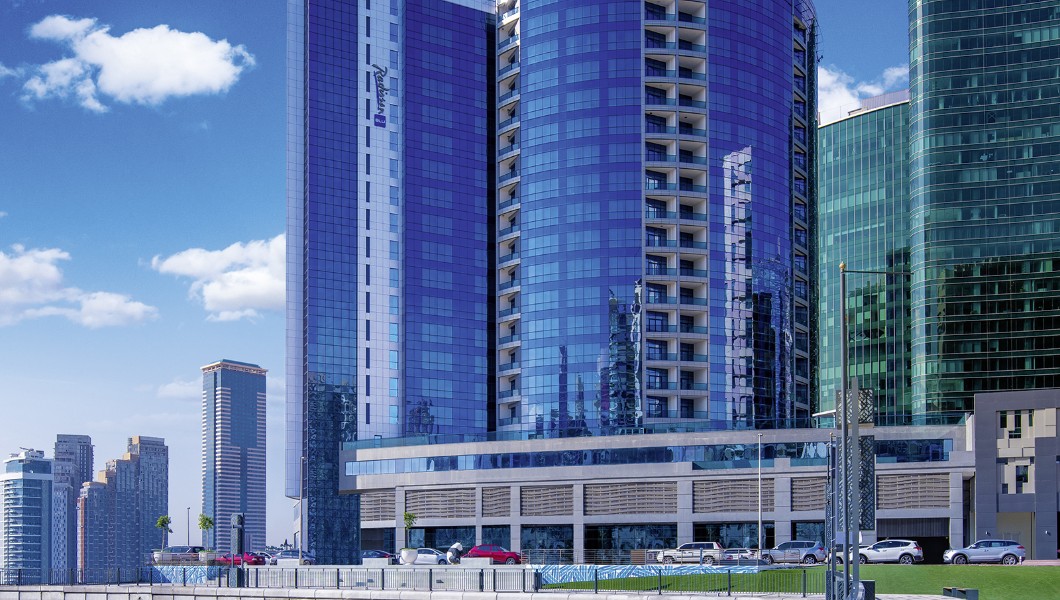 Radisson Blu Hotel, Dubai Waterfront capitalizes on this coveted location, situating itself on the banks of the bay, with views of Burj Khalifa that let you see the 828-metre tower from a whole new perspective. 
The 19-floor hotel shimmers from the outside, the cloud-dappled Arabian sky mirrored in its dark blue facade. The lobby is striking in its minimalism, with double-height ceilings and marble cast across floor and wall. The blown-glass light fixtures catch my eye and I stop for a moment to unravel their imagery.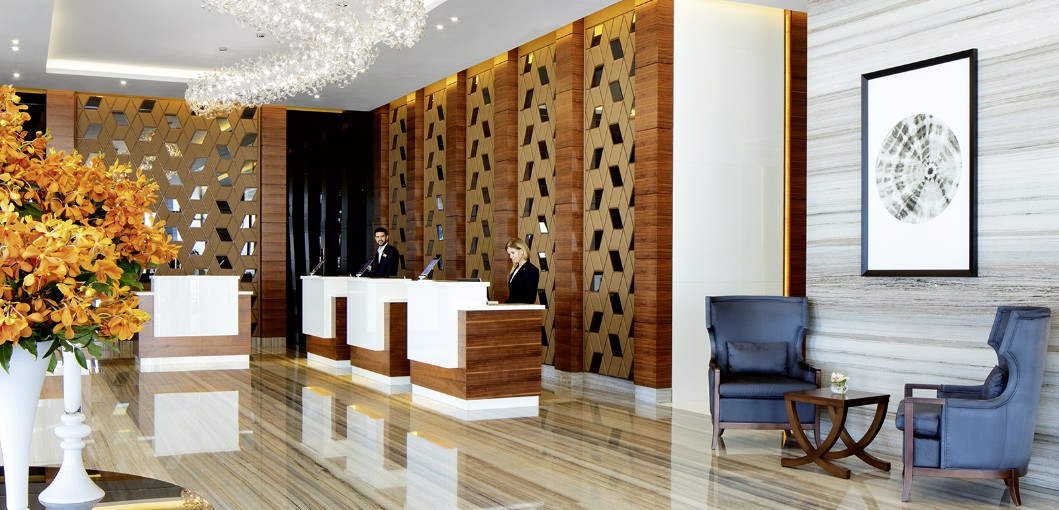 They create motion, like ripples of water or perhaps the slow beating of wings in flight. The lobby is quiet, the staff is all wearing masks, there's hand sanitizer dotted around high touch-points, and 
I park my car in the basement in lieu of valet; all little reminders of the ongoing health and safety measures in the wake of Covid-19. It feels unusual, but reassuring, because one can see that the hotel is carefully following protocol. Hotel stays are, of course, a little different now, but with stringent health and safety measures in place, we can once again relax into a break away.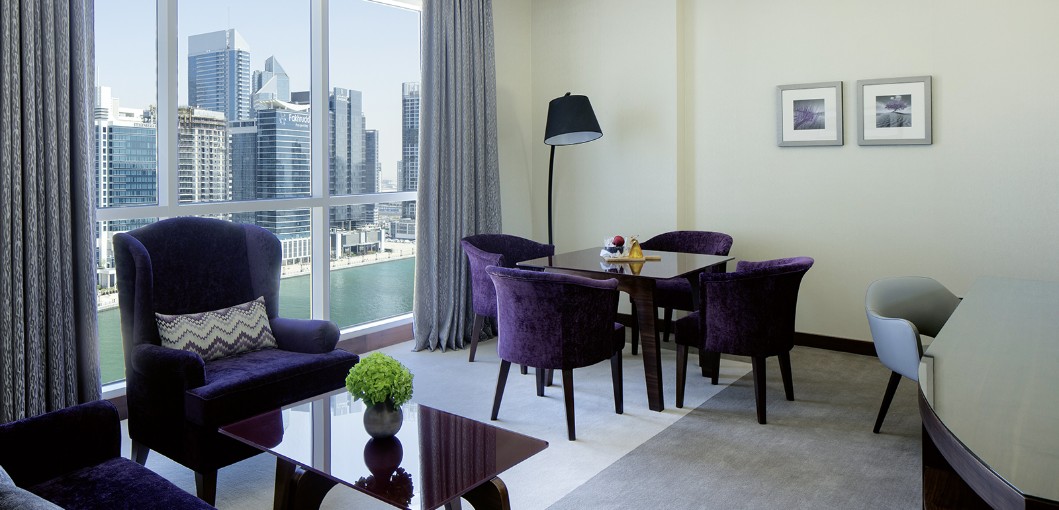 I take a glass elevator up to my suite on the 17th floor, soaking up sprawling views of the city on my ascent, presented to guests with pride. Now, the beauty of staying in a Business Bay hotel is that given the right room, and you're privy to one of the world's best backdrops. Full of bravado, my suite's floor-to-ceiling bedroom windows let me unwrap Burj Khalifa inch by towering inch from the moment I arrive.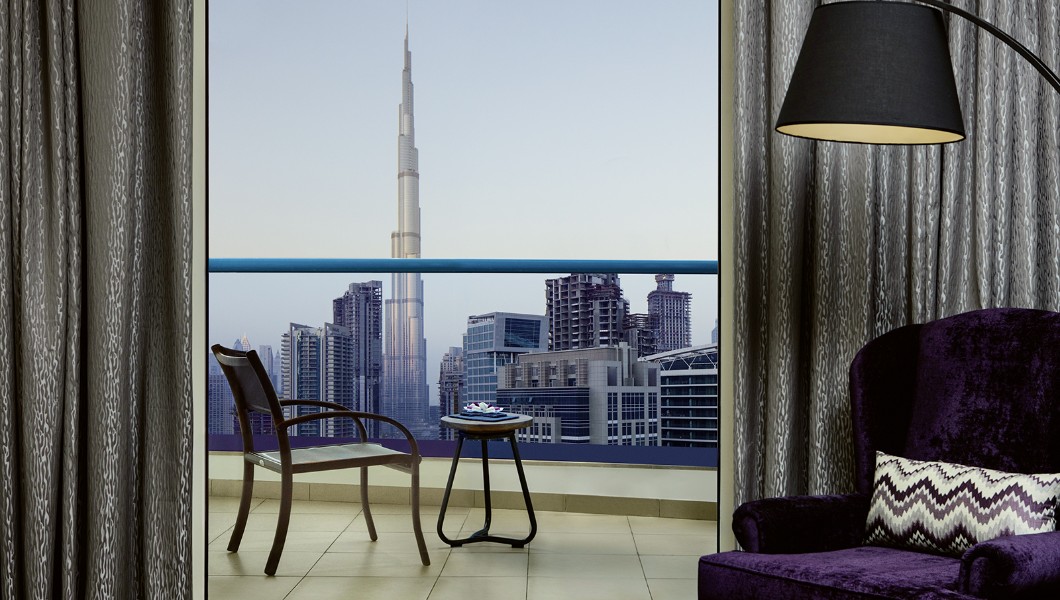 The suite itself is contemporary in thoughtful design, layout and colour-coding, a considered approach for those looking for style yet simplicity. Its 56 square metres afford me a lounge, bedroom, bathroom, guest loo, and a bijou balcony overlooking the bay. In the lounge a three-piece suite holds court, nestled around a coffee table. There's also a plasma screen TV, a three-metre wide mahogany console, and an architectural lamp offering tonal mood lighting after dark. The sofa set's crushed velvet in a rich purple hue feels wonderfully retro-modern, with its sumptuous hue mirrored in various artworks throughout the suite.
The bedroom is equally relaxed, furnished with a bed, dark wood tables, an armchair with foot-stool (again, in that deep purple) and, my favourite bit, a little 'love seat' bench by the bed that faces the window for brilliant 'watch the world go by' viewing. The windows stretch the width of the bedroom, and allow light to flood in from morning to night.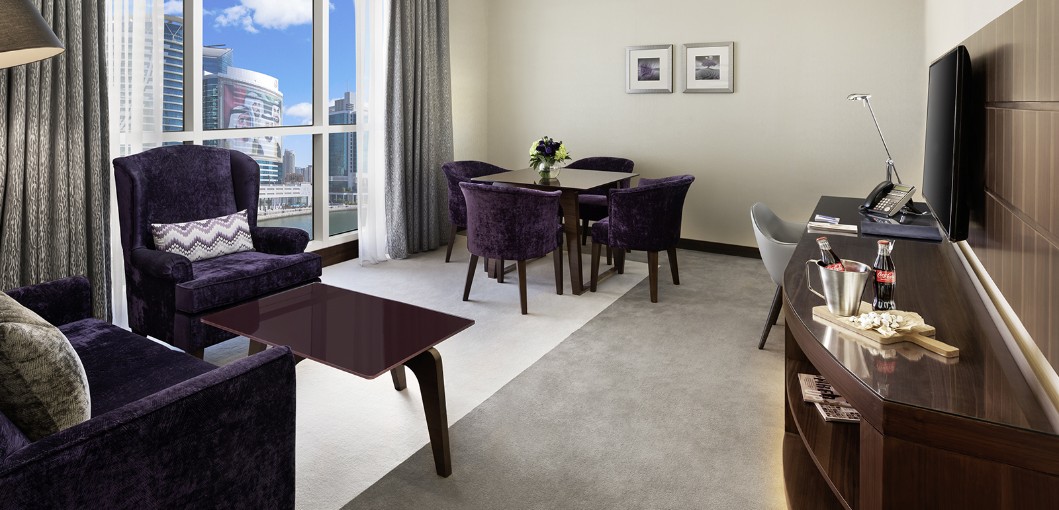 It turns out that the bed is 
a talking point in itself. Devoid of cushion clutter, the pillows and mattress are allowed to do all the talking. The mattress is the perfect marriage of soft-meets-hard, whilst the pillows are so, well, pillowy that my head literally melts into them. The bed is so comfortable, it turns out, that my 10-minute book read turns into a two-hour nap. I later hear that the mattresses are made by Hypnos, the same brand that supplies Queen Elizabeth, which might have something to do with my splendid siesta.
The rest of the bedroom provides a curved mahogany chest of drawers, wardrobe, drinks area with Nespresso machine and a mini-bar. There is a flat-screen TV, of course, but it so neatly blends into the background that I barely notice it.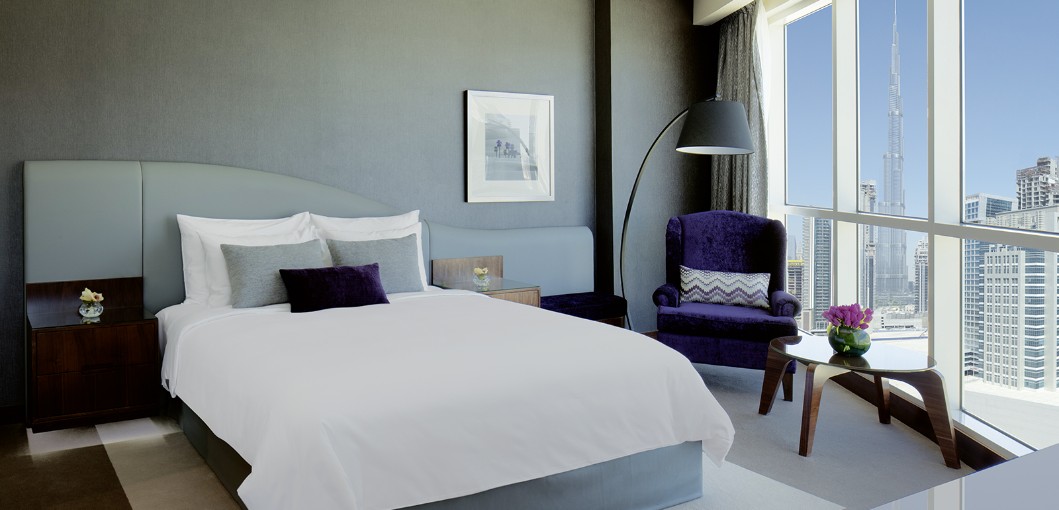 The sleek, functional vibe continues into the master bathroom, with slate tiles, white appliances and marble sink counter-top. Hints of colour smile through via the mosaic-dappled mirror trim in grey, cream and maroon, as well as the quartet of maroon Perspex tiles that sit above the bath. The overall muted palette of the suite with its pops of purple and maroon, help offset the masculinity of the design, creating a more neutral yet vibrant aesthetic.
An afternoon dip calls. 
The pool is perched on the 3rd floor, which means whilst it foregoes vertiginous views, it gives the sense of swimming across the bay as you do your strokes. The Dreamworks Spa is yet to reopen, as per government directives, 
but its reputation precedes itself. With locations dotted all over Dubai, the spa is renowned for its power-house results, so promises to be a pull for spa devotees when operations resume.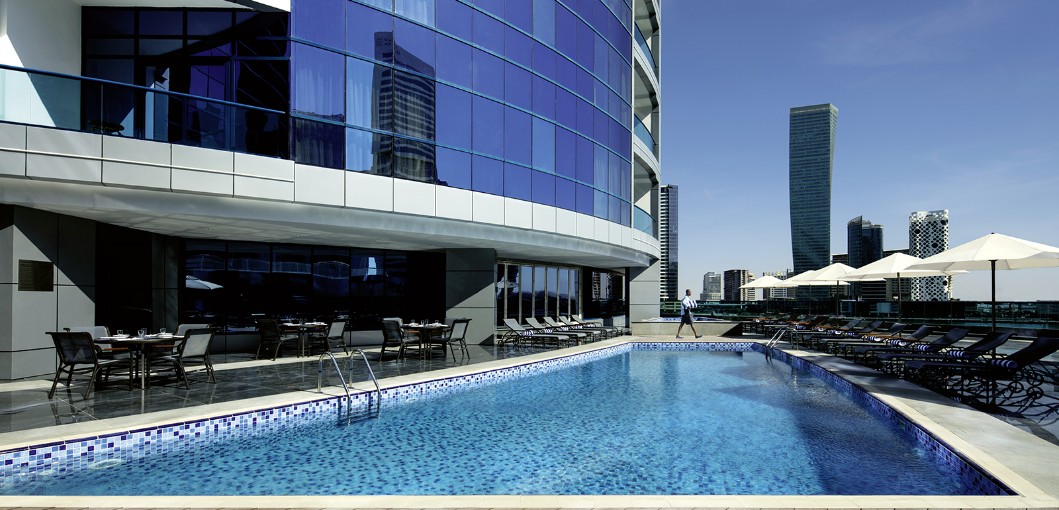 The hotel has four eateries, and after a light lunch at holistic and health-inspired The Larder (you must try the spinach and artichoke dip), I dine at FireLake Grill House & Cocktail Bar for dinner. Born from the wilds of Minnesota and touted as a modern tribute to American fire-grilled and barbecue fare, it might seem an odd choice for a vegetarian. Renowned for its slow-roasted short-rib and coal-roasted lamb, it does well to cater for those looking for something less meaty, and I eat my salty Padron peppers, creamy burrata, 
and wild mushroom and black olive flatbread pizza in the comfort of my booth, with its low-hanging lighting creating dark corners and sultry vibes.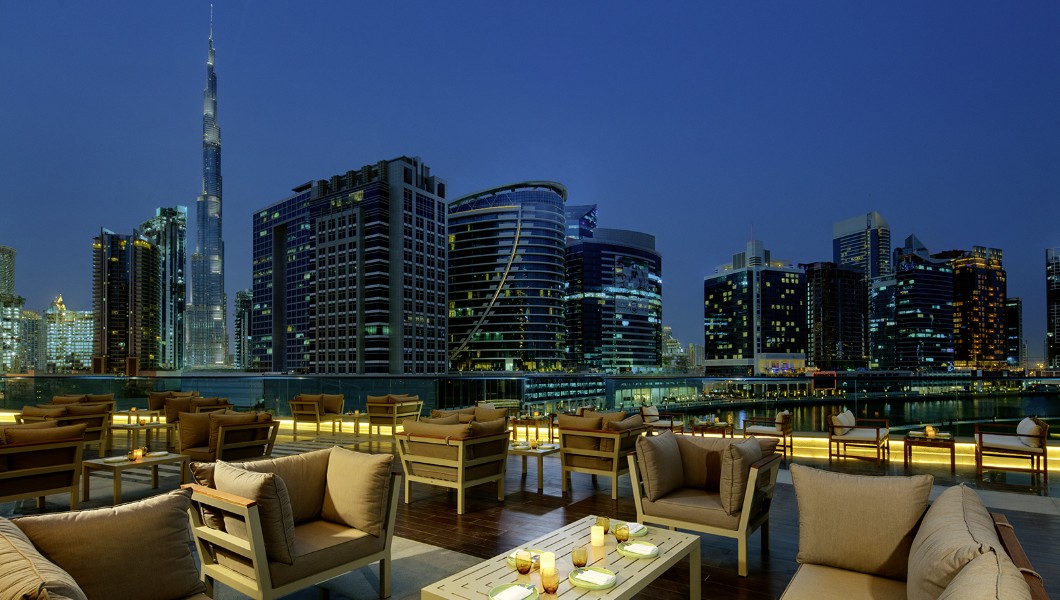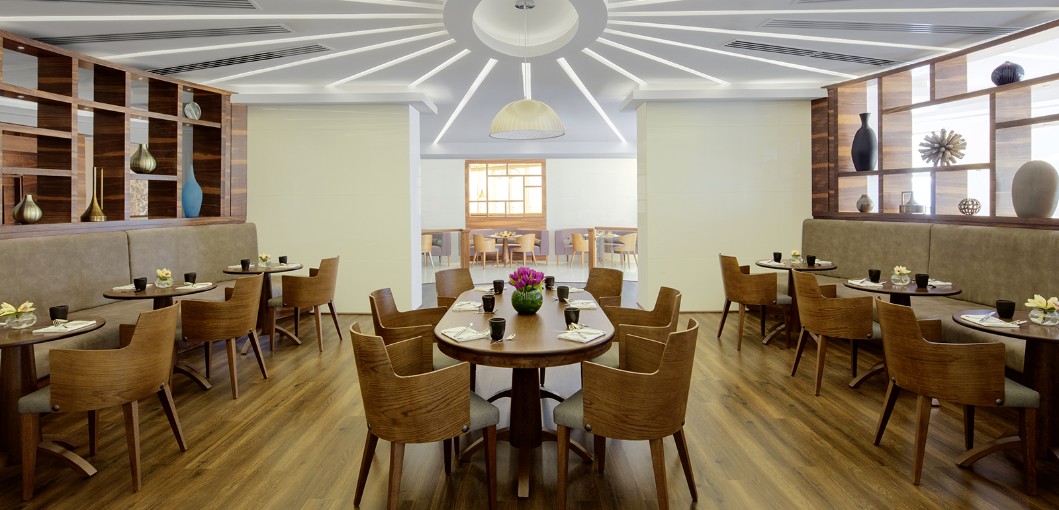 After a night-cap on the terrace, I retire to my suite to watch the city's lights dance to a star-scattered soundtrack. As I close my curtains, and slink into my royal-approved bed, I bid goodnight to Burj Khalifa, as it stands watchful in the background, as if on sentry duty over my dreams.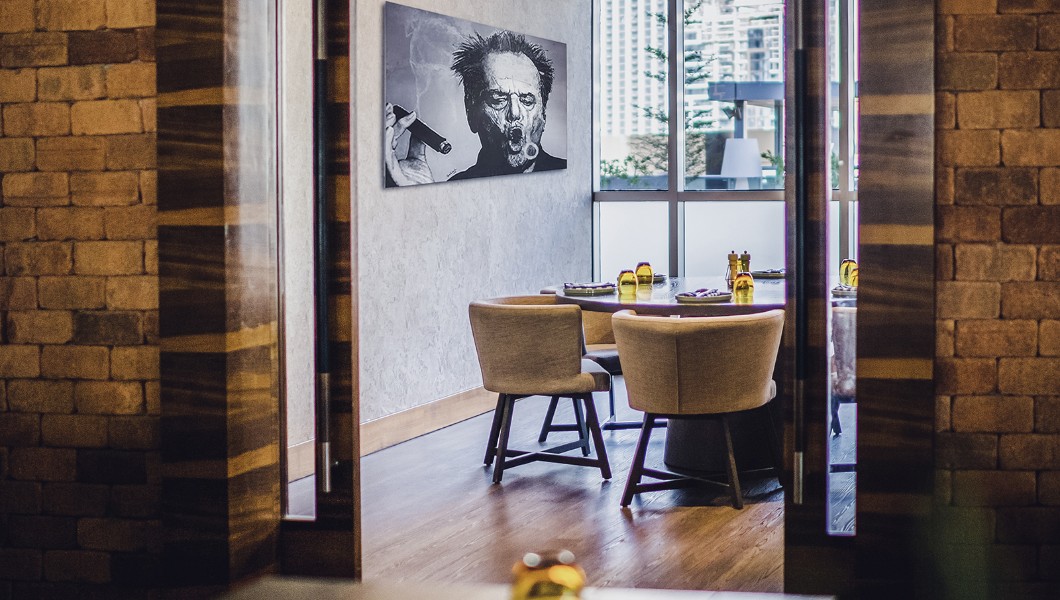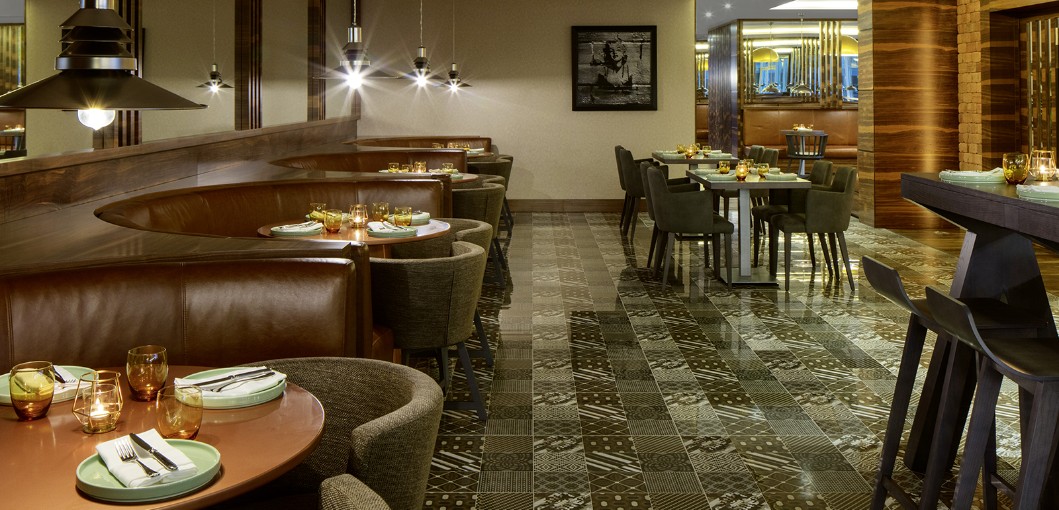 When morning comes, the sun launches itself hazily over the skyscrapers, hopping from one edifice to another, slowly casting its blanket of warmth across the city. It's a new day, and when they start with views as good as this… you know you're onto something good. A breakfast of smashed avocado and poached eggs back at The Larder, another dip and it's time to leave. After almost 13 years living in Dubai, my stay has reconfirmed my love of this city. Spending 24 hours in the company of such epic views will do that to you. 
So, whilst Business Bay may sound like it's more suited for serious, work-inclined stays, Radisson Blu Hotel, Dubai Waterfront goes the extra mile to make you realise that the destination, and the hotel itself, has far-reaching appeal.
Stay:
WHAT: Suite With Burj Khalifa Views
WHERE: Radisson Blu Hotel, Dubai Waterfront
TEL: +971 4 249 7800