The Maldives is a sprawling archipelago – a sneeze of sand, strewn southwest of India's southern shore, two parallel chains of 26 atolls stretching like an unravelled strand of DNA.
Best known for cocktails, coconuts and honeymooners snapping endless holiday selfies, it's been a hot destination since the early 1970s, despite a published UN report from the previous decade that claimed the islands weren't suitable to develop. The first resort opened regardless in 1972 and hordes of visitors have since been sunning themselves on the 84 resort islands. Around 800,000 holidaymakers visit each year, boosting the islands' economies, and triggering the evolution of the Maldives from its former status as a British Protectorate to today's touristic powerhouse, with an emerging emphasis on sustainability.
It's astounding to consider it was only a few years ago that the archipelago was upgraded from its LDC (least developed country) status. There's very little as satisfying and as serene as lazing around a resort on your hard-earned holiday – and don't let any social justice warriors tell you otherwise. But for restless types, who aren't honeymooning and want to don their fun-filled fanny pack and go exploring, it can be a little daunting to spend more than a couple of days in an isolated paradise.
Angsana on the seashore
When it comes to being intentionally stranded on a desert island, there's a fine line between "please send help" and "please send more ice for my mojito". That line looks a little like Angsana Velavaru. The plush resort island is high end, no doubt, while maintaining that sort of 'barefoot luxury' that earnest Instagrammers like to cite in hashtags. And what a beach.
The sand is as soft as it is pale, and accompanied by the whispering of wind through the palms. As with other resort islands, there was nothing here previously. No infrastructure, no drinking water and not even high-speed WiFi. From the seaplane transfer all the way to the scented pillow, each and every item and amenity has been imported purely to serve your stay.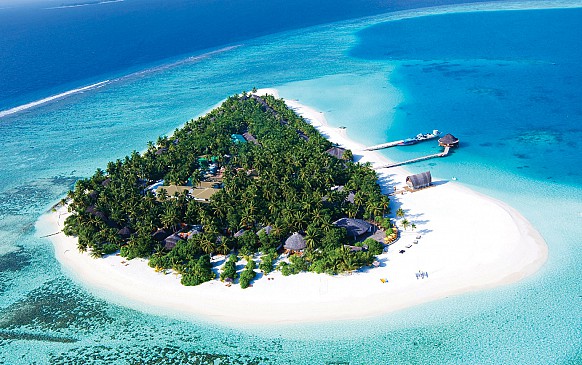 That said, you don't quite become an island overlord upon arrival. The master is the island itself. Encircled by a coral ring's pale blue lagoon, the island's rich aquatic flora and fauna is more valuable than your drinks tab. The name "Velavaru" actually translates to "turtle island" in Sanskrit, which seems apt with the brand's strong focus on turtle conservation. A respect for the ecology is urged in no uncertain terms – even a basic snorkelling kit has to be approved following a PowerPoint presentation and a comprehensive form.
You and Meedhoo
Keep your flippers off the delicate coral and you won't incur the wrath of the resort's Marine Lab team, headed by a stoic Hungarian dive master you really don't want to cross – mainly because there's no escape until the next seaplane passes by. The nearest escape, if you keep your flippers on (or take a speedboat), is the nearby island of Meedhoo, home to a minuscule village, which guests can visit as part of the resort's comprehensive optional itinerary.
Just 45 metres long and barely 28 metres wide, Meedhoo exudes the same stress-free vibe, but with a charmingly rustic aesthetic. "The people here are content," says local guide, Falaa, a native of nearby Bandidhoo and the resort's front office stalwart. Around 70 percent of the 1,500 (or so) islanders work in the Maldives' chief breadwinning tourism industry; the remainder trawl, selling their fruits de mer to spin a profit.
A stroll around the island's perimeter is comparable to a loop around the resort – about a swift 20-minute jaunt – but every alley and corner is an opportunity to stop and smell the flowers. Literally. Trees and front yards are replete with Sea Hibiscus, breadfruit trees and sapodilla, and the fragrant foliage is as vibrant island children who curiously approach or strike a pose for you to snap. The pacific (with a lowercase P) islanders are surprisingly unfazed by voyeuristic tourists, but that's because not many travellers venture onshore. Anyone with a curious itch to see the "real" Maldives shouldn't hesitate to scratch. Island life has barely changed for decades, despite oversized satellite dishes and a towering telephone mast. "We just watch more football now…"
I'm told, which is confirmed by the presence of Manchester United and Chelsea football shirts ambling through the dirt streets. Moments later, the island's Tannoy system heralds an announcement. It's not a call to prayer for either of the two tiny mosques, but news of a date shipment, (relatively) fresh from Islamic big brother, Saudi Arabia. Locals lack nothing besides the trappings of modern materialism and are in no hurry to vacate their remote home. They are happy to sell fresh fruit and coconut from their garden, or accept crisp new dollar bills for groceries and snacks – a snip of the prices charged elsewhere.
Beneath the Banyan
To add some variety to your Maldivian experience, take an easy transfer to Angsana's "big sister" property, Banyan Tree Vabbinfaru, which offers a similar blend of CSR and sanctity. A speedboat will whisk you from Ibrahim Nasir International Airport to the resort's jetty in about half an hour, but you shouldn't delay booking your Royal Vabbinfaru massage in the island's colonial-style spa. The 90-minute treatment is sure to melt away those corporate concerns and reset the pace to "island time".
Another place where the passing of time blurs is beneath the ocean's surface. Even if you lack your scuba license, a simple sojourn with a snorkel offers a glimpse at an overabundance of radiant fish. The healthy coral is a solid testament to the hard work of the resort's Marine Lab team, which has nurtured the reef for more than two decades. Given you're in the Maldives, there are plenty of activities on the Kaafu Atoll bolthole slanted toward romance.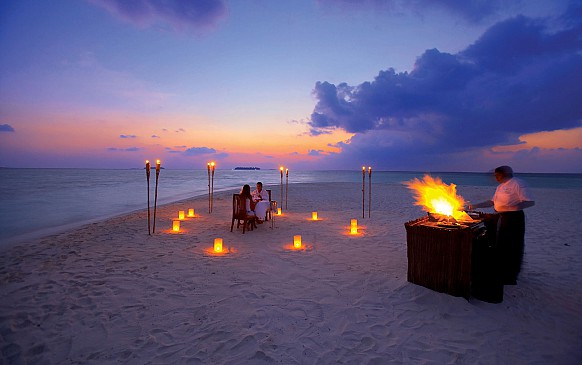 Whether it's a sunset cruise, a couple's culinary class or a dual beach massage, there's one thing you should add to your amorous agenda. Surprisingly, I'm not referring to the daily stingray feeding, which sees "big mama" and friends arrive at 5pm for hand feeding and an educational talk from one of the Marine Lab specialists. Rather, you should visit the resort's posterior Sunset Jetty, which can be converted into a dusk dining venue. It's an "off the menu" option, but if you have a sneaky word with the front office staff and are prepared to drop some dollars, it just might score you a bespoke BBQ experience as the sky fades from blue to pink and then unveils a grand starry spectacle.
The address to decompress
Before resuming the rat race, there's no better way to get a dose of authenticity than by taking in the capital, Malé. Instead of being swarmed by tropical fish, you'll be enveloped by a superabundance of moped commuters. The densely populated city crams in more than 100,000 locals within myriad of pastille-shaded towers and quaint, endearingly unkempt alleys. The 5.7km perimeter island feels like a bona fide concrete jungle following a luxury resort stay, where the tallest constructs were the seashore cabanas.
But here you have the National Museum, which leads you from ancient Quranic manuscripts all the way to modern "artefacts" such as decade-old digital cameras used by the local police force in the 1990s. Non-believers will have to admire the Malé Friday Mosque from the exterior. The 17th-century holy place is accessible to Muslims only, but is a must-see, given that it was constructed almost entirely from coral stone.
A jaunt in the capital may even serve as a decompression zone to help you adjust to a normal pace of life. Like a scuba diver approaching the ocean surface too quickly, a hurried return from the Maldives will result in a malaise. The Maldives is laden with leisure, but acquiesce to adventure beyond your beachfront cabana and you'll find a wealth of culture. Whether you fill your Facebook feed with beach sunsets, plated barbecue fish or smiling locals, friends and family will end up resenting you regardless, but you'll be all-the-more satiated if you embrace the elusive dynamism that this enchanting archipelago nation has to offer.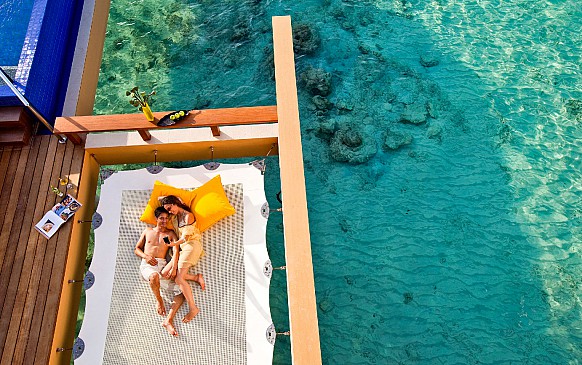 The important bit
Angsana Velavaru
South Nilandhe Atoll
(Dhaalu Atoll)
Tel: +960 676 0028
www.angsana.com

Banyan Tree Vabbinfaru
Vabbinfaru Island
North Malé Atoll
+960 664 3147
www.banyantree.com