Mercedes-Benz and Gargash (the motoring brand's general distributor across Dubai, Sharjah and the Norther Emirates) pays tribute to the UAE's 50-year milestone with a new limited edition Mercedes AMG G63, a celebration of both the evolution of the UAE, and the legendary G-Wagon too, with just 50 units produced.
Renowned for its on- and off-road performance - perfect for the Emirates' hybrid topography - the reimagined exclusive G-Class Golden Jubilee Edition is available, for the first time in Mercedes-Benz history, in a new two-tone exterior, to honour the heritage of the two brands' legacies born in the same decade - with 25 units in a white/iridium silver, and 25 in a magnetite black/graphite grey.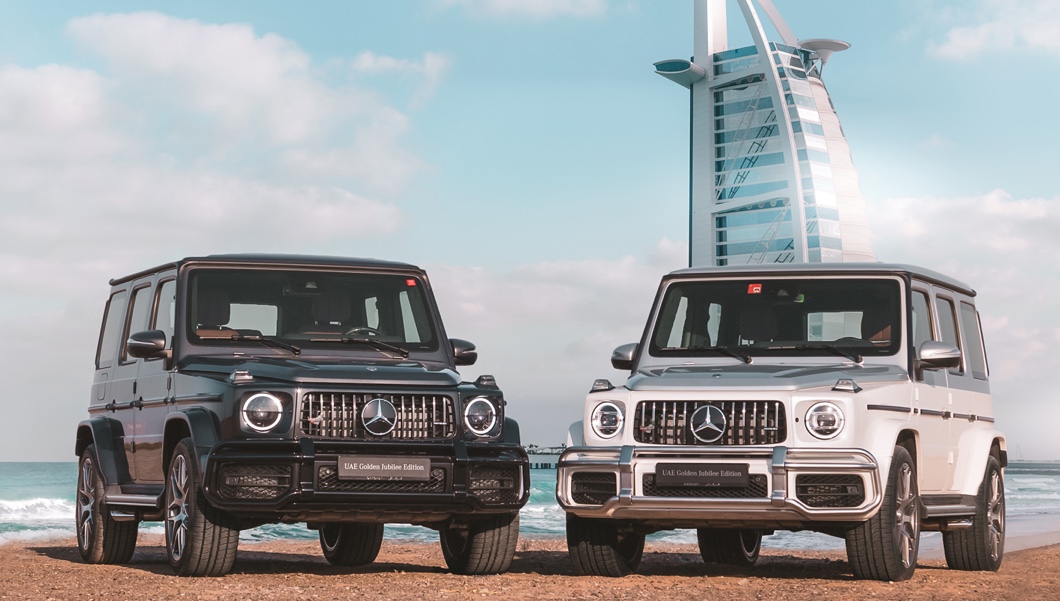 In terms of exclusive anniversary modifications, the front grill and centre console feature the special Golden Jubilee badge in the colours of the UAE flag; there's a specially designed UAE Golden Jubilee Edition grab-handle; a special side mirror projection; grey brake calipers; and an upgraded interior with numbered interior badge to symbolize the UAE's 50th anniversary.
The limited-edition cars also feature a new custom tyre inflation system, and a special carbon fibre spare wheel cover designed exclusively for the occasion.