A confession. The first time I tried to go into Harry's Bar in Venice for a Bellini, I was travelling Europe by backpack with my college boyfriend. Stunningly, we were denied entrance to the posh venue, even though it was midday. It wasn't my fault. I was wearing a cheeky sundress and platform sandals. But my love, donning one of the few outfits he'd managed to stuff into his utilitarian rucksack, was doing the unthinkable. He was sporting shorts. Back in the day, people dropping into Harry's Bar, (poised on St. Mark's waterfront,) for their famous Bellinis (and a bite of beef carpaccio or spaghetti alio olio) needed to dress to impress.
Today, the standards have loosened – just a bit. You can still get stopped at the door if you don't look quite right. After all, this renowned haunt, home to the first Bellini, doesn't need your business. It boasts a long history of high-rolling tipplers, many with a literary bent – think Sinclair Lewis, Orson Welles, and Ernest Hemingway. Today, serving up libations to celebrities in town for the Venice Film Festival or the Biennale, the bar still has its standards. Full of tourists in the know, the restaurant has the cachet of an icon, having survived the Second World War and a fascist regime, it is now a brand with outposts around the world. But, men, if you go, don't hesitate to pull on a pair of linen slacks – lest you find yourself, as my boyfriend did, abandoned by your girlfriend to the pigeons of Piazza San Marco. Your significant other will probably do as I did and swill a Bellini or two alone, surrounded by a flock of attentive, white-coated waiters. I can't say I even noticed that was alone. For nobody really feels alone at Harry's Bar.
Today, bartenders across the globe can manage a decent Bellini, though those who dare to stir one up without fresh, white-fleshed peaches, those who venture into canned fruit's realm will earn my ire. Beloved by brunch goers, light and refreshing in summer, a rich source of Vitamin A (thanks to all that peach purée), the Bellini was invented around 1940 by Giuseppe Cipriani, founder of Harry's Bar. Inspired by the season's abundance of peaches and the long tradition in Italy of marinating fruit in wine, he created a libation meant to evoke the fragrance of summer.
Mixing Prosecco (the Veneto's regionally protected sparkling wine) with white peach purée, Cipriani purportedly added just a bit of cherry juice to add a pink glow. He named the drink after one of his favorite 15-century painters, the Venetian Giovanni Bellini, who used a mesmerising suffused pink in his work. An immediate success among the glitterati, the beverage lives on, often made in various iterations, such as the Rossini (with strawberry purée) or Puccini (with mandarin juice). The only real tip for success: use no other sparkling wine but Prosecco, say some experts, because it emits a crisp, acidic vibrancy to the concoction, rocketing the peachy-sweetness to celestial heights.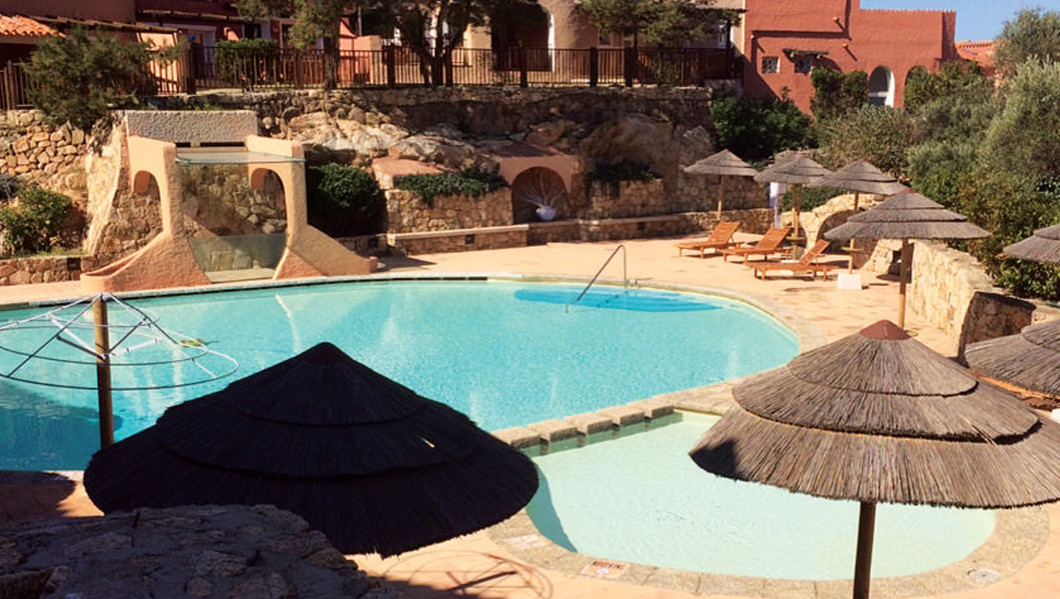 Island Idle
At salmon-coloured Hotel Cervo, amid the gleaming white walls of Il Portico Bar, head barman Andrea Saritzu crafts your Bellinis while you sit in the shade and watch the world go by. Out in the bay, yachts bob hypnotically on the emerald water – and your pink drink is the perfect accessory. Overlooking Porto Cervo's Piazzeta, this elegant bar, part of Starwood's Luxury Collection in Sardinia, attracts only the most discerning clientele, which makes it ideal for people watching. Look closely and you're bound to notice a celebrity (or 10) nearby. "We make the best Belllini on the Costa Smeralda, and we want to spoil you," says Saritzu. www.hotelcervocostasmeralda.com/portico-bar
---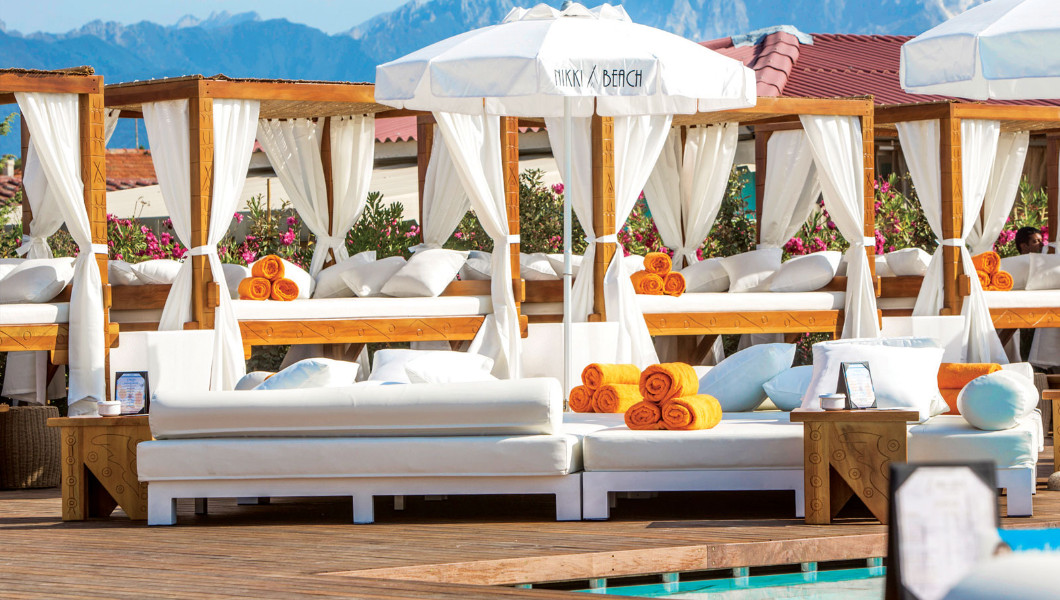 Bellini Bash
In the Tuscan Beach town of Versilia, summer means festive times. Enjoy cavorting with amici at Nikki Beach Versilia, a swish beach club and restaurant on the white sands of the Mediterranean's Marina di Pietrasanta. As you cool off in the one-of-a-kind swimming pool, fashioned entirely from Carrara marble, order Nikki Beach's version of a Bellini at the swim-up bar. "We make a Rossini with local strawberries and wild strawberry liqueur and Champagne (not Prosecco) to elevate the experience," says chef Brian Molloy, director of culinary operations, Nikki Beach Worldwide. And the garnish? What else? A long-stemmed strawberry.

---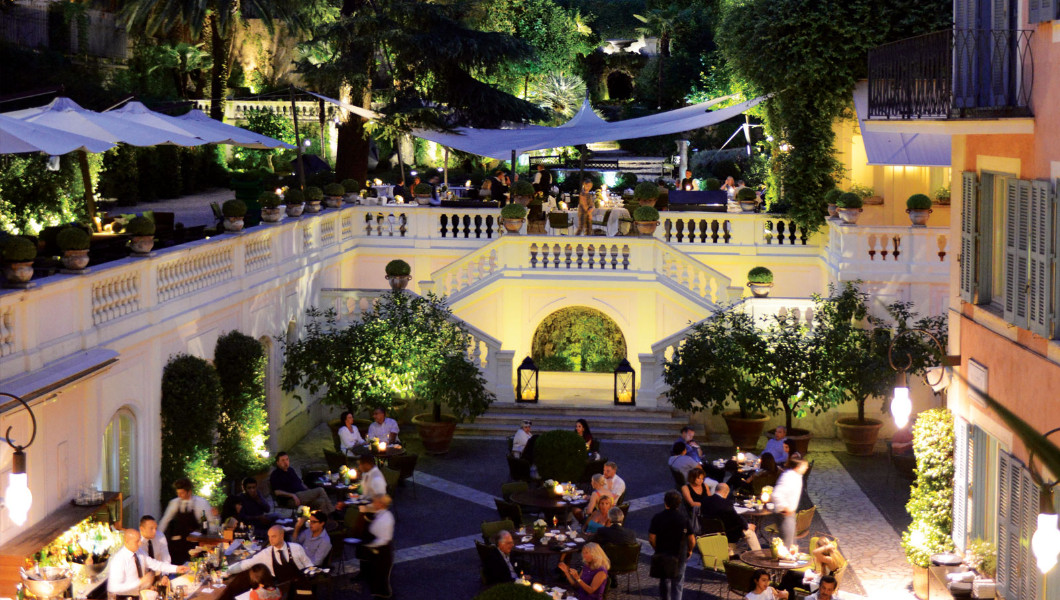 Roman Repose
Modern design meets historical gravitas at Hotel de Russie, once the playground for Russian royalty. Near the Spanish steps, rising above Piazza del Popolo, this Rocco Forte hotel has hosted scores of luminaries. Most of them probably sipped Bellinis, in the al fresco Stravinski Bar, a garden-rimmed oasis that forms the heart of the art-filled Rocco Forte hotel. At this posh meeting place, a favourite watering hole for locals, the Bellinis are made the classic way with white peach purée. Follow yours with De Russie's signature lobster salad or scrumptious Bombolotti Amatriciana.

www.roccofortehotels.com/hotels-and-resorts/hotel-de-russie/
---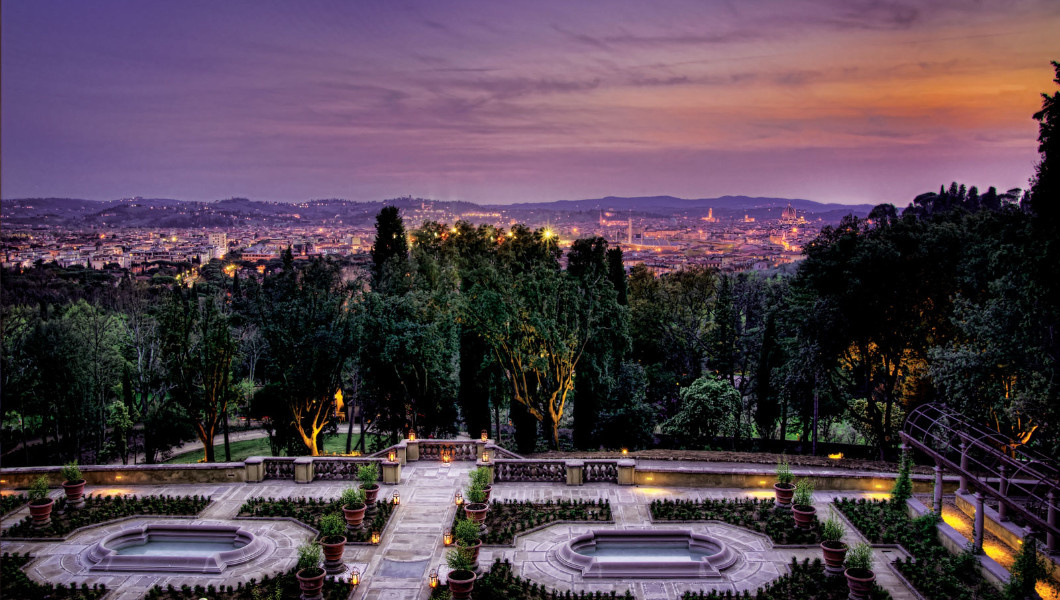 With a view
Atop a hill in Fiesole, with flaxen Florence before you and the majestic Duomo a beacon of awe, you'll imbibe with artistic élan on the terrace at Il Saviatino. A hand-restored 15th-century villa, with expansive gardens and exquisite personal service, the hotel has trained the entire staff, from the executive down, on the art of making the perfect Bellini. Guests can enjoy one "at a moment's notice; at any time of the day," according to head bartender Luca Gatta, who says Bellinis are best in summer when peaches are at their freshest.