Singapore-based Clint Nagata is the founder and creative director of BLINK Design Group, responsible for creating the interiors of score of hotels for big brands such as Hilton, Sheraton, Marriott, Conrad, InterContinental, Regent and Jumeirah.
The firm recently won an award for the upcoming five-star Alila Salalah Resort, for which they took inspiration from the 'khaleef', the Omani region's summer rainy season that makes the desert bloom for just a few short months.
We speak to the interior design veteran about what he calls the 'symphony of space' and touch on design processes as well as emerging trends.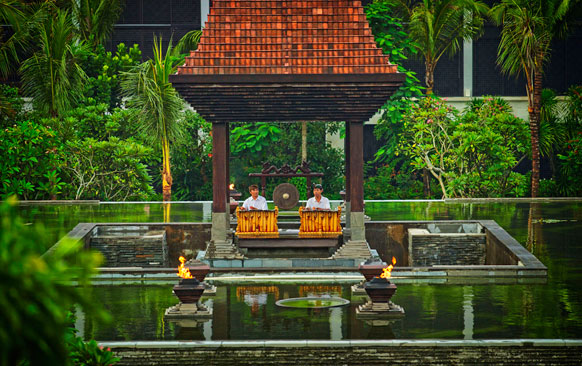 Blink but don't miss it: Fairmont Sanur Beach Bali (above) was designed by the firm
Have hotel design trends moved rapidly, or is everything on a cycle?
I look at hotels as not being trend setting, but being followers of other trends. The whole fashion and couture movement, for example, hotels have followed it with the creation of more boutique hotels – more lifestyle and fashion focussed.
I think a forthcoming trend will follow the slow cooking movement. That trend was born out of chefs wanting to do new things with local ingredients, and I think the same trend is coming with regards to hotel design. So rather than specifying marble from Italy, and shipping it halfway across the world, why not make the best of what local materials and resources we have?
That obviously ties in with properties having a 'sense of place', but who signs off on the final design decisions?
To develop a hotel it takes anything from five to seven years from conception to opening, so you really have to look forward and imagine what things will be like five years – not something that's current now. There's a danger of something opening and already being passé.
So how do you look into the future?
The whole slow cooking example is my take on where we need to go with hotel design. Especially as a lot of hotel owners don't want to import materials because of cost and time – they're very conscious about making a hotel fit within a certain place, rather than being of another place.
A city like Dubai has grown so fast and seen so many new hotels pop up over the last decade – has that set a positive or negative precedent for other destinations?
Dubai is in its own world. Everything has been created here and that will always continue to be the right thing to do. The question is, do you do everything flashier than the next guy? Or does the trend switch and become much more in the reverse?
What is the reverse?
Slower - things that would appear to be like they're from the UAE. If you go back to China 10-15 years ago, everyone was into Gucci, LV, Versace and other flashy brands. That's almost frowned upon now, and people are buying Hermes, Bottega and other quieter labels that are not so much in your face. And maybe Dubai has to go through a similar cycle, where it has so much glitz that people start preferring and understanding more understated brands.
The Chinese tourism market is set to grow exponentially, with tens of millions of new travellers coming online in the next decade - will that impact global hotel design?
There's always a reaction to what's hot now. If you go back in history and look at the Japanese in the eighties, when there was so much new wealth, everyone started chasing after their business – but that market collapsed. Japanese overseas tourists also grew up. Their tastes changed and became more western.
I see two different types of Chinese travellers. One is the tour groups from small towns, they carry small flags and cause a ruckus wherever they go; the others are very well travelled. I met with a girl last week in Shanghai. She's 29 and super wealthy and wants to build her own hotel. She purposely didn't want a Chinese designer, she said she wanted someone international. Even five years ago, that wouldn't have been a common thing to do.
How will new pace of new technologies affect the hotel development business? For example, are designers factoring in 3D printing?
As a designer it affects the way we design, but it's a huge investment for international chains to ask hotel owners to implement the latest technologies. So you don't see them as often as we should. For smaller operators, we see it more often – even just having iPads in the room.
As a creative person, do you find yourself having to moderate, or even dumb down your ideas?
I look at design for hotels as being different from other professions, as we're designing to create experiences. There's a lot more flexibility when you're working for a brand like Alila that's still trying to understand what those experiences are about, versus a brand like Hilton that will provide a 50-page bible on how to design a room, which can be quite restrictive.
There's an increasing number of 'starchitects' such as Sir Norman Foster, Zaha Hadid and Philippe Starck – do design stars help the industry by normalising more creative concepts?
I'm not sure how much you know about the YOO brand. YOO hotels was a brand initially created around Starck, but they've changed it to include other designers such as Kelly Wearstler. The brand now has four different looks to it. For me, it's not about brands seeing our faces, but more about guests appreciating different styles of hotel, which varies by location.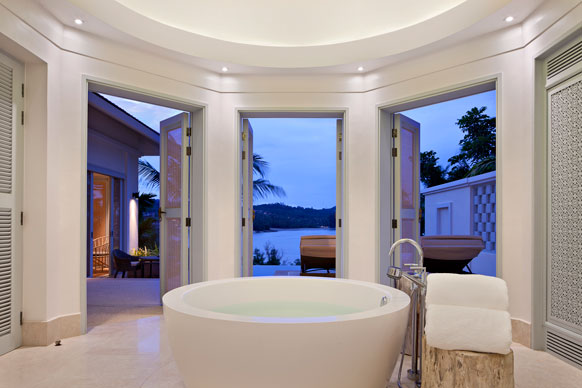 Regent Phuket Cape Panwa Resort - another BLINK design