The history of 'Lamborghini Automobili' officially began in 1963, which was the day Ferruccio Lamborghini opened the doors to the now iconic Sant'Agata factory in Bologna, Italy. Aside from pioneered their legendary V12 engine and the coveted cars that carry it, Lamborghini has been setting records and turning heads since 1966 with cars like the Miura. At the time, the fastest car in the world boasted a top speed of 280km/h and accelerated from 0-100km/h in 6.7 seconds.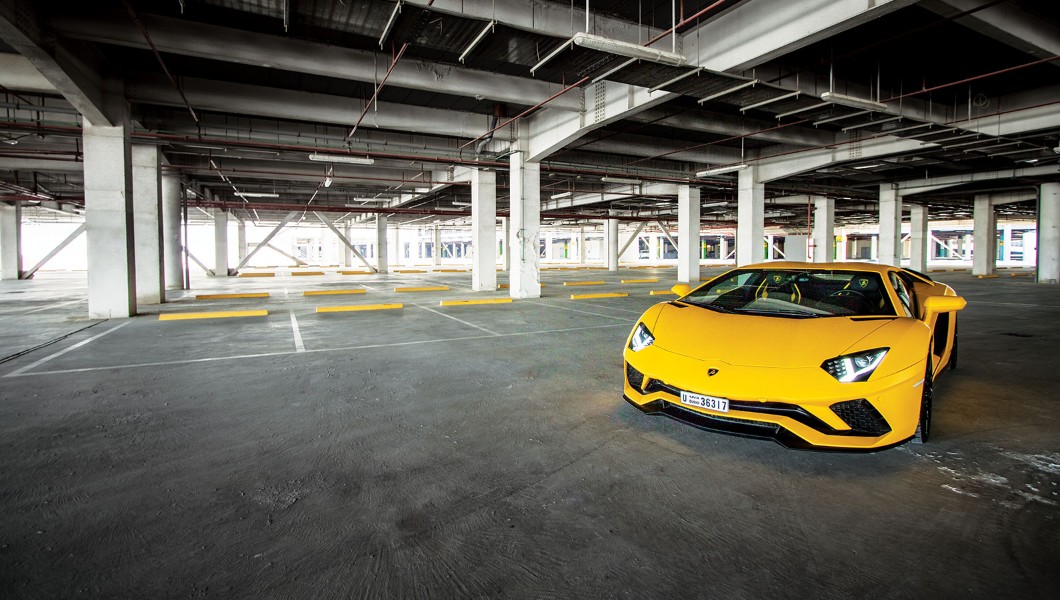 When it was brought to the Monte Carlo Grand Prix and parked in front of the Hotel de Paris it famously attracted so many oglers that they completely jammed the square in front of the casino. Lamborghini continued this trend with the Countach (1971), Countach Evoluzione (1988), Diablo (1990), Diablo SV (1995), Murciélago (2001), Aventador (2011) and now it's the turn of the Aventador S.
As with numerous Lamborghinis over the years, they're shy of perfect. The Aventador S also hasn't quite reached perfection, but it's not far off. Let's start with the positives, of which there are many. The looks; I don't think I have enough superlatives to do justice to just how good this car looks in the flesh. Images give you and idea, but once you're up close and personal it's on another level altogether, from the wing mirrors to the incredible way the doors open, the headlight design, the bespoke Pirelli tyres, and even the new lighter exhaust system just look magnificent. You could even argue the car looks better with its doors open. How many cars can claim that?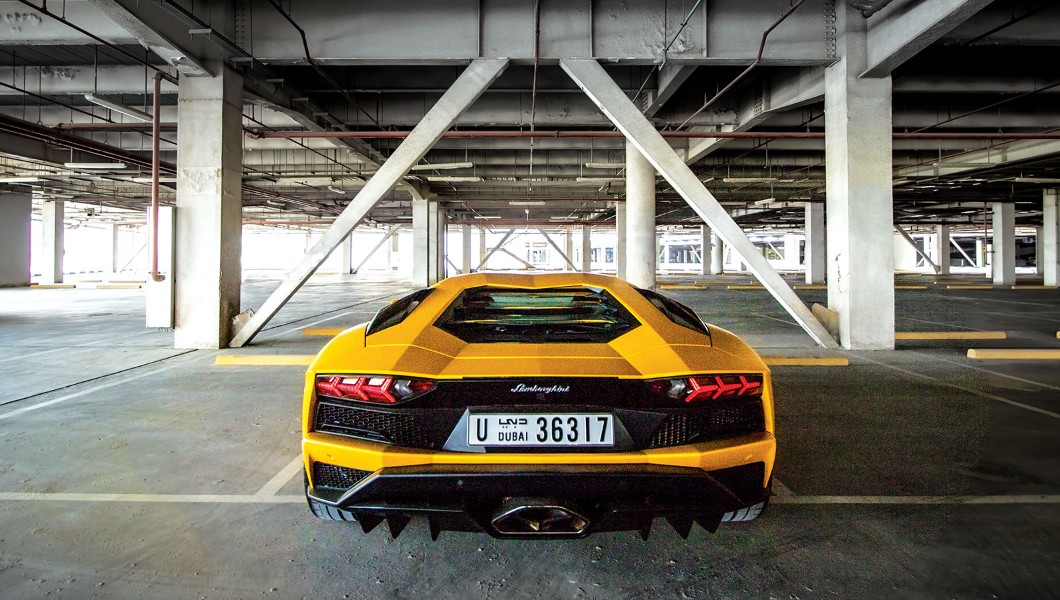 Inside the cockpit it looks and feels as though you're inside a jet. Lots of switches, lights and buttons surrounding what can easily be imagined as a fighter jet-style screen. Lifting the protective red latch to start the engine is always feels that bit more special than simply pressing a button.
Once you've gone through the ceremony of pressing start, the V12 roars into life. Naturally aspirated, I'd argue this is the best sounding engine you'll find in a car today. You don't even have to go anywhere to enjoy this car. Looking at it and listening to it purr is blissful. I know people often see Lamborghini owners revving their engines and they can be forgiven for rolling their eyes. I'm sorry, but it would be an injustice to sit behind the wheel of the Aventador S and not enjoy a rev or two.
I'm yet to test a car where the engine has evoked such emotion and feeling while stationary. A friend's four-year-old daughter told me, "It's so loud it makes my tummy feel funny". I know how she feels. When it was presented to my father he was visibly startled. You can see why this V12 comes from the house of the raging bull. Out on the road, the Aventador handles better than ever thanks to the new four-wheel steering, four active suspension and four-wheel drive. It feels light and nimble like it's a younger, smaller member of the tribe, and akin to one of my all time favourite cars, the Huracán.
The Aventador S also now offers its drivers the new 'Ego' setting, which allows you to customise your Lamborghini driving experience. In previous models you could only choose from three presets. Strada (for cruising), Sport and Corsa (for the track). This caused some issues since owners wanted the performance of the drivetrain in Sport mode but didn't want the teeth-shattering tougher suspension setting that came with it. Now you can have the comfort of Strada with the performance of Sport – and I used the Ego setting for most of my drive.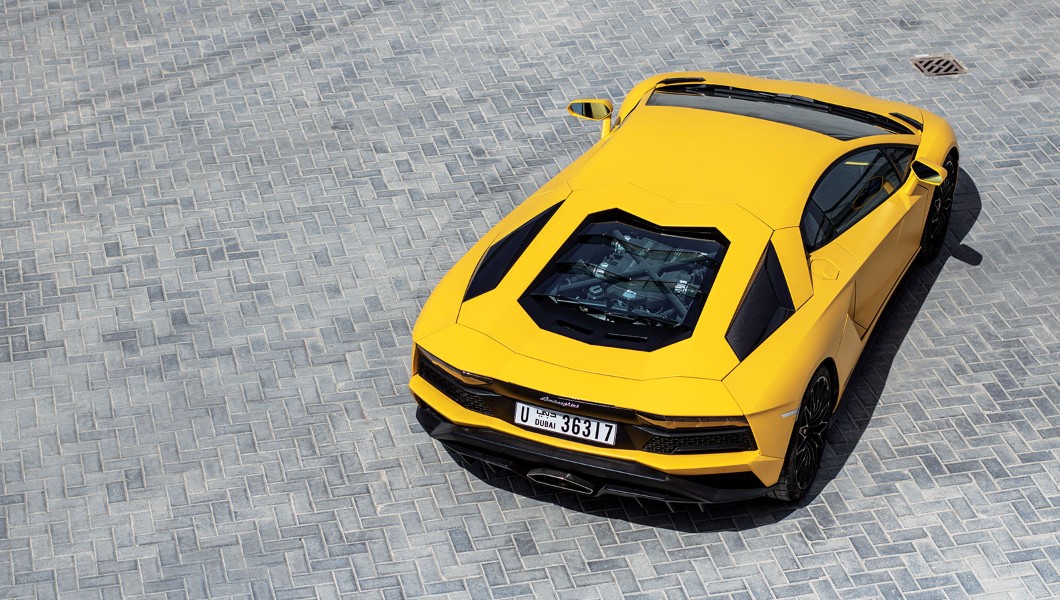 As loud and glorious as that V12 engine is, sometimes you want to listen to your own music. To my pleasant surprise the Lamborghini Sensonum (also referred to as the Lamborghini Premium Sound System) was fantastic. The Aventador S is obviously a supercar and that incredible sounding engine has the power to match its glorious soundtrack. It will propel you to 100km/h in 2.9 seconds and will keep pulling until you reach a staggering 350km/h. All this power and speed can be brought to a halt by the carbon-ceramic brakes with fixed calipers monoblock in aluminum with six pistons (front) and four pistons (rear). In just 31 metres you can go from 100km/h to dead zero.
As mentioned earlier, the Aventador S isn't perfect. Like all super cars they're not the easiest to get in and out of, but it's a super car, so I'll let that one slide. Once inside there isn't a lot of headroom. I'm no giant at 6 feet (182cm) and my head was brushing the roof. In terms of storage, either the designers forgot about it or just didn't care. There's a slither of a glove box, which can hold some keys, a pair of gloves and maybe a CD. Yes, you'll need to store CDs (or SD cards) since you can't stream media from your phone via Bluetooth. Aside from the diminutive glove box you have a very shallow storage space just behind you that can hold some business cards and maybe your phone, depending on the make and model.
As cool as the jet-style switches and buttons look on the centre console, it's just a bit overcomplicated and unnecessary. Visibility isn't great. You have a rear view mirror that gives a merehint of what's behind you. The car is also wide. If you were dreaming of an leisurely trip through lanes and alleyways in northern Italy then keep dreaming. If you did get stuck on a road not wide enough for the car, the seats (while looking incredible) aren't the most comfortable place to be for a long period of time. They don't hug you well enough when cornering and are a little hard to be sat in for extended periods of time.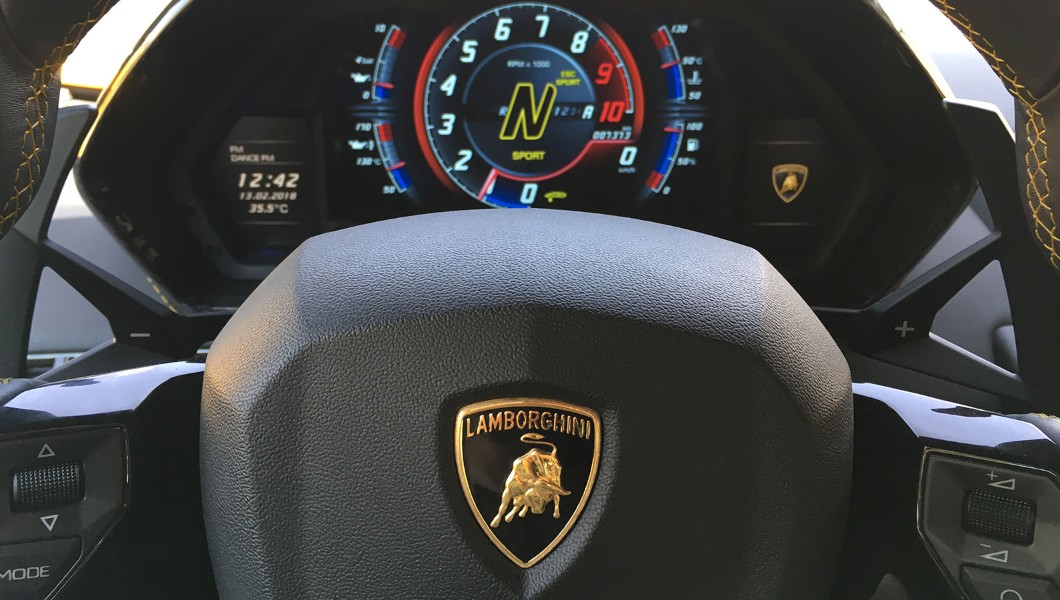 Speaking of which, the transmission can be a bit like a bucking bull, leaving you feeling like you need a hug. In automatic it lags then grabs at gears when you least expect it. In manual it tends to violently snatch at them – this was the hardest characteristic to come to terms with in the Aventador S.
However, these imperfections kind of make this car perfect. The Aventador S isn't for someone that wants a car, it's for someone that loves cars and loves driving. I enjoyed the challenge of attempting to match-make that glorious engine with the quirky gear changes. The more I drove the Aventador S the smoother the journeys became. Given more time one could master it, thought it'll never be quite as smooth as you'd like. Then figuring out all the buttons on the jet style centre column will also gives you a small sense of accomplishment.
Why should everything be made easy these days? It's healthy to be challenged. With electric vehicles and autonomous cars edging closer and closer to being the norm, the Aventador S could be the last great vehicle with a superb naturally aspirated engine that marries new technology (four-wheel steering) with old school car quirks and personality. Is it the greatest car ever made? No, but it might be the prettiest. Would I recommend you buy one? Well, if you're a driving enthusiast, I'd highly recommend you book a test drive ASAP.
NUTS & BOLTS:
ENGINE: V12, 60°
0-100 KPH: 2.9 seconds
MAX POWER: 730 bhp
TOP SPEED: 350 kph
PRICE: Reviewed model AED 1,439,622.50 (US $391.958,00 excl. VAT.)