Uber's Istanbul team has partnered with luxury sea transport company Navette to offer speedy excursions and transfers around the Bosphorus. The Silicon Valley firm opened its Turkish HQ last summer and has decided to make a big splash (pun intended) for its first birthday with UberBOAT.
Among the first to try out the new service was columnist, presenter and wellness trainer, Ece Vahapoğlu, alongside Turkish columnist and writer Onur Baştürk. The 'Rider-Zeros' were able to order a plush speedboat taxi at the tap of a button and had the benefit of stunning Bosphorus views with no traffic at all.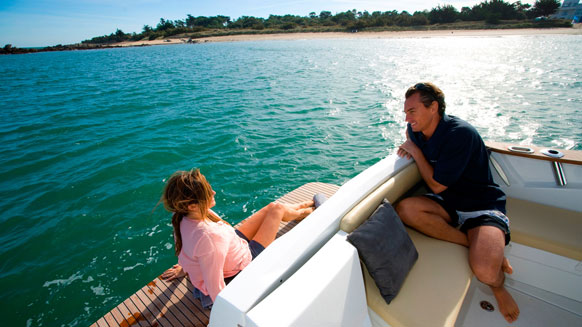 The service is now available for all Uber members, with a clearly visibly UberBOAT option on the vehicle menu. If there's any empty boat nearby, set your pick up location before the captain calls to confirm your ride. Then just sit tight while the Beneteau Antares 8 ve Antares 30 speedboat (or similar) arrives, with capacities ranging from six to eight people.
Fares will be based on distance travelled and will be charge to your account at the end of the trip, meaning no cash needs to be exchanged – as per regular car service. Uber estimates that an airport transfer (Kabataş – Ataköy) will cost less than US $162 (435 TL) and a weekend getaway to the Princess Islands (Bostancı – Büyükada) could cost up to $106 (285 TL).
The transport company debuted UberBOAT in Sydney and Boston last summer, though it's believed its Istanbul offering is the first year-round boat service.