A few months ago I had the pleasure of experiencing the new Porsche 718 Cayman S, which was a superb introduction to the German carmaker's stable. But when I was handed the keys to a 911 Targa 4 GTS this month, I felt like I had graduated to the next level. More than anything else, I was intrigued to see what all the fuss was about: just why is the Porsche 911 one of the most celebrated cars in modern motoring history, and is it really worth the huge price difference from the marque's other (non-911) models? The 911 can't be that much better, can it?
In a word, yes. Visually, the Targa 4 GTS is a feast. It's a 911 at heart, so there's nothing too surprising about its shape. Being a GTS model, the body has a more aggressive look than the standard 911, with larger air intakes and smoky LED headlights in black. It's also a little wider, since it's four-wheel drive, and has a slightly unusual semi-cabriolet roof (more on that later). The test drive model was finished in beautiful carmine red complemented by black 20-inch Turbo S wheels.
Inside, the Alcantara seats and dashboard continued the red and black theme, with a great mix of classic dials and new technology. The dash has three sections: a speedometer, a gorgeous large rev counter (in red), and a digital display offering a host of options for your viewing pleasure.
The steering wheel was noteworthy for what it lacked rather than what it had. In a refreshing change from almost every other new sports car I've seen over the past 10 years, Porsche's design team have refrained from littering the wheel with buttons. Instead, they have embellished it with just one: a small dial that allows the driver quick and easy access to normal, fast (Sport), crazy fast (Sports+) modes, plus individual driver settings
I spent around 10 hours driving on my first day with the car and never had any comfort issues, thanks to 18- way adaptive sports seats. The fully electric seats have a memory function, enabling them to move when you stop and start the car.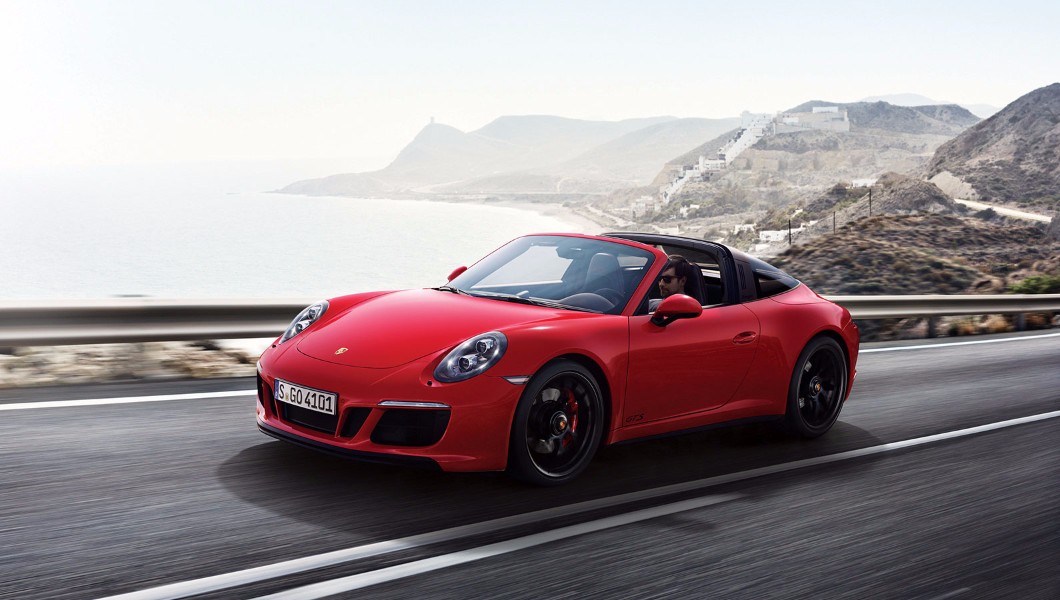 Once you do turn the key, the 911 growls into life. In this GTS, I was lucky enough to have the flat six twin-turbocharged engine sat behind me, with 450 horses primed and ready to go.
One important decision you have to make before you start driving is whether to put the roof down or not. In the 911 Targa 4 GTS you can't raise and lower the roof while the car is moving. It's also quite slow, taking around 20 seconds. However, it's one of the more spectacular cabriolet conversions around. Personally I'd use the remote to lower (or raise) the roof before you get into the car, so you can full appreciate the Transformer-like process alongside any other wide-eyed passers by.
On the road it's not the quietest drive; roof on or off it's noisy. That's not necessarily a bad thing if you enjoy listening to your music loud or that sports exhaust singing. And that exhaust really does sing. There's a button on the central console to open it's vocal chords even more if you don't want to have the car in sports mode all the time and conserve fuel. [how does this work? Is it essentially a sound enhancer?]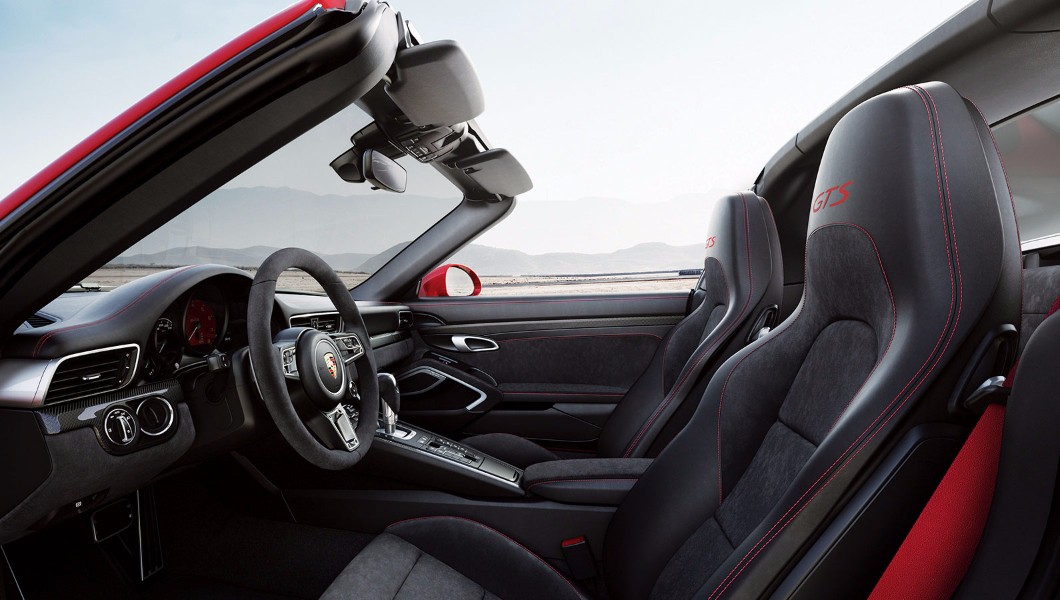 When fuel conservation isn't a concern, I highly recommend sampling the car's Sports and Sports+ modes. The 911 Targa 4 GTS shifts. You'll get from 0-100km/h in just 3.7 seconds. As you push the accelerator, the engine and exhaust song turns in to a roar that just seems to grow and grow. I found myself wondering where the floor was for the accelerator pedal, and I'll admit I never found it. The Targa hits the speed limit far too soon to explore everything this engine is capable of.
One area in which the Targa blew me away was it's handling; this could be the best handling car I've ever driven. The four-wheel drive is complimented by rear axle steering. At low speeds this meant you could do a full 360 around the smallest of mini roundabouts and at higher speeds you could drive round most bends while accelerating. It's common knowledge that Porsche produces cars that handle well. This felt like it was on rails; there was barely any body-roll either.
I loved the 718 Cayman S. However, the 911 Targa 4 GTS is worth the extra money. The more time I spent with the car, the more I enjoyed it. For me that's a sign of a truly great car. If every drive is better than the last, it's got to be special.