I've always liked Audi, though unfortunately the S5 Coupé has done little to make me buy the cap and wear the t-shirt. It's not that it's a bad car – far from it. Once again Audi has produced and very sexy coupé. Some refined lines along the side of the vehicle, a raised bonnet (hood for our American readers) and the quad exhausts at the back all work. Audi has done a fantastic job of keeping the design subtle yet aggressive enough to let other road users know they shouldn't mess with you, because this car has some punch.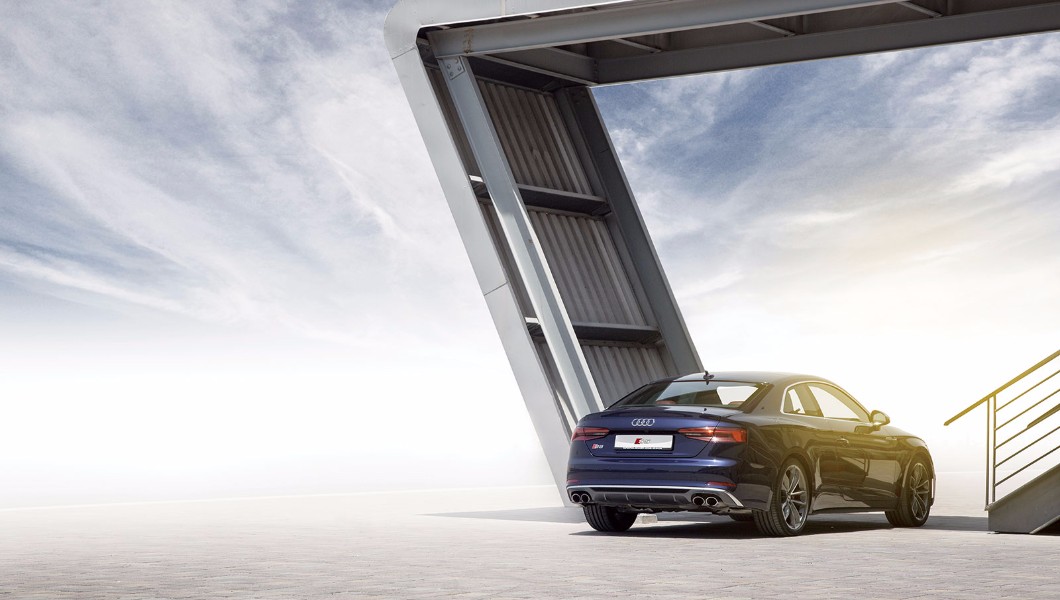 The S5 has a 3.0-litre V6 turbo-charged engine hiding under that slightly swollen bonnet. It produces a respectable 354hp (at 5,400-6,400RPM) and will propel you to 100 kph in just 4.7 seconds. Granted, it's not a world-record beater and it doesn't hit you in the gut when you put the pedal down. It's more a hefty shove. Of course, this is with sports mode engaged. In "normal", it's a quiet, comfortable, near effortless drive.
If you are choosing to sit back and cruise the streets, an Audi certainly delivers a cossetting experience. Another area Audi has always proven itself to excel is in interiors. The S5 Coupé is no different. Even though the model I drive features S Sports seats (sports seats can be a bit snug or hurt the rear after many hours behind the wheel), I find them to be extremely comfortable. The steering wheel also feels great and the amount of connectivity and media playback options mean you'll have all of your music on tap whatever mood you're in. The S5 also features the recently released virtual cockpit. I first encountered this a while back in the Audi TTS. It's essentially the same set up and still works beautifully, and is likely the future of all cockpits. Call me old fashioned, but I still like to set it up so I see some dials in front of me.
Despite all of these outstanding attributes, some of the shine is taken off because, to be honest, I'm not quite sure whom this car is for. It's not a small car. With two respectably sized rear seats, you could argue it's family size, but it only has two doors that even adult-sized humans can struggle to get in and out of.
Once an average-sized adult has clambered their way in the back, the leg and headroom is just about adequate, though I personally wouldn't enjoy sitting in the rear for an extended drive. So in this case, the car seems to be aimed at a young couple or an individual that rarely gives lifts to friends, each of whom wants a sporty car.
Sporty in appearance it may be, but the sports performance is lacking. Yes, it handles corners well, but as I mentioned earlier, it's not exactly an enthralling, get-up-and-go experience. Plus, I personally feel the steering is very light. Too light, and not giving you the engaged feeling with the road you crave when you're looking to nip around a bend. I'm not sure who is in the market for a good-looking, large coupé featuring four seats, two of which are difficult to access and with sporty credentials that leave you wanting more.
I understand this may sound a little damning. Perhaps I'm being overly critical; these are simply some of the aspects that take some of the shine off what is essentially a good car. There are some definite ticks, however. It'll turn heads, it'll get you from A to B in good time and it's an exquisite place to be while driving. The Audi S5 Coupé just doesn't quite tick all my boxes for a vehicle I'd park in my garage.
---
NUTS & BOLTS:
ENGINE: 3.0 Litre V6
0-100 KPH: 4.7 seconds
MAX POWER: 354 bhp
TRANSMISSION: Tiptronic
TOP SPEED: 250 kph
PRICE: Reviewed model AED293,000 (US$79,782)